A turkey is a given. The fun part of Thanksgiving is choosing which sides to make. Here are 21 (now there's 26!) of my favorite southern Thanksgiving side dish recipes. Everything from cornbread dressing and mac and cheese to all kinds of casseroles. These are the BEST southern sides for a memorable Thanksgiving.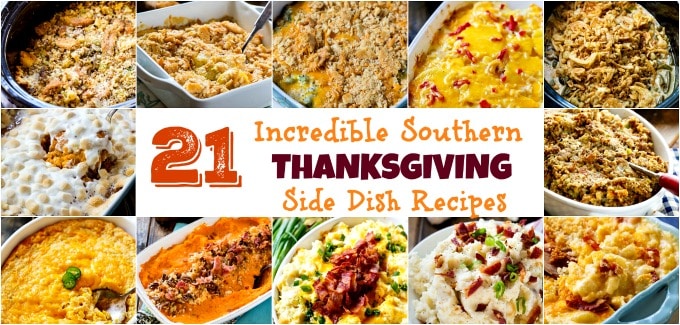 I have a hard time narrowing down the list each year. Everyone in the family has a favorite. There are a few crock pot recipes to help you free up oven space. And many of the casseroles are simple to make and can be prepared in advance.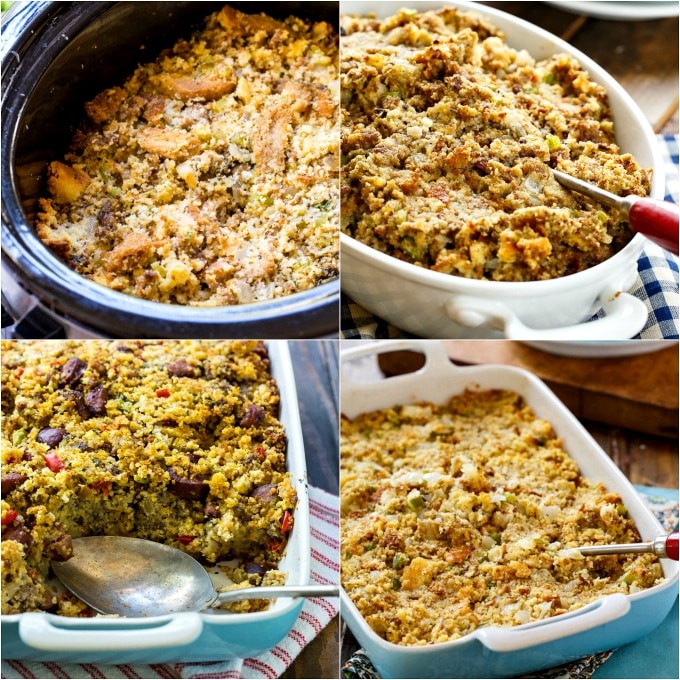 Clockwise from top left– Slow Cooker Sausage Cornbread Dressing, Sausage Stuffing, Andouille Sausage and Cornbread Dressing, and Southern Cornbread Dressing.
Free up valuable oven space this Thanksgiving with this Slow Cooker Sausage Cornbread Dressing. It's loaded with Italian sausage and lots of flavor from onion, celery, and sage. This recipe really helps free up oven space. Gotta love that!
Sausage Stuffing is flavored with ground sausage, onion, celery, sage, and a can of cream of chicken soup for one of the most flavorful Thanksgiving sides you will ever taste. I love how much sausage flavor there is in this stuffing!
Southern Cornbread Dressing is a classic recipe. Wonderfully seasoned with sage, onions, and celery.
For a spicy stuffing with a little Cajun flair, you can't go wrong with Andouille Sausage and Cornbread Stuffing. In addition to andouille sausage, it also contains breakfast sausage for double the meaty flavor!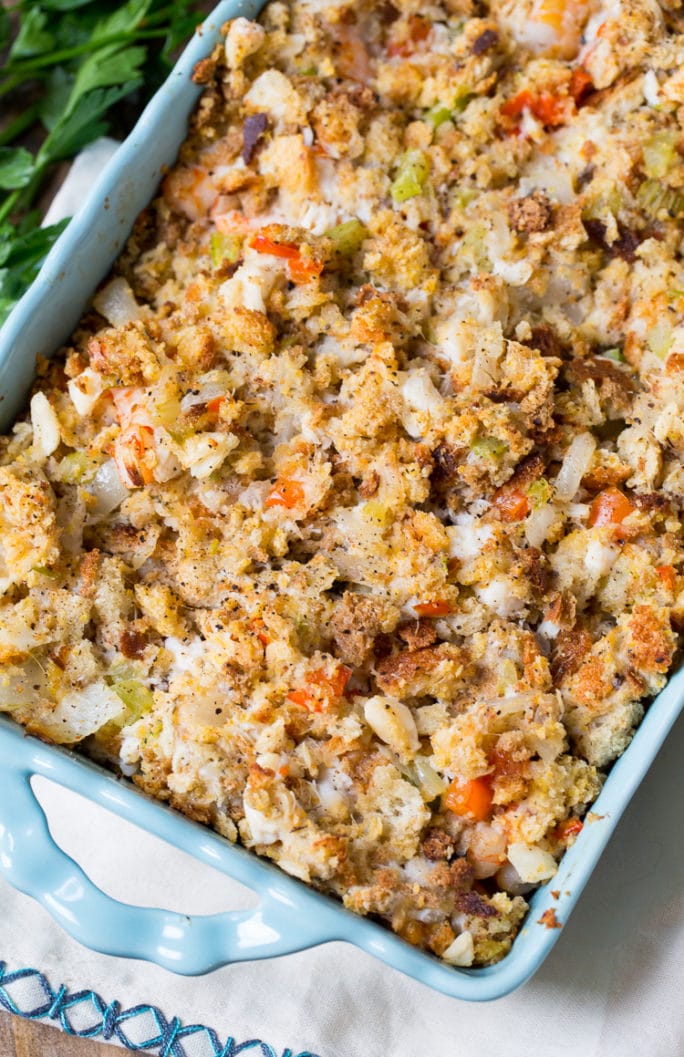 Savannah Seafood Stuffing is full of shrimp and crab and lots of onion, celery, and red bell pepper. This is a stuffing for when you want something a little special. The flavor goes well with turkey or with beef.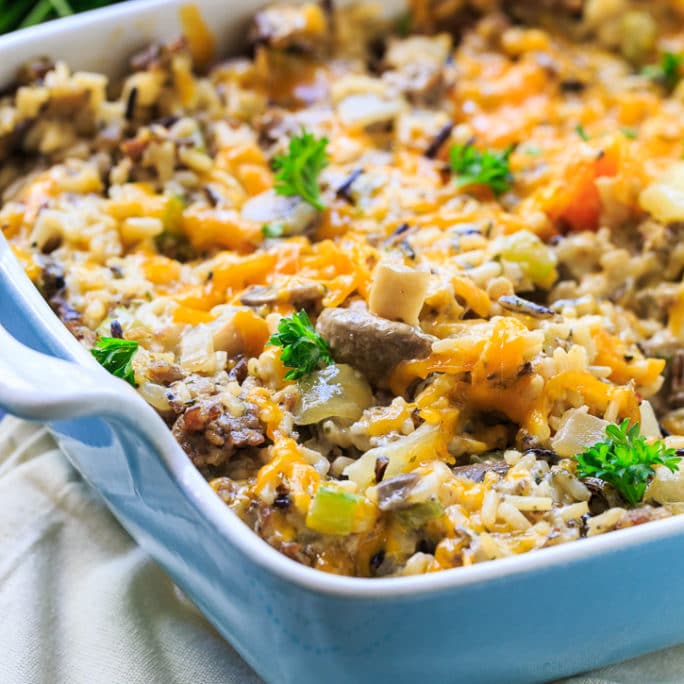 This rice-based Sausage and Rice Dressing is another favorite. Lots of mushrooms and cheddar cheese give this casserole tons of flavor.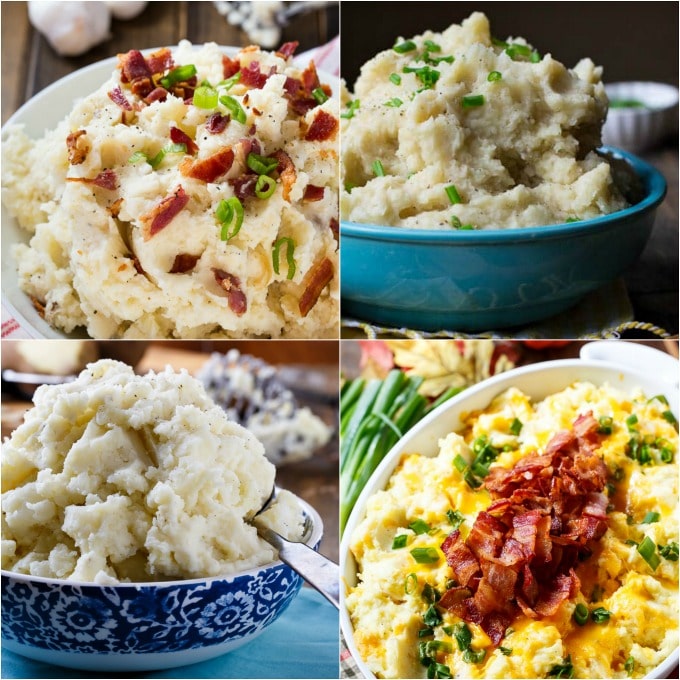 Clockwise from Top Left: Roasted Garlic and Bacon Mashed Potatoes, Crock Pot Mashed Potatoes, Loaded Mashed Potato Casserole, and Duke's Mayonnaise Mashed Potatoes
If you want mashed potatoes with kicked up flavor, try these Roasted Garlic and Bacon Mashed Potatoes. They are delicious!
Did you know you can make mashed potatoes in the crock pot? These Crock Pot Mashed Potatoes are thick and buttery and will free up your hands to make other things.
Loaded Mashed Potato Casserole takes mashed potatoes to a new level. Cream cheese, butter, and sour cream make it sinfully rich and creamy. A few green onions and some salty and crispy bacon give it the taste of a loaded baked potato, but much, much better.
Adding mayonnaise to your mashed potatoes may sound a little strange nut these Duke's Mayonnaise Mashed Potatoes are the creamiest, best tasting mashed potatoes with a velvety texture. And there's not even any butter of cream in them!
Cheesy Mashed Potato Casserole is an ultra rich and creamy casserole with 3 types of cheese. Makes a great Thanksgiving side and also goes great with chicken, beef, or pork.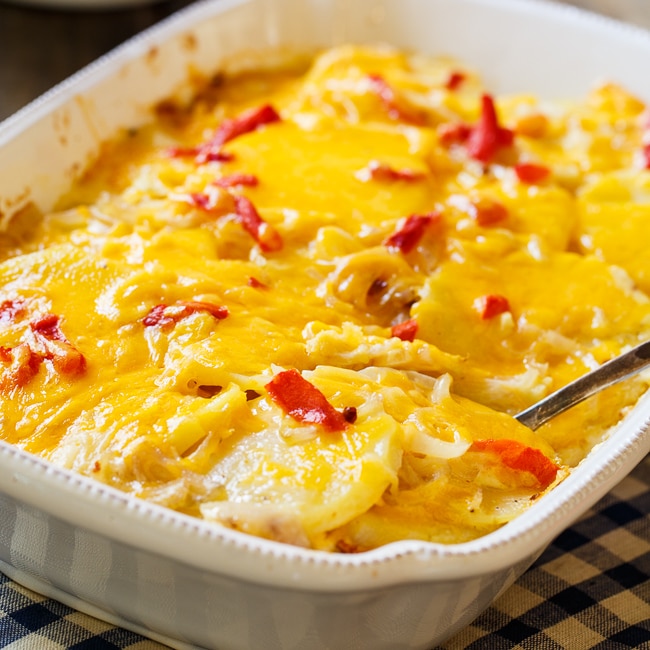 Pimento Cheese Potato Gratin is a creamy potato dish southern-style. A layer of homemade pimento cheese is slathered between two layers of thinly sliced Yukon Gold potatoes for a super creamy and cheesy potato gratin.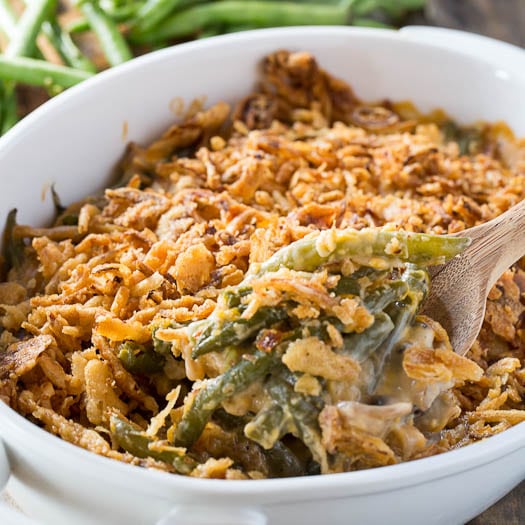 Of course a green bean casserole recipe is a must on a list of best southern Thanksgiving side dish recipes. This Cheesy Green Bean Casserole is made with fresh green beans and sauteed mushrooms. Cheddar cheese and a French-fried onion topping make this casserole irresistible!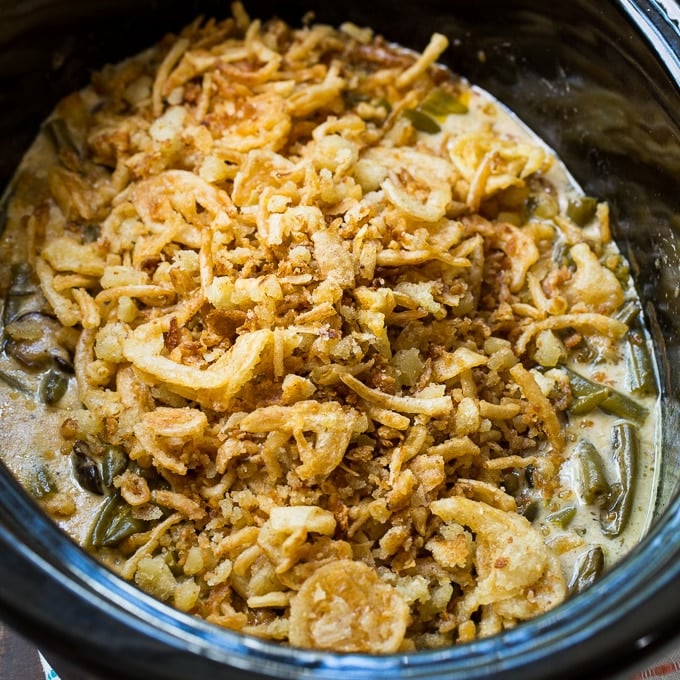 Crock Pot Green Bean Casserole is another Thanksgiving crock pot favorite! No canned soup and it is every bit as delicious as one made in the oven!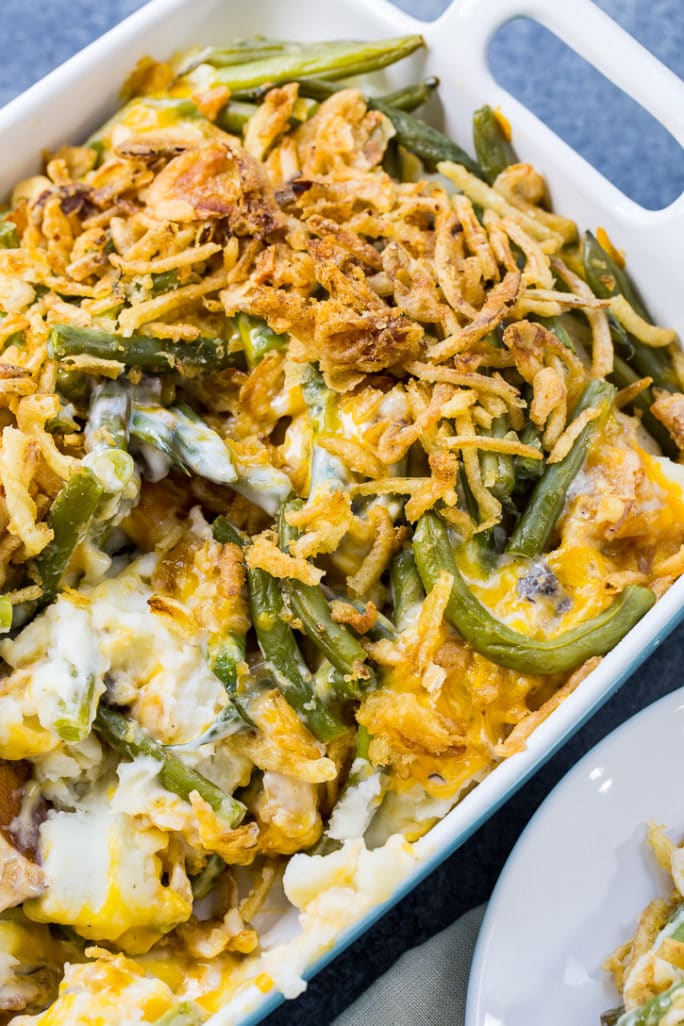 Mashed Potato Green Bean Casserole is a wonderful combination of two favorites. On the bottom is a layer of mashed potatoes covered with green bean casserole. Each one tastes incredible on its own, but even better when combined into one extraordinary side.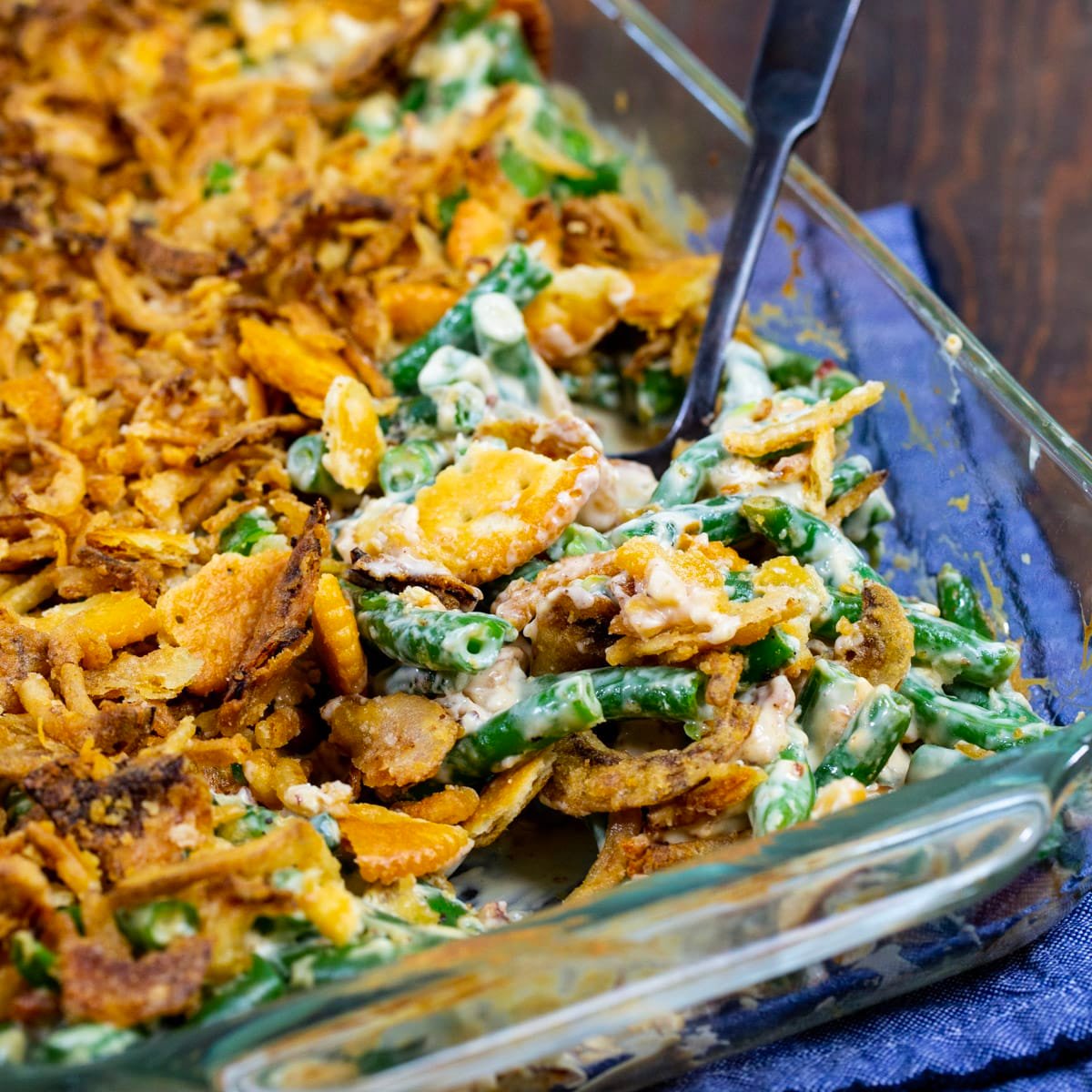 Cream Cheese Bacon Green Bean Casserole is maybe the most flavorful green bean casserole ever. In addition to bacon and cream cheese, it's flavored with dry onion soup mix plus a French-fried onion and ritz cracker topping.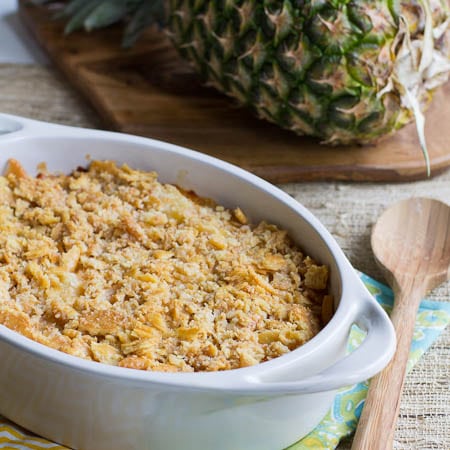 Pineapple Casserole is both sweet and savory. It has a buttery cracker crumb topping and cheddar cheese. This is an old-time favorite and one of the most interesting casseroles you will ever taste.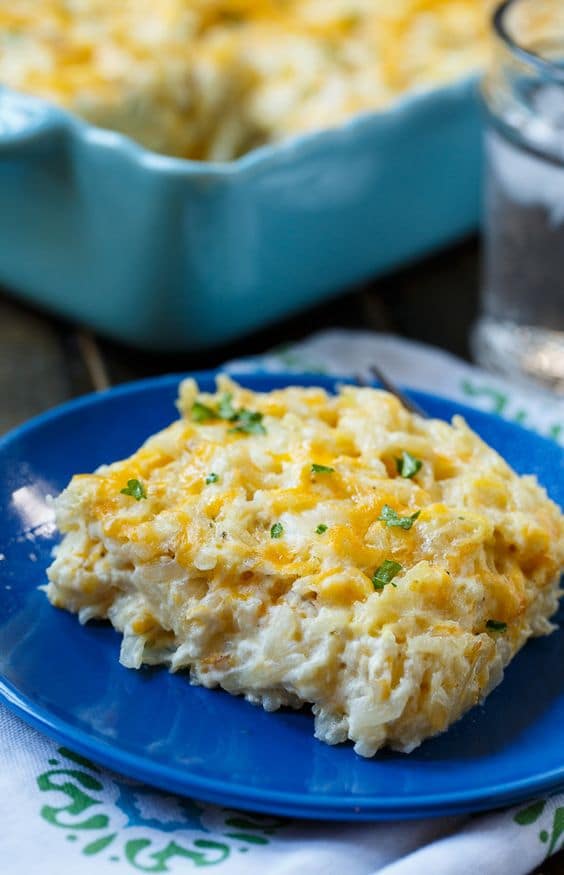 This Hash Brown Casserole is very similar to the one served at Cracker Barrel. So creamy and rich!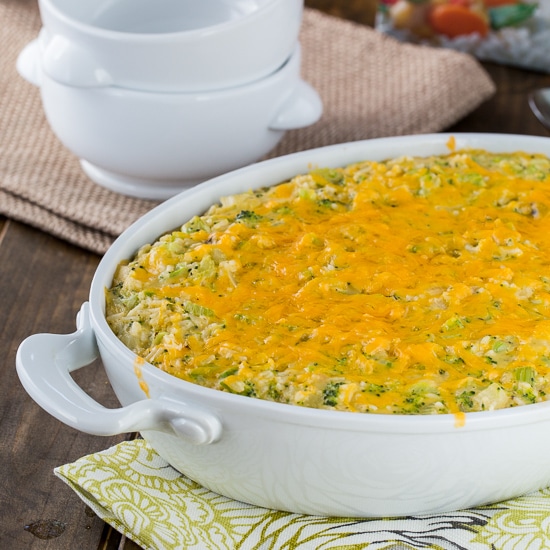 Broccoli Rice Casserole is super cheesy. This casserole is sure to be a big hit with kids and it is so easy to make!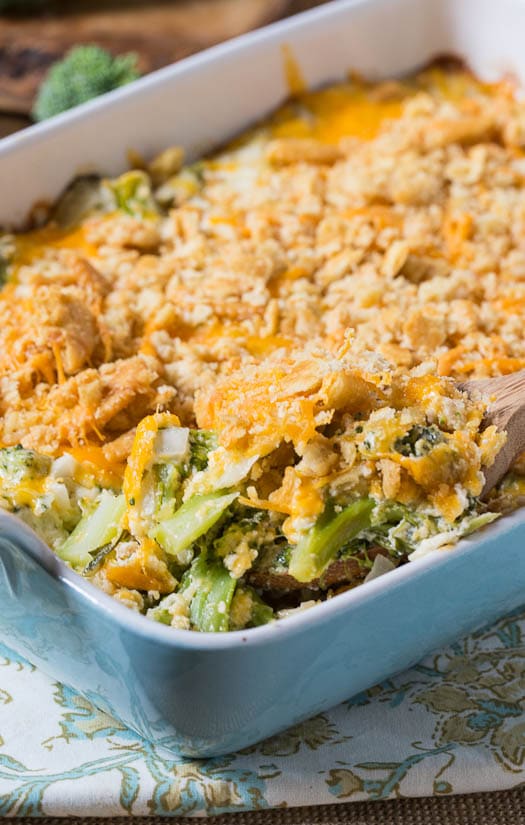 This Southern Broccoli Casserole is one of my all time favorite casseroles! It's super rich and creamy with cheddar cheese and a Ritz cracker topping.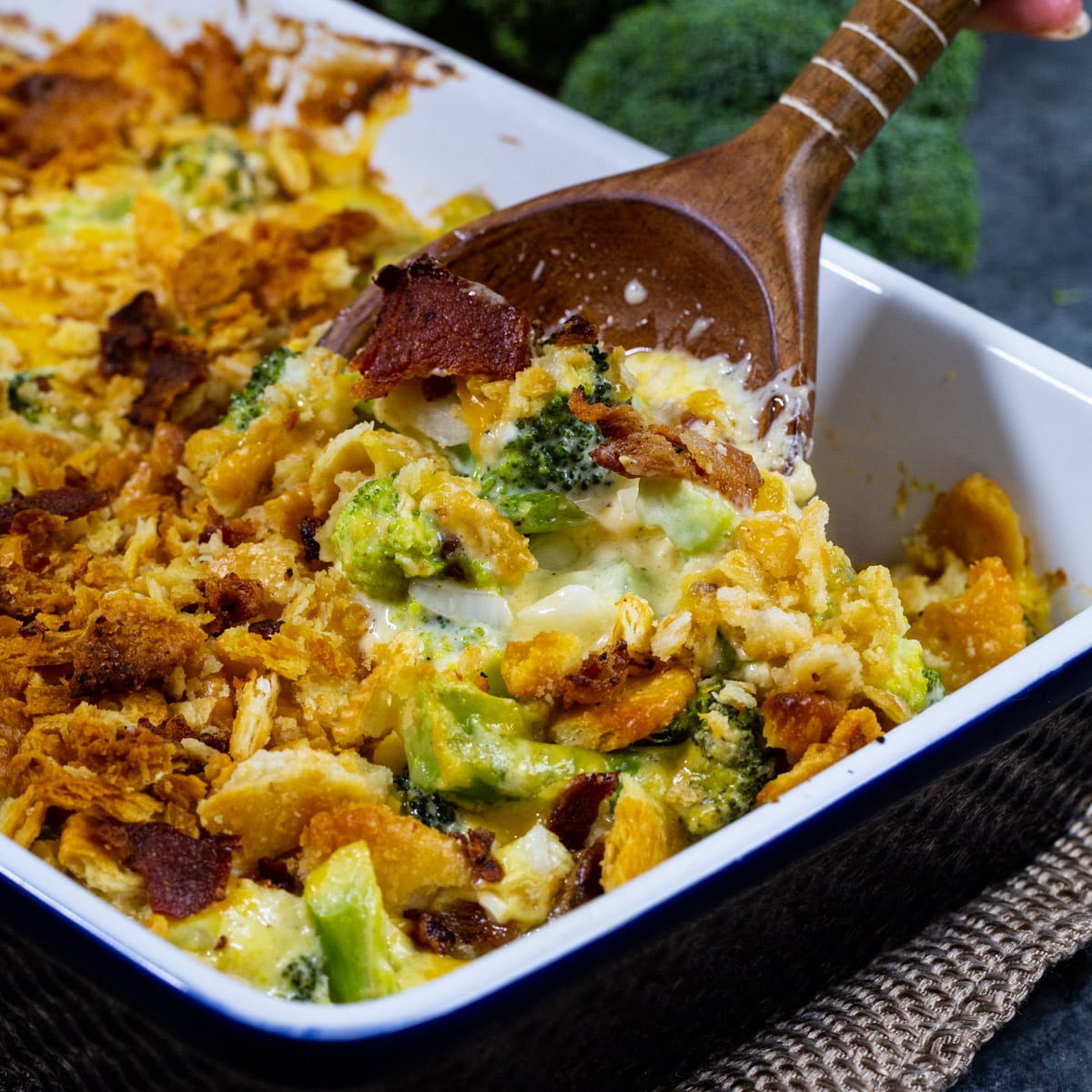 Loaded Broccoli Casserole is packed full of bacon, sour cream, mushrooms, and cheddar cheese and has a buttery cracker crumb topping.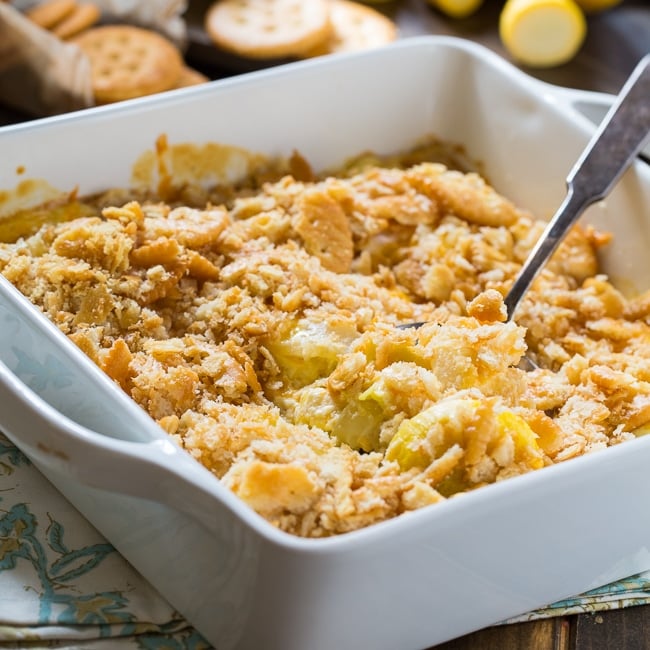 Yellow Squash Casserole is creamy and cheesy with a buttery and crispy Ritz cracker topping. It makes a delicious side dish. Very similar to broccoli casserole, except with squash.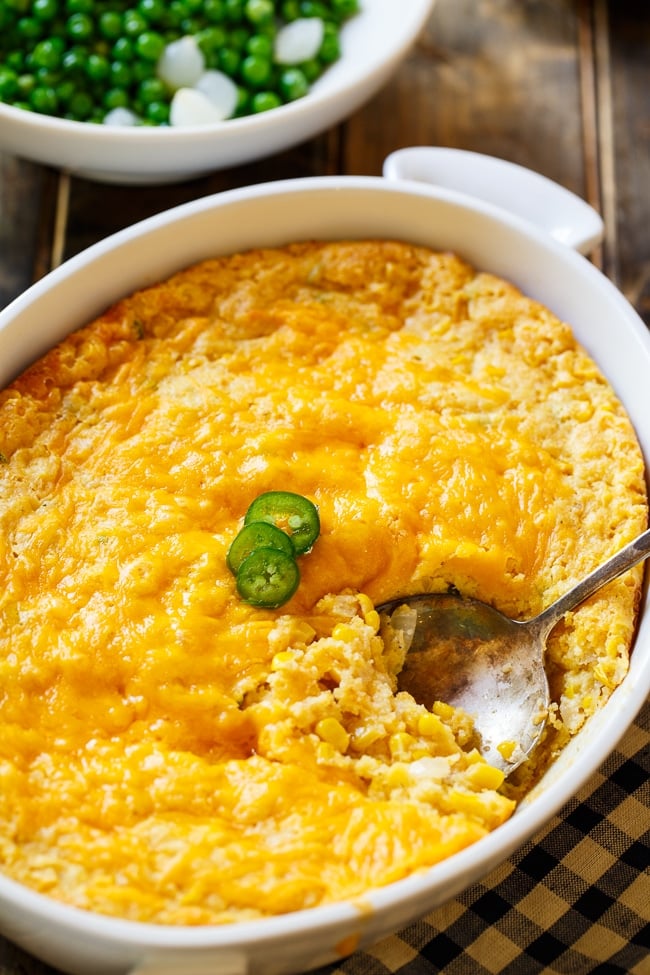 Cheesy Jalapeno Corn Casserole is fantastically delicious. Both whole kernel corn and creamy corn are combined with sour cream, an egg, onion, corn bread mix, cheddar cheese, and jalapenos for a creamy, cheesy, sweet and spicy casserole.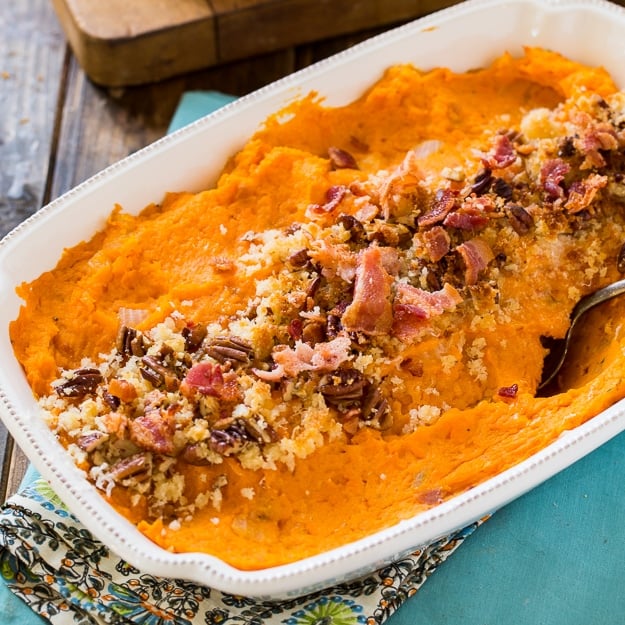 Savory Sweet Potato Casserole is full of onion, rosemary, and thyme and topped with crispy bacon and crunchy pecans. It also is flavored with gruyere cheese and cayenne pepper. If you find traditional sweet potato casserole to be too sweet, give this savory version a try. I think you'll like it!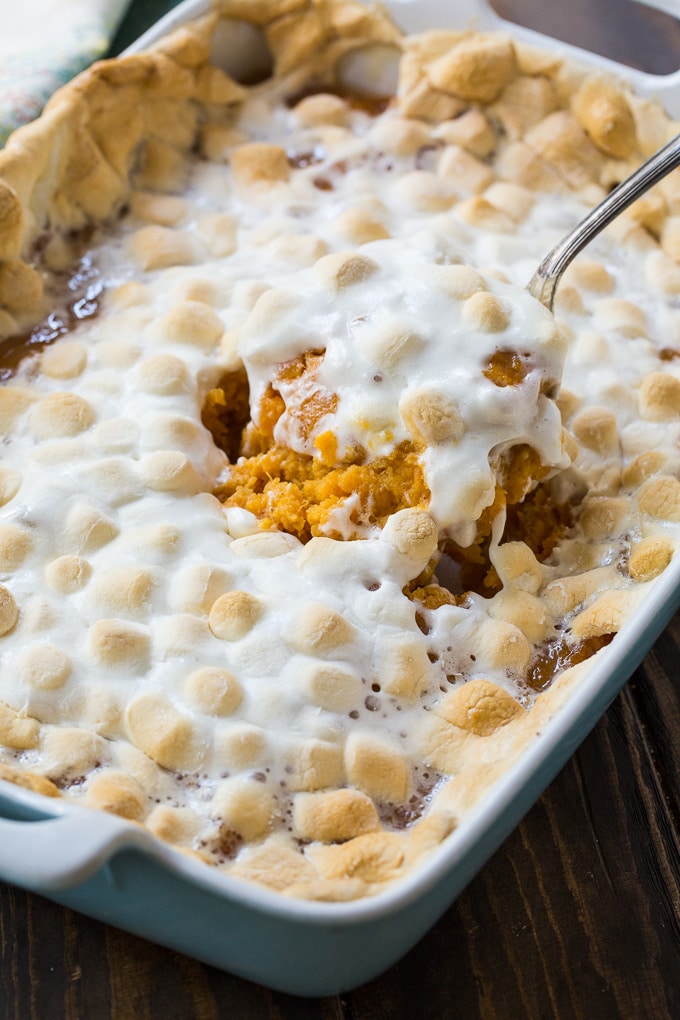 Sweet Potato Casserole with Marshmallows is the perfect combination of smooth and creamy sweet potatoes topped with a gooey layer of marshmallows.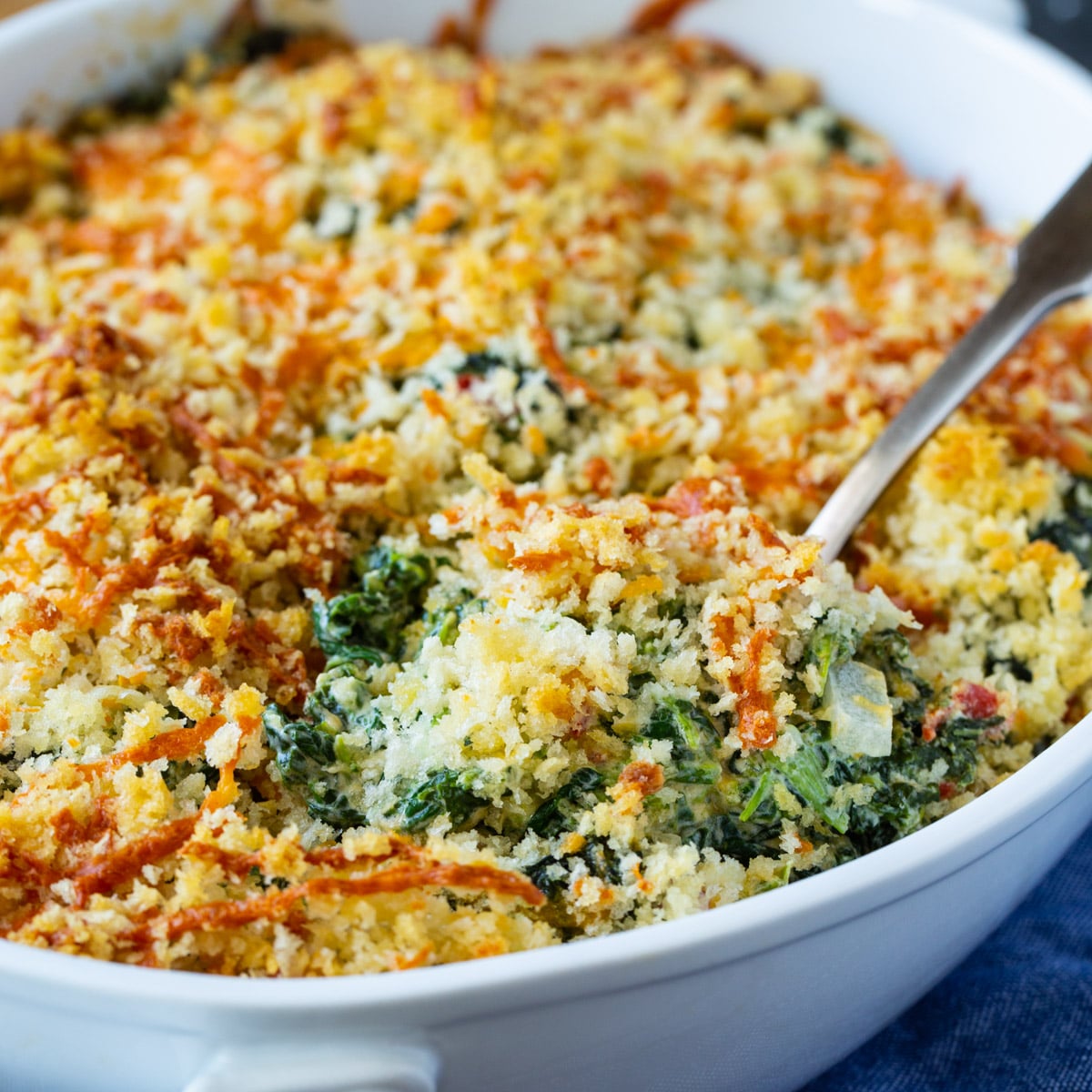 Pimento Cheese Creamed Spinach is a delicious southern twist on creamed spinach. It's creamy and rich like a traditional creamed spinach, but with lots of cheddar cheese flavor plus the wonderful red specks of color from the diced pimentos.
Maple Bacon Brussels Sprouts are a salty-sweet side that's perfect for Thanksgiving. The brussels sprouts get wonderfully caramelized from the roasting process. They are like candy!
Hope you found a recipe or two from this list of Southern Thanksgiving Side Dish Recipes to add to your Thanksgiving table this year!