Save oven space this holiday season with Slow Cooker Green Bean Casserole. Made with fresh green beans and a few mushrooms, no canned soup is needed. It's creamy and fresh tasting with a crunchy onion topping. Absolutely delicious!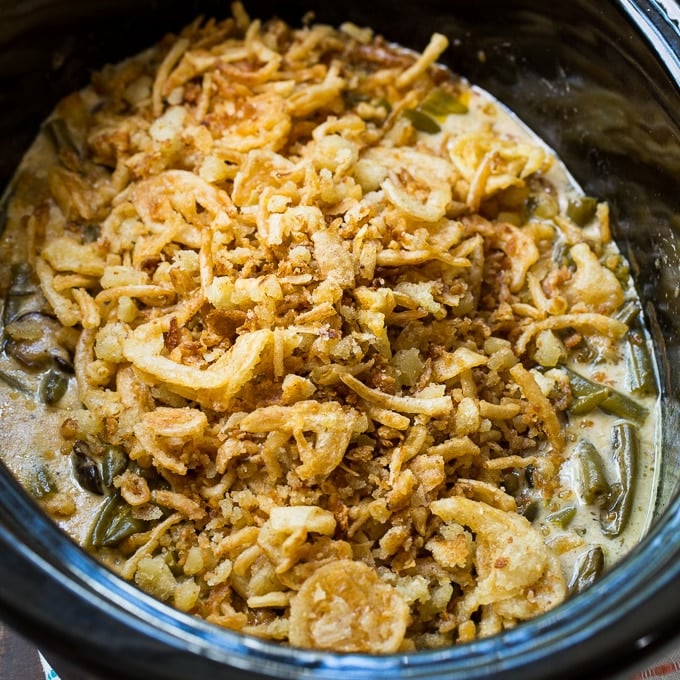 Slow Cooker Green Bean Casserole is a must try recipe for Thanksgiving if you have only one oven and are tired of juggling bake times or trying to cram casseroles into the oven with your turkey. Yes, I know Thanksgiving is still over 2 months away, but this recipe is so yummy, you'll want to give it a few test runs beforehand. That way no explanations needed or judgements passed when you go back for a second plate and pile it high with this green bean/ fried onion goodness.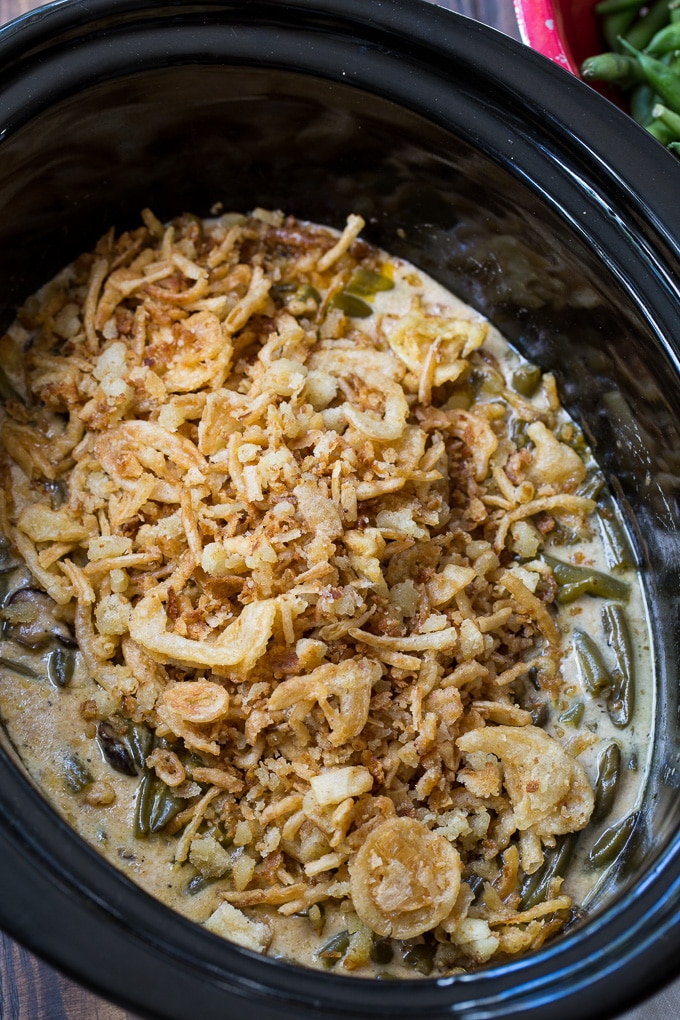 Even after 6 hours in the slow cooker, the green beans (this recipe uses fresh green beans) manage to maintain a little of their crunch so that they don't taste like they've been cooking half the day. But the rest of the flavors really get a chance to know each other during the slow cook time. And they become VERY good friends. 😉
Everyone knows that the canned fried onions are the best part of a green bean casserole, right? Well this green bean casserole has plenty of them on top, but also some ground fried onions mixed into the casserole. As the casserole cooks they act as a wonderful thickener, plus they add fabulous flavor. Crisping the topping in a skillet creates a nicely browned and crunchy topping without any time spent in the oven.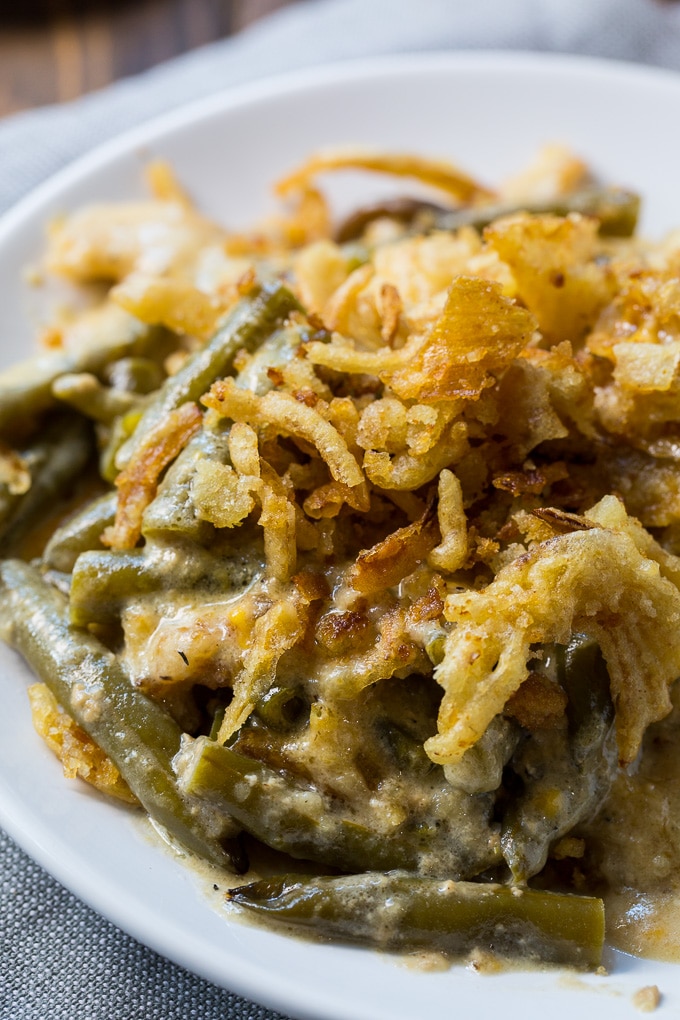 Now unfortunately this isn't one of those super easy crockpot recipes where you just throw all the ingredients into the crockpot and magically have a fabulous meal at the end of the day. You do have to dirty some pots and pans. But it is so worth it. The taste of this green bean casserole is amazing. (And I'm not even a huge green bean casserole fan.)
Try it and I promise you Slow Cooker Green Bean Casserole will be one more thing you'll be giving thanks for at the Thanksgiving Table.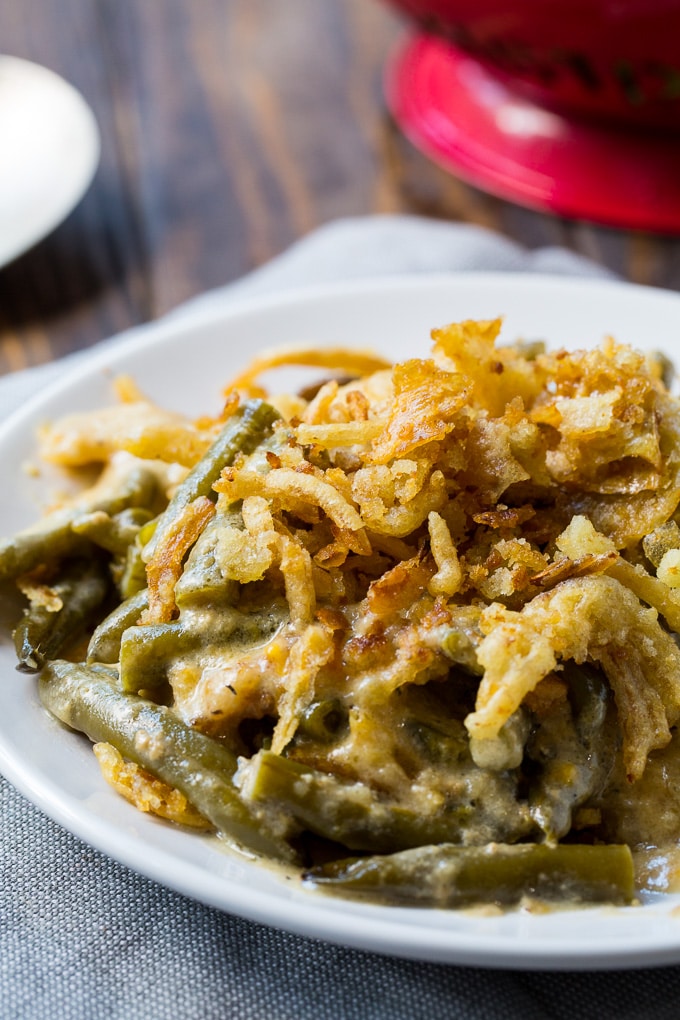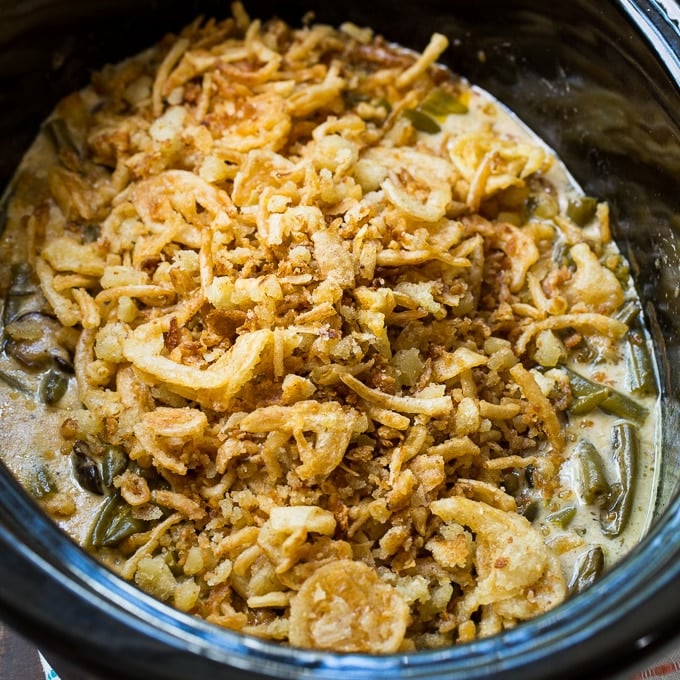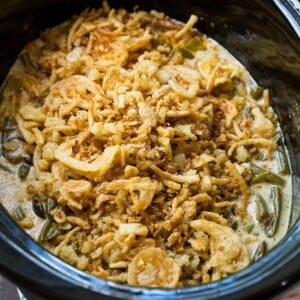 Slow Cooker Green Bean Casserole
Green Bean Casserole cooked in a crockpot tastes just as good as not better than one made in the oven. Plus it frees up oven space for holiday meals.
Ingredients
Casserole
1

cup

canned fried onions,

French's

3

tablespoons

butter

10

ounces

white or cremini mushrooms,

cut into 1/4-inch slices

1

teaspoon

salt,

divided

1

teaspoon

pepper,

divided

2

cloves

garlic,

minced

1/2

teaspoon

dried thyme

1/4

cup

all-purpose flour

1 1/4

cups

low sodium chicken broth

1 1/4

cups

heavy cream

2

pounds

green beans,

trimmed and cut into 1-inch pieces

3/4

cup

shredded sharp Cheddar cheese
Topping
2

slices

hearty white bread,

torn into pieces

2

tablespoons

unsalted butter,

melted

2

cups

canned fried onions
Instructions
Pulse 1 cup of fried onions in a food processor until finely ground. Set aside.

In a large skillet, melt butter over medium heat and add mushrooms and sauté until mushrooms release their liquid, about 5 minutes.

Increase heat to medium-high and sauté until liquid evaporates, about 3 minutes. Add 1/2 teaspoon salt, 1/2 teaspoon pepper, garlic, and thyme. Saute 30 seconds.

Add flour and ground onions to skillet and cook for 1 minute.

Slowly whisk in broth and cream and bring mixture to a boil. Reduce heat to medium-low and simmer until sauce gets very thick, about 10 minutes.

Place green beans in the slow cooker (6-quart slow cooker is best) and stir in sauce. Cover and cook on low for 5 to 6 hours.

Remove lid, stir in cheese and remaining salt and pepper. Turn heat setting to WARM and place lid back on.

For topping, pulse bread and butter in food processor until coarsely ground. Place bread crumb mixture along with 2 cups fried onions in a large skillet and heat over medium-high heat until golden brown, about 3 to 5 minutes.

When ready to serve, pour green bean mixture into a casserole dish and top with onion mixture.
Notes
Use fresh green beans for this recipe. Canned green beans will get too mushy.
This dish can be cooked well in advance and kept warm in the slow cooker, but do not put the topping on until ready to serve for best results.
Want to Save This Recipe?
Recipe Source: adapted from Cook's Country Magazine
More Great Casserole Recipes
More Green Bean Casseroles To Try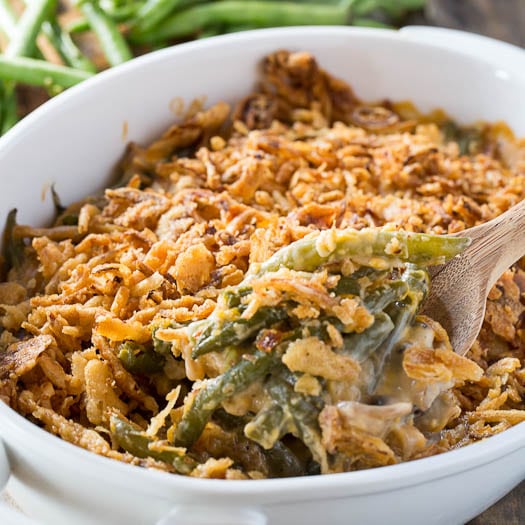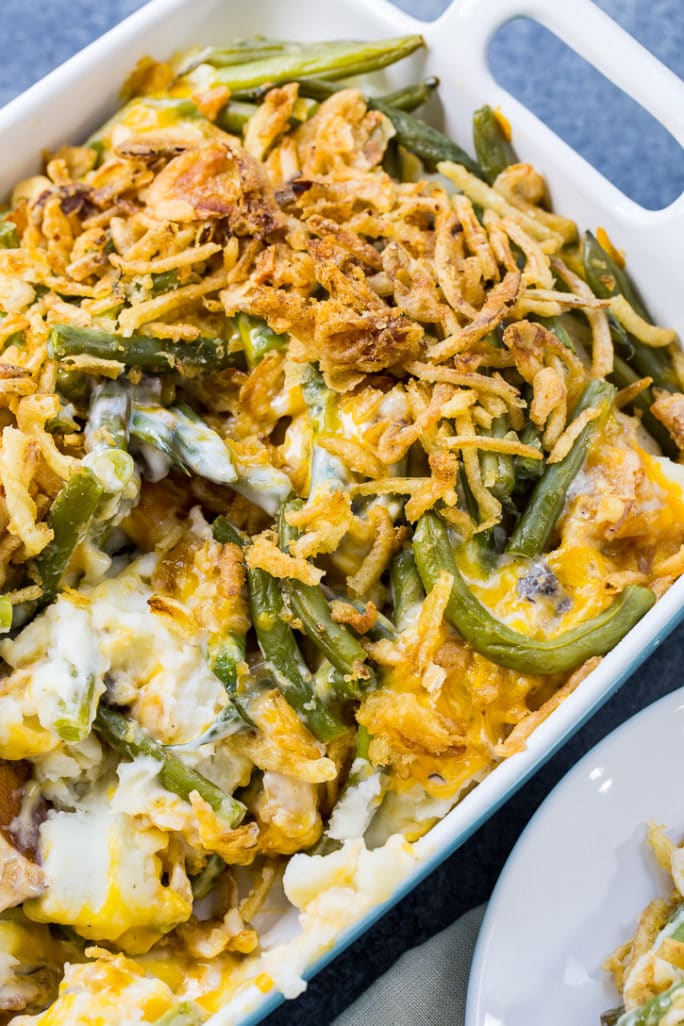 Mashed Potato Green Bean Casserole
Disclosure: This post contains affiliate links.