A Cheesy Green Bean Casserole made from fresh green beans with sautéed mushrooms and a crunchy fried onion topping. This is a must make recipe for the holidays or any large family gathering. With a cup and a half of shredded cheddar, it is supremely cheesy.
I am in love with casseroles all year long but especially in the fall. There are so many reasons to love casseroles. They can be made ahead of time, feed a crowd, and leftovers reheat well.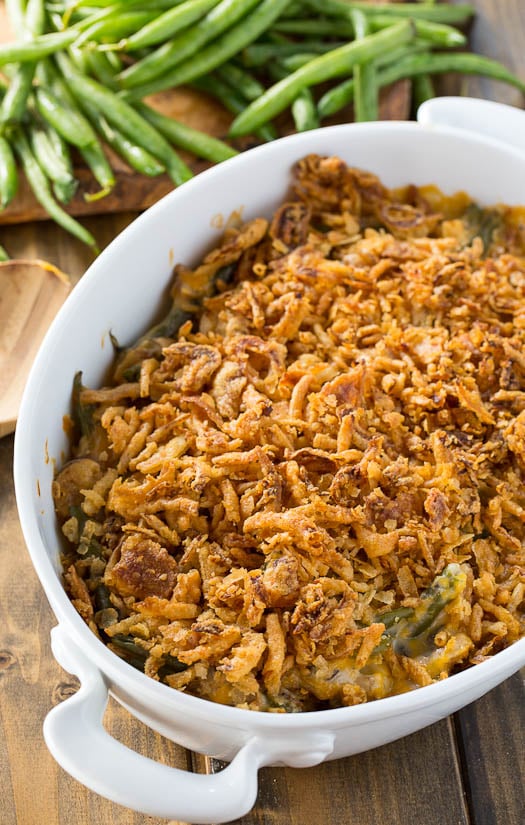 Green Bean Casserole is always a family a favorite. Except with my son who always says I should have made broccoli casserole instead.
Sometimes I make Slow Cooker Green Bean Casserole to free up oven space, but this recipe is probably my favorite green bean casserole recipe.
The cup and a half of shredded cheddar cheese gives it a richer and more comforting flavor. The only problem with Cheesy Green Bean Casserole is it is so good you won't want to eat anything else with it and it's supposed to be a side, not the main dish. I'm thinking about making it next time with just a little shredded chicken added in so I can call it a main dish casserole.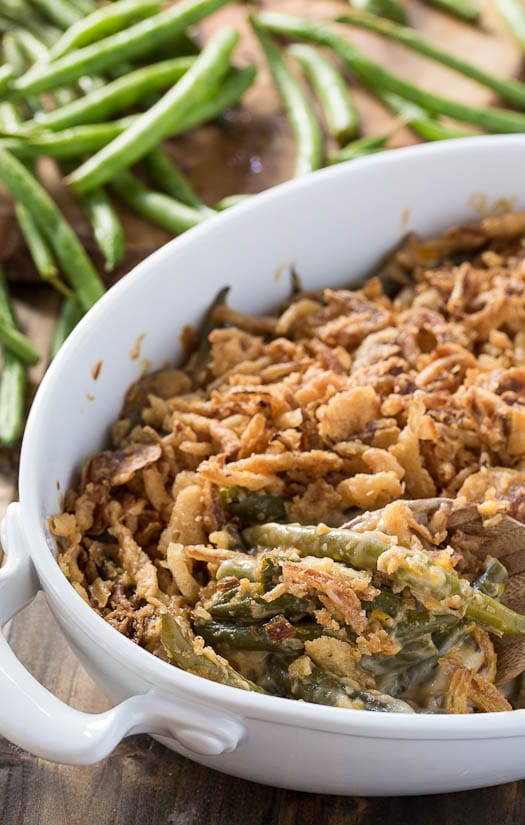 Today is an exciting day. I'm leaving for Prattville, Alabama to attend the Southern Food Blogger's Retreat organized by Stacey Little, author of the Southern Bite blog and The Southern Bite Cookbook: 150 Irresistible Dishes from 4 Generations of My Family's Kitchen
.  I can't wait to meet Stacey in person as well as the other bloggers who will be there.
But as excited as I am to go, I hate leaving my kids and my dog. I hardly ever leave them and I know that's not healthy. In less than 3 years, I'll have an empty nest and no idea what to do with myself.
My kids will be fine without me, but my poor rescue dog, Darla, is not a happy camper when Mama isn't home. She likes to be by my side always. I'll be fine as soon as I get on the road, but until then I'm going to be an emotional mess.
Hoping the traffic won't be too bad going through Atlanta and that I remember to take some pictures to share.
Never Miss a Recipe! CLICK HERE to Subscribe.


See How To Make Cheesy Green Bean Casserole in the Video Below.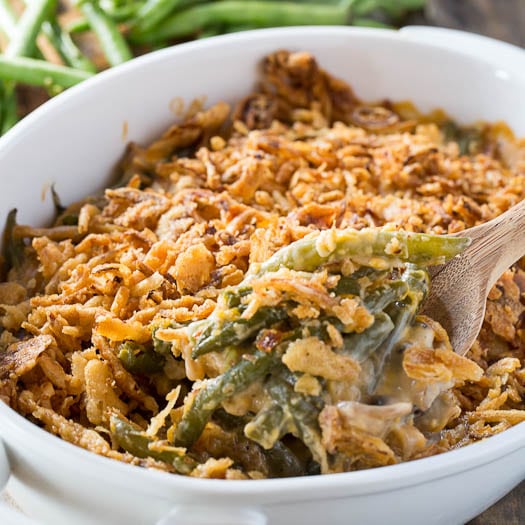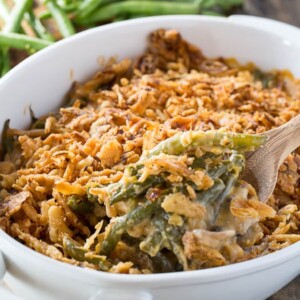 Cheesy Green Bean Casserole
A Cheesy Green Bean Casserole made with fresh green beans, mushrooms, and a thick layer of french-fried onions will be the hit of your holiday meal.
Print Recipe
Ingredients
4

cups

of green beans,

ends trimmed and long ones cut in half

1

can chicken broth

2

tablespoons

butter

1

(4-ounce)

package white mushrooms,

sliced

1

can condensed cream of mushroom soup

1/3

cup

milk

1

teaspoon

soy sauce

1 1/2

cups

shredded cheddar cheese

1

(6-ounce)

can French-fried onions,

divided
Instructions
Place green beans and chicken broth in a medium saucepan. Add just enough water to cover green beans. Bring to a boil and simmer 10-12 minutes. Drain.

Preheat oven to 350 degrees and lightly grease a 1 1/2-quart baking dish.

Melt butter in a large skillet. Add mushrooms and cook until golden brown, stirring occasionally.

In a large bowl, mix together mushrooms, green beans, condensed mushroom soup, milk, cheddar, 1/2 cup of the French-fried onions, and soy sauce, and pepper.

Transfer mixture to prepared baking dish, Top with remaining onions.

Place in oven for 25-30 minutes, until bubbly and golden brown.
Nutrition
Sharing with the Country Cook's Weekend Potluck.
Disclosure: This post contains affiliate links.