These are the best Yeast Rolls and they turn out perfect every time. With just the right amount of sweetness, these homemade rolls taste heavenly slathered with butter. They are a great addition for a Sunday supper or holiday meal. And they are a must on the Thanksgiving table.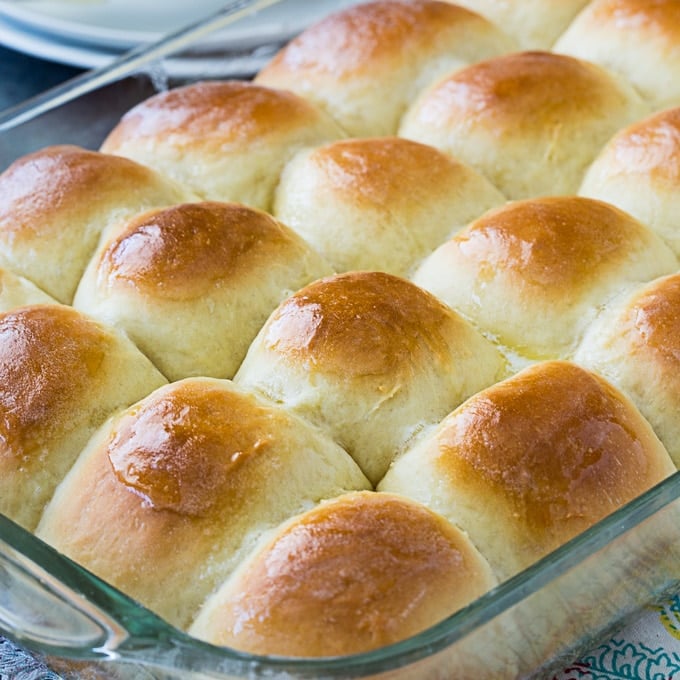 These rolls are so buttery and light and they bake up golden on top. They are light, but sturdy enough to make mini sandwiches with.
There is nothing better than homemade rolls. I can eat my weight in them. Store bought rolls don't even come close to competing. These yeast rolls take a little time investment, but it is so worth it. They really are the beast yeast rolls.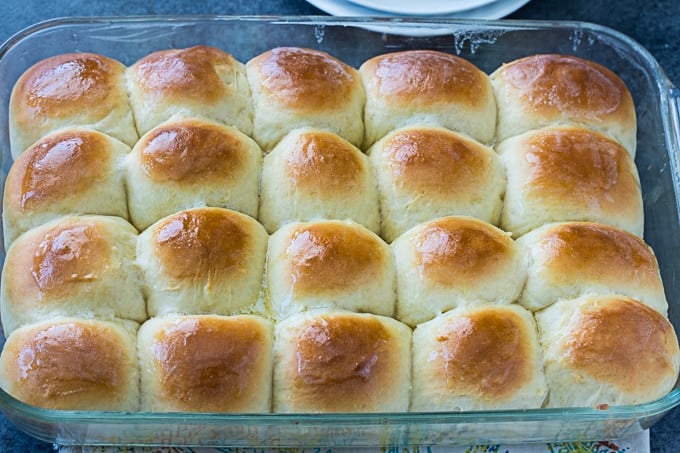 This recipe is made from your basic dinner roll ingredients: yeast, flour, butter, eggs, and milk plus some sugar. The eggs and butter add a wonderful richness to the rolls.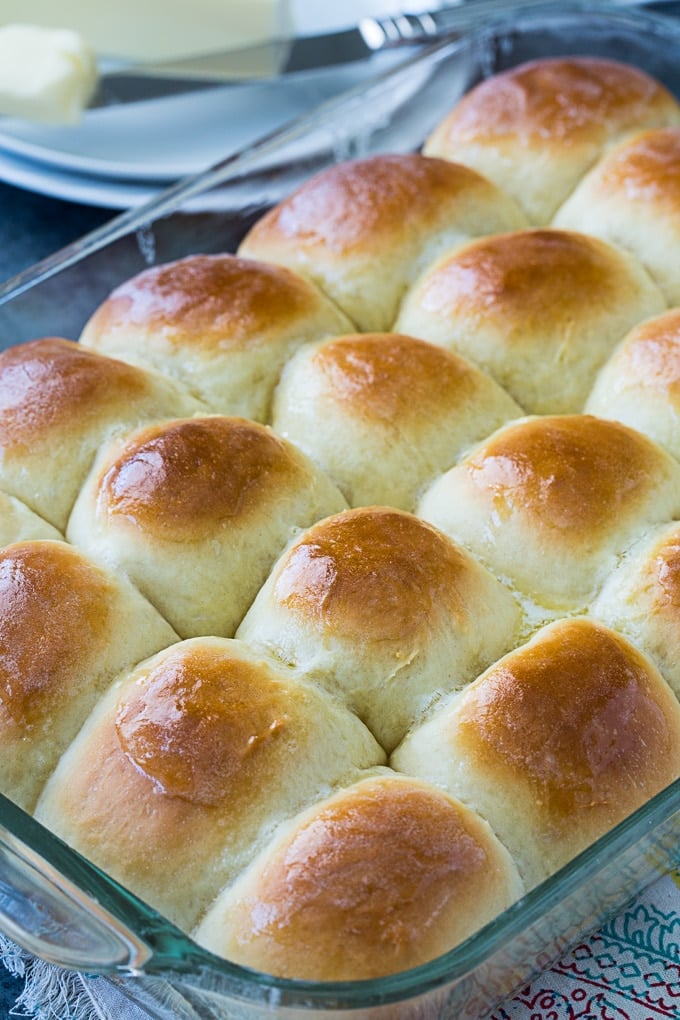 Can I freeze these yeast rolls?
Yes. You can freeze them right after shaping them into balls. You will need to remove them from the freezer at least 2 hours before serving. They need to thaw and rise before baking.
Tips for making the Best Yeast Rolls
If you don't have a warm place for them to rise, no problem. It will just take longer for them to rise, but they will still rise.
Good warm places include the top of the dryer when it is on or in front of a sunny window. You can also heat the oven to 200 degrees and then turn it off. Place the dough in the oven with the door cracked open.
This recipe makes a full 9×13-inch pan full of rolls. Perfect for a holiday meal. This is a classic yeast roll recipe you will turn to again and again.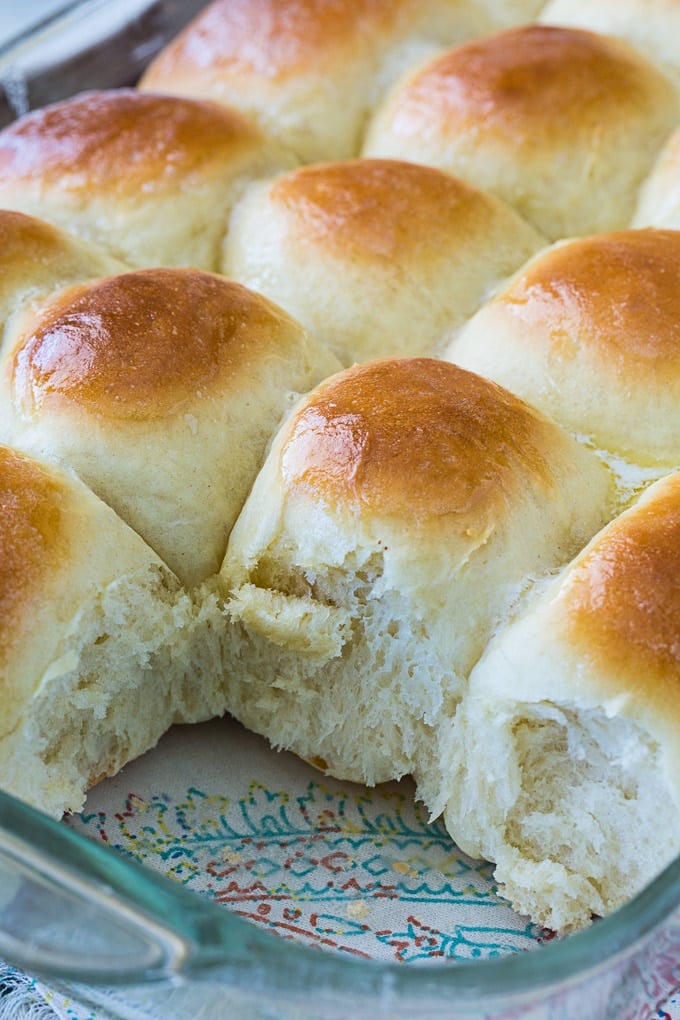 More Dinner Roll Recipes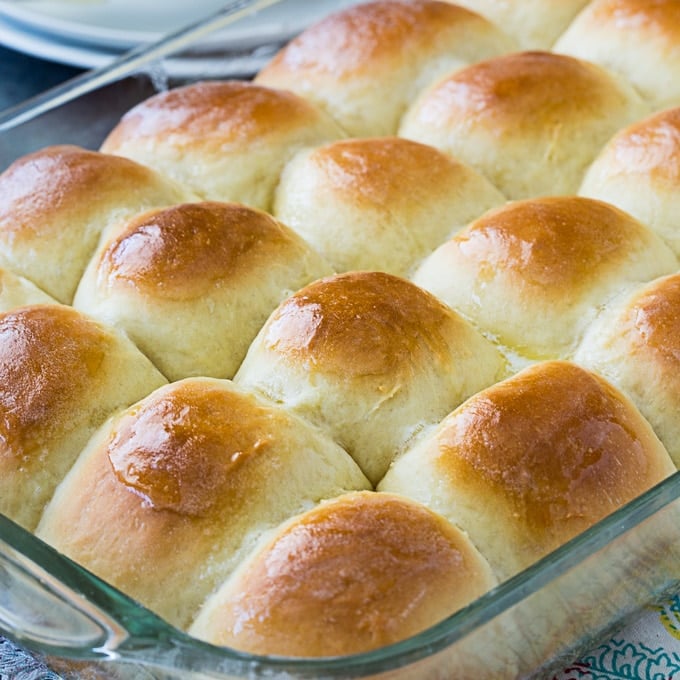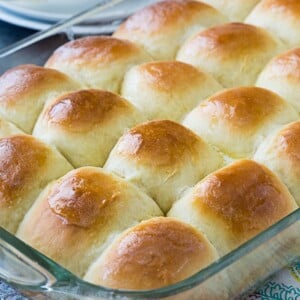 The Best Yeast Rolls
These Yeast Rolls are so pillowy soft with just the right amount of sweetness.
Ingredients
1/2

cup

whole milk

1/2

cup

granulated sugar

1/4

cup

butter,

melted

1 1/2

teaspoons

salt

1/2

cup

water (105 to 115 degrees)

2

packages

active dry yeast

2

large

eggs,

lightly beaten

4 1/2

cups

all-purpose flour,

may need a little more
Instructions
Place milk in a small saucepan and bring it just to a boil. Immediately remove from heat and stir in sugar, butter, and salt. Let cool to lukewarm. (You don't want it hotter than 115 degrees.)

Mix together warm water and yeast. I do this right in the glass measuring cup that I measure the water in. Let sit a few minutes.

Pour yeast mixture into the mixing bowl for your electric mixer. Add milk mixture, eggs, and 2 cups of flour. Beat with paddle attachment until mixed.

Beat in remaining 2 1/2 cups flour gradually. There is a chance you will need a little less than 4 1/2 cups of flour.

Next knead the dough. You can use the dough hook and the electric mixer. Beat with speed set to 2 for about 7 minutes.

Or you can knead the dough on a lightly floured surface for about 8 to 10 minutes.

I like to use the dough hook for about 5 minutes and then knead by hand for a few minutes.

Place dough in a buttered bowl. Turn the dough ball so it gets greased with butter on all sides. Cover bowl with a kitchen towel or plastic wrap and set in a warm place to rise for 1 hour.

Punch dough down. Divide dough into balls of about 2 to 3 tablespoons each. Place in a greased 9x13-inch pan. I do 5 rows with 4 in each roll. Cover and let rise 1 hour.

About 10 minutes before rolls are ready to bake, preheat oven to 375 degrees.

Bake for 20 to 25 minutes, or until golden brown on top. Brush tops of rolls with butter and serve.
Want to Save This Recipe?
Recipe Source: Fleischmann's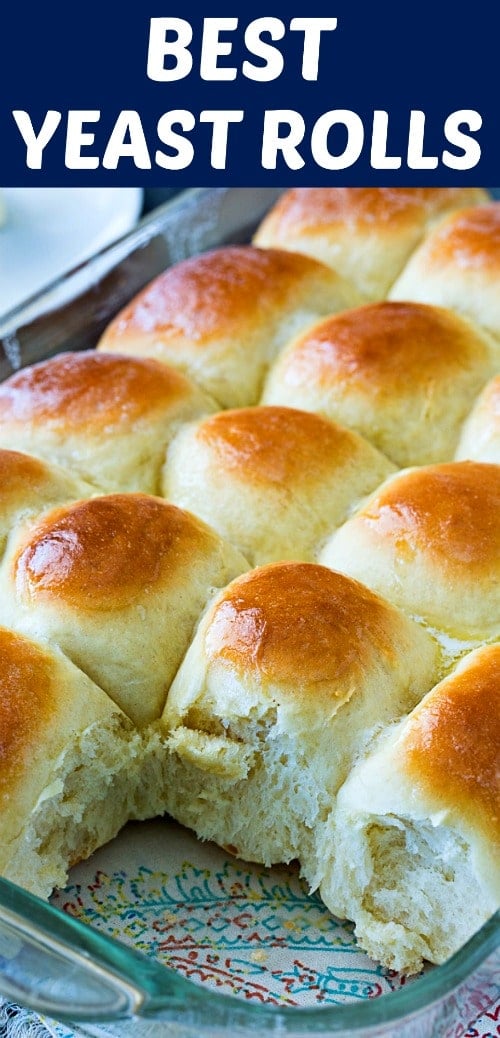 Disclosure: This post contains affiliate links.