Today's Broccoli Rice Casserole is brought to you by Minute® Rice.
Cheesy Broccoli Rice Casserole makes a filling and satisfying accompaniment to any meal, especially around the holidays. It's always a family favorite and super easy to make thanks to Minute® Rice.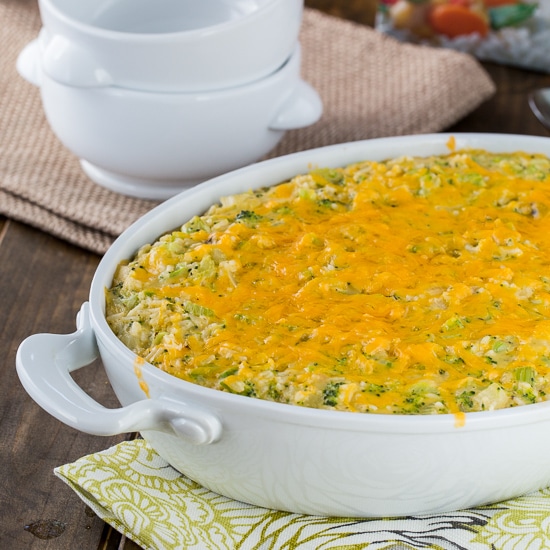 There's so much to do in the weeks leading up to Christmas, it can be hard to catch your breath, let alone make a family meal. Especially if you are like me and tend to procrastinate with your shopping and decorating. I still have a few presents to buy, but as of last night the tree is decorated.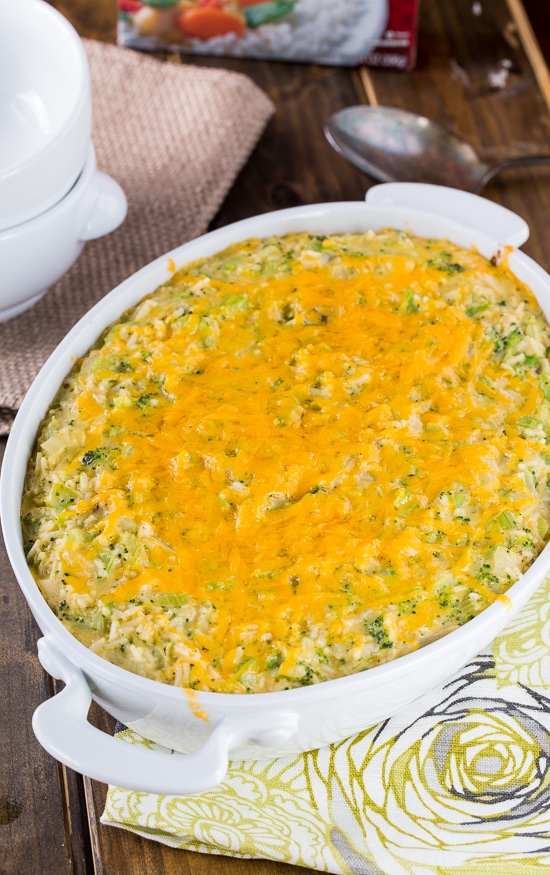 A box of Minute Rice® in your pantry will help you put a meal on the table when time is short and the hunger pangs are getting louder.
With Minute® White Rice, you can have fluffy rice in only 5 minutes. It's like magic!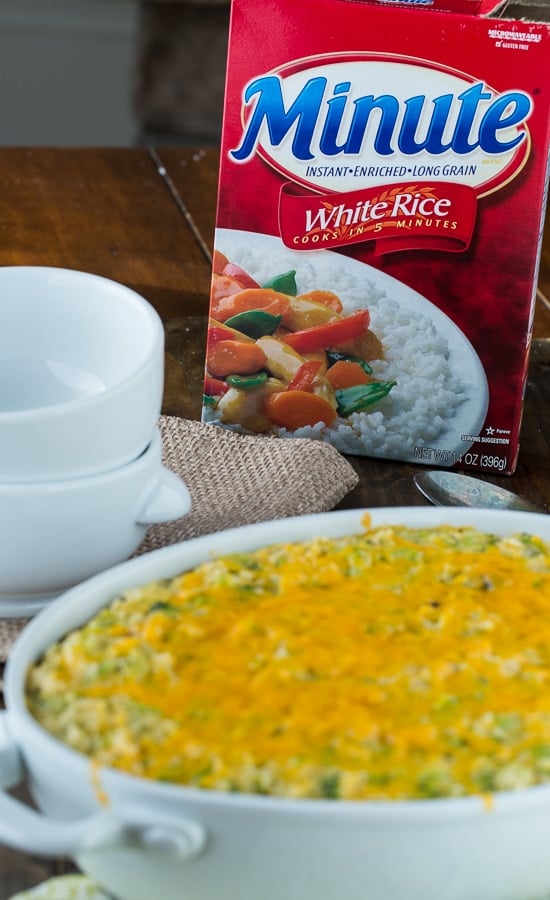 If you prefer brown rice, Minute® 100% Whole Grain Brown Rice is ready in just 10 minutes. That's much faster than the typical 40 minutes it takes to cook other brown rice. Minute® Brown Rice has the same nutritional values as other brown rices and it is gluten-free.
Minute® Rice's newest product, Multi-Grain Medley, will be making frequent appearances on our dinner table. It is gluten-free and is made with 100% whole grains including long grain brown rice, thai red rice, wild rice, and quinoa. Cooking time is only 10 minutes. It comes premeasured in packets – another time saver!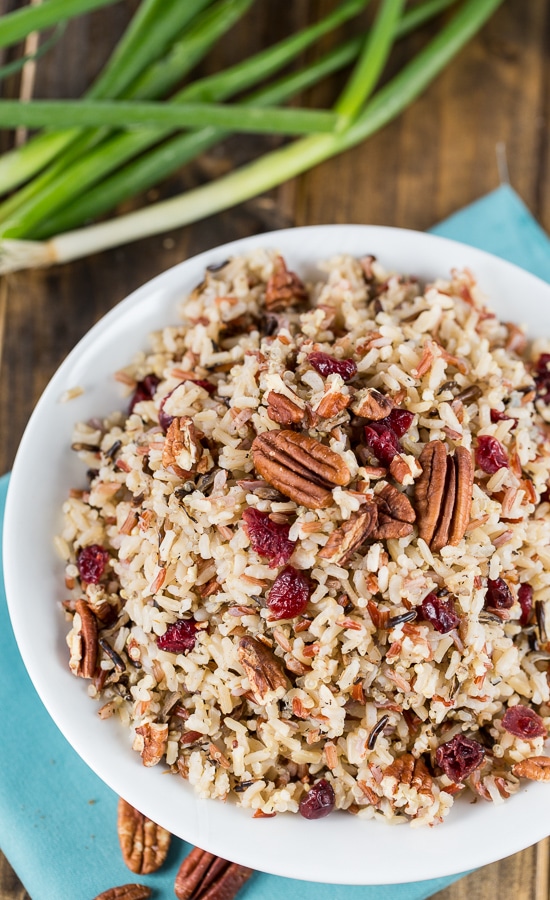 For lunch today, I cooked some in vegetable broth (you could use chicken broth) and then mixed in a few toasted pecans and dried cranberries. I cannot stop eating it. It is so good. I'm hoping there will be some left for my daughter to eat when she gets home from school.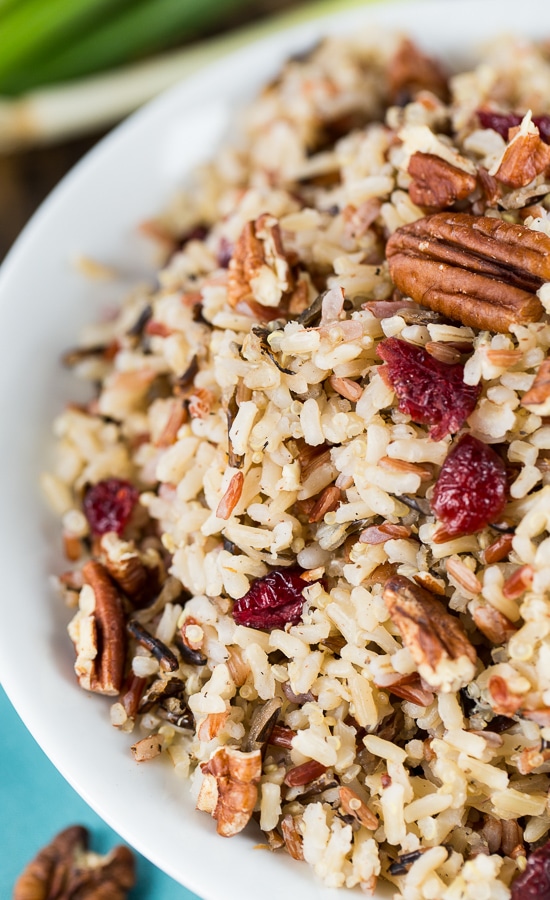 This pilaf would be perfect paired with turkey or beef for your holiday dinner.
Now, on to Broccoli Rice Casserole. This casserole is one of the very first things I learned to cook (many, many years ago!). Every time I make it I think back to when it was just me and my husband living in a little bungalow. Even though I had spent lots of time in the kitchen as a child, it was always making fun things. When it came to putting a meal on the table every night, I had no idea what to do. This casserole saved me again and again because it is so easy, so economical, and it will feed a crowd – or a couple for a whole week!
This casserole is incredibly cheesy. Who doesn't love broccoli and cheese? But the best thing about this casserole is thanks to Minute® Rice, there's no need to cook the rice first. That's time saved and fewer dishes to wash!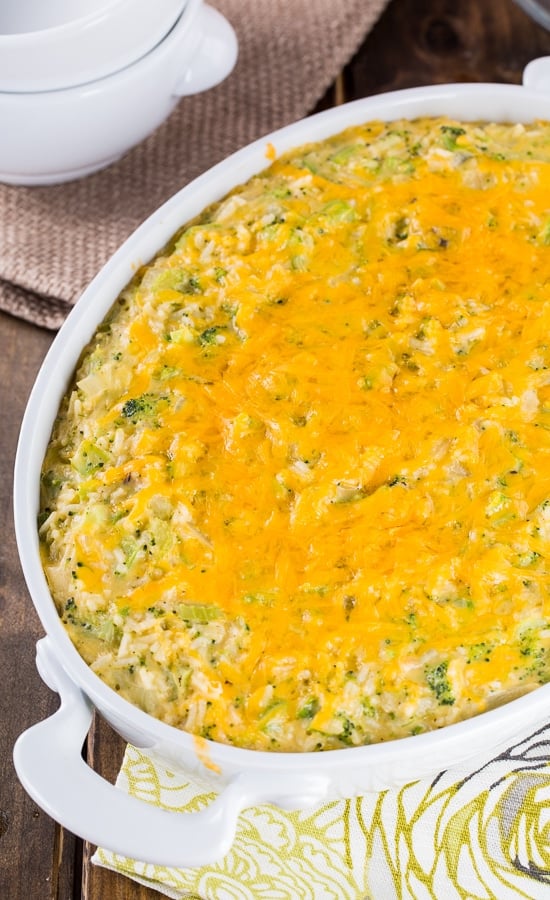 I cook some onion and celery in a Dutch oven, then add the processed cheese and let it melt. I go ahead and add all the other ingredients to the Dutch oven so I have as few dishes to wash as possible. Mix it really well, spoon it into a casserole dish, and pop it in the oven. Easy as can be.
So if you find yourself overwhelmed this holiday season and responsible for more than your fair share of meal preparation, turn to Minute® Rice to save the day. Make a quick and easy casserole or a healthy rice pilaf to accompany your holiday meal. Or maybe one of the 400+ recipes on the Minute® rice website. There are so many ways to cook Minute® Rice!
Watch the short video below to see how easy this recipe is to make!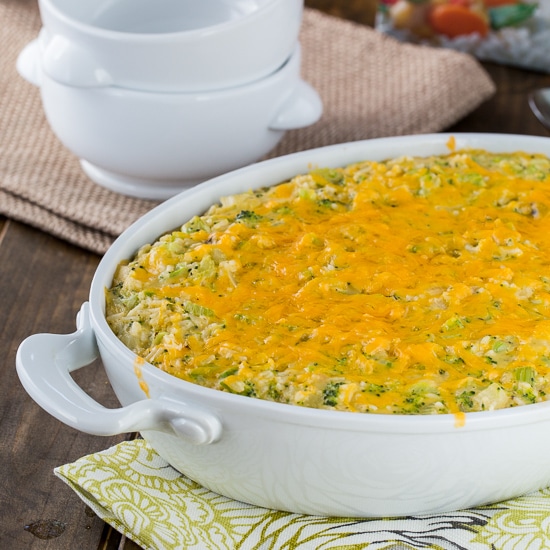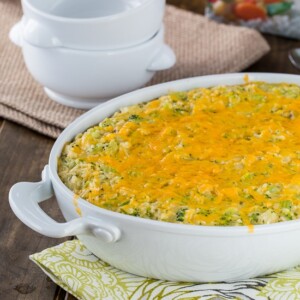 Broccoli Rice Casserole
Ingredients
2

tablespoons

butter

1

small

onion,

chopped

2

ribs

celery,

chopped

1

teaspoon

seasoned salt

1/2

teaspoon

black pepper

1/4

teaspoon

cayenne pepper

1

(16-ounce) package

processed American cheese, (cut into cubes)

1

can

condensed cream of mushroom soup

1

can

condensed cream of chicken soup

2 1/2

cups

Minute rice

uncooked

3/4

cup

milk

1/4

cup

sour cream

2

(10-ounce) packages

frozen chopped broccoli,

defrosted

1/2

cup

shredded cheddar cheese
Instructions
Preheat oven to 350 degrees and grease a casserole dish (9X13-inch).

Melt butter in a Dutch oven over medium heat and add onion and celery. Cook 5 minutes.

Add cubes of processed cheese and stir until mostly melted.

-

Add remaining ingredients, except shredded cheddar. Mix well.

-

Spoon into prepared dish, cover with aluminum foil. (Spray foil with cooking spray so it doesn't stick to the food.)

Place in oven for 30 minutes.

Remove foil, sprinkle cheddar cheese on top and leave in oven for another 10-15 minutes.

-
Want to Save This Recipe?
 This is a sponsored post written by me on behalf of Minute® Rice.
Looking for more side dish recipes? You have to try this Super Creamy Mac and Cheese!