Did you bake a huge holiday ham and now you have tons of leftovers? Whether it be leftover Easter ham or Christmas ham, these leftover ham recipes will breathe new life into it. Use it to flavor drop biscuits, turn it into a tasty appetizer, or make it the base for a hearty soup. You really can't go wrong with any of these recipes.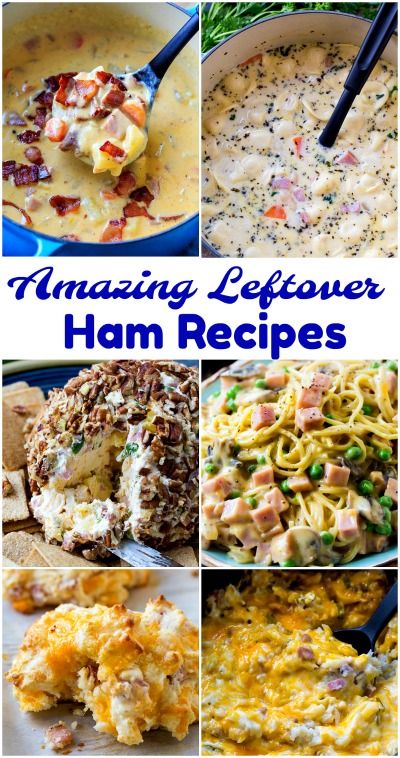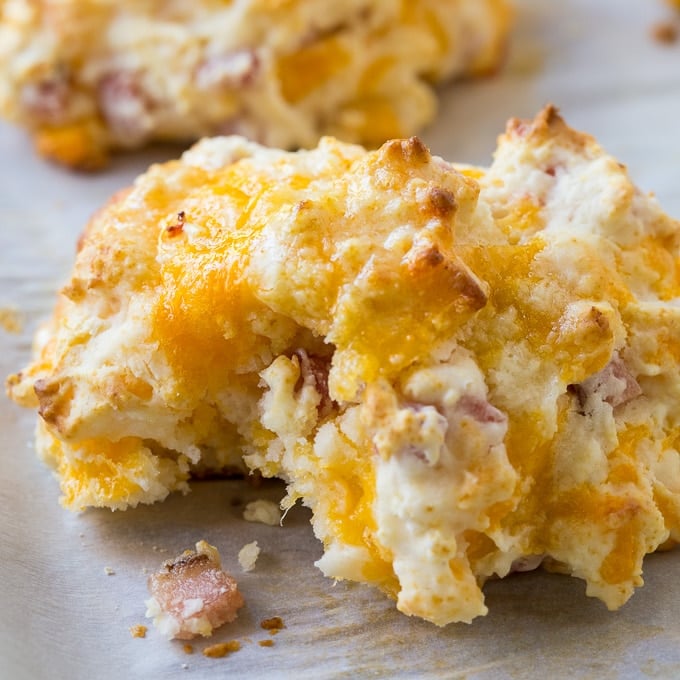 Ham and Cheese Drop Biscuits are light and tender with little bits of ham and cheese baked right in. They are super easy to make with biscuit. Serve them for breakfast or with a family meal.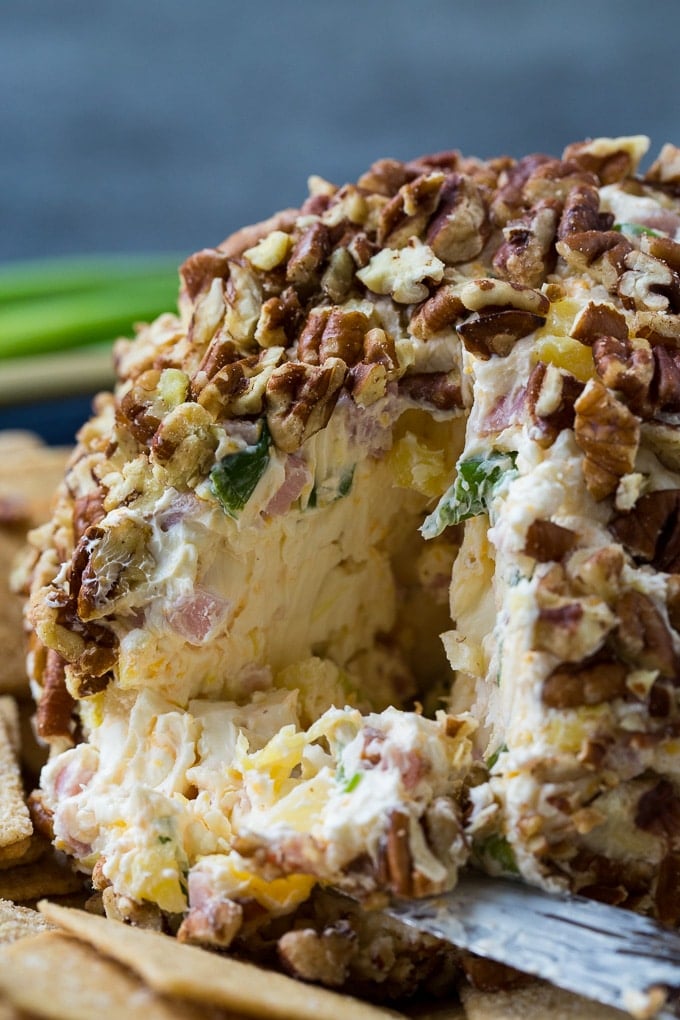 Looking for a new and different cheese ball to serve at your next party? You can't go wrong with this Pineapple and Ham Cheese Ball. Ham and pineapple make a great combination with the saltiness from the ham and sweetness of the pineapple. The whole cheese ball is covered in crunchy chopped pecans.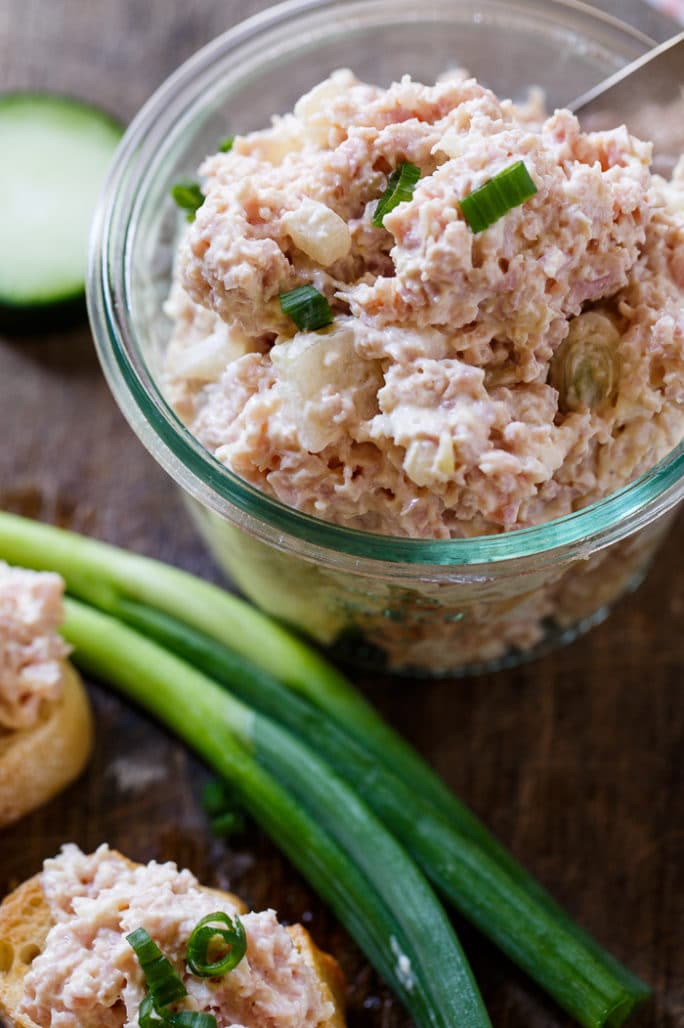 Another great appetizer is this Old-Fashioned Deviled Ham and it also works great as a sandwich spread. It only takes about 5 minutes to whip up.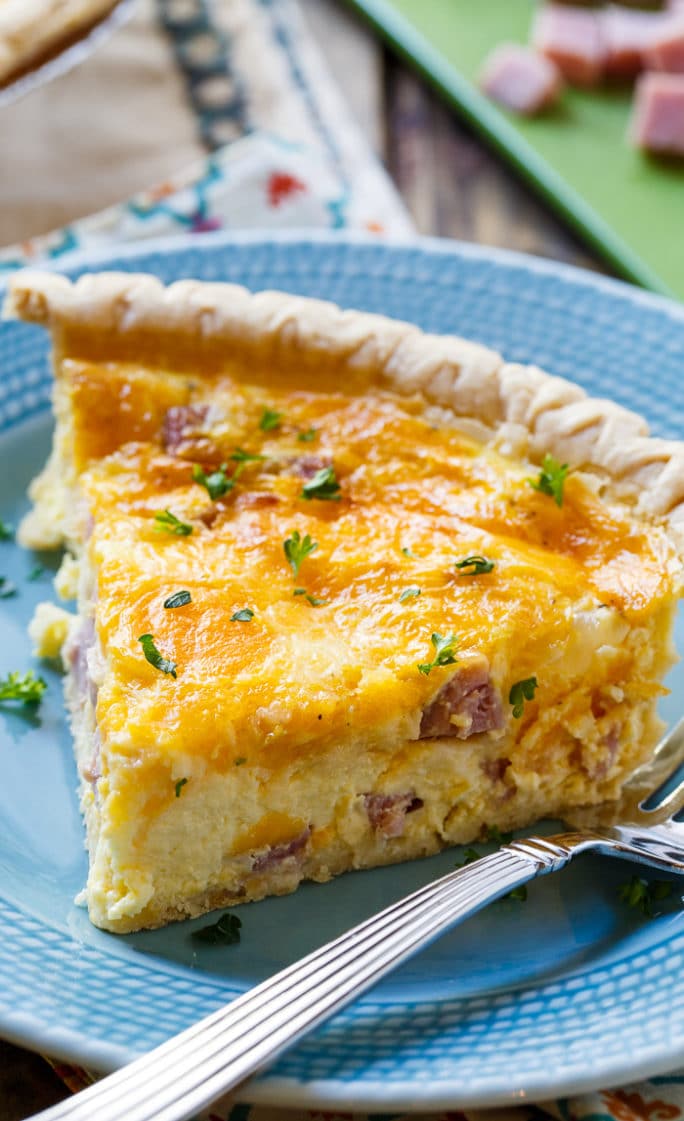 Easy Ham and Cheese Quiche is a rich and cheesy quiche that can be eaten for breakfast, lunch, or dinner. It just takes minutes to prep and has lots of cheese flavor.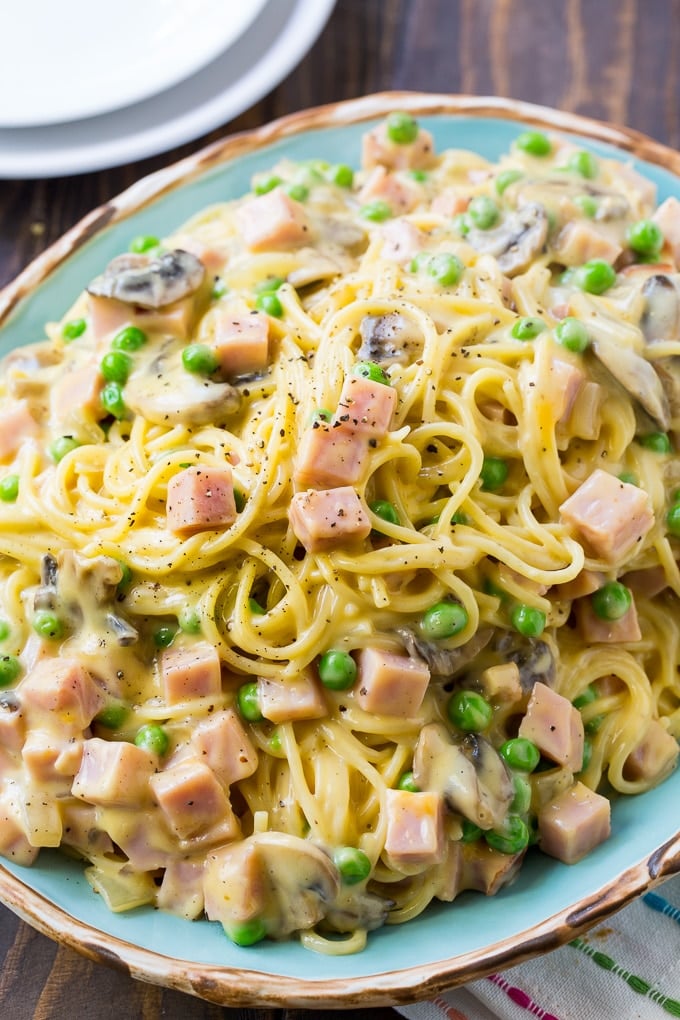 Love a creamy casserole? This Ham Tetrazzini is rich, creamy, and cheesy with lots of cubed ham and a few mushrooms and peas. This is an easy, filling family meal that is great for using up leftover Thanksgiving or Easter ham. It's practically a one pan meal. You just need a pan plus a pot to cook the pasta in.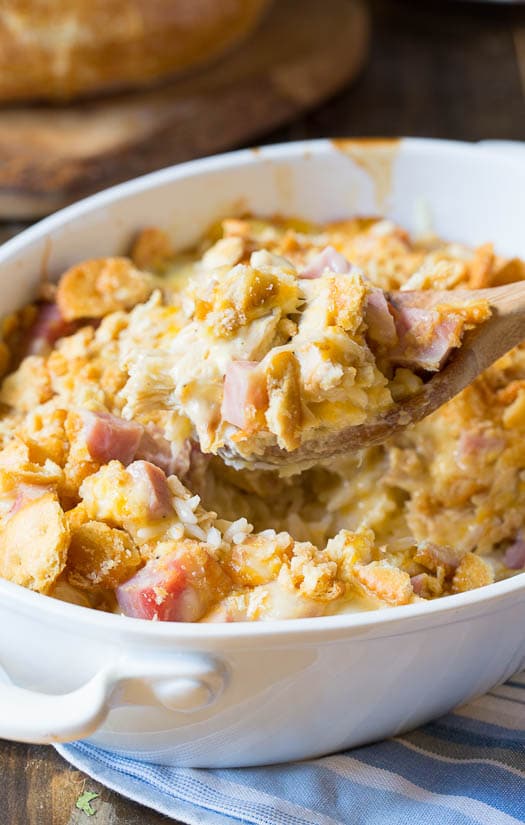 Another great recipe for using up leftover ham is this Chicken Cordon Bleu Casserole. Chicken, ham, swiss cheese all baked together over white rice. I've made it extra-flavorful by adding some cheddar cheese and a buttery Ritz cracker crumb topping.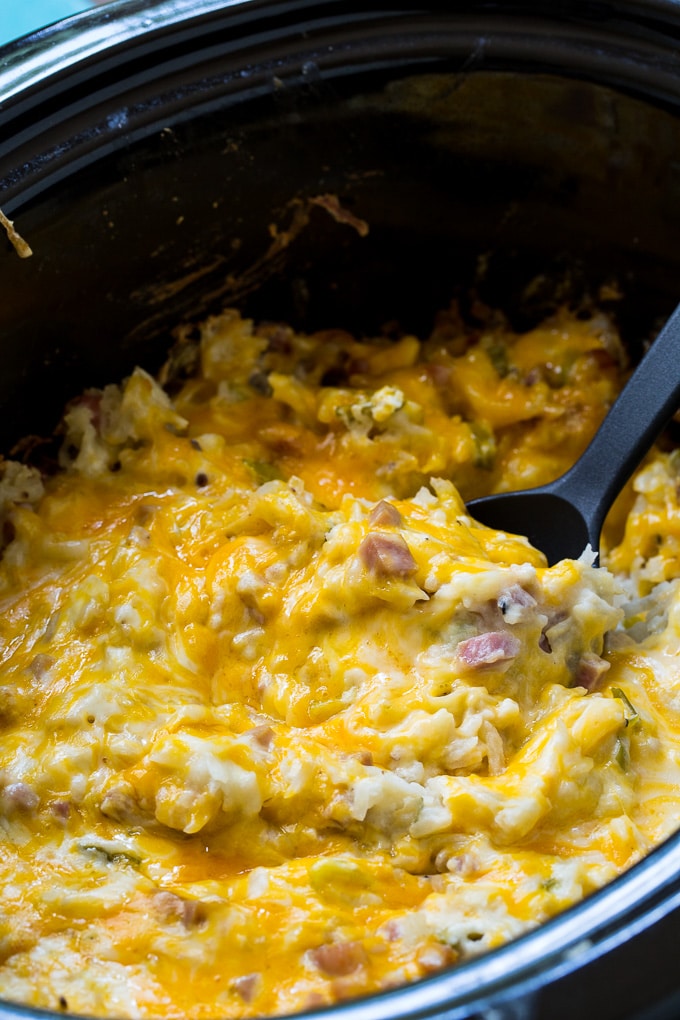 Crock Pot Ham and Cheese Hash Brown Casserole is super cheesy with chunks of ham and two kinds of cheese. It is great as an all in one breakfast or as a dish for an elaborate brunch.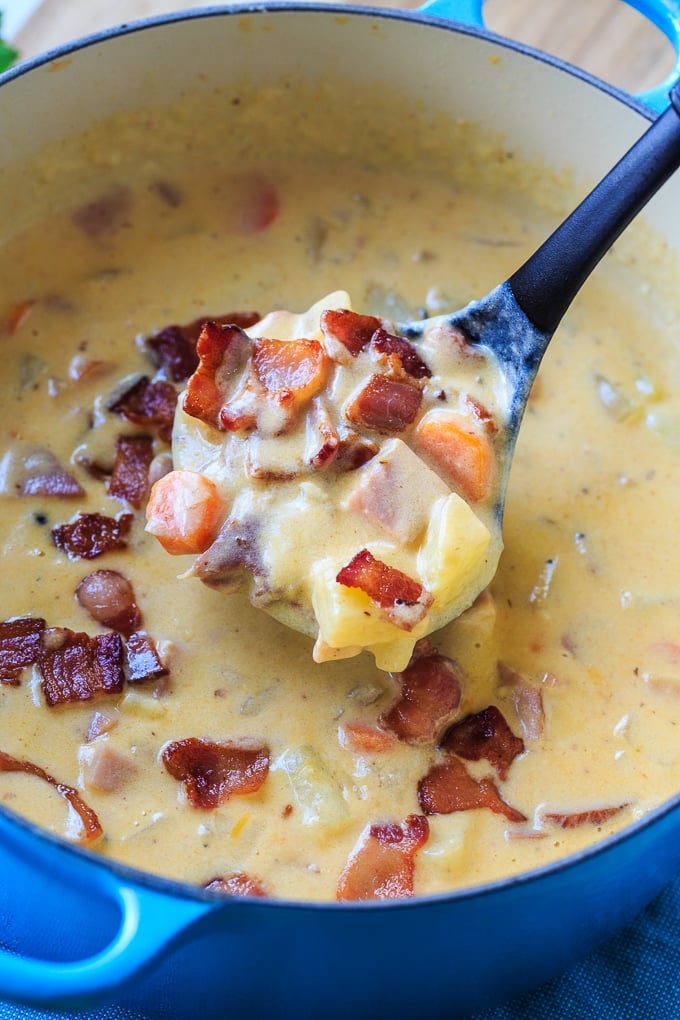 Cheesy Ham and Potato Chowder is thick and creamy and the perfect way to breathe new life into your leftover ham. Bacon, carrots, onion, and potato make this one hearty and delicious soup!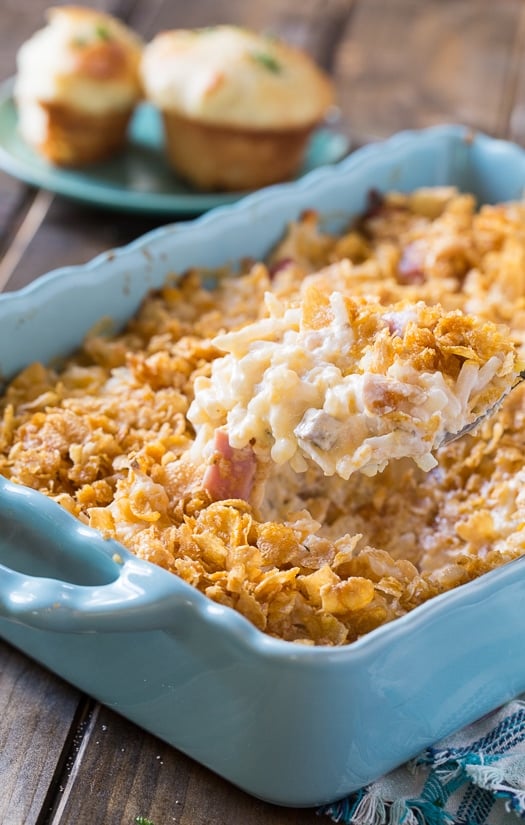 Comfort food doesn't get any better than these Funeral Potatoes with Ham. The filling is rich and creamy and the whole thing is topped off with a buttery cornflake topping.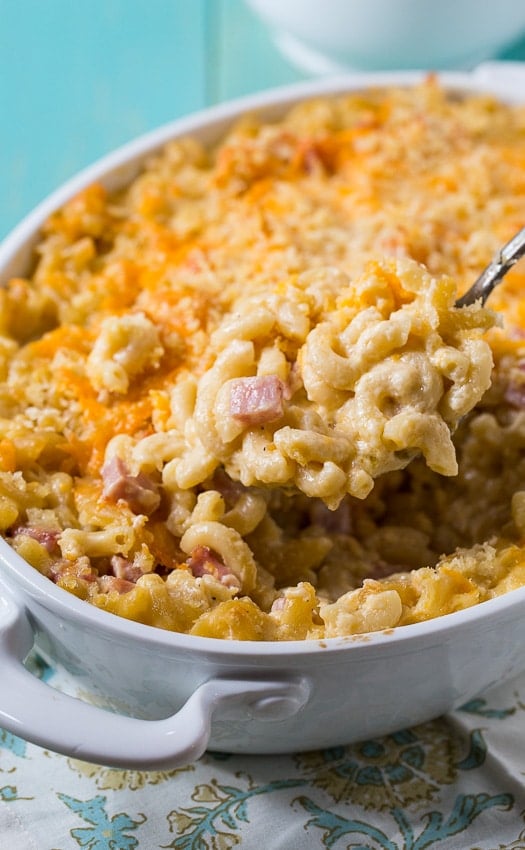 Mac and Cheese with Ham is a creamy, cheesy, comforting meal. The addition of diced ham turns mac and cheese into a hearty main dish meal.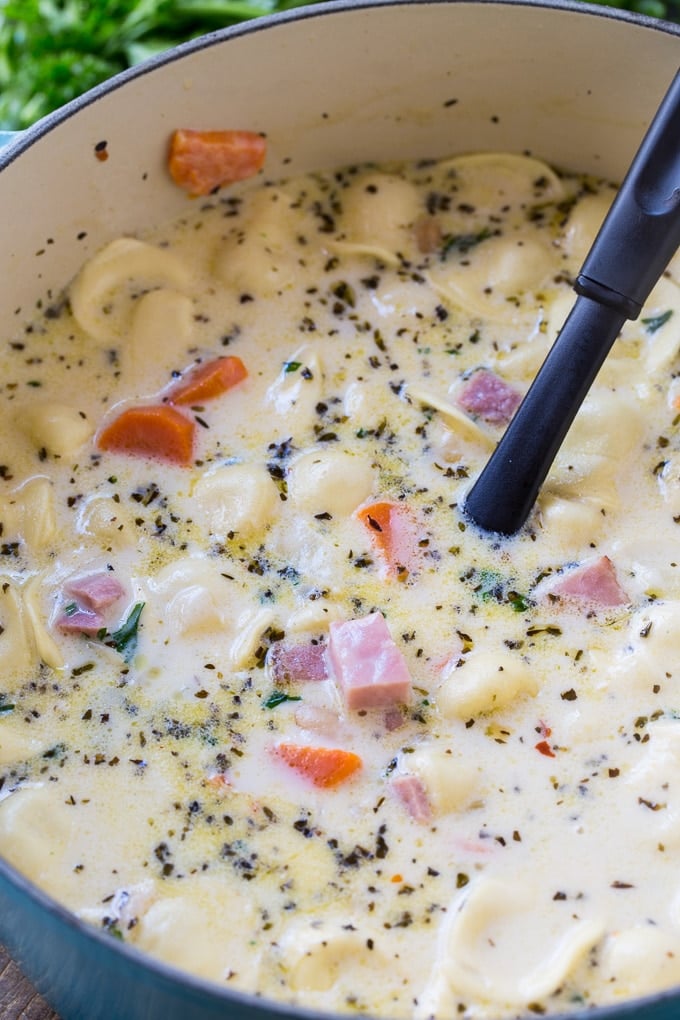 Ham and Tortellini Soup with White Beans is one delicious and filling soup. Serve it with a salad or some crusty bread and you have a full meal.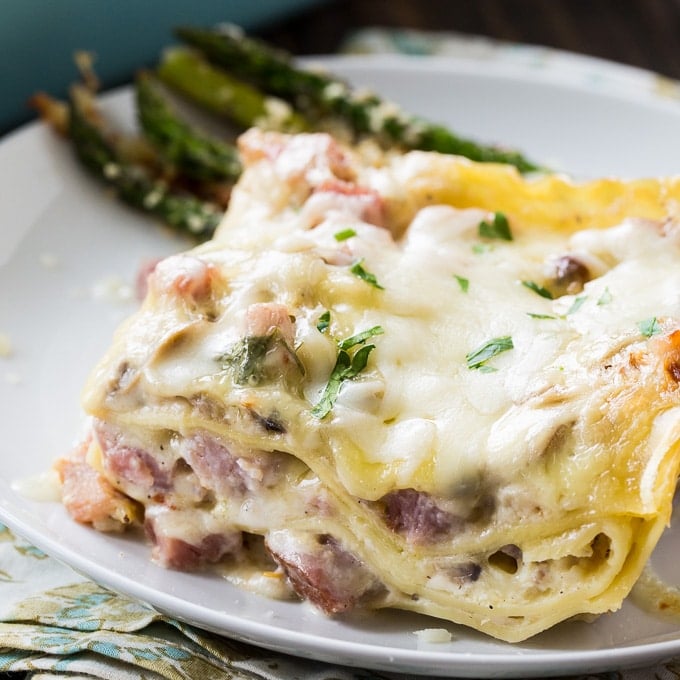 Ham Lasagna is creamy and rich with lots of cheese. It's a wonderful twist on lasagna and a great way to use up leftover ham. In fact, I think this is my favorite way to use up leftover Easter ham.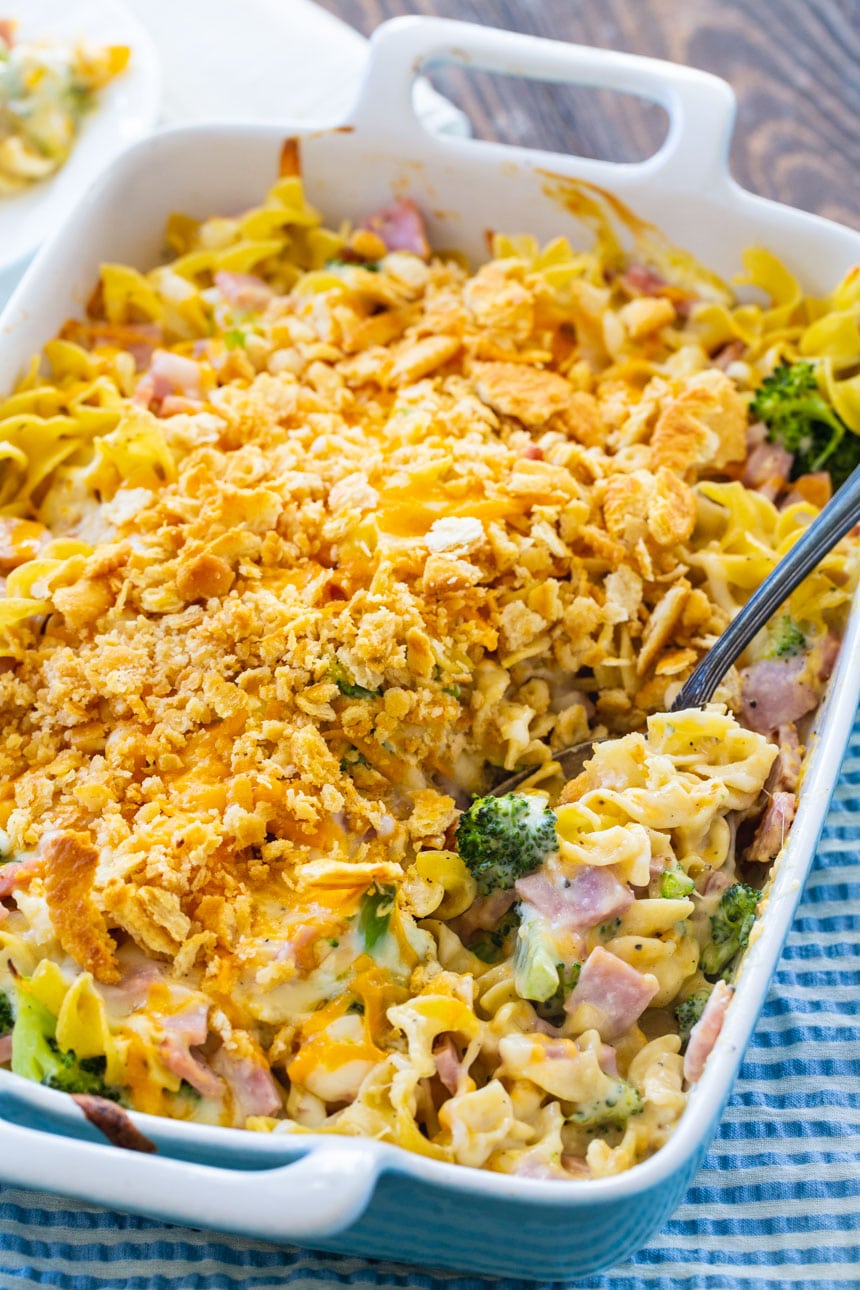 Ham and Noodle Casserole with Broccoli is a creamy, cheesy casserole that's perfect for using up leftover ham. With a crunchy, buttery cracker crumb topping, this one dish meal is pure comfort food.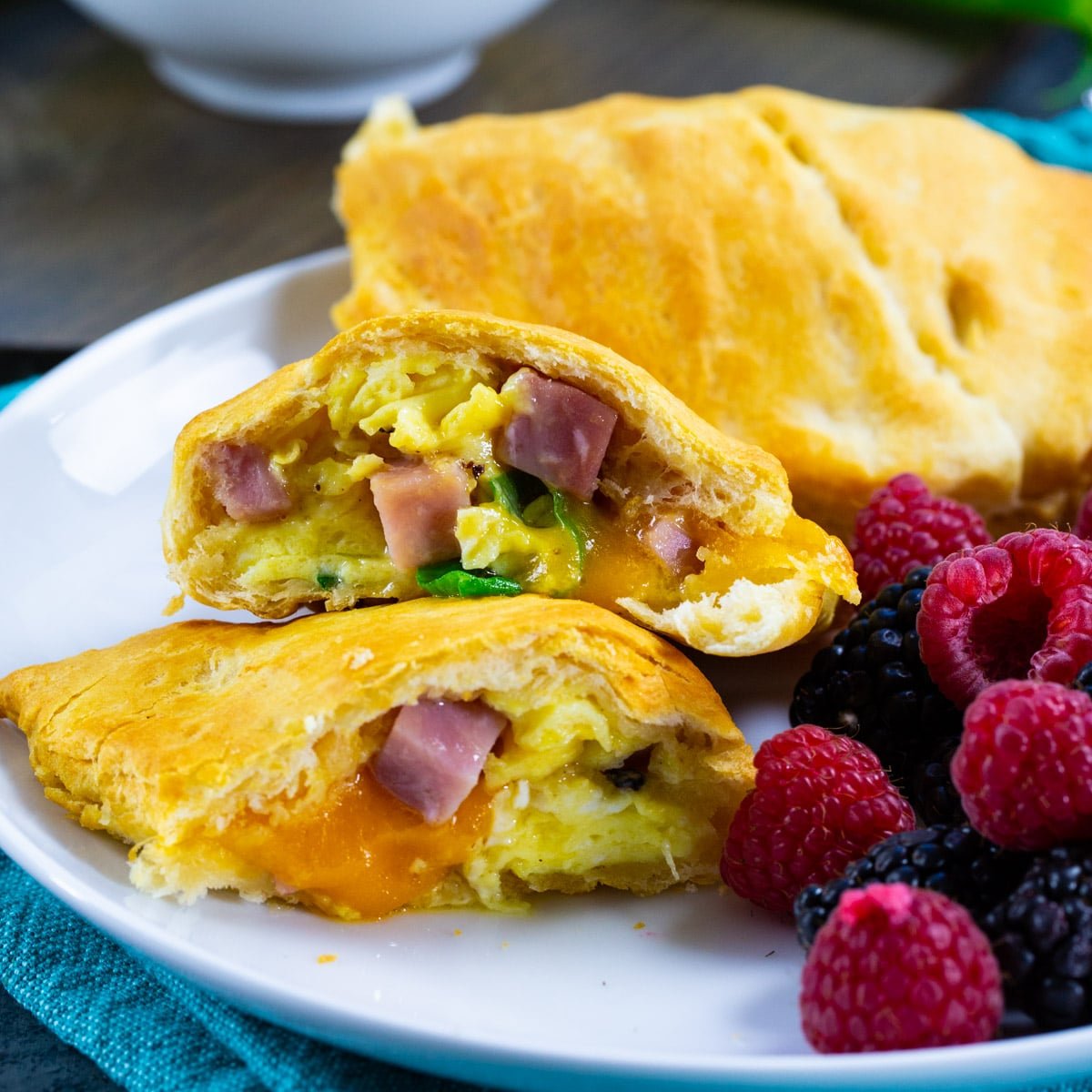 Air Fryer Ham and Egg Pockets are a breeze to make for breakfast. Wrapped in buttery crescent dough, they are filled with egg, ham, and cheese and only take 7 to 10 minutes in the air fryer.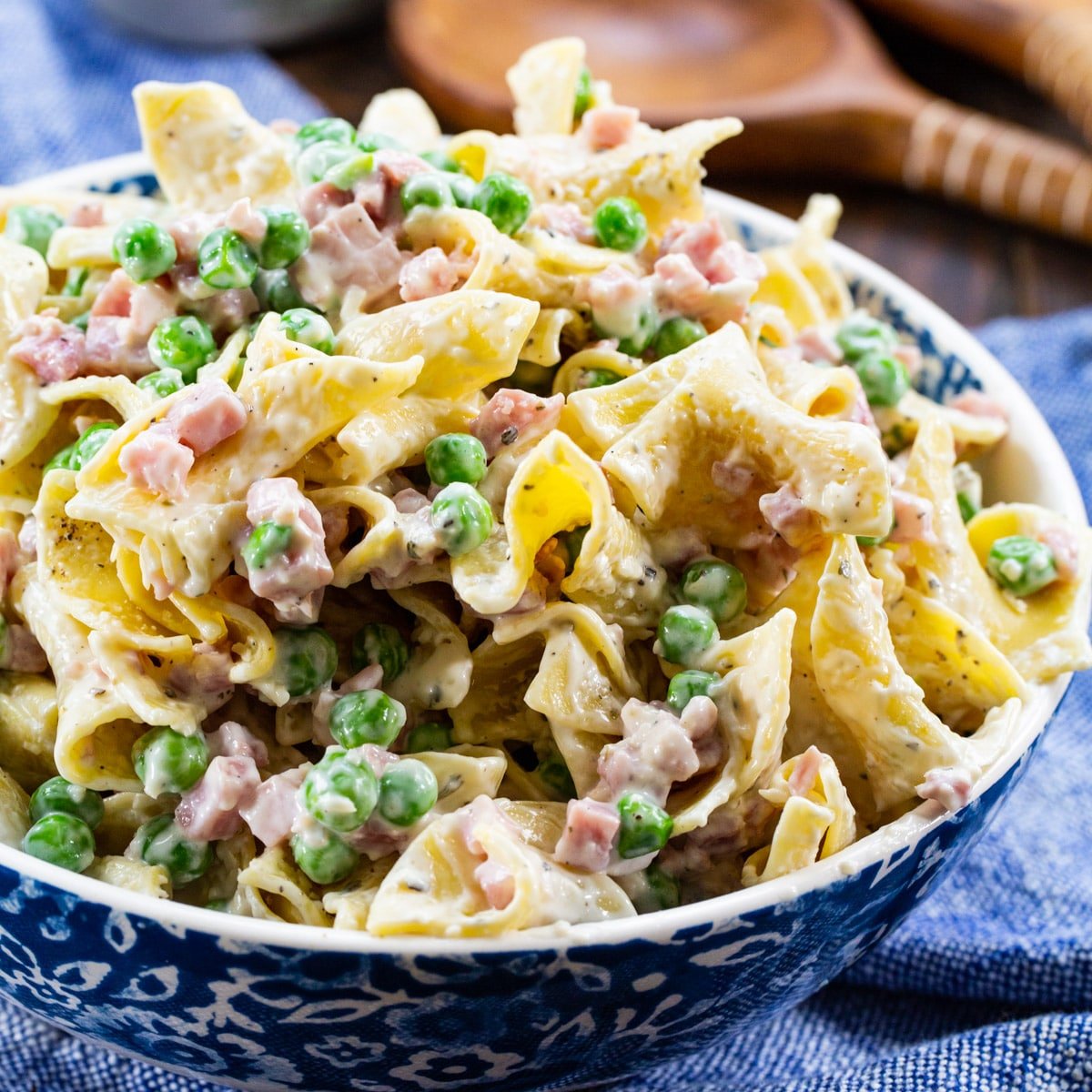 Ranch Noodles with Ham is wonderfully creamy and full of peas, diced ham, ranch dressing, and Parmesan cheese. A great recipe for using up leftover Easter ham.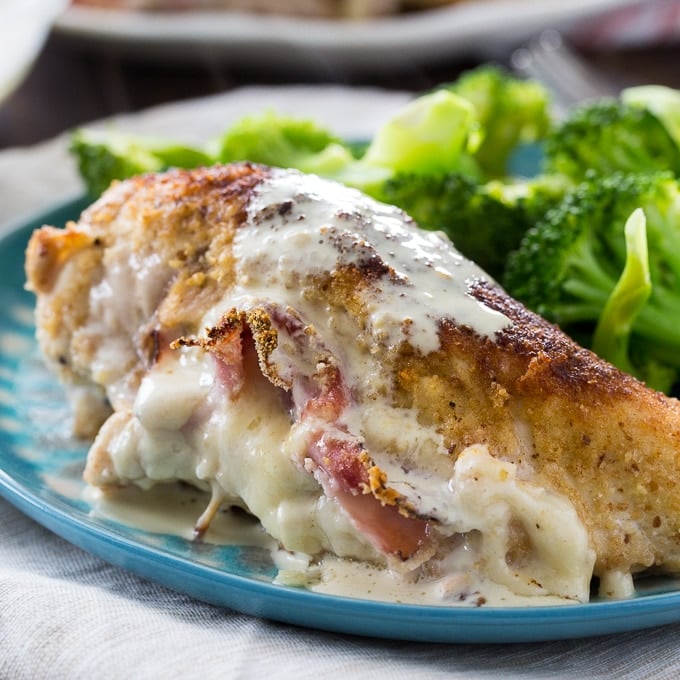 Ham and Cheese Stuffed Chicken with Mustard Cream Sauce has the taste of Chicken Cordon Bleu and it makes an impressive and delicious meal, but it's not at all difficult to make.