Buttermilk Parmesan Pork Chops are soaked in buttermilk to tenderize them and then coated with a mixture of Panko crumbs, flour, seasonings, and Parmesan cheese. They are then pan-fried until crispy and golden.  Next they are then topped with more Parmesan cheese and baked until cooked through. So wonderfully crispy and cheesy!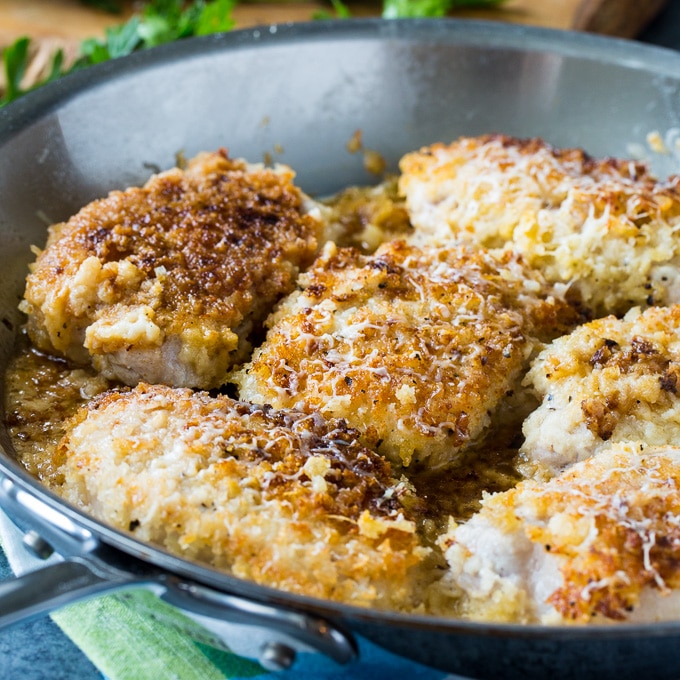 I love the process of starting pork chops in a frying pan and finishing them in the oven. You can turn the heat up good and high to get them really crispy on the outside, but you don't have to worry about the outside burning before the inside cooks since they will finish in the oven.
Be sure to use an oven-proof skillet. Either a cast iron skillet or a stainless steel skillet. If you don't have an oven-safe skillet, transfer the pork chops to a casserole dish before moving them to an oven.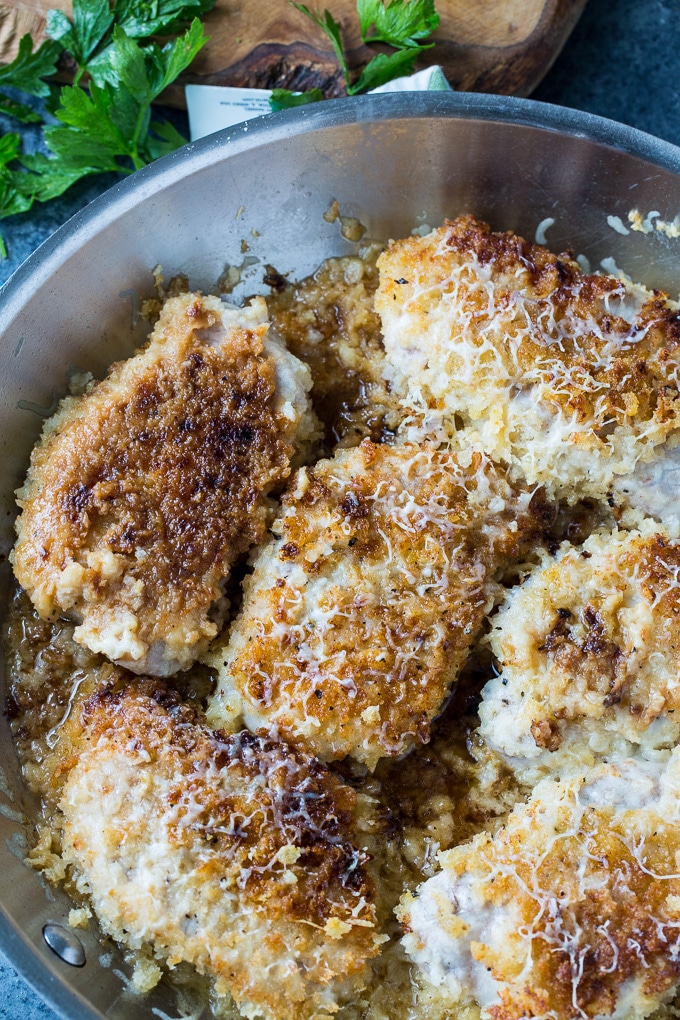 The pork chops available on the market today are much leaner than they were years ago and it's hard to cook them without them drying out and getting chewy. Soaking them in buttermilk really helps tenderize them.
These Buttermilk Parmesan Pork Chops have a super thick coating that's full of Parmesan flavor. Serve them with a few southern sides for a delicious family meal.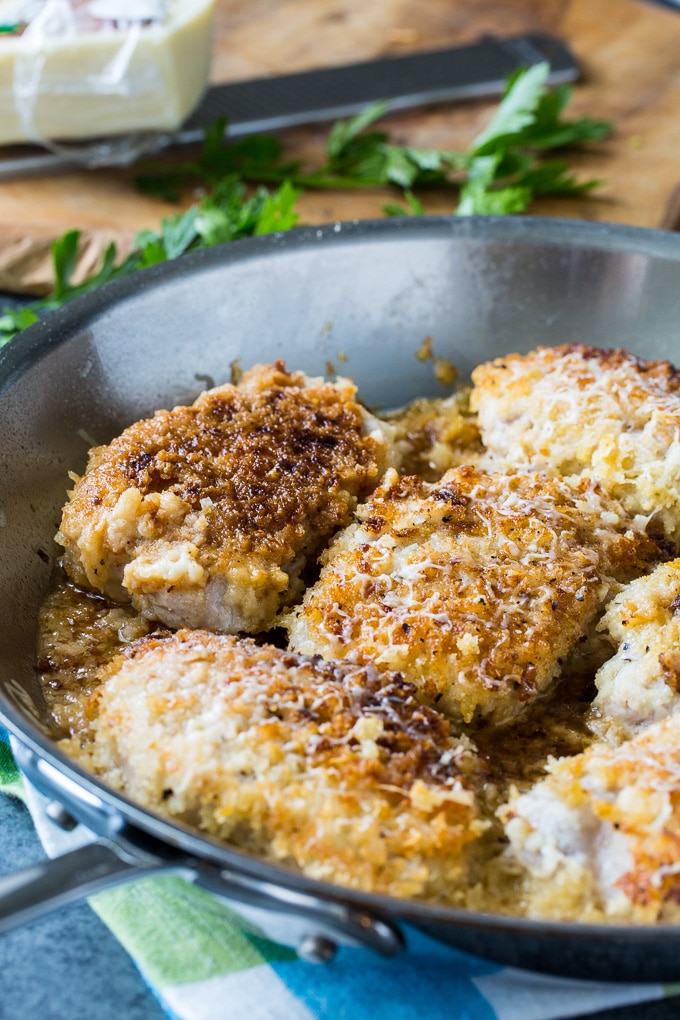 More Pork Chop Recipes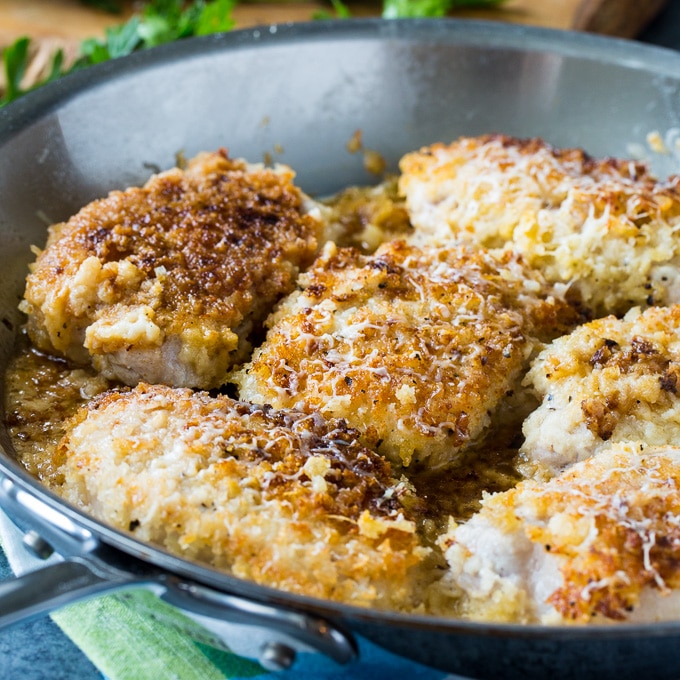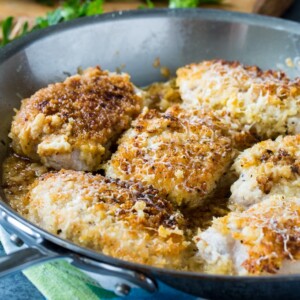 Buttermilk Parmesan Pork Chops
Buttermilk Parmesan Pork Chops cook up wonderfully crispy with lots of Parmesan flavor.
Ingredients
6

boneless center cut pork chops

1 1/2

cups

buttermilk

2

cups

Panko crumbs

1/3

cup

all-purpose flour

1/2

cup

freshly grated Parmesan cheese

1/2

teaspoon

garlic powder

1/2

teaspoon

salt

1/2

teaspoon

black pepper

1/2

teaspoons

paprika

3

tablespoons

olive oil

2/3

cup

chicken broth

2

tablespoons

freshly grated Parmesan cheese
Instructions
Combine pork chops and buttermilk in a large ziptop bag. Refrigerate for at least 2 hours and up to 24 hours.

Preheat oven to 325 degrees.

Combine Panko crumbs, flour, 1/2 cup Parmesan cheese, garlic powder, salt, pepper, and paprika.

Remove pork chops from bag. Lightly season with salt and pepper.

Press both sides of pork chops into Panko crumb mixture.

Place oil in large oven-proof skillet and heat over medium-high heat. Add pork chops and cook until golden brown on both sides, about 2 to 3 minutes per side.

Pour the chicken broth around the pork chops and sprinkle 2 tablespoons of Parmesan cheese on top of the pork chops.
Want to Save This Recipe?
Recipe adapted from: How Sweet Eats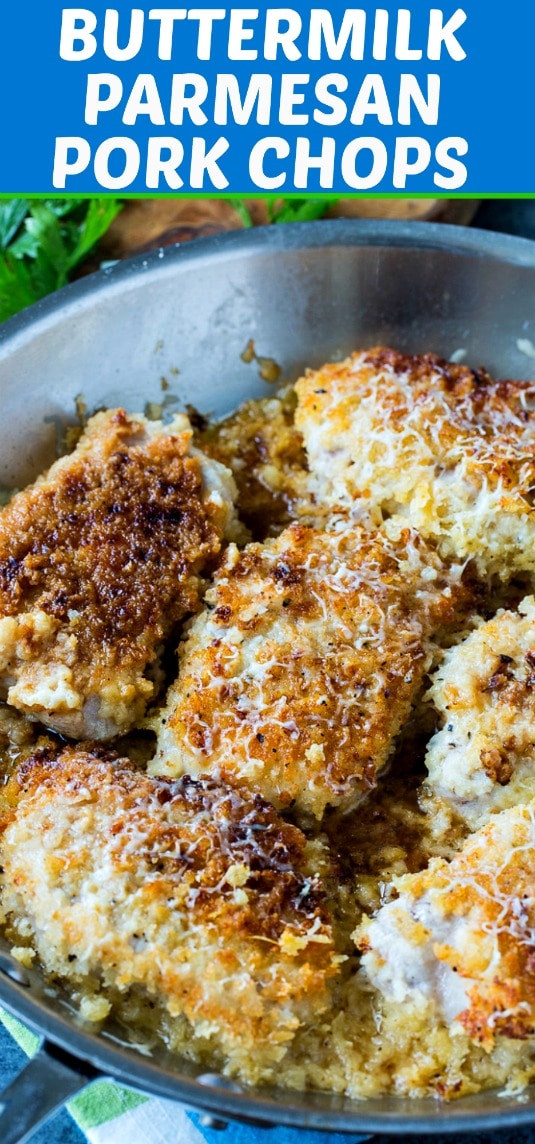 Disclosure: This post contains affiliate links.