Buttered Parsley Potatoes are so simple and so delicious! You'll want to serve them with every meal. And they go with just about anything so why not?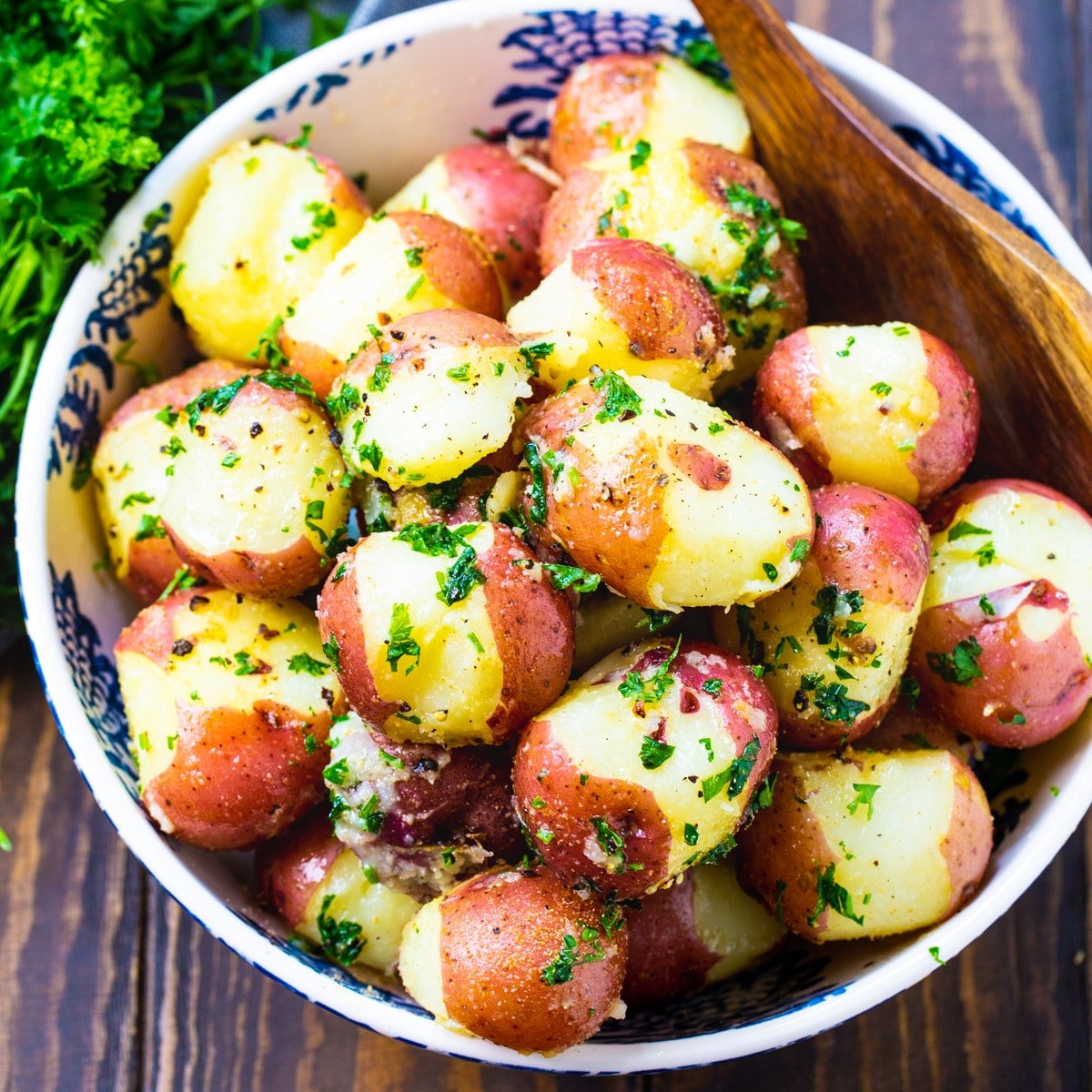 I love red potatoes. They have the best texture. So creamy! Look for small red potatoes. They cook faster and they just seem to taste better.
The potatoes are boiled in salted water until soft. I like to remove a ring of skin from the middle. They soak up the flavor of the garlic and butter better if they aren't completely covered in skin. But I like the way the skin looks and tastes so I don't want to remove all of it.
Once cooked, the potatoes get tossed with butter, parsley, and garlic powder. So easy!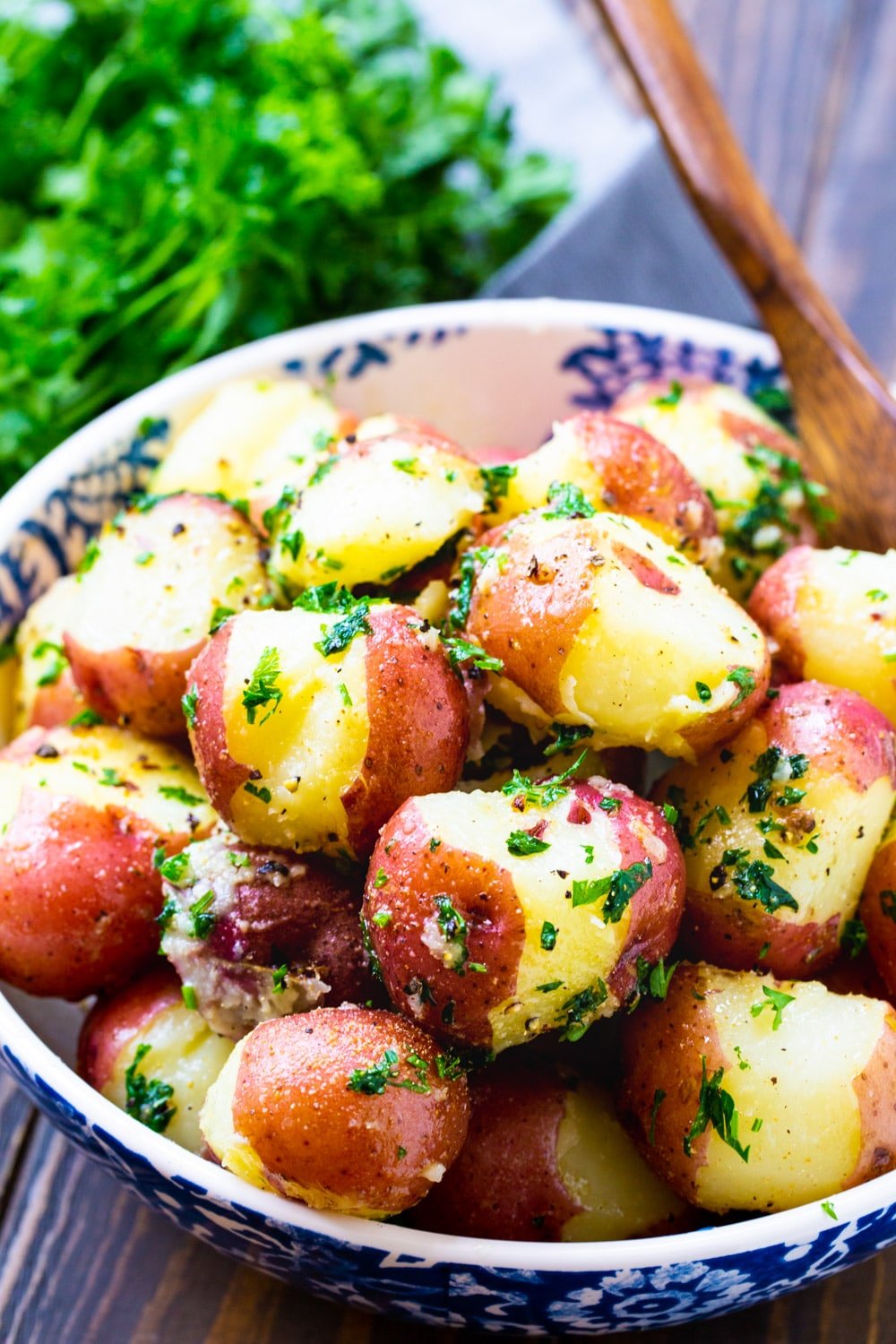 The fresh flavor of parsley is just perfect with potatoes. You can use either curly parsley or flat leaf parsley. Or you could use fresh dill. Love dill with potatoes, especially during the summer months!
Buttered Parsley Potatoes go great with steak, pork, or chicken.
Buttered Parsley Potatoes Recipe Tips:
Don't forget to salt the water. It really helps season the potatoes.
To make these potatoes spicy, try adding 1/2 teaspoon of crushed red pepper flakes.
How To Tell When Potatoes are Cooked?
Be sure to not overcook the potatoes or they will tatse waterlogged and fall apart. Use a wooden skewer, a knife, or a fork and pierce a potato. There should be little resistence. If the potato starts to fall apart when you pierce it, it is most likely a little overdone.

Try These Other Potato Recipes: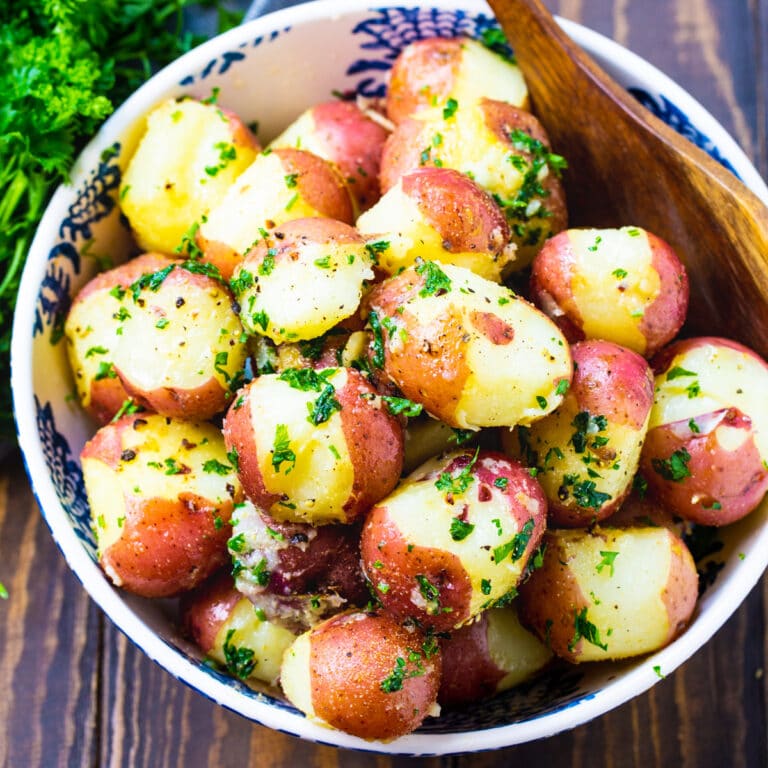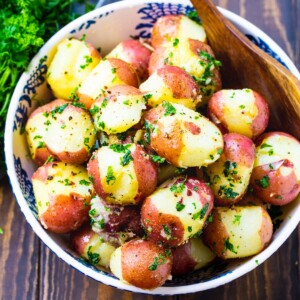 Buttered Parsley Potatoes
Buttered Parsley Potatoes are so simple and delicious with a creamy texture.. They make the perfect side dish for chicken, pork, or steak.
Ingredients
2

pounds

small red potatoes

3

tablespoons

butter,

cut into slivers

1/2

teaspoon

garlic powder

2

tablespoons

finely chopped fresh parsley

salt and pepper
Instructions
If desired, remove skin from the middle of each potato. Place potatoes in a large pot and cover with 1 inch of water. Add 1 teaspoon salt and bring to a boil. Simmer 20 to 25 minutes or until soft.

Drain potatoes well and return to pot.

Add butter, garlic powder, and parsley. Toss to coat well.

Add salt and pepper to taste.
Want to Save This Recipe?
Originally published August 23, 2017.