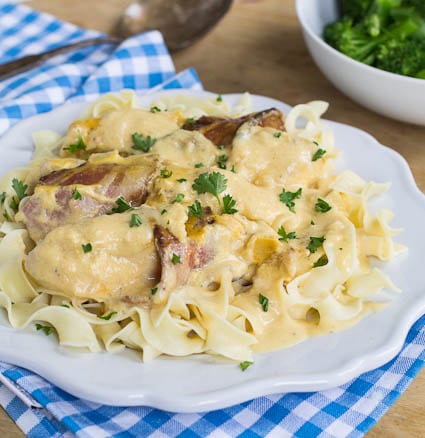 Chicken breasts wrapped in bacon and slow cooked in a mixture of sour cream, cream of chicken soup, and Cheddar Cheese soup. This crockpot chicken is super easy and only requires a few inexpensive ingredients.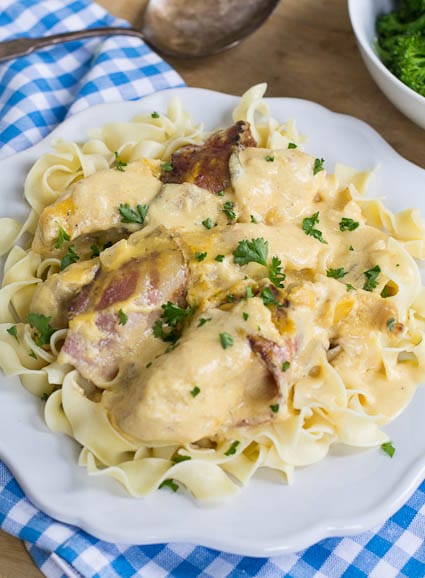 As with any crockpot recipe, the meat cooks up super tender and moist. The chicken gets a wonderful smokiness from the bacon that wraps around it. A mixture of sour cream and condensed soups produces a copious amount of extra thick and creamy sauce. It's wonderful served over some egg noodles. It would also be good over rice or mashed potatoes.
It takes a little prep work up front, partially cooking some bacon and sautéing some onions for a few minutes. But you can still get it prepped and ready to go in about 10 minutes. And it will free up that precious evening time when it seems there's a million other things to do.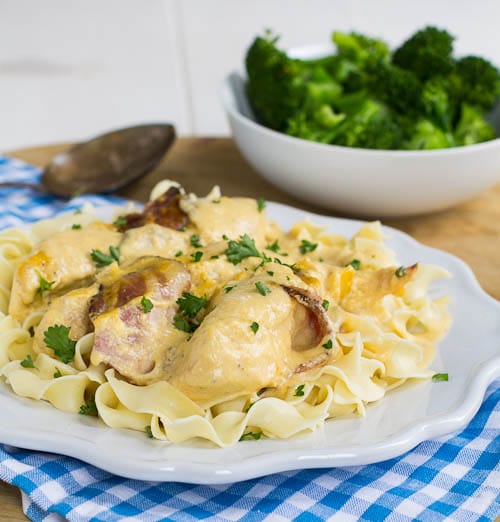 Sour Cream and Bacon Crockpot Chicken
Ingredients
8 bacon slices
⅓ cup diced onion
4 boneless, skinless chicken breasts
1 (10-ounce) can cream of chicken soup
1 (10-ounce) can Cheddar Cheese Soup
1 cup sour cream
⅓ cup flour
½ teaspoon garlic powder
salt and pepper to taste
Instructions
Cut each chicken breast in half so that you have two long and narrow chicken tender shape pieces.
Place bacon in a large skillet and cook over medium heat until about halfway cooked. You want some of the fat to cook off, but the bacon to still be pliable.
Immediately wrap a slice of bacon around each chicken piece while the bacon is still pliable. Place in crockpot.
Add onion to skillet and cook in bacon fat for 2 minutes. Remove with a slotted spoon and place in crockpot.
In a medium bowl, whisk together both soups, sour cream, flour, and garlic powder. Pour over chicken.
Cover crockpot and cook on low for 5-6 hours, until chicken is completely done.
Remove chicken from crockpot and place on a serving platter. Whisk the sauce well and taste for seasoning. Add salt and pepper to taste.
Serve over rice, egg noodles, or mashed potatoes.
 More Crockpot Recipes
Trisha Yearwood's Slow Cooker Mac and Cheese
Slow Cooker Bourbon Baked Beans
Slow Cooker Carolina-Style Pulled Pork
Slow Cooker Green Bean Casserole