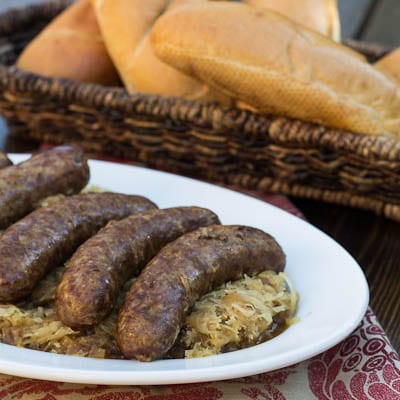 Who doesn't like a nice juicy bratwurst, covered in sauerkraut and stuffed in a sub roll? And is there any better month than October to eat bratwurst? Did you know that you can cook Bratwurst in the slow cooker? This Slow Cooker Beer Brats recipe is a fantastic recipe from Cook's Country Magazine. I posted it about a year ago on my old blog Fort Mill SC Living and I wanted to repost it here not only because it's one of my favorite crock pot recipes, but one of my favorite recipes period.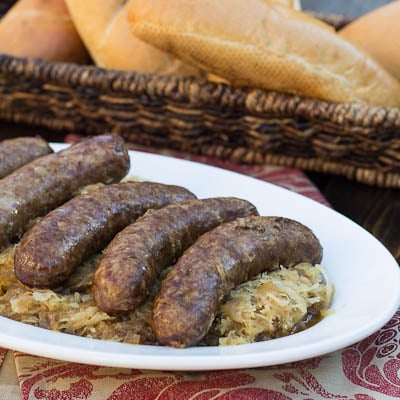 The brats slow cook on a bed of onions, covered in beer. They stay super juicy and moist, and yes, they are missing the nice char that a grill gives bratwurst, but that's a small price to pay for the ease of crockpot cooking. You can use pretty much any number of brats you want for this recipe. The original recipe calls for 10, but I used 5. You just want them to fit in a single layer in the crock pot. Make sure you use the full amount of onions though. The onions serve as a buffer between the brats and the bottom of the crock pot and prevent the brats from cooking too fast. You don't want the brat's skins to burst because they will lose their juice and dry out. Next time you can't stomach another crockpot chili, throw a few brats in the pot for a super easy and tasty fall meal.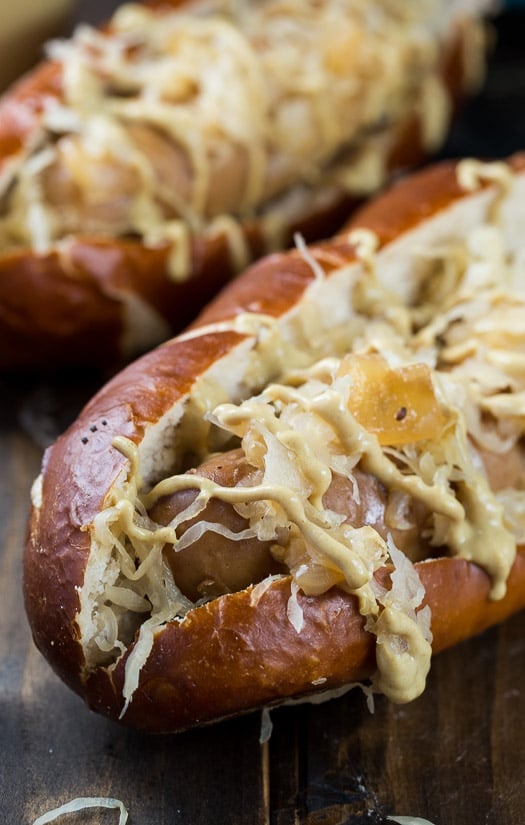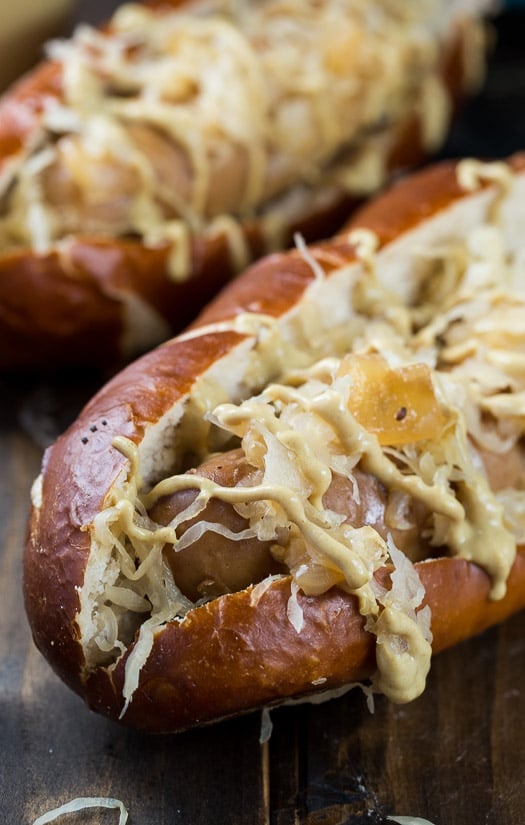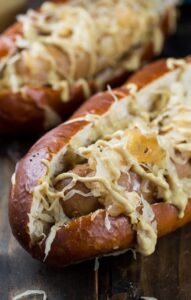 Slow Cooker Beer Brats
Ingredients
1

pound

onions,

sliced into 1/4-inch thick rings

1/4

cup

soy sauce

2

tablespoons

packed brown sugar

10

bratwurst,

I just used 5

3

cups

beer

1/4

cup

dijon mustard,

plus extra for serving

1/2

teaspoon

caraway seeds

if you like caraway, may want to up to 3/4 teaspoon

1

cup

sauerkraut,

I used a whole regular-sized can

a hoagie roll for each brat
Instructions
Place onions, soy sauce, and brown sugar in a microwave safe bowl and microwave until slightly softened, about 5 minutes, stirring halfway through. Dump mixture into bottom of a slow cooker. Arrange brats on top.

In a medium bowl, whisk together beer, mustard, and caraway seeds. Pour on top of brats. Cover and cook on low for 6 to 8 hours or on high for 4. (I cooked them on low so I can't vouch for the high heat method)

Transfer brats to a platter and tent with foil to keep warm. Stir sauerkraut into onion mixture and let warm for a few minutes. Strain sauerkraut-onion mixture through a colander or use a slotted spoon to transfer to a serving dish. Discard liquid. Serve Brats and Kraut on rolls if desired with mustard.
Want to Save This Recipe?
Recipe Source: Cook's Country Magazine