I am now convinced anything can be cooked and cooked well in a crock pot. Chicken Parmesan was one recipe I was sure could not be pulled off well in a slow cooker. I mean, how can you get that crispy, breaded coating?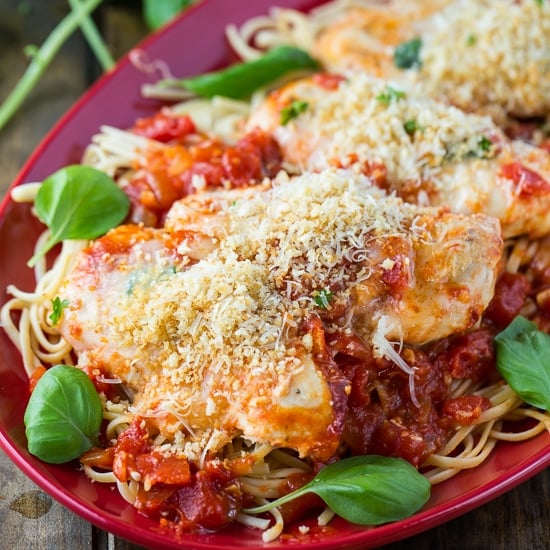 But this recipe from Cook's Country, my go to source for classic recipes, solves that problem by adding a crispy Panko crumb topping after the chicken is cooked. Genius!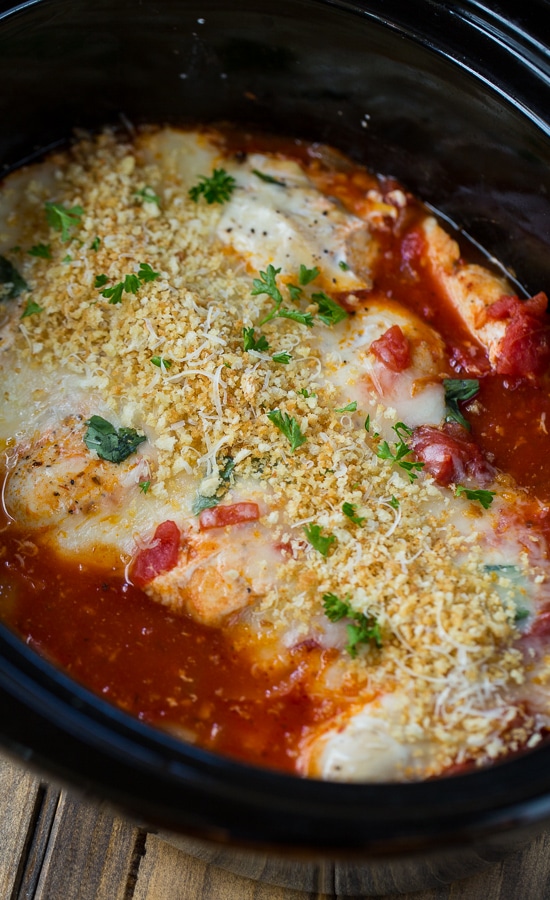 Now granted, it's not quite the same as eating a perfectly fried piece of chicken like this one. But it is the next best thing.
There is a small amount of precooking for this recipe- sauteing the onions and garlic mainly. All in all this is a totally easy and hands off recipe for chicken parmesan.
An easy sauce is made from the sautéed onion and garlic plus a whole can of tomato paste, seasonings, and diced tomatoes.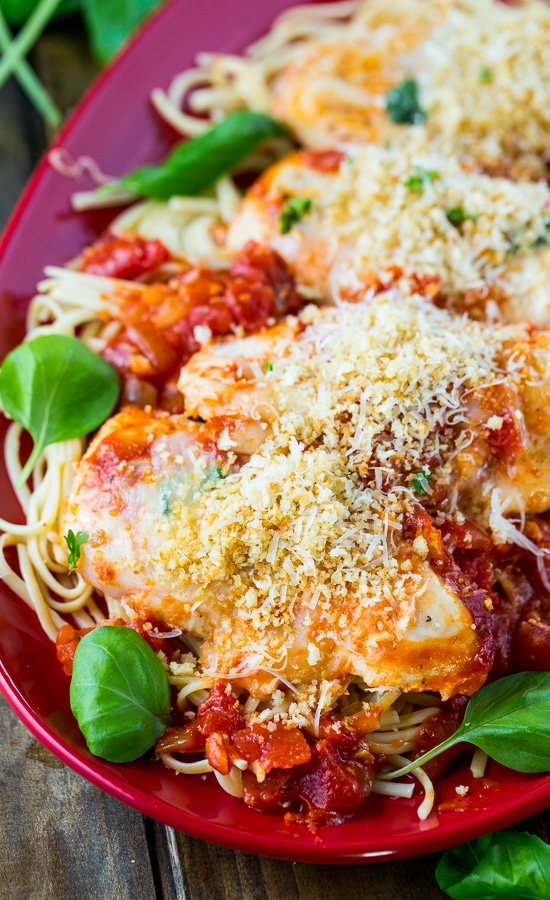 To keep the sauce from getting watery, as sauces tend to get in the crock pot, you start with an extra thick sauce and add some cornstarch. The result is a super flavorful and tomatoey  Crock Pot Chicken Parmesan with just the right amount of cheese and a crunchy Panko crumb topping.
Chicken Parmesan was never so easy!
Follow my Crock Pot Pinterest Board and never run out of ideas for things to make in your slow cooker.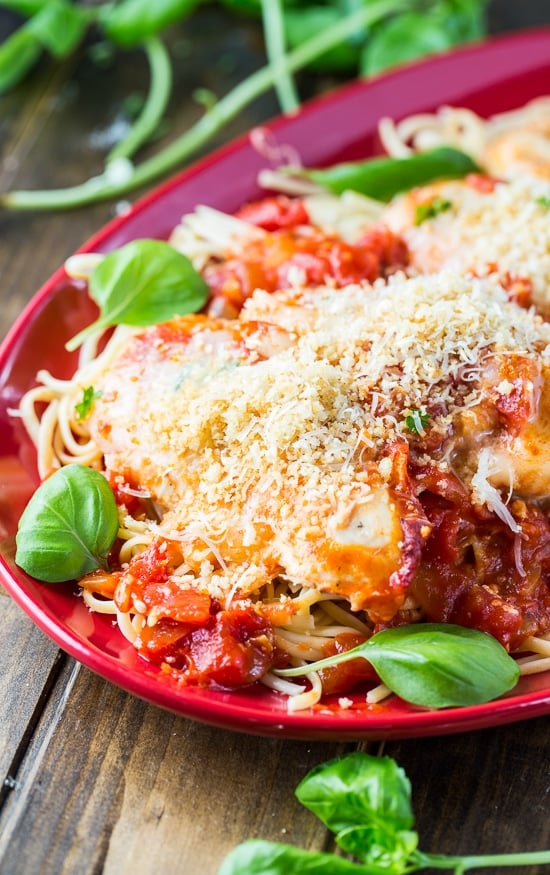 Never miss a recipe. Follow Spicy Southern Kitchen on Facebook and Instagram.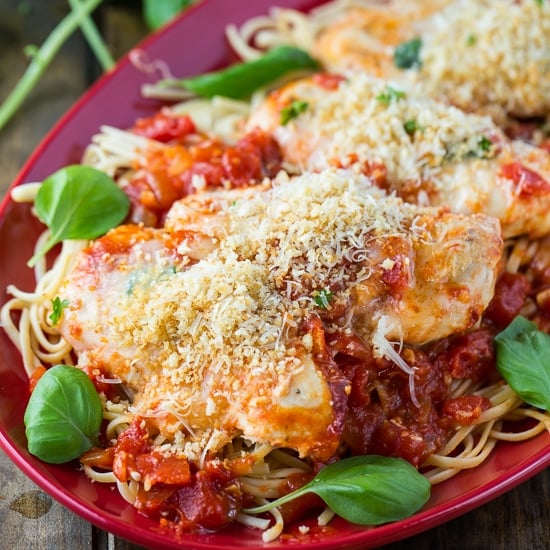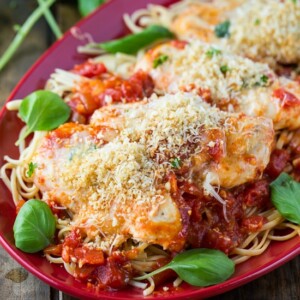 Crock Pot Chicken Parmesan
Super flavorful Crock Pot Chicken Parmesan with a thick, not watery, tomato sauce and a crunchy Panko crumb topping. So easy!
Ingredients
6

boneless

skinless chicken breasts

Salt and pepper

2

tablespoons

olive oil,

divided

1

medium onion,

diced

1

(6-ounce)

can tomato paste

4

cloves

garlic,

minced

1

teaspoon

dried oregano

1/8

teaspoon

red pepper flakes

1

(28-ounce)

can diced tomatoes,

I like to use fire-roasted, drained

1

tablespoon

cornstarch

1

tablespoon

water

1 1/2

cups

shredded mozzarella cheese

1/3

cup

grated Parmesan cheese

2

tablespoons

chopped fresh basil

1/2

cup

Panko crumbs

1

tablespoon

minced fresh parsley
Instructions
Heat 1 tablespoon of oil in a nonstick pan over medium-high heat. Add onion, tomato paste, garlic, oregano, red pepper flakes, 1/4 teaspoon salt. and 1/4 teaspoon pepper. Cook until onions are softened and tomato paste is rust in color, about 4 minutes.

Transfer onion-tomato paste mixture to a lightly greased

crock pot

(or use a

crock pot liner

) and stir in drained diced tomatoes.

Dissolve the cornstarch in the 1 tablespoon of water and stir into the tomato sauce.

Season chicken with salt and pepper and lay them on top of tomato mixture so that they are shingled and the tapered ends face the side of the crock pot with the control panel. Cover and cook on LOW for 3 to 4 hours.

Mix together mozzarella and half of the Parmesan cheese. Sprinkle cheese mixture over chicken, place the lid back on and let sit in turned-off crock pot for 15 minutes to melt the cheese.

Combine Panko crumbs and 1 tablespoon olive oil in a nonstick pan over medium heat. Cook until nicely browned, stirring frequently. Transfer Panko crumbs to a bowl to cool and then add in remaining Parmesan cheese, the basil, 1/8 teaspoon salt, and 1/8 teaspoon pepper. Sprinkle on top of cheese and serve.
Want to Save This Recipe?
Recipe adapted from Cook's Country 
Shared this recipe on Watcha Crockin' Wednesday. Stop by for lots of crock pot inspiration!
More Crock Pot Recipes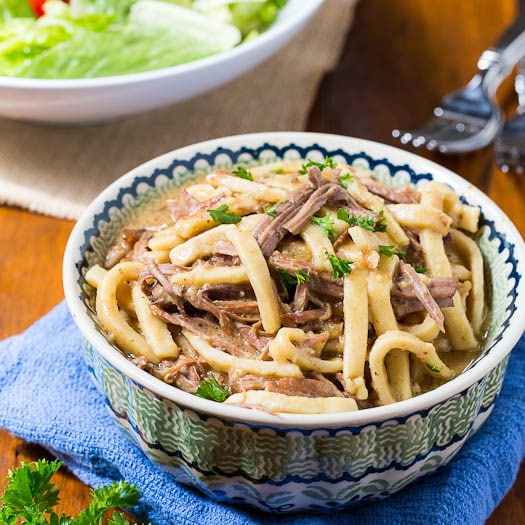 Crock Pot Beef and Noodles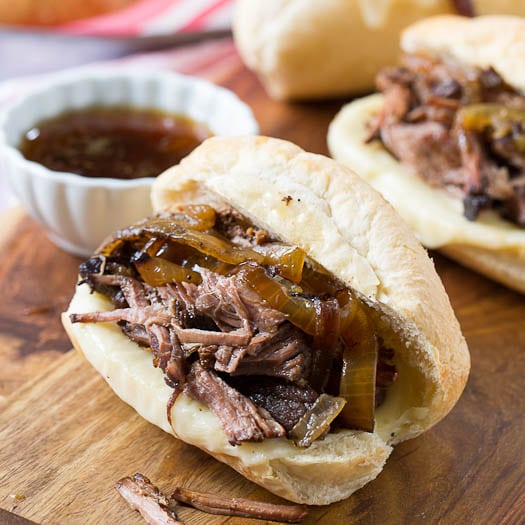 Crock Pot French Dip Sandwiches
Disclosure: This post contains affiliate links.