Chicken Parmesan has a crispy coating, lots of melted cheese, and a tomato sauce flavored with basil. Such a classic Italian meal.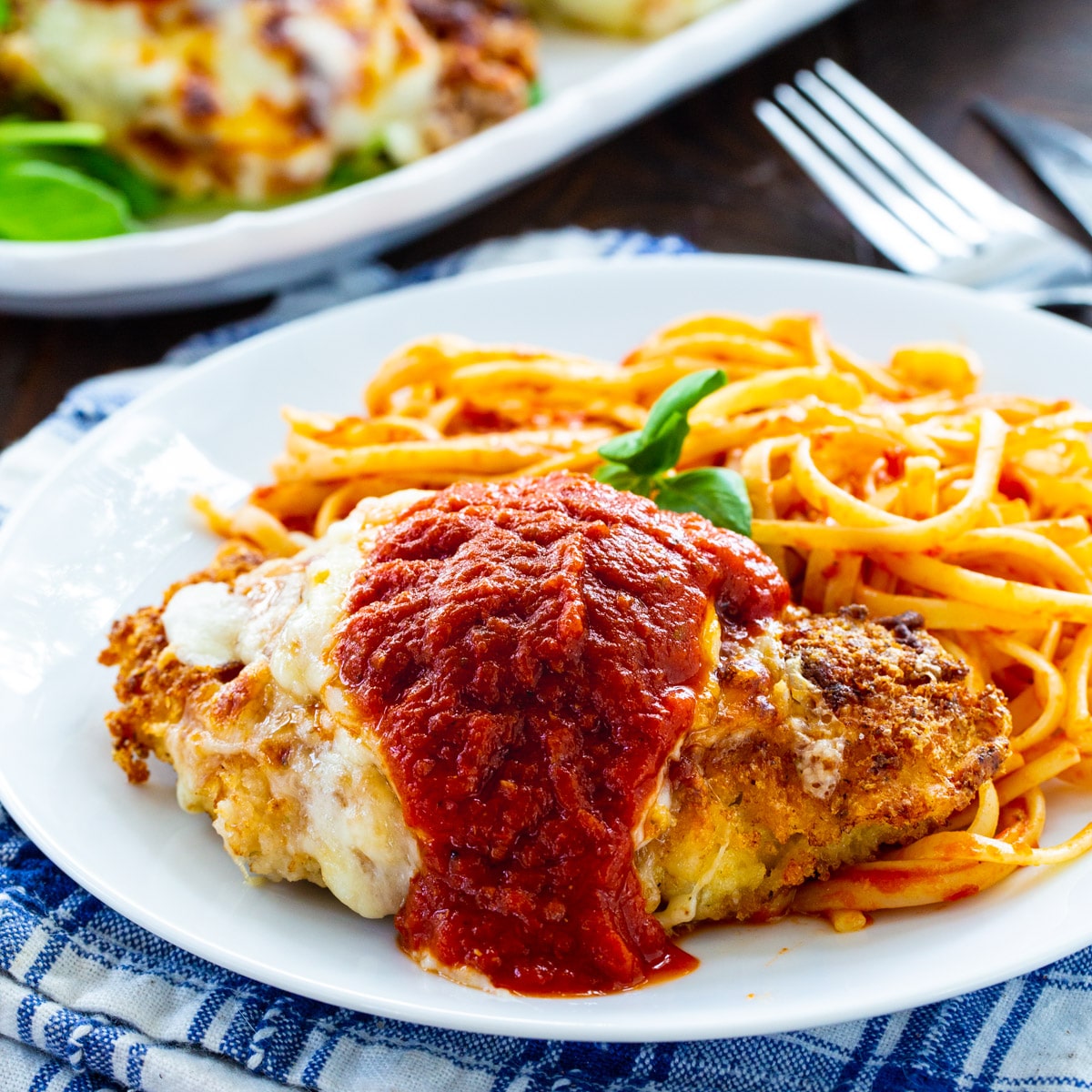 This Chicken Parmesan recipe from Cook's Illustrated is sheer perfection. Possibly the best I've ever had. But let's face it, Chicken Parmesan has to be right up there in the top restaurant dishes that disappoint. That's why it's such a great meal to cook at home. No more soggy coating, overcooked dry chicken, flavorless tomato sauce, or chewy and oily cheese.
In my opinion, Chicken Parmesan is the ultimate comfort food. A breast of chicken fried to crispy perfection, topped with melted cheese and a bright and flavorful tomato sauce, served on top of buttery pasta. It doesn't get much better than that.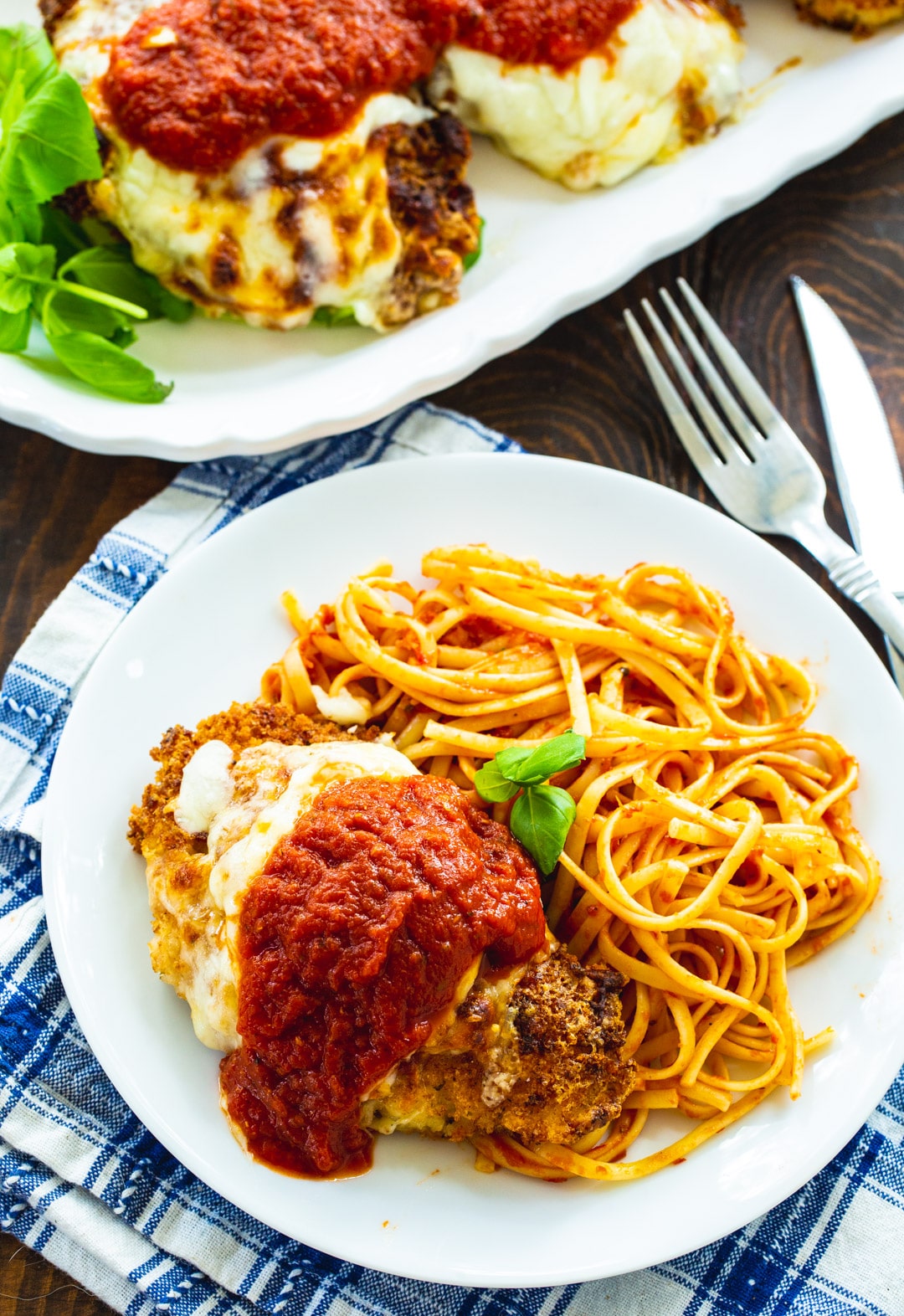 Recipe Tips
In this recipe Panko crumbs give the chicken an extra crispy coating and using just a minimum amount of sauce keeps the chicken from turning into a soggy mess. Be sure to let the sauce simmer and reduce for at least 20 minutes to concentrate the flavors and thicken it. And definitely use a good quality canned tomato. Since you aren't using much sauce, you really want what you use to have a big flavor impact.
I altered the recipe slightly because I wanted to use 3 chicken breasts instead of the two the recipe called for. If I'm going to all the trouble to make a delicious meal, I want to have a little left over to enjoy the fruits of my labor the next day. I kept most of the other ingredient amounts the same, except I doubled the amount of oregano in both the sauce and the bread crumb mixture. I also used an extra 1/4 cup of Panko crumbs.
Make Ahead and Storage
The sauce can be made a day or two in advance and refrigerated. Leftovers will keep in an airtight container in the refrigerator for 4 days.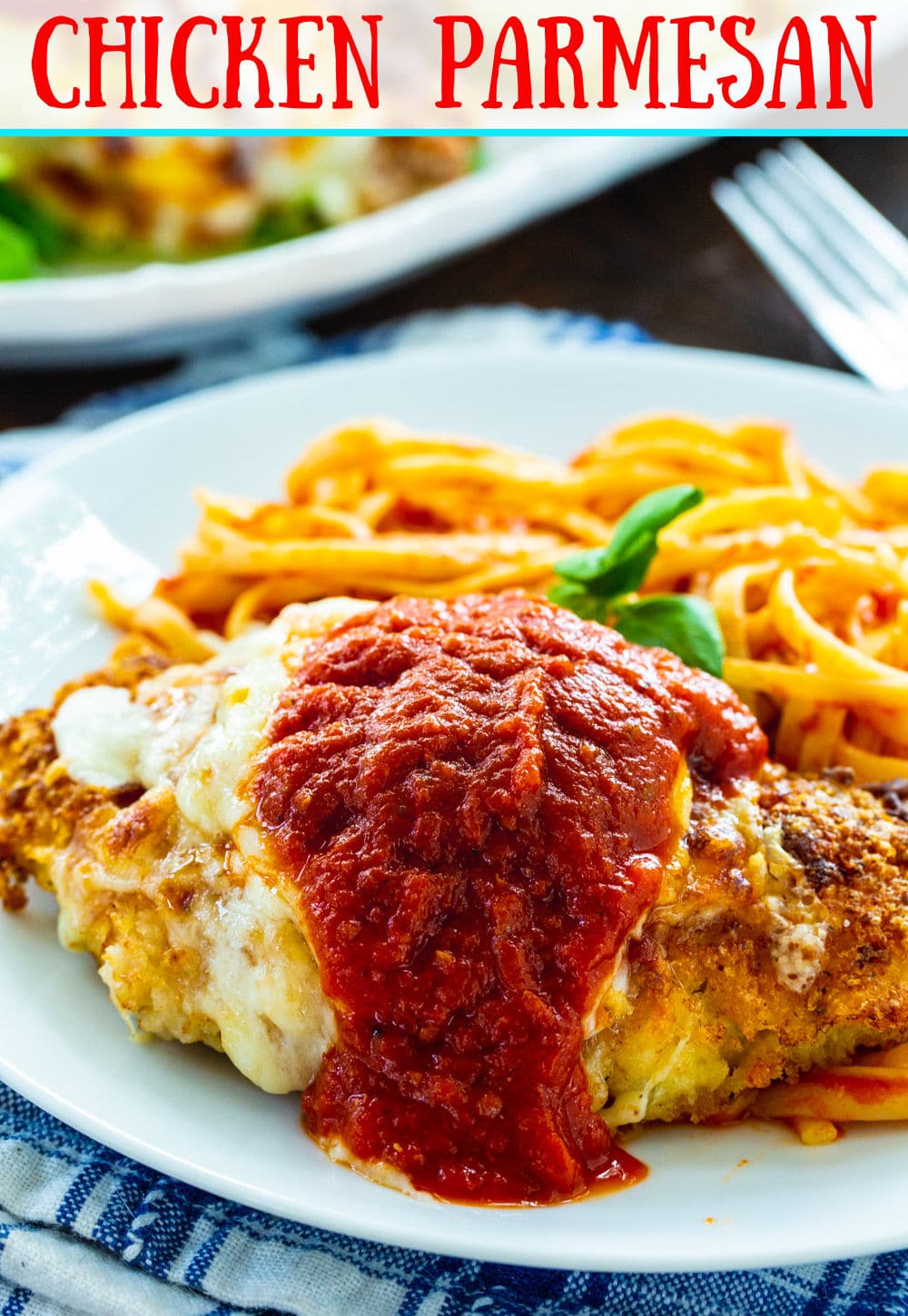 More Chicken Parmesan Recipes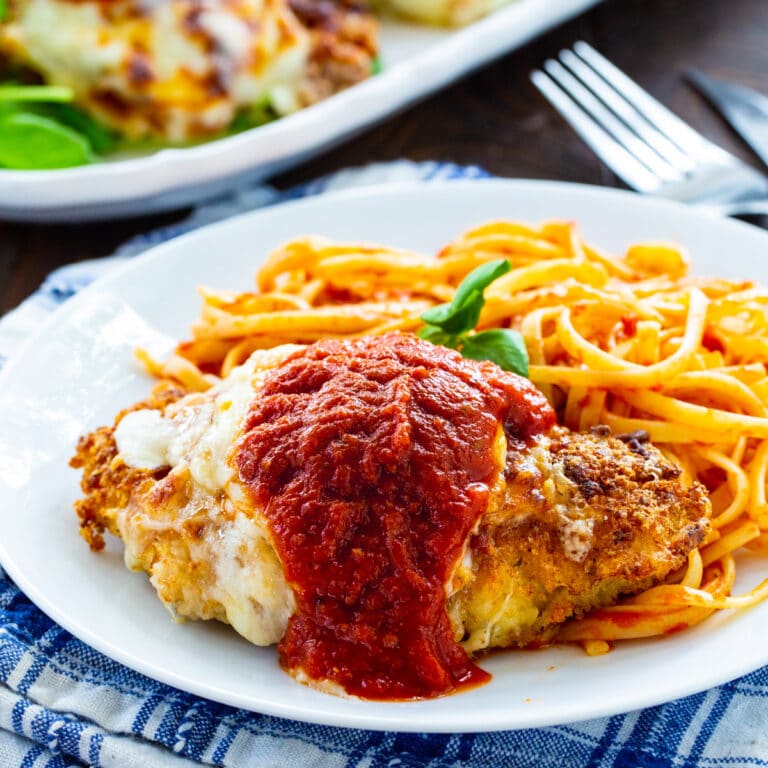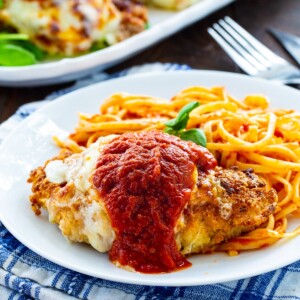 Chicken Parmesan Recipe
Chicken Parmesan with a crispy chicken breast fried to perfection, topped with melted cheese and a bright and flavorful tomato sauce served over buttery pasta.
Ingredients
Sauce
2

tablespoons

extra-virgin olive oil

2

garlic cloves,

minced

kosher salt and pepper

1/2

teaspoon

dried oregano

Pinch of red pepper flakes

1

(28-ounce)

can crushed tomatoes

1/4

teaspoon

sugar

2

tablespoons

coarsely chopped fresh basil
Chicken
3

(6 to 8-ounce)

boneless

skinless chicken breasts, halved horizontally and pounded to 1/2-inch thick

1

teaspoon

kosher salt

1/2

cup

shredded whole-milk mozzarella cheese

1/2

cup

shredded fontina cheese

1

large egg

1

tablespoon

all-purpose flour

3/4

cup

grated Parmesan cheese

3/4

cup

Panko crumbs

1/2

teaspoon

garlic powder

1/2

teaspoon

dried oregano

1/4

teaspoon

pepper

1/3

cup

vegetable oil

1/4

cup

torn fresh basil
Pasta
12

ounces linguine or other pasta,

cooked according to package directions

1

tablespoon

butter
Instructions
For the sauce: In a medium saucepan, heat 1 tablespoon of olive oil over medium heat until it begins to simmer. Add garlic, 3/4 teaspoon salt, oregano, and red pepper flakes. Cook until fragrant, about 30 seconds.

Stir in tomatoes and sugar and increase heat to high to bring to a simmer. Once simmering, reduce heat to low and simmer until thickened, about 20 minutes.

Remove from heat and stir in remaining 1 tablespoon oil and 2 tablespoons basil. Season to taste with salt and pepper and keep warm.

For the chicken: Sprinkle each side of each chicken piece with a scant 1/8 teaspoon of salt and let stand for 20 minutes at room temperature.

Combine mozzarella and fontina in a bowl and set aside.

Place top oven rack 4 inches from broiler element and heat broiler. In a pie plate whisk egg and flour until smooth. In another pie plate combine Parmesan, panko, garlic powder, oregano, and pepper.

Pat chicken dry with paper towels. One piece at a time, dip in egg mixture and then coat in panko crumb mixture.

Heat vegetable oil in a large nonstick skillet over medium-high heat until shimmering. Place three cutlets in the skillet and cook until bottoms are deep golden brown, about 1 1/2 to 2 minutes. Use tongs to flip over and cook an additional 1 1/2 to 2 minutes. Transfer to a paper towel-lined plate and repeat with remaining three cutlets.

Place chicken on a rimmed baking sheet, sprinkle cheese on top, and broil until cheese is melted an starting to brown.

Toss cooked pasta with 1 tablespoon of butter as soon as it is done cooking. To serve, place a bed of pasta on each plate, top with chicken and spoon about 2 tablespoons of sauce over chicken. Sprinkle with basil.
Notes
Makes 3 huge portions or 6 smaller portions.
Want to Save This Recipe?
Recipe Source: adapted slightly from Cook's Illustrated March/April 2013
Originally posted March 11, 2013.