Chicken Parmesan Meatballs- these tender, flavorful meatballs are cooked in tomato sauce and topped with mozzarella cheese and Parmesan cheese. Toasted Panko crumbs and fresh basil finish them off.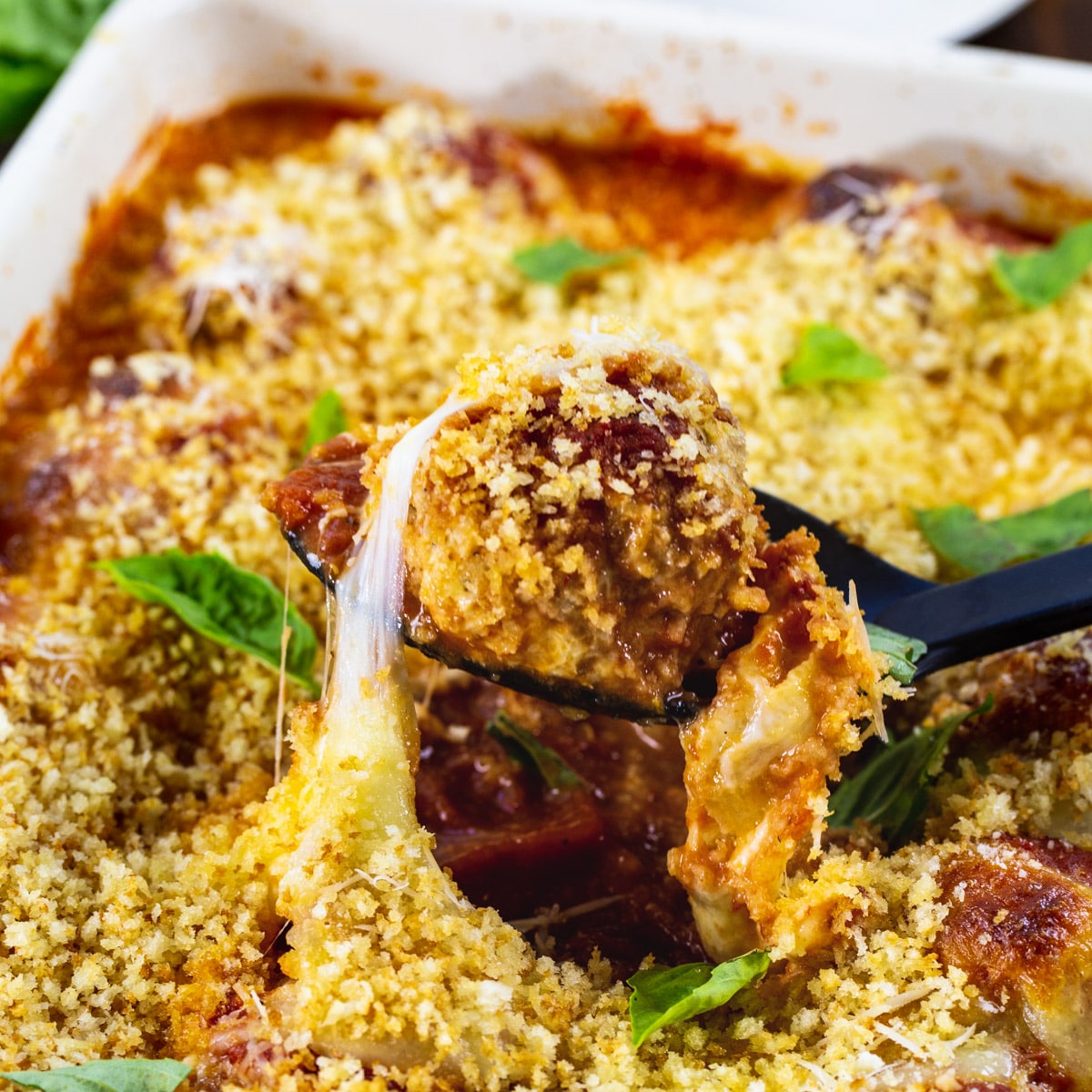 How To Serve Chicken Parmesan Meatballs
You can serve these meatballs on their own as an appetizer or with pasta for a dinner. A garden salad with Creamy Italian Dressing goes great with them as does Pepperoncini Garlic Bread.
How To Make
Make the Sauce. It's a simple tomato sauce flavored with garlic, dried oregano, and crushed red pepper flakes. It can be made in less than 15 minutes.
Shape the meatballs. The meatballs are flavored with Ritz crackers, Parmesan cheese, garlic powder, and oregano.
Assemble in baking dish. Place meatballs in baking dish and cover with tomato sauce and cheese.
Bake for 40 to 45 minutes.
Top with toasted Panko crumbs and basil and serve.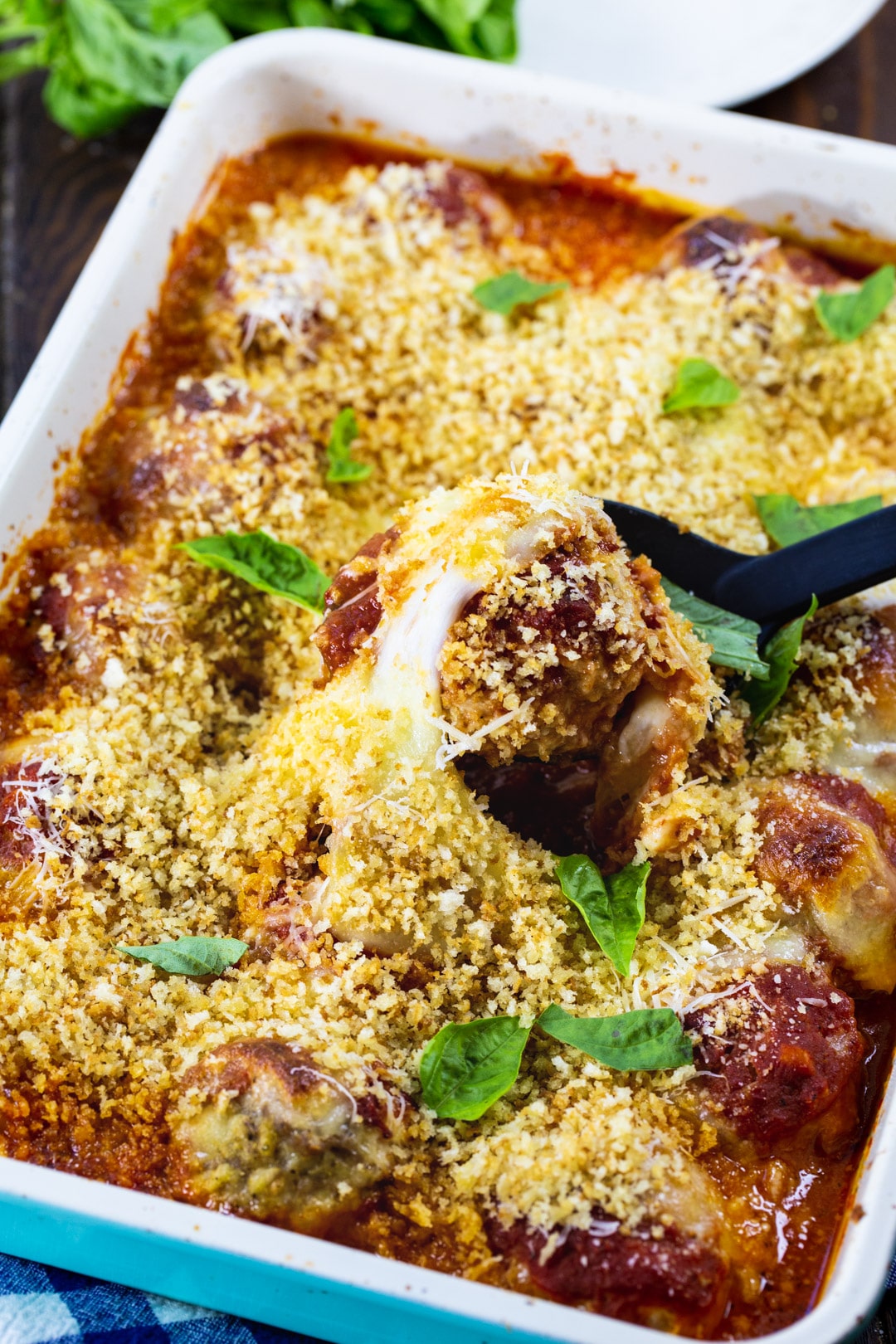 Make Ahead and Storage
The sauce can be made up to 48 hours in advance and the meatballs can be assembled, placed in baking dish, and covered with sauce and cheese 24 hours in advance. Just let the sauce cool down before pouring it over the meatballs.
Can also be frozen for up to 2 months. Thaw overnight in the refrigerator. Cover with aluminum foil and place in a 350 degree oven until heated through.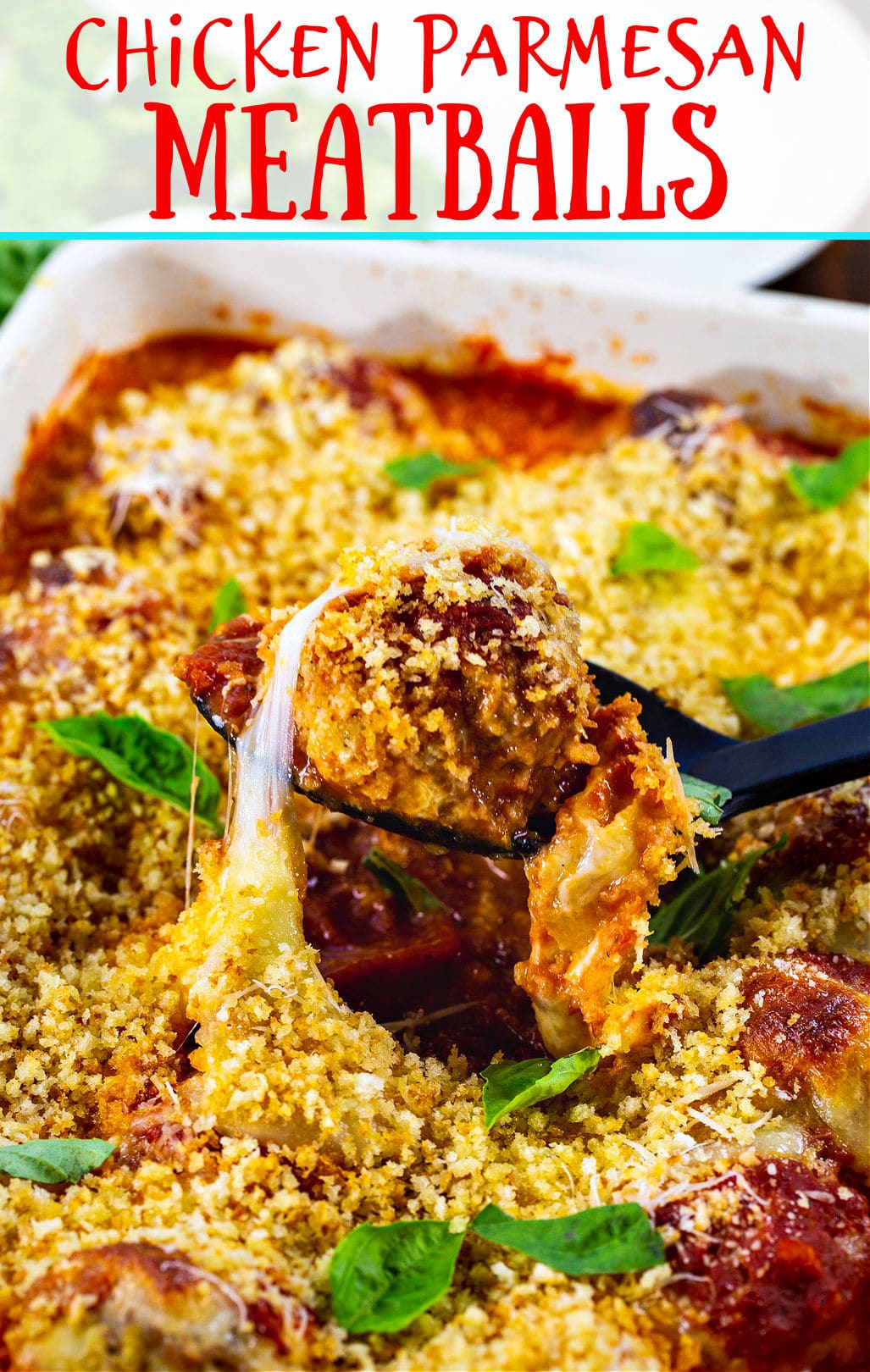 Recipe Tips
Use a medium ice cream scoop to easily form the meatballs and make sure they are uniform.
You want to use ground chicken with some fat in it. 99% lean ground chicken is too lean.
Ground beef or ground turkey can be used instead of chicken.
Panko crumbs or Saltine cracker crumbs can be used instead of Ritz crackers. Use about 1/2 cup.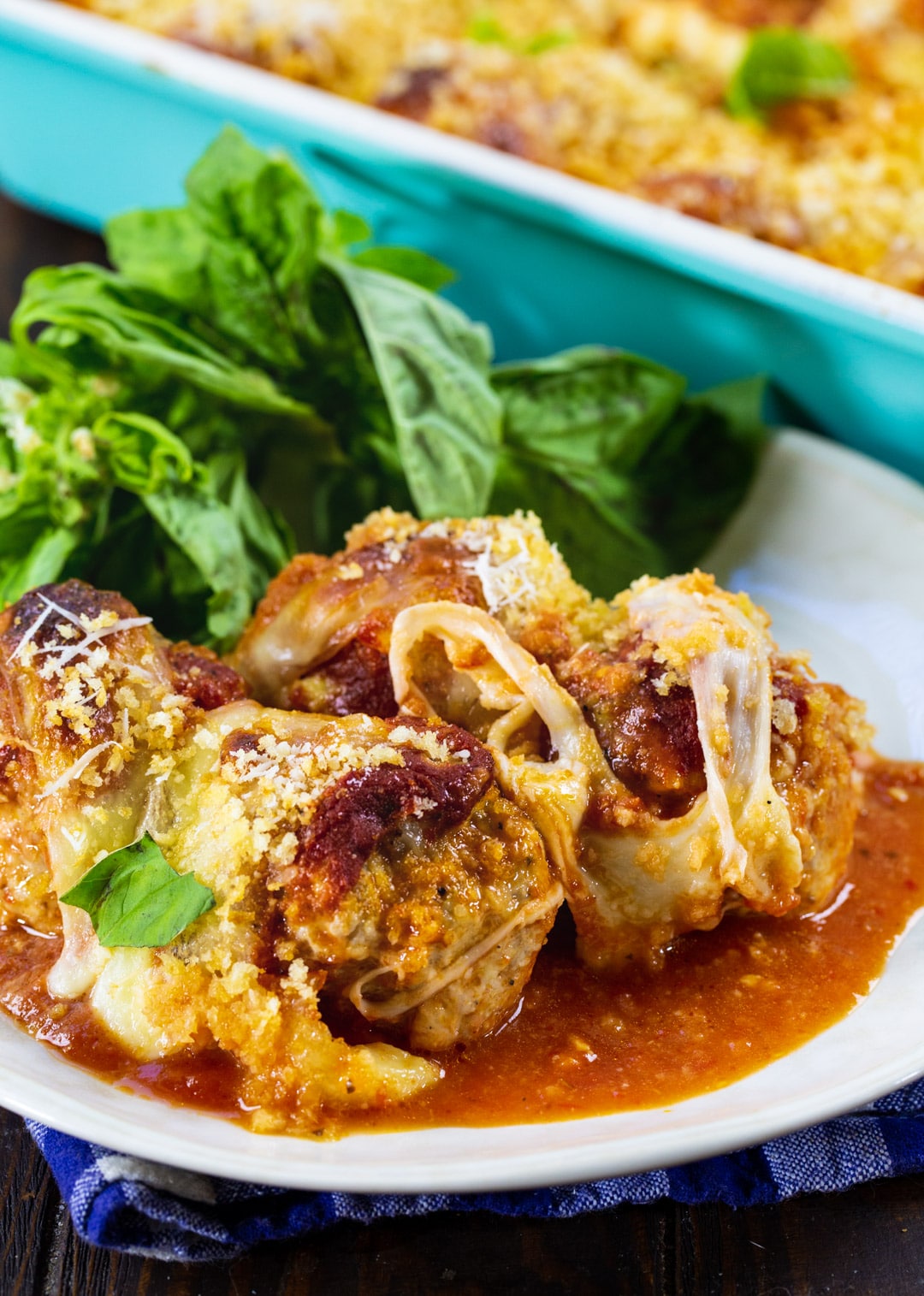 Try These Other Meatball Recipes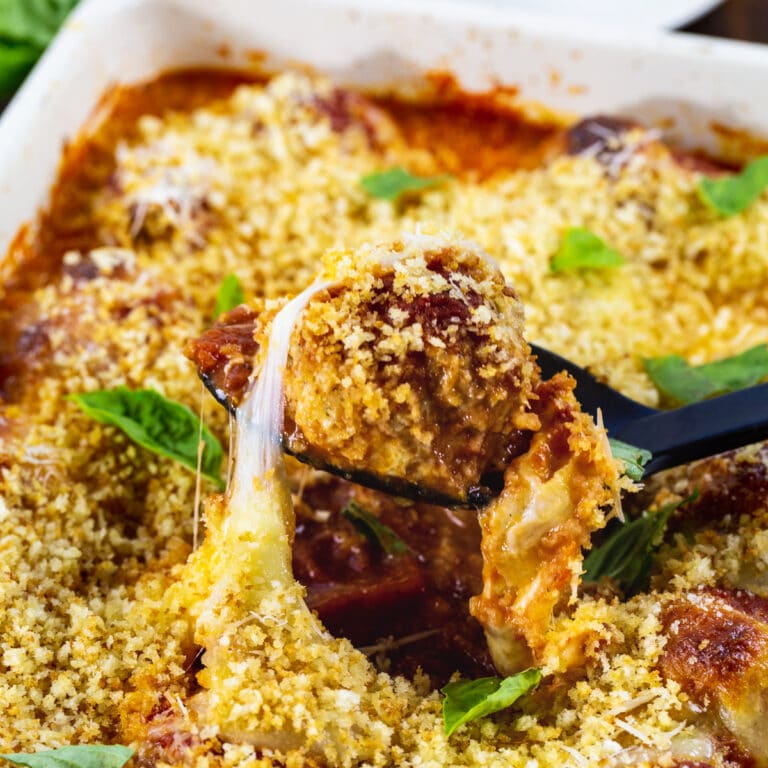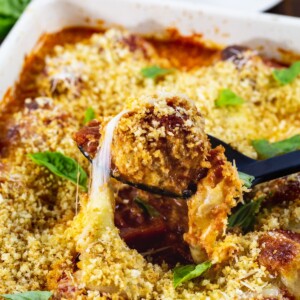 Chicken Parmesan Meatballs
Chicken Parmesan Meatballs are baked in tomato sauce and covered with mozzarella cheese and Parmesan cheese.
Ingredients
Sauce
5

tablespoons

extra-virgin olive oil,

divided

5

garlic cloves,

minced

1

(28-ounce) can

crushed tomatoes

1

(15-ounce) can

tomato sauce

2 1/4

teaspoons

dried oregano,

divided

1 1/2

teaspoons

salt,

divided

1/2

teaspoon

crushed red pepper flakes
Meatballs
1

large

egg,

lightly beaten

5

ounces

Parmesan cheese, grated

divided

2

teaspoons

garlic powder

1

teaspoon

pepper

2

pounds

ground chicken
Remaining Ingredients
1

(8-ounce) package

fresh mozzarella cheese,

cut into thin slices

1

cup

Panko crumbs

1/4

cup

torn fresh basil leave
Instructions
In a large saucepan, heat 3 tablespoons olive oil over medium heat. Add garlic and cook 1 minute.

Add crushed tomatoes, tomato sauce, 1/4 teaspoon dried oregano, 1/4 teaspoon salt, and crushed red pepper flakes.

Simmer sauce for 10 to 15 minutes, stirring occasionally. Remove from heat and set aside.

Preheat oven to 350 degrees and grease a 9×13-inch baking pan.

Place crackers in a large zip-top bag and crush until finely crushed.

In a large bowl, combine crackers crumbs and egg. Stir to mix.

Set aside 1/2 cup of the parmesan cheese and add the rest to the large bowl with the cracker mixture. Also add the garlic powder, pepper, remaining oregano, 1 teaspoon of salt and the ground chicken.

Mix with your hands until evenly combined.

Shape mixture into 18 meatballs. You can use a 1/4 cup measuring cup to help you get them the right size.

Place meatballs in prepared baking dish. Pour sauce over them.

Arrange the mozzarella cheese on top of the meatballs.

Bake for 40 to 45 minutes.

While the meatballs bake, stir together the remaining 2 tablespoons of oil, the panko crumbs and remaining 1/4 teaspoon of salt in a small bowl.

Heat a small nonstick skillet over medium heat. Add panko crumb mixture and cook, stirring frequently, until golden.

When meatballs are done cooking, sprinkle the remaining Parmesan cheese on them and then sprinkle on the Panko crumb mixture.

Sprinkle with basil and serve.
Notes
Do not use 99% lean ground chicken. It doens't have enough fat in it and it will make dry meatballs.
Want to Save This Recipe?
Recipe adapted from Cook's Country