A super thick and cheesy Lasagna made in the crock pot makes a hearty family meal with a minimum amount of effort. This is one of the easiest lasagna recipes ever and it is the only lasagna I ever cook in the crock pot. Slow Cooker Lasagna is so perfect, as much as I love to try new recipes, I can't bring myself to try another slow cooker lasagna.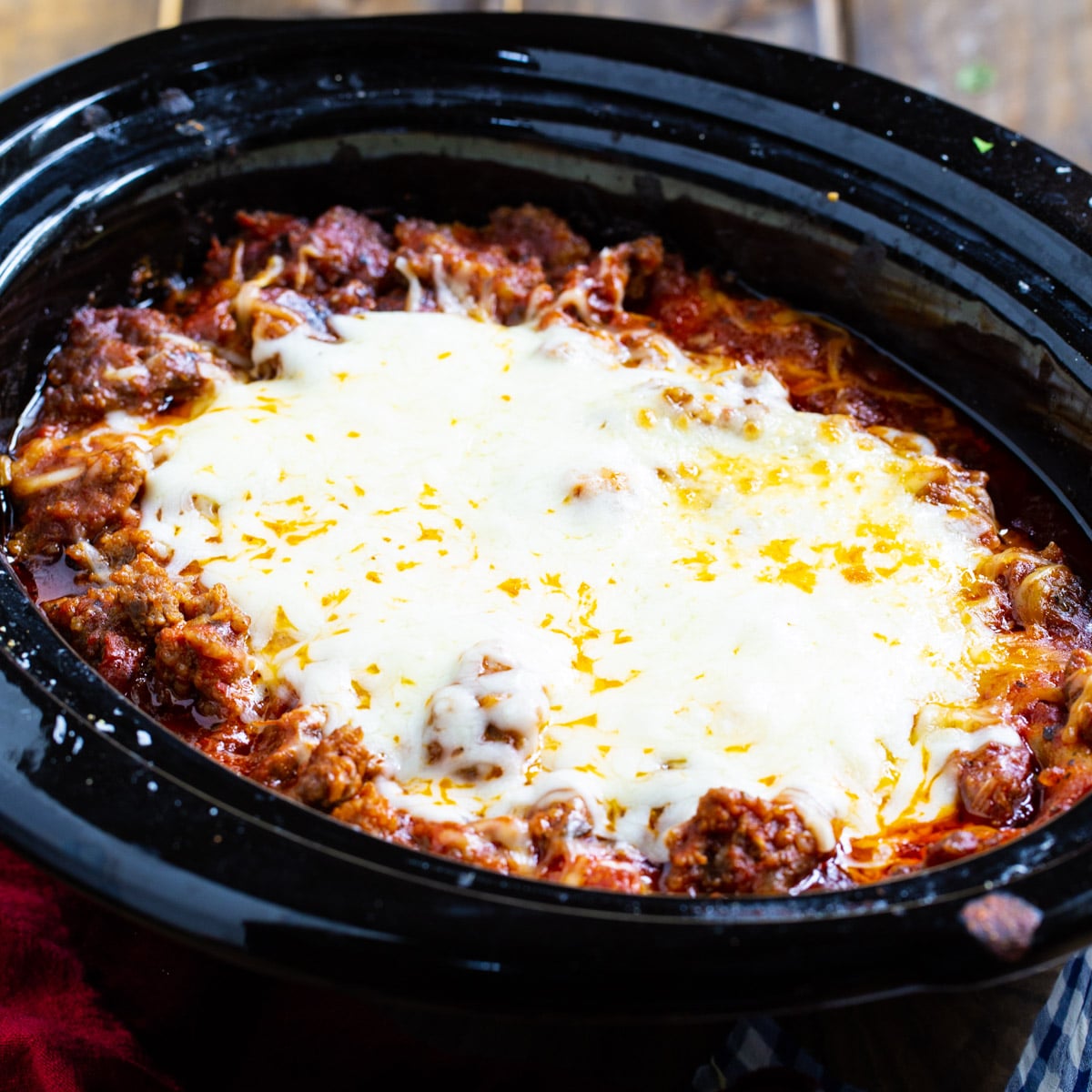 This Williams Sonoma Slow Cooker Lasagna rocks!
In fact, I think it may be my favorite lasagna period.
You probably don't believe that lasagna cooked in a crock pot can be better than one baked in the oven. I was completely skeptical too.
Two pounds of Italian sausage and plenty of gooey cheese make this a lasagna to be reckoned with. Just 4 hours in the crock pot, plus a quick broil to melt the cheese is all it takes. You do have to brown the sausage beforehand, but it only takes a few minutes.
A store bought spaghetti sauce really saves time, but you'll never be able to tell a homemade sauce wasn't used.
And there is no need to cook the noodles first. Win!
Be sure to use regular noodles, NOT no-boil.
This tasty Italian meal is a cinch to make for even the most novice cook. Pair it with a salad and bread and you easily have enough food to cover dinner for 2 nights.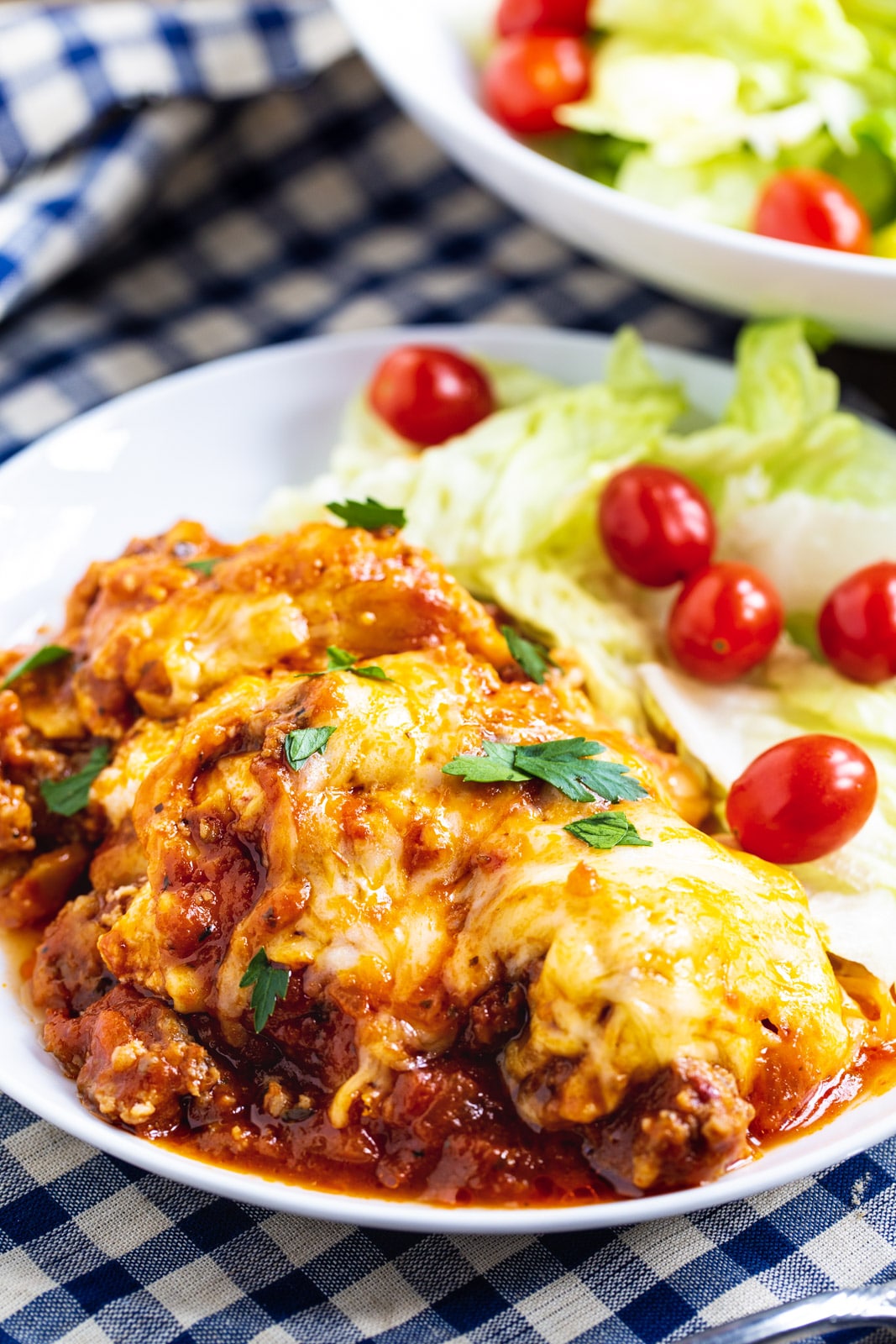 How long does it take to cook lasagna in a slow cooker?
Since the meat is already cooked, it only takes about 4 hours on LOW heat to cook this lasagna. Keep in mind that cooking times vary between slow cookers. If your slow cooker runs hot, it will most likely be done in less than 4 hours.
Slow Cooker Lasagna Recipe Tips:
You will need a 6-quart slow cooker for this recipe.
You can use 2 pounds of ground beef instead of Italian sausage.
If your crock pot has been gathering dust on the shelf and you need some inspiration to get it out and put it to use, check out Spicy Southern Kitchen's Crock Pot Pinterest Board. You'll find a recipe to make just about anything in the slow cooker.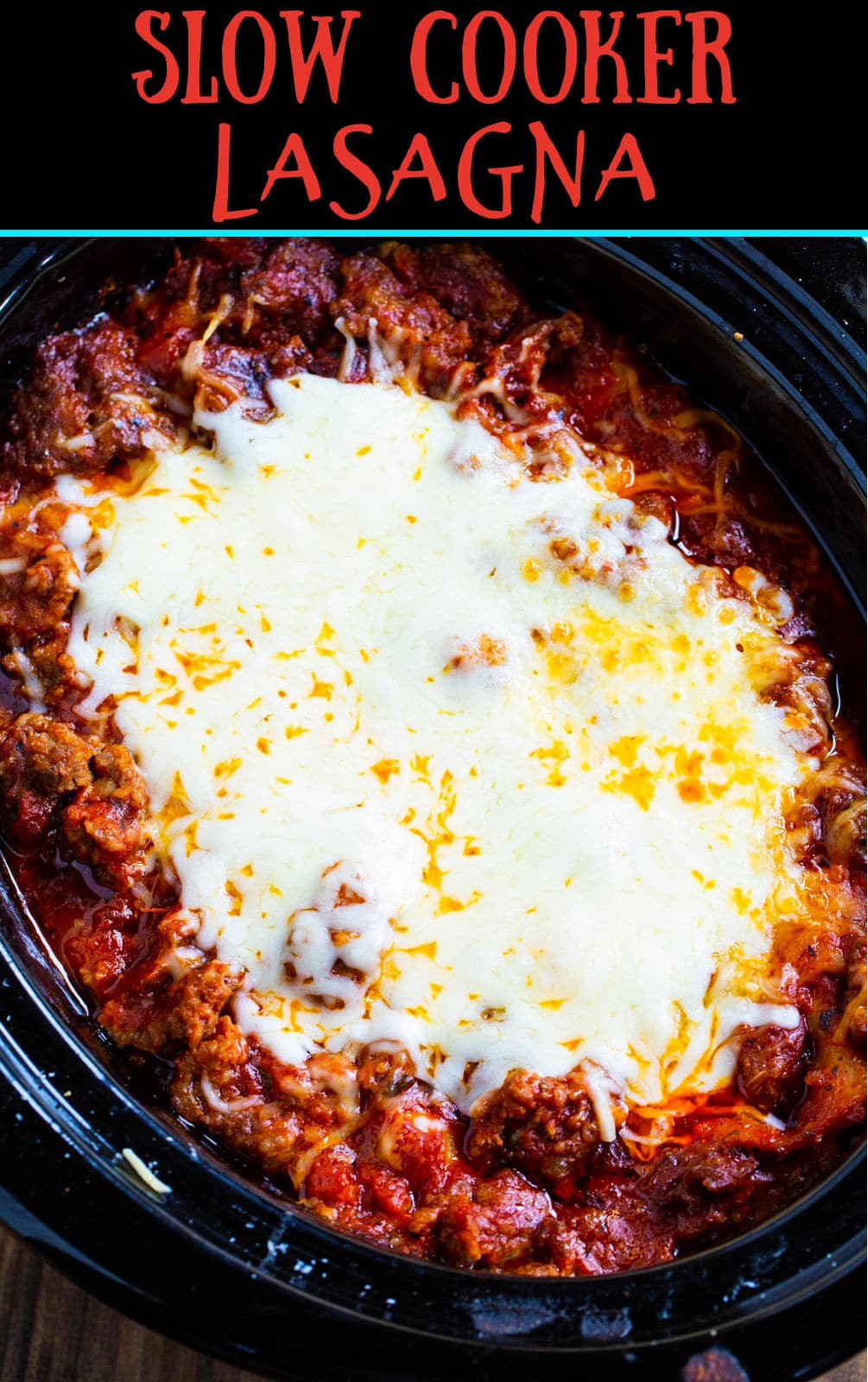 Try These Other Awesome Lasagna Recipes: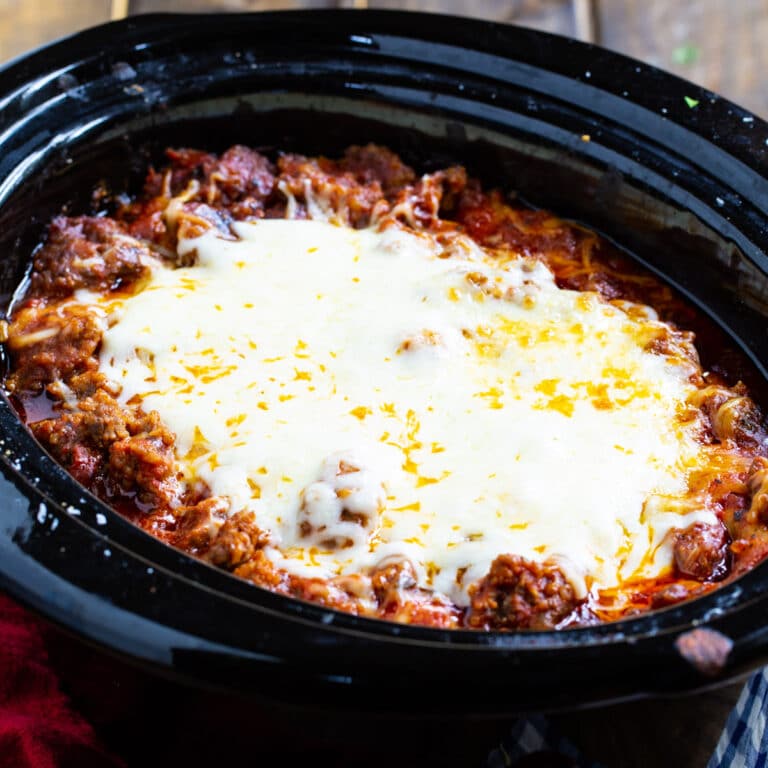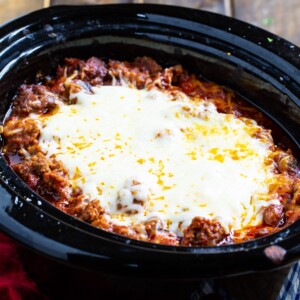 Slow Cooker Lasagna
Williams Sonoma Slow Cooker Lasagna is the easiest and best tasting lasagna you will ever make. Tons of cheese and sausage provide plenty of flavor.
Ingredients
1/2

Tablespoon

olive oil

2

lbs

Italian Sausage,

casings removed

2

24-ounce

jars spaghetti sauce

2

cups

water

1 15-

ounce

container whole-milk ricotta cheese

2

tablespoons

chopped parsley

salt and ground pepper to taste

16

lasagna noodles,

NOT no-boil

1 1/2

lbs

shredded mozzarella,

or however much you have in the bottom of your cheese drawer

1/2

cup

shredded or grated Parmesan Cheese
Instructions
In a large skillet, heat olive oil over medium heat. Cook sausage, breaking into pieces, until browned (10-12 minutes).

Add spaghetti sauce and water, bring to simmer and turn heat off.

In smallish bowl, stir together ricotta, parsley, and salt and pepper.

Spread a layer of sauce in bottom of slow cooker insert. Cover with a layer of noodles (about 4) breaking them to fit and overlapping somewhat. Spread 1/3 of ricotta mixture on top. (Don't worry too much about spreading the ricotta now, it will spread better when you add sauce). Spread 2 cups of sauce on top of ricotta. Sprinkle with about 1 cup mozzarella and 1/3 of Parmesan. Repeat layers 3 more times starting with noodles and finishing with a nice amount of mozzarella.

Cook on low in slow cooker for 4 hours.

Place slow cooker insert in oven and broil until cheese is bubbly and starting to brown. Let rest for 20 minutes and serve.
Notes
Ground beef can be used instead of Italian sausage.
Want to Save This Recipe?
Originally published April 6, 2015.
Recipe Source: Williams Sonoma 
More Crock Pot Recipes to Try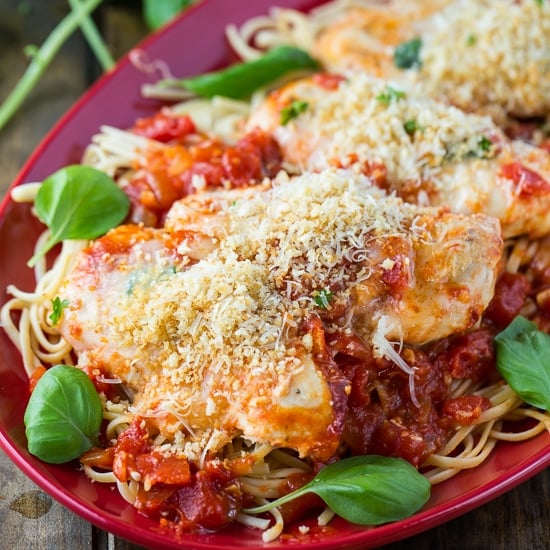 Crock Pot Chicken Parmesan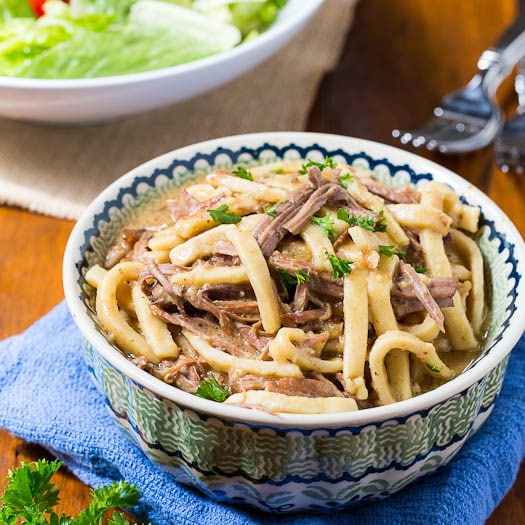 Crock Pot Beef and Noodles