Cream Cheese Lasagna is made with a meaty tomato sauce, pepperoni, and 4 kinds of cheese. So rich and delicious with lots of bold flavor. Just the way a lasagna should be.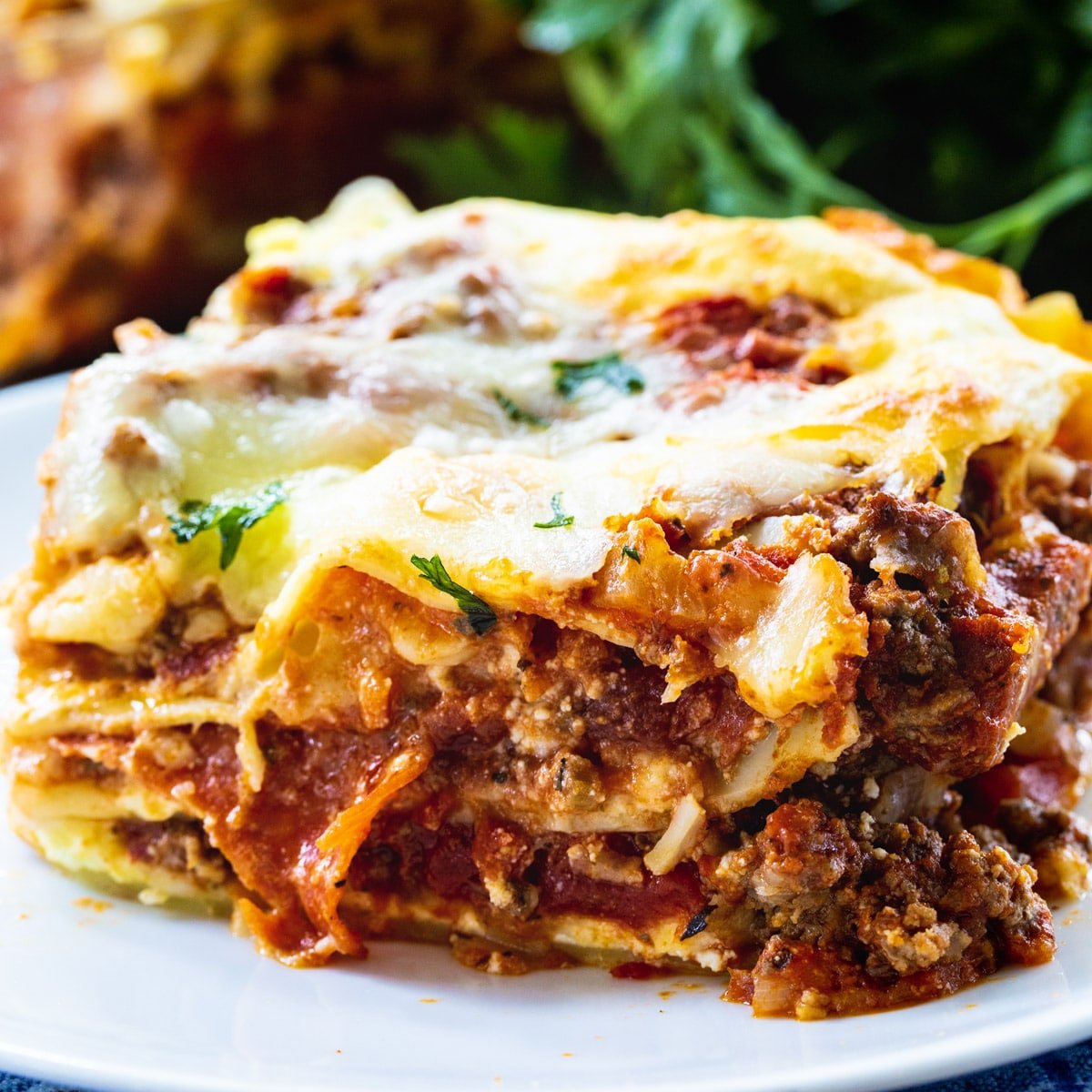 A block of cream cheese not only adds insane creaminess, but wonderful flavor too. A little more tang than just a combination of ricotta and mozzarella. You won't find a creamier lasagna than this one.
And a few pepperoni slices in addition to 2 pounds of ground beef make this a meat lovers lasagna.
How To Serve
I love to serve this lasagna with a green salad with Creamy Italian Dressing and Pepperoncini Garlic Bread. It's a great family meal.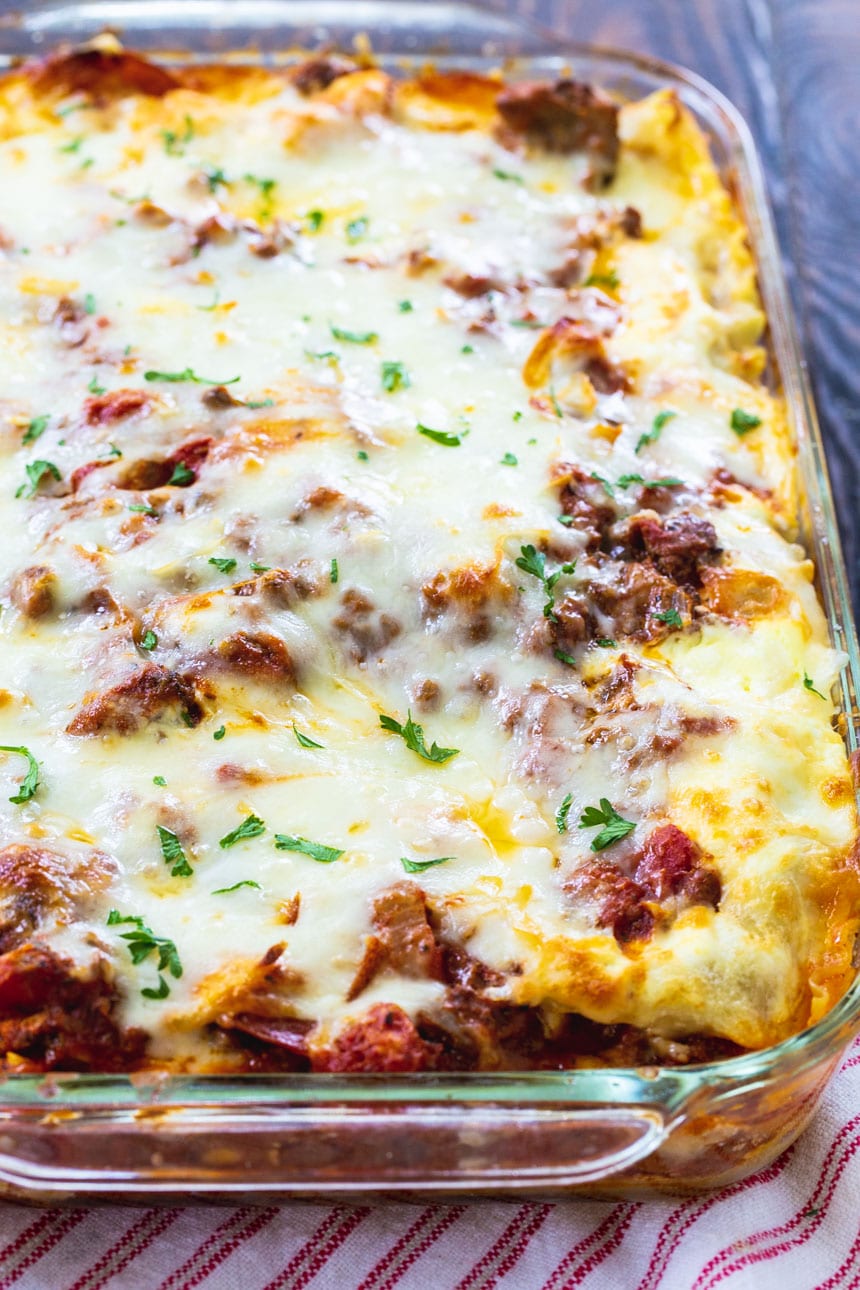 A full can of tomato paste, a can of diced tomatoes, a can of stewed tomatoes, and a can of tomato sauce makes for a full-flavored tomato sauce that really stays thick and stands up to the flavor of all the cheese.
Lasagna takes a little time to prepare and bake, but it makes a huge amount. This lasagna is easily 2 meals for a family of four.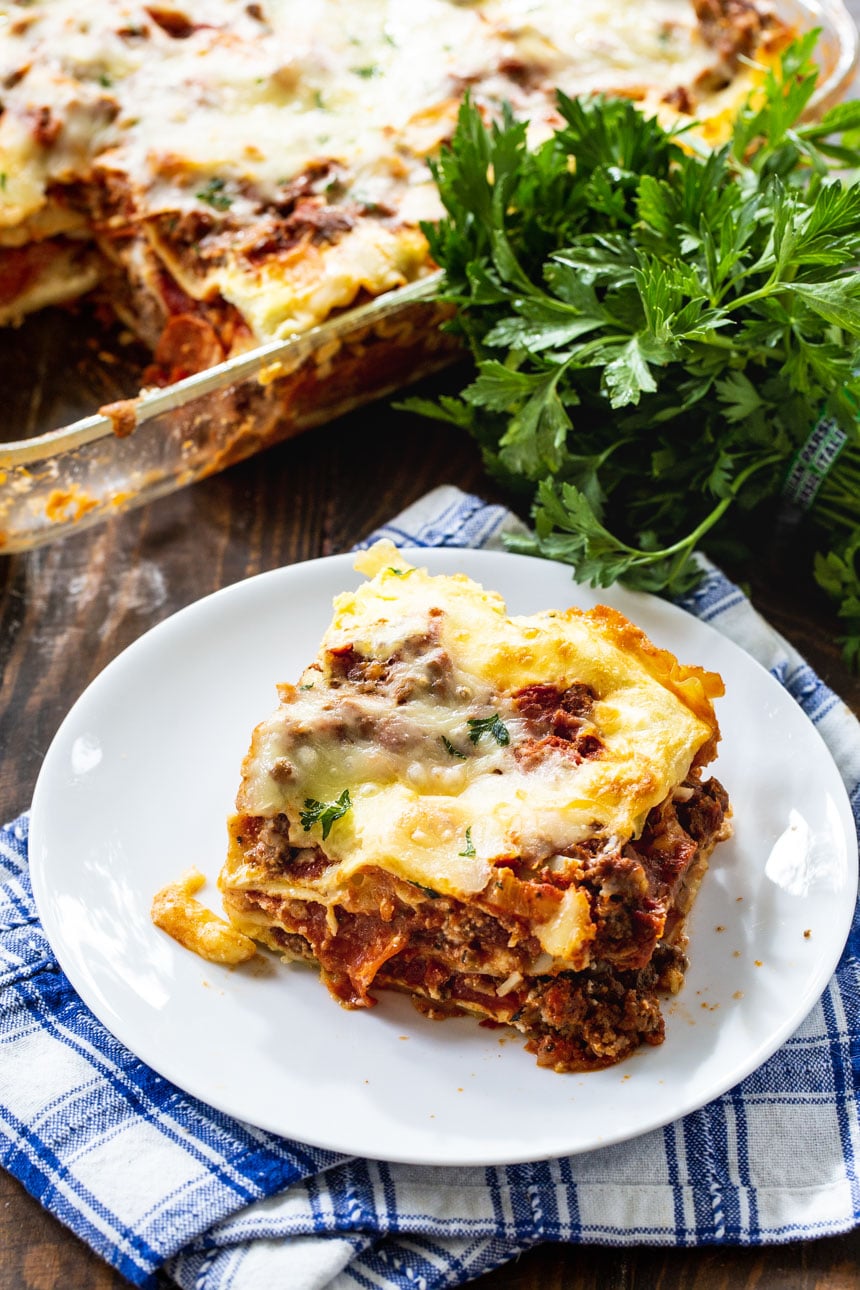 Cream Cheese Lasagna Recipe Tips
This lasagna can be assembled up to 24 hours in advance and the meat sauce can be made up to 48 hours in advance.
Leftovers will keep for 4 to 5 days in an airtight container in the refrigerator and can be reheated in the microwave.
Italian sausage can be used instead of ground beef.
I actually like to use cottage cheese in this recipe, but you can use ricotta cheese instead. If you've never tried cottage cheese in lasagna, give it a try. This is coming from someone who doesn't really like cottage cheese. For some reason it just works in lasagna.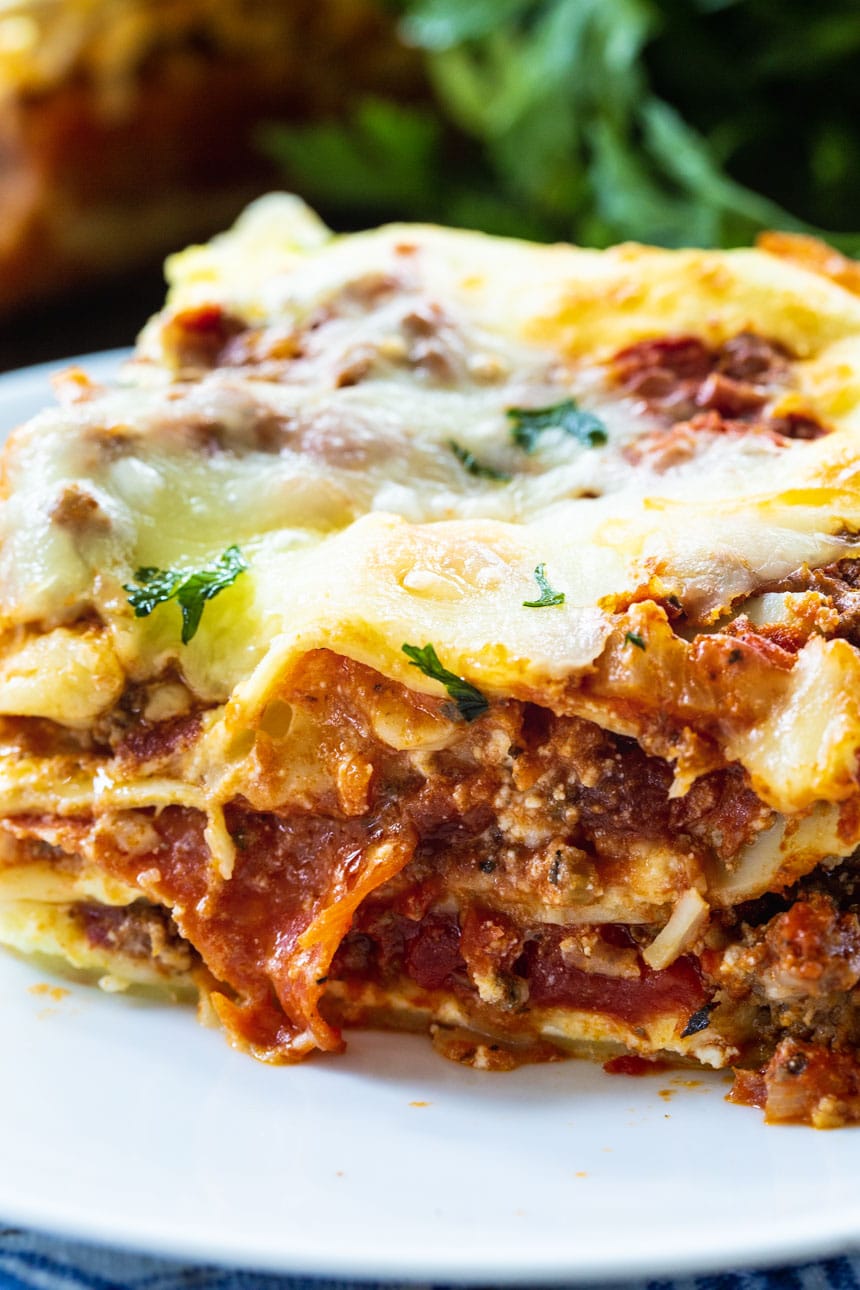 More Delicious Pasta Recipes To Try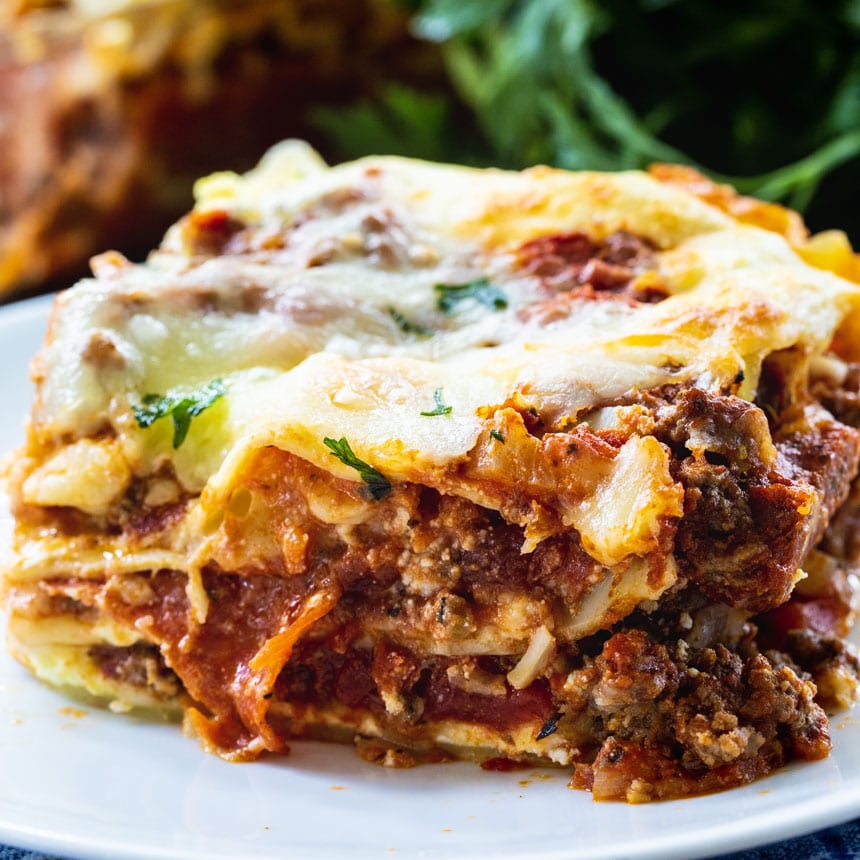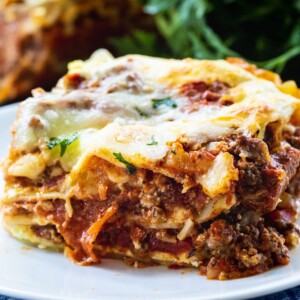 Cream Cheese Lasagna
Cream Cheese Lasagna is made with a meaty tomato sauce, pepperoni, and 4 kinds of cheese. So rich and delicious with lots of bold flavor. Just the way a lasagna should be.
Ingredients
Sauce
2

pounds

ground beef

1

medium

yellow onion,

diced

3

garlic cloves,

minced

1

(6-ounce) can

tomato paste

1

(14.5-ounce) can

petite diced tomatoes,

undrained

1

(14.5-ounce) can

stewed tomatoes,

undrained

1

(15-ounce) can

tomato sauce

1

teaspoon

dried oregano

1

teaspoon

dried Italian seasoning

1/2

teaspoon

salt

1/4

teaspoon

pepper
Remaining Ingredients
9

lasagna noodles

1

(8-ounce) package

cream cheese,

softened

1

cup

cottage cheese or ricotta cheese

2

large

eggs

1/2

cup

pepperoni slices

3

cups

shredded mozzarella cheese

1/2

cup

grated Parmesan cheese

1

tablespoon

chopped fresh parsley
Instructions
Place a large nonstick skillet over medium-high heat. Add ground beef and break it apart with a wooden spoon. Once you have it in small chunks, add the onion.

Continue to cook, crumbling the beef more as it cooks, until beef is no longer pink.

Drain off any grease.

Place skillet back over medium-high heat and add garlic. Cook 1 minute.

Add remaining sauce ingredients. Turn heat down to maintain a simmer.

Simmer for 25 to 30 minutes, stirring occasionally.

While sauce is simmering, cook lasagna noodles according to package directions. Drain.

In a medium bowl, stir together cream cheese, cottage or ricotta cheese and eggs until smooth.

Preheat oven to 350 degrees and grease a 9×13-inch baking pan.

Spread about 3/4 cup of sauce in the bottom of the baking dish. Arrange 3 noodles on top of the sauce.

Spread 1/3 of the cream cheese mixture on top of the noodles. Sprinkle with 1 cup of mozzarella cheese.

Spread a little less than half the remaining sauce over the cheese.

Scatter the pepperoni slices evenly on top.

Do another layer of noodles, cream cheese mixture (use half of the remaining), and 1 cup of mozzarella cheese.

Top with sauce, leaving about 1/3 a cup of sauce to use for the top.

Place the final layer of noodles on, spread with cream cheese mixture and the remaining 1/3 cup of sauce.

Sprinkle the rest of the mozzarella cheese on top along with the Parmesan cheese.

Cover with foil. (Spray the underside of the foil with cooking spray so that it does not stick to the cheese.)

Bake for 45 minutes.

Uncover and bake another 10 minutes.

Sprinkle with parsley. Let sit for 10 minutes before slicing.
Notes
To make this dish spicy, add 1/2 teaspoon of crushed red pepper flakes to the sauce.
Want to Save This Recipe?