Slow Cooker Carolina-Style Pulled Pork is a favorite at our house because 1) It's super easy to make, 2) It's super delicious, and 3) It makes a large quantity. Yay for leftovers! I made this pulled pork with an Eastern North Carolina-style sauce. Yes, pulled pork is serious business in North Carolina and there are different styles depending on the part of the state.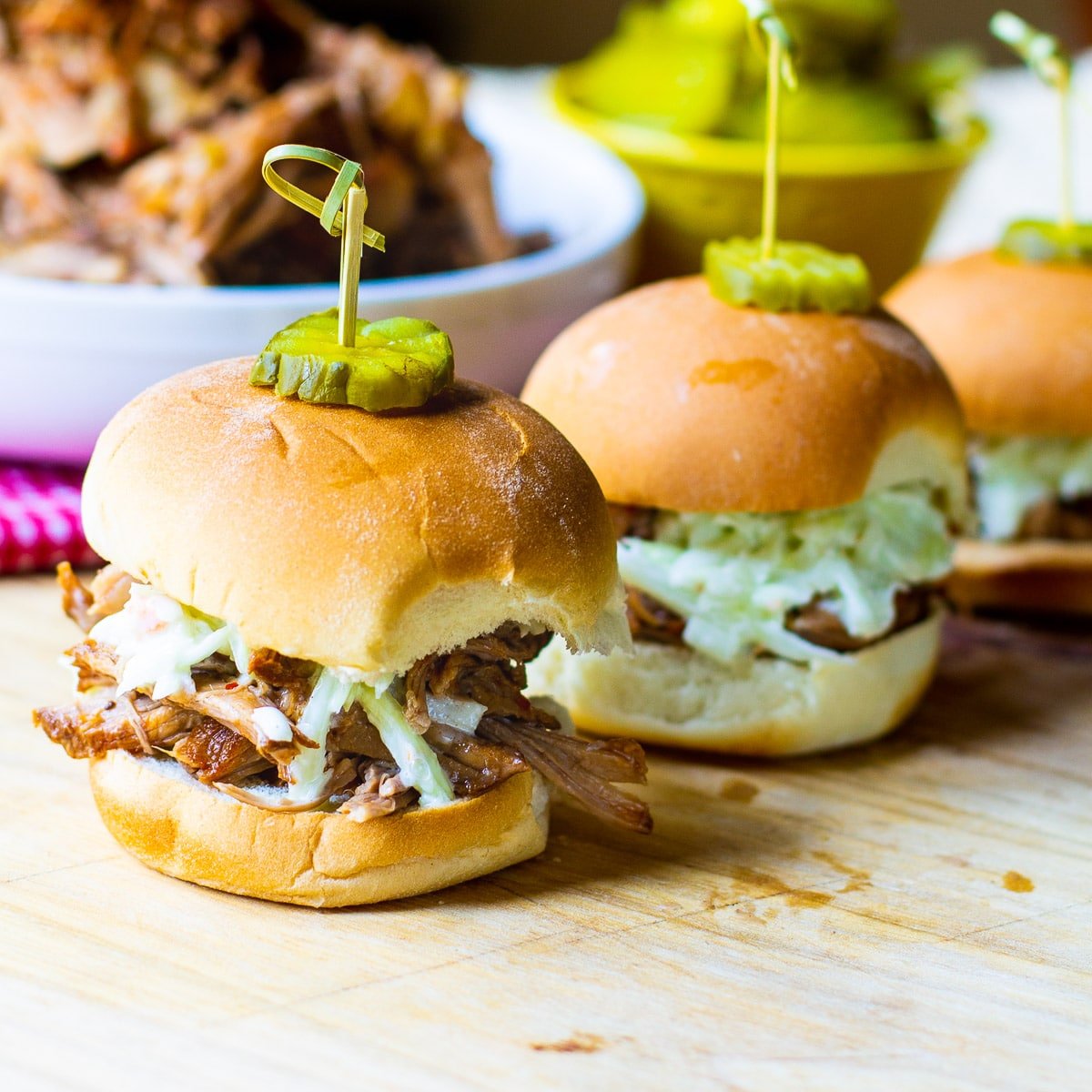 Easterners like their pulled pork with a thin, vinegary sauce that's very tangy and peppery. It tastes wonderful on a sandwich with a creamy, sweet coleslaw to balance out the tang.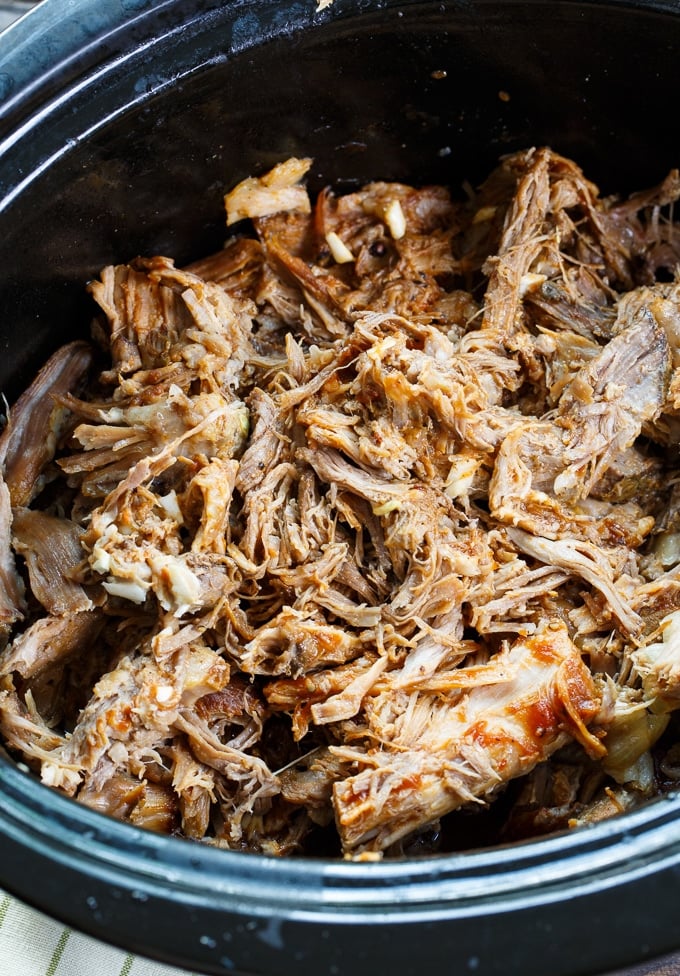 When I don't feel like making my own coleslaw, I swing by the drive-thru at Bojangles and pick up a large container of their coleslaw. It's much better than the prepared coleslaw at the grocery store. If you don't have Bojangles near you, try the coleslaw at KFC or Popeye's.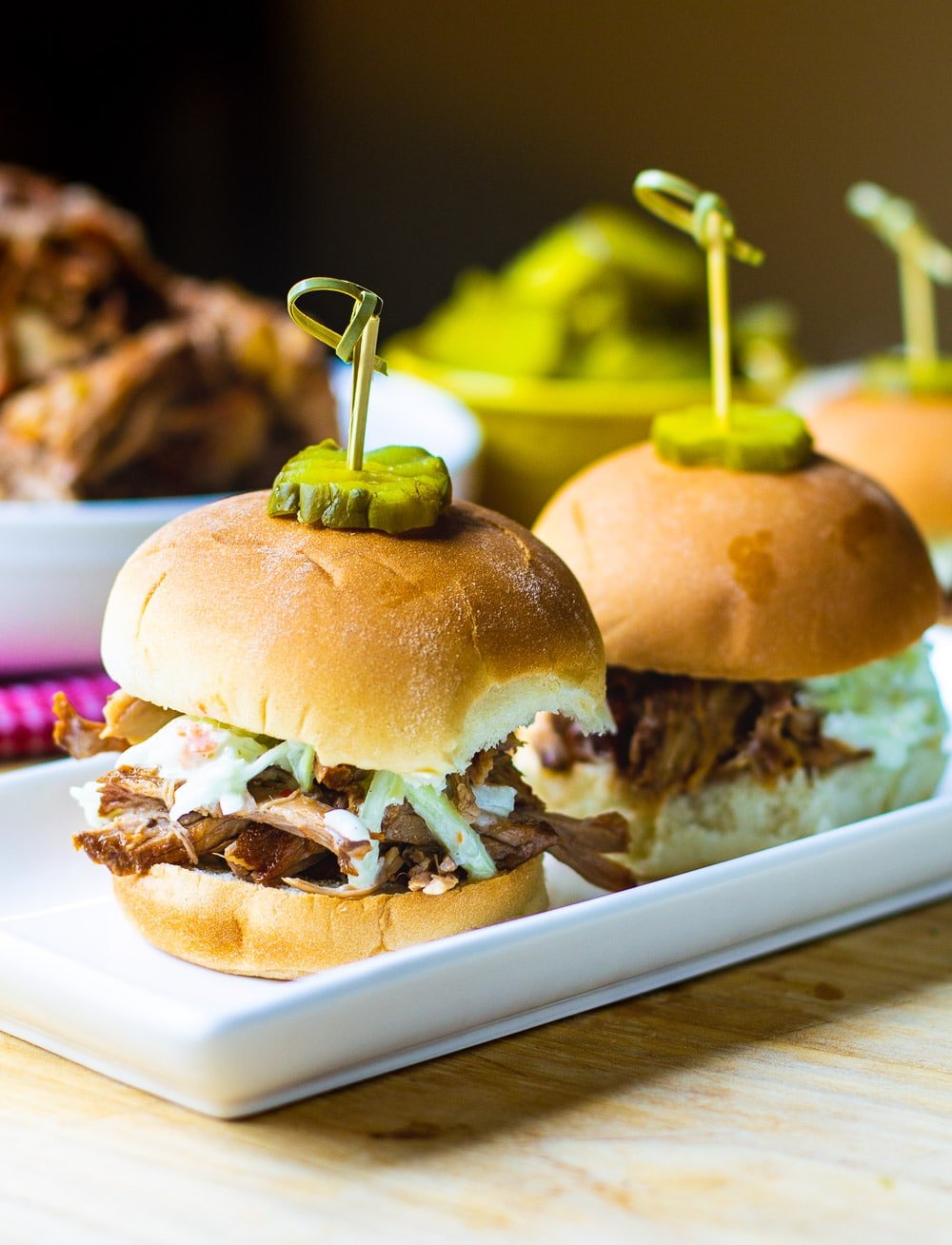 When I cook pulled pork in the crock pot, I pretty much make 2 sauces and the first one ends up getting discarded. You'll want a sauce to flavor the pork while it cooks, but Boston Butt releases so much fat into the slow cooker, it's swimming in fatty liquid by the time it's done cooking. The best way to get rid of this fat is to dump most of the liquid out and add a new sauce to the cooked pork. Then you have fully flavored pork, that's not too greasy. Whether you serve this pork with baked beans and corn, or on a sandwich with coleslaw, it's a super easy and flavorful meal that will fill your families bellies.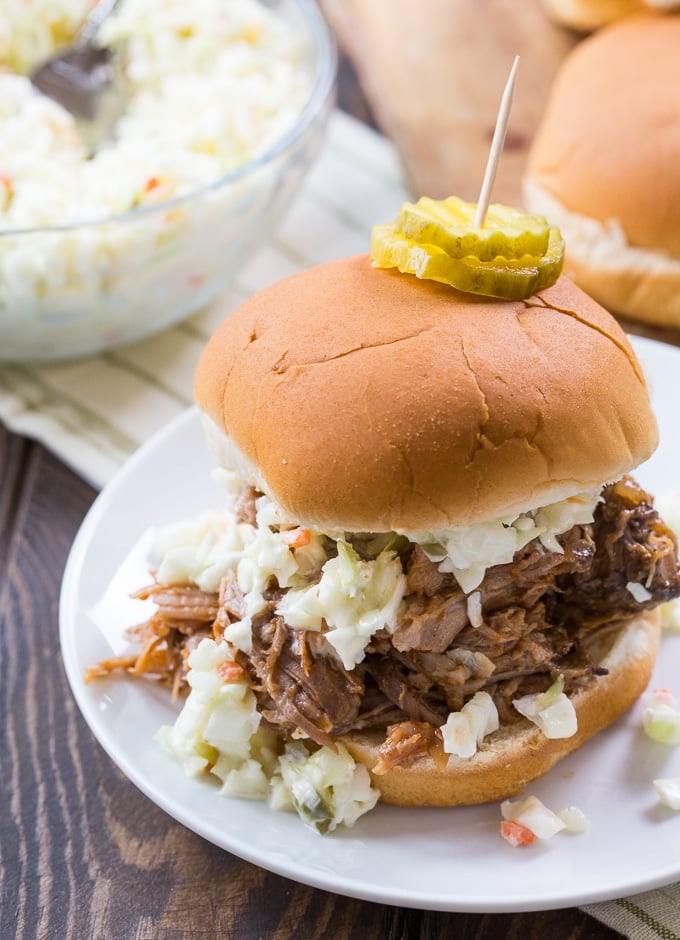 Try These Other Pulled Pork Recipes:
Watch the short video below to see how easy this recipe is to make: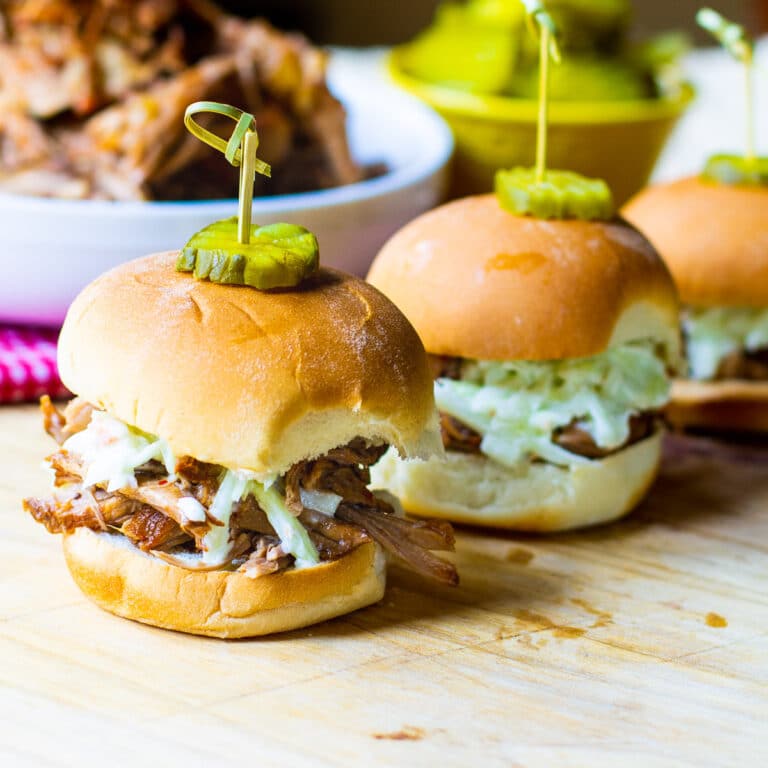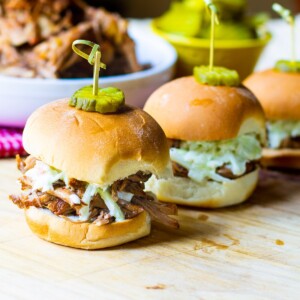 Slow Cooker Carolina-Style Pulled Pork
A moist and tender, slow-cooked pulled pork with a Carolina-style, vinegar based BBQ sauce.
Ingredients
1

small sweet onion,

chopped

1

(4 to 6-pound)

Boston Butt,

with or without bone

1

cup

apple cider vinegar

3/4

cup

ketchup

1/4

cup

brown sugar

1/2

tablespoon

Worcestershire sauce

1/2

teaspoon

red pepper flakes

1/2

teaspoon

garlic powder

1/2

teaspoon

kosher salt

1/2

teaspoon

black pepper
BBQ Sauce
1

cup

apple cider vinegar

3/4

cup

ketchup

1

tablespoon

brown sugar

1

tablespoon

honey

1

teaspoon

Worcestershire sauce

1/4

teaspoon

crushed red pepper

1/2

teaspoon

black pepper

1/4

teaspoon

salt
Instructions
Place chopped onion on bottom of a slow cooker.

Trim excess fat from Boston Butt and place in slow cooker on top of onions.

Combine remaining ingredients in a bowl and pour on top of pork. Cover and cook on low 8-10 hours.

Combine all ingredients for BBQ Sauce in a medium saucepan. Simmer for 20 minutes.

Remove pork from slow cooker (after 8-10 hours) and place in a large bowl. Use forks to shred the meat.

Discard the majority of liquid in the slow cooker. Return meat to slow cooker and add BBQ Sauce. Cover and cook on low 30 minutes. Serve.
Notes
You can use boneless or bone-in Boston Butt. If you use bone-in, the bone can be easily removed once the pork is cooked.
Want to Save This Recipe?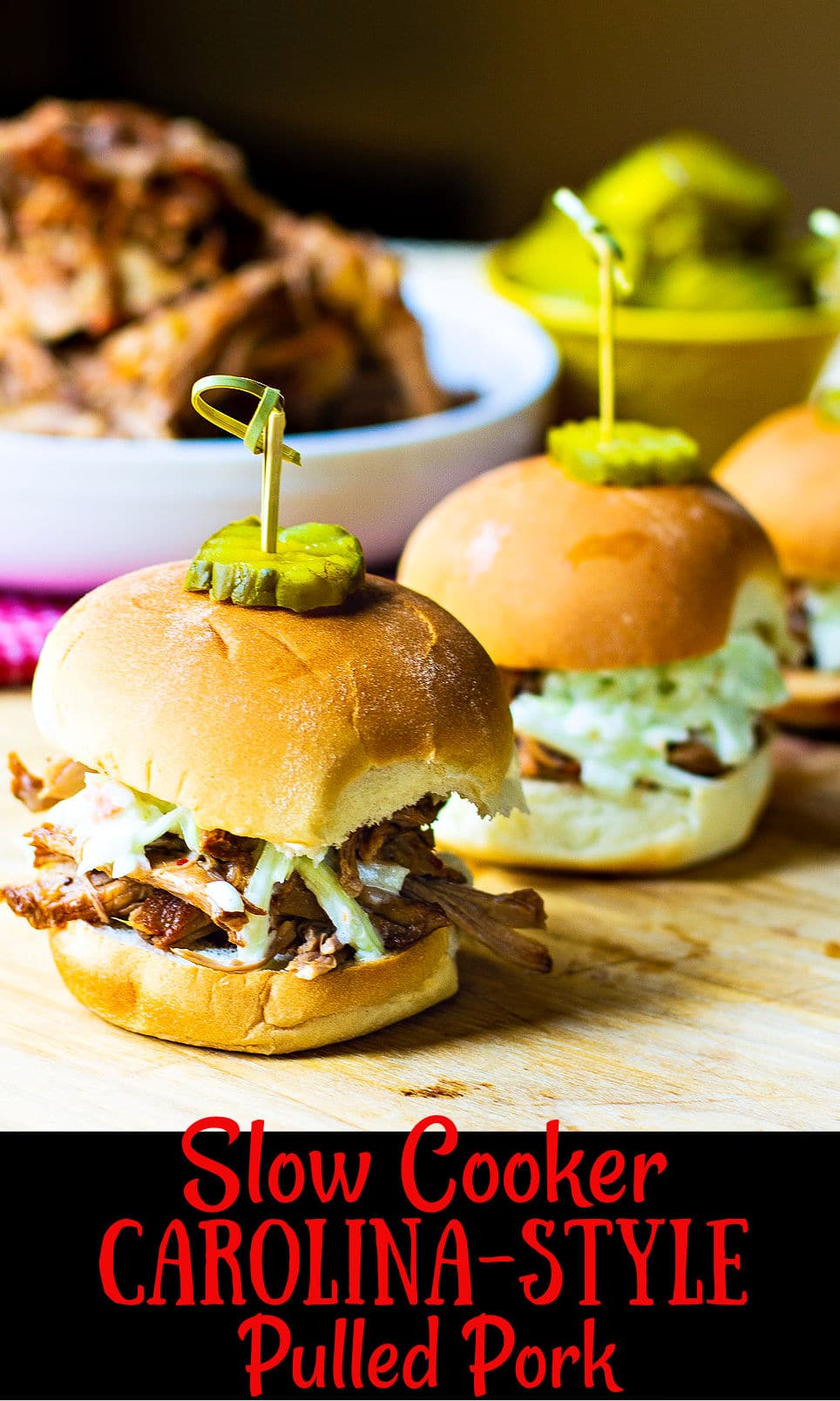 Disclosure: This post may contain affiliate links.