Chicken with Lemon Butter Sauce- Sautéed chicken breasts served with a lemon butter sauce and capers make a simple yet elegant meal that will make you feel like you are dining at your favorite restaurant.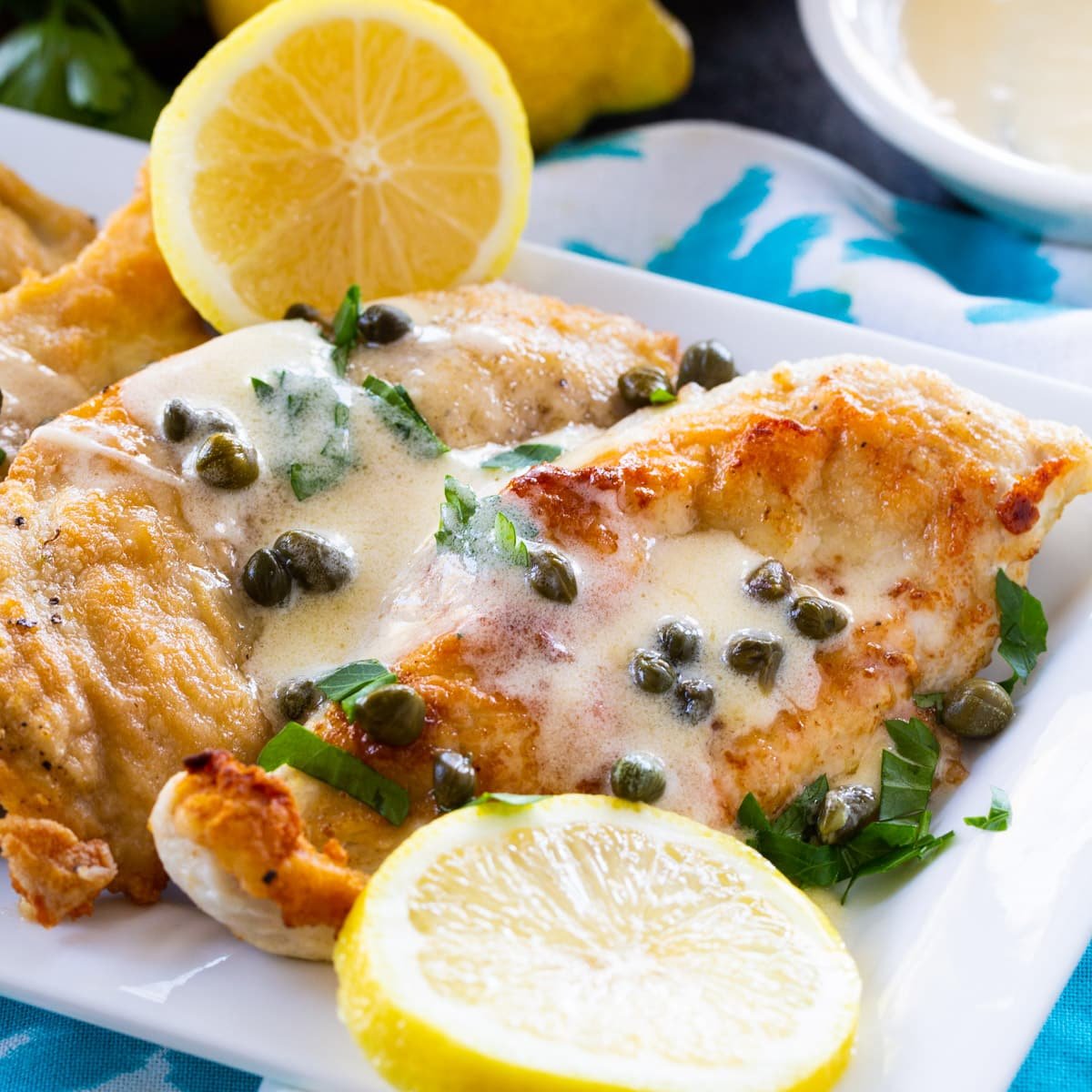 This delicious chicken recipe is a Buca Di Beppo copycat. In full disclosure, I've only eaten at Buca Di Beppo a few times even though there's one just minutes from my house and I've never had their Chicken Limone, so I can't say how this recipe compares to the original.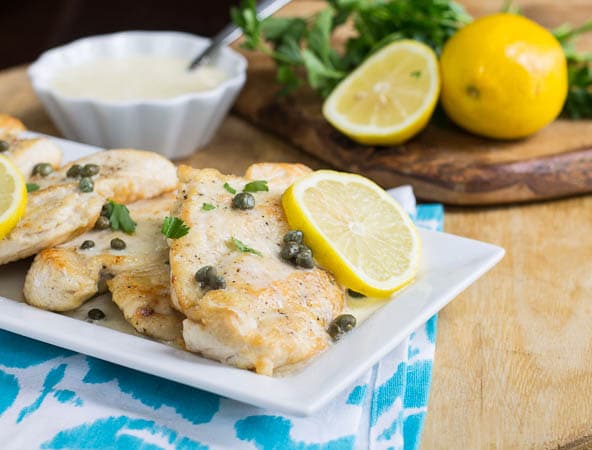 But the recipe sounded too delicious not to try and I'm always struggling to come up for new dinner ideas that will appeal to the whole family. Pan-fried chicken breasts are topped with a buttery lemon and wine sauce and sprinkled with capers. Yum! If you love the flavor of lemons and capers, this meal is sure to become one of your favorites.
We just checked into our hotel in Indianapolis yesterday. Our son is having surgery tomorrow at Indiana University Hospital. I couldn't help but smile when I saw a Bucca Di Beppo flyer in the hotel lobby knowing that I had planned to post this recipe today.
Yesterday when we got on the place it was 73 degrees in Charlotte and it was 21 degrees and snowing when we arrived in Indianapolis. Hello again winter! There's no relief in site this week so I think we will be eating lots of comfort foods this week and maybe we will even make a trip to Bucca Di Beppo for some Chicken Limone. And I can say, Mmmm….tastes just like home 🙂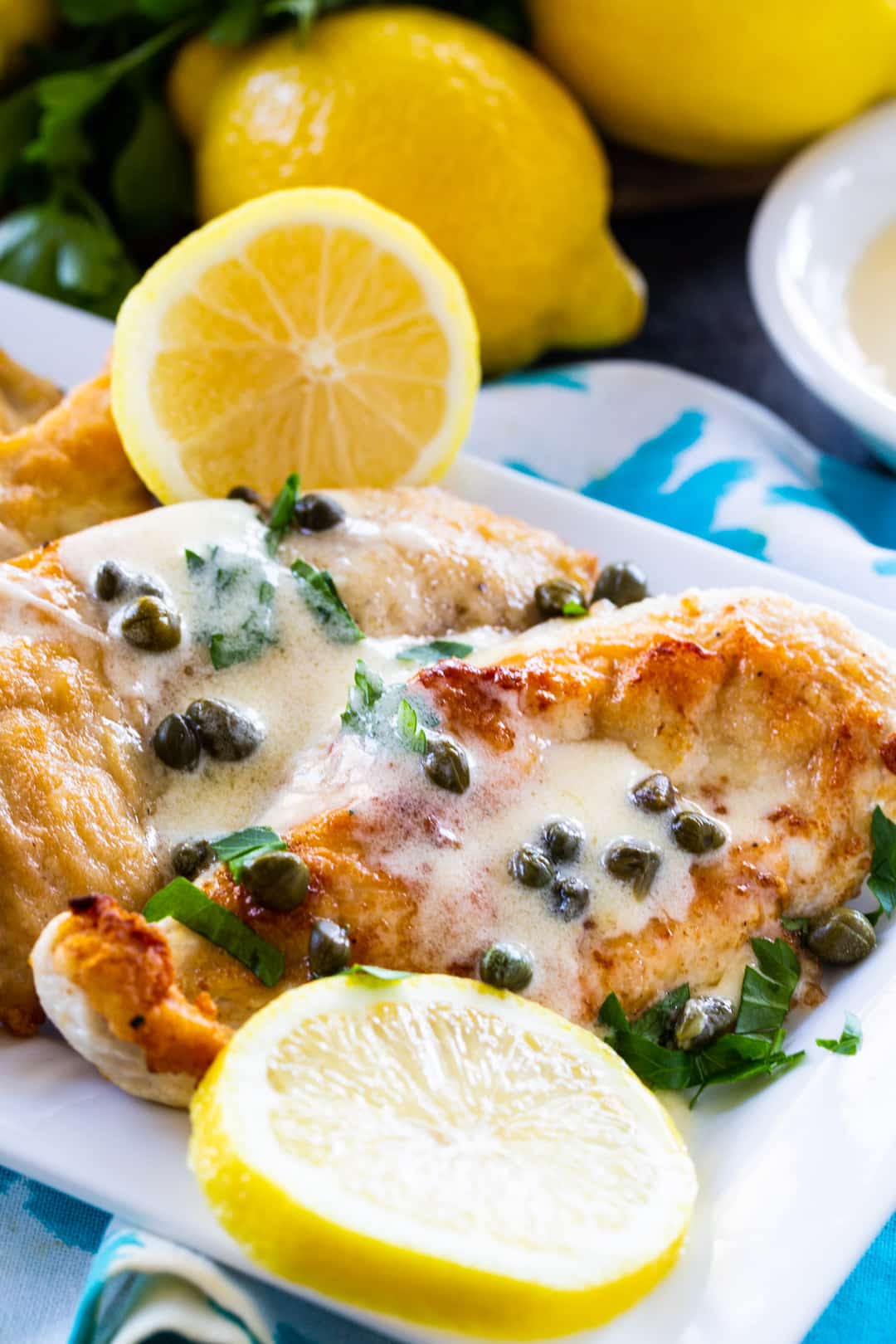 Ready In Just 20 Minutes
Chicken with Lemon Butter Sauce comes together in just about 20 minutes. The chicken breasts are pounded to 1/4-inch thickness so they cook super fast. You can cook the chicken while the sauce simmers to save time.
What To Serve with Chicken with Lemon Butter Sauce
I love steamed broccoli, sauteed spinach, or roasted asparagus with this chicken dinner. Parmesan Rice is also a great side dish to pair it with or serve it over angel hair pasta. Yeast Rolls also make a great addition to this meal.
Recipe Tip
While the sauce simmers in a saucepan, cook the chicken. This greatly reduces the cooking time.
When Is Chicken Done?
Chicken is done when it reaches an internal temperature of 165 degrees F.
Storage
Leftovers can be kept in an airtight container in the refrigerator for 4 days. Reheat in a microwave.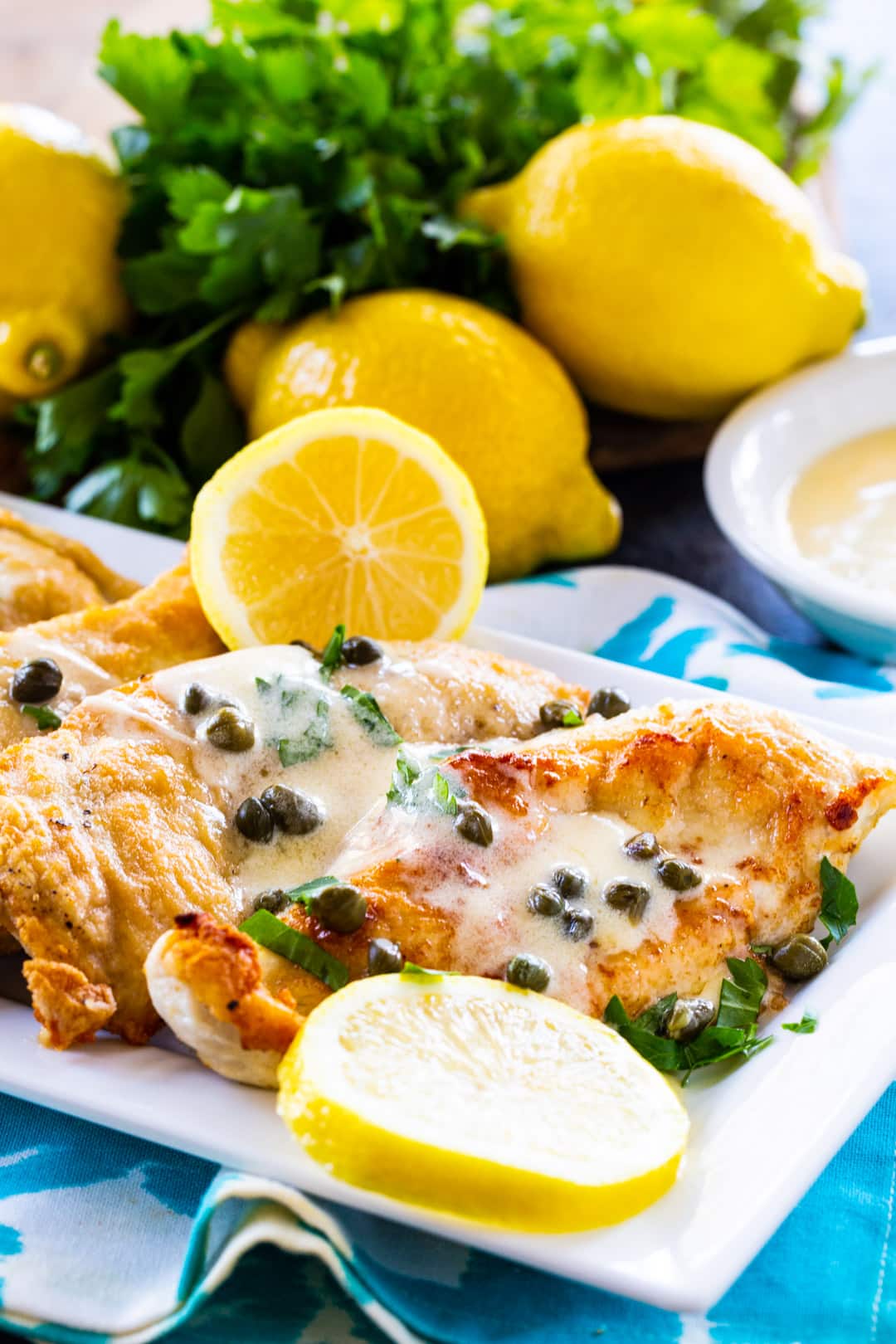 More Chicken Recipes
Never miss a recipe. Follow Spicy Southern Kitchen on Pinterest and Instagram.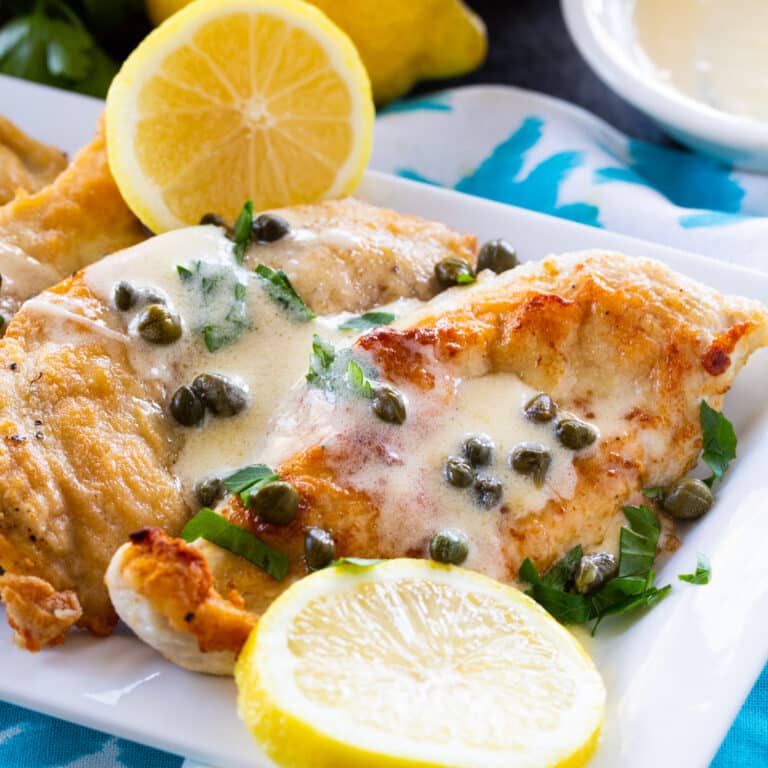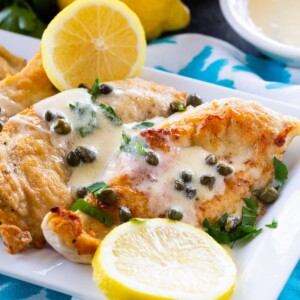 Chicken with Lemon Butter Sauce
Chicken with a delicious Lemon Butter Sauce and capers.
Ingredients
Lemon Butter Sauce
1/2

cup

white wine

2

teaspoons

minced garlic

1/2

cup

butter

(1 stick)

1/2

cup

heavy cream

1/4

teaspoon

salt

1

lemon
Chicken
2

boneless, skinless chicken breasts

pounded to 1/4-inch and cut in half

salt and pepper

1/3

cup

all-purpose flour

1/4

cup

extra light olive oil

1

tablespoon

capers

Parsley for garnish
Instructions
In a small saucepan, combine wine and garlic over medium heat. Bring wine to a boil, reduce heat to a simmer until wine is reduced in half, about 3 to 4 minutes. Pour through a strainer into a bowl to remove garlic.

Rinse out saucepan, add butter and place over medium heat. When butter has melted return wine to pan along with cream and salt.

Cut lemon and half and squeeze juice of one half into saucepan.. Bring to a boil and simmer 10 to 12 minutes.. Cover and remove from heat.

Heat olive oil in a large skillet over medium-high heat.

Coat each piece of chicken in flour and season with salt and pepper. Place in skillet and sauté about 4 minutes per side.

Arrange chicken on a serving platter. Sprinkle with capers, and spoon sauce on top. Garnish with parsley and lemons if desired.
Want to Save This Recipe?
Recipe Source: slightly adapted from Top Secret Restaurant Recipes 3: The Secret Formulas for Duplicating Your Favorite Restaurant Dishes at Home (Top Secret Recipes)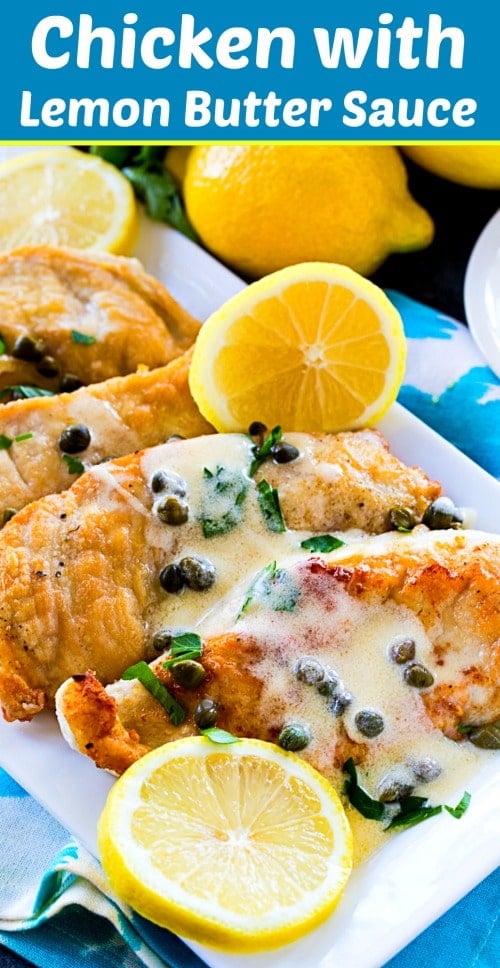 Disclosure: Spicy Southern Kitchen is an amazon.com affiliate.