Crock Pot Beef and Noodles is made up of tender pieces of shredded beef in a salty broth mixed with thick and tender egg noodles. It's a hearty, stick to your ribs Midwestern meal and with the help of a slow cooker, it couldn't be easier to make.
Last March my husband, brother, and I spent a week in Indianapolis helping my son recover from surgery following chemotherapy for testicular cancer. We were looking for down home comfort food while we were there and we found it at 2 different places. First it was stuffed cabbage and pastrami sandwiches at Shapiro's Deli and then Beef and Noodles at the Steer-in.
There's no place in Charlotte to get a hearty Beef and Noodles meal like the Steer-in serves so I attempted to recreate it at home.
While this  Crockpot Beef and Noodles doesn't have as rich and intense a flavor as the Steer-in's does, it is an easy, delicious meal that will have you going back for seconds.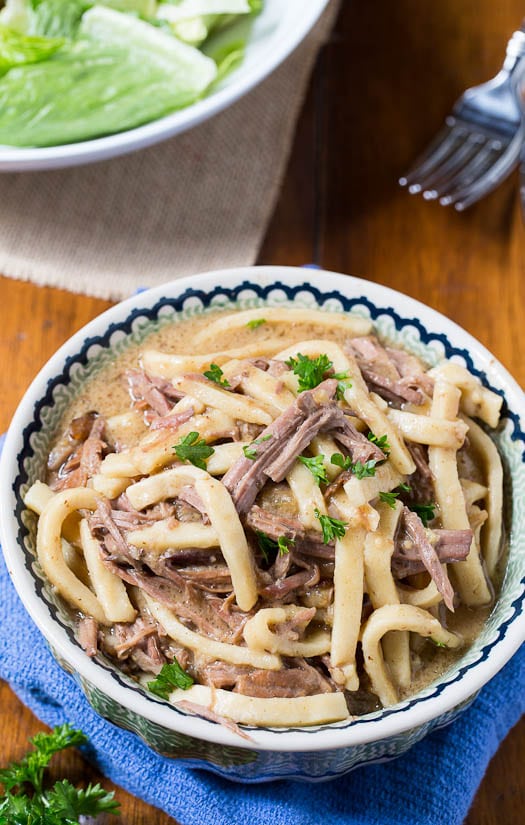 To make Crock Pot Beef and Noodles, place a 2 pound beef chuck roast in your slow cooker with a can of condensed mushroom soup, a can of beef broth, and a packet of dry onion soup mix, plus some garlic. Let it cook on low for a good 9-10 hours so that it gets super tender and the flavors really have time to develop.
Shred the beef, add a bag of frozen egg noodles and enough water to submerge the noodles. Season with salt and pepper to taste and cook 1 more hour.
Then you are ready to dig into some serious comfort food.
 For more delicious Crock Pot recipes follow Spicy Southern Kitchen on Pinterest and Instagram.
Disclosure: This post contains affiliate links.