Cabbage leaves stuffed with ground beef and rice and cooked in the oven with a sweet and tangy tomato sauce. Stuffed Cabbage Rolls are one of my favorite comfort foods.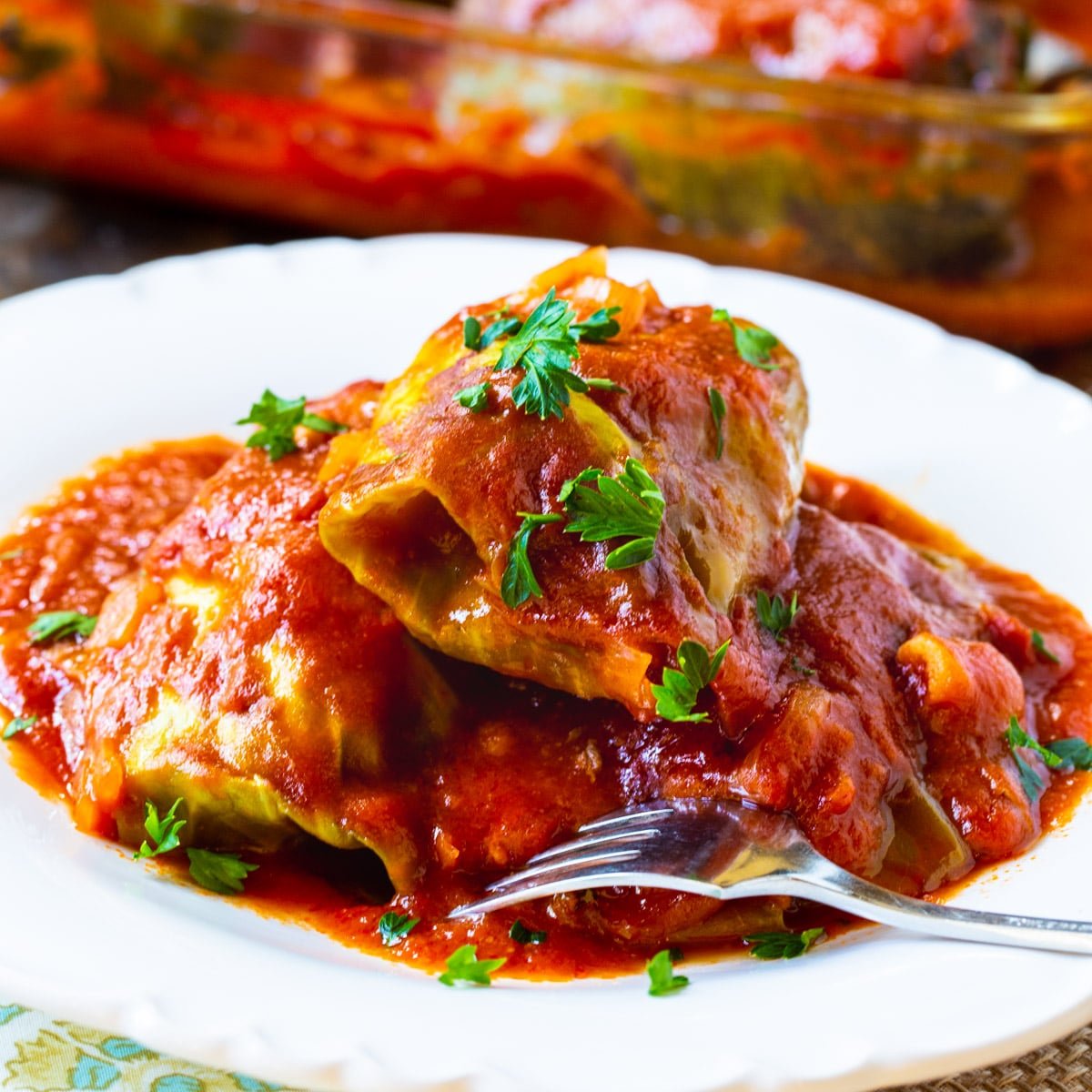 I'm a huge cabbage lover and surprisingly I only have one cabbage recipe, Sweet and Sour Cabbage, on this blog. Not counting coleslaw of course. But I greatly prefer cooked cabbage to raw cabbage.
I had a similar Stuffed Cabbage Rolls dish at Shapiro's Delicatessen in Indianapolis last March. Man do they ever have some good food!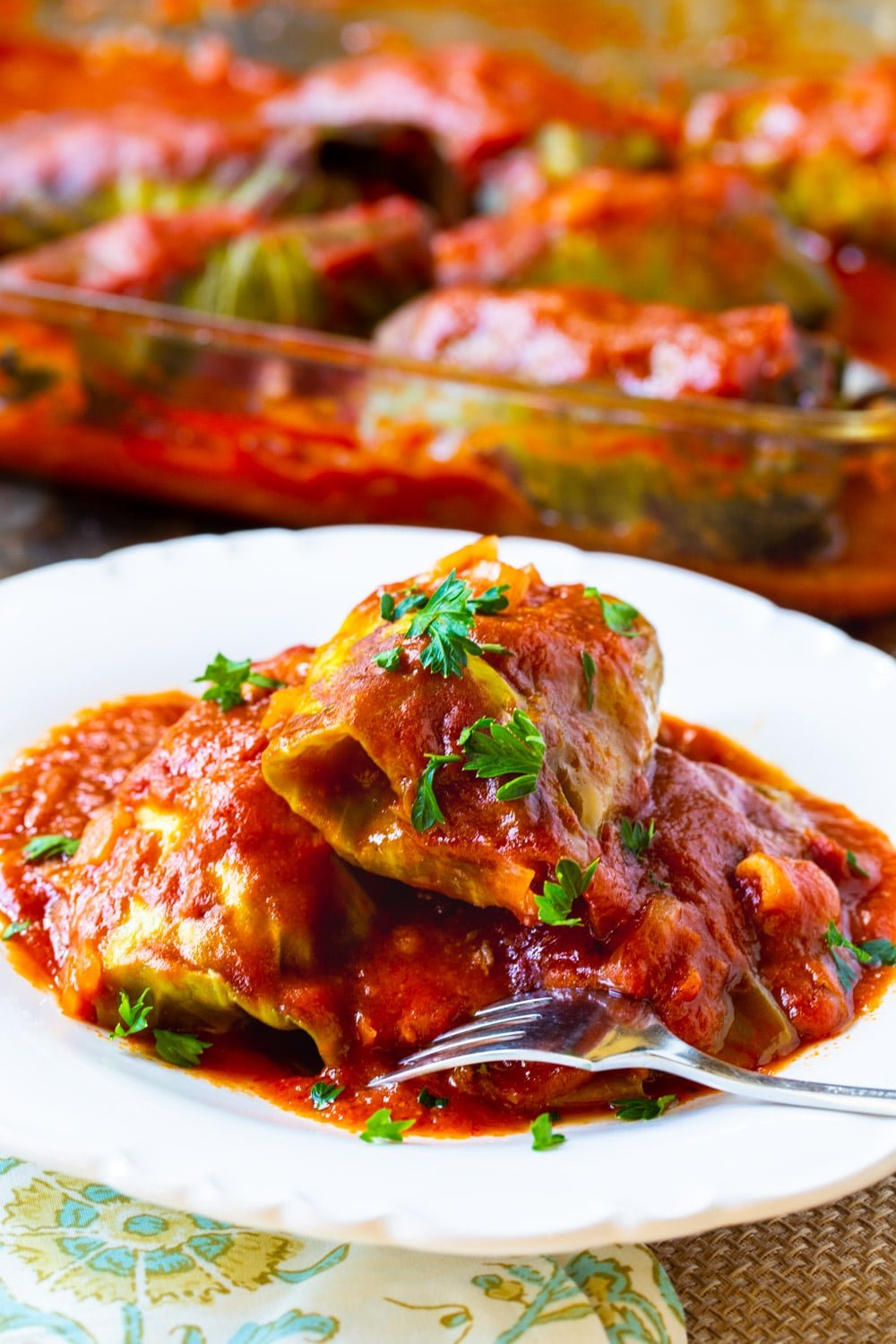 Since then I've wanted to make Stuffed Cabbage Rolls at home. I found as many recipes as I could and tried to come up with something that would be similar to Shapiro's Stuffed Cabbage Rolls.
I submerged the cabbage leaves in boiling water for 10 minutes to get them partially cooked. After draining them, I filled them with ground beef, rice, onion, an egg, and some milk, rolled them up, and placed them seam side down in a baking dish. I covered them in a sweet and tangy tomato sauce with brown sugar, vinegar, and a special ingredient- Gingersnap cookies!  It gives them that special something.
It turned out every bit as delicious as I hoped it would.
Next time you need some comfort food just like Grandma's cooking or Shapiro's, try Stuffed Cabbage Rolls. It's a satisfying, filling meal that is bound to lift your spirits. 🙂
Note: Leftovers will keep in an airtight container in the refrigerator for 4 days. Reheat in the microwave.
Try These Other Delicious Cabbage Recipes: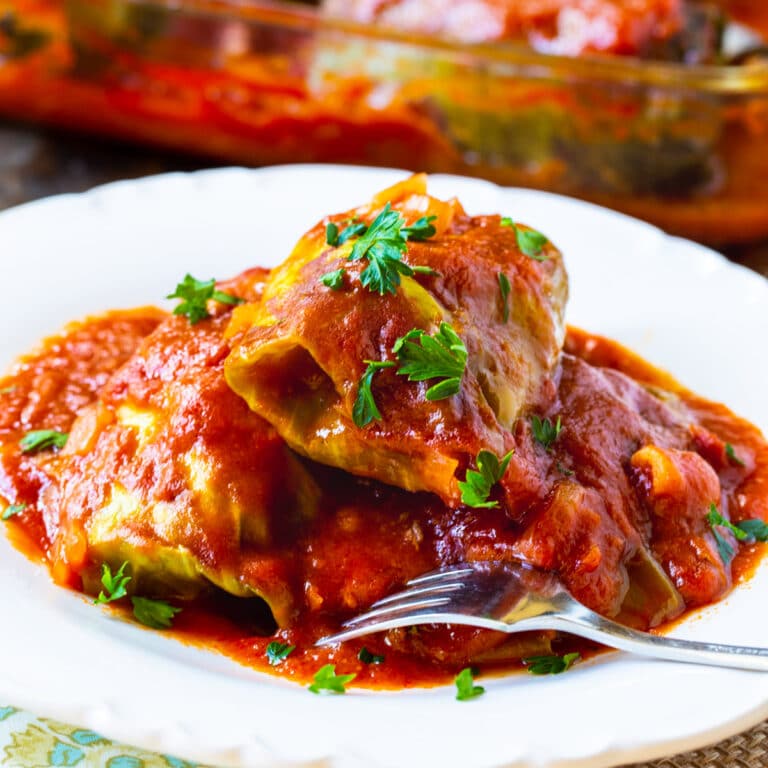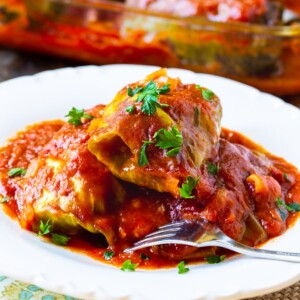 Stuffed Cabbage Rolls Recipe
Cabbage leaves stuffed with ground beef and rice and cooked in the oven with a sweet and tangy tomato sauce.
Ingredients
10

large cabbage leaves from a green cabbage

1

tablespoon

vegetable oil

1

onion,

finely diced

2

cloves

garlic,

minced

1

(15-ounce) can

tomato sauce

1

(8-ounce)

can tomato sauce

1

heaping tablespoon tomato paste

1/2

cup

water

6

crushed gingersnap cookies

1/4

cup

packed light brown sugar

2 1/2

tablespoons

apple cider vinegar

1

pound

lean ground beef

1/3

cup

long-grain rice,

uncooked

1

egg,

lightly beaten

1/2

cup

milk

1/2

teaspoon

salt

1/4

teaspoon

pepper
Instructions
Bring a large pot of water to a boil. Remove from heat and submerge cabbage leaves in water. Cover and let sit for 10 minutes. Drain.

In a medium saucepan heat oil over medium heat. Add onion and cook until softened. Add garlic and cook 1 more minute. Remove from heat. Place half of onion mixture in a medium bowl and leave the rest in the saucepan.

To the saucepan, add tomato sauce, tomato paste, water, gingersnap crumbs, brown sugar, and vinegar. Bring to a boil and simmer 5 minutes.

To the bowl with the onion mixture, add ground beef, rice, egg, milk and salt and pepper. Mix together with a wooden spoon or your hands.

Place about 3 tablespoons of meat mixture at the stem end of each cabbage leaf. Fold left and right sides over and roll up. Place seam side down in a 9x13-inch baking dish.

Pour tomato sauce over cabbage rolls.

Cover pan with aluminum foil and bake for 45 minutes in a 375 degree oven. Uncover and bake 15 more minutes. At the point you uncover the baking dish, scoop some tomato sauce on top of the cabbage rolls with a spoon so that they do not dry out.
Want to Save This Recipe?
Originally published Sept 4, 2014.