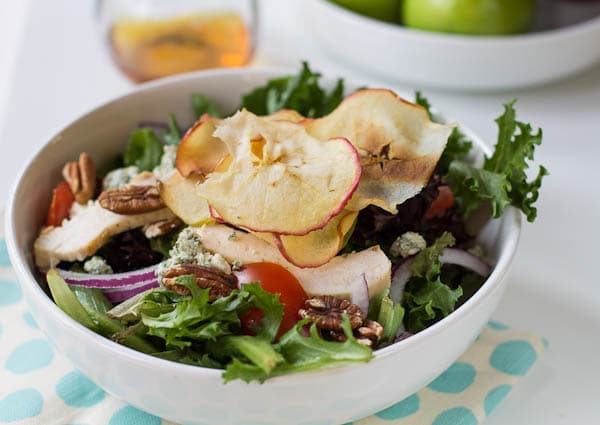 Panera Bread's Fuji Apple Chicken Salad is one of favorite salads, especially this time of year. Unfortunately the nearest Panera Bread is about 20 minutes from my house. When I want to get my Fuji Apple Chicken Salad fix I sometimes just make my own at home.
The great thing about making it at home is you can do it for a fraction of the cost, plus you can control the ingredient proportions. Pants fitting a little tight one week? Go easy on the cheese and pecans and heavy on the mixed greens. Plus if you work from home like I do, you can portion the salad into 4 Tupperware containers (keep the pecans and apple chips separate so they don't get soggy) and eat it for lunch all week.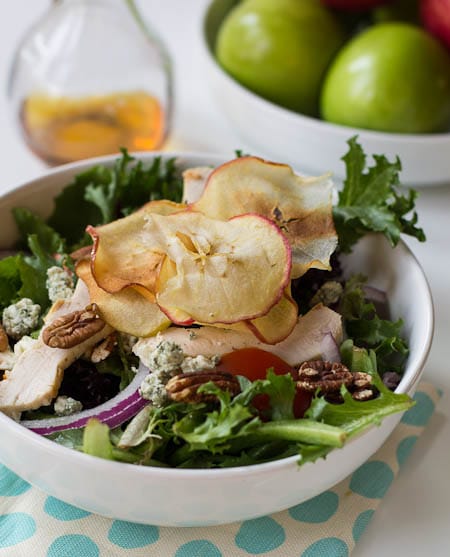 It combines all of my salad favorites: a protein, cheese, fruit, and nuts. This salad is a lovely combination of mixed greens, chicken breast, tomatoes, red onion, gorgonzola cheese, pecans and the piece de resistance- Apple Chips!!! They totally make the salad and this time of year I say apples should be eaten at every opportunity.
I used these fabulous Caramelized Apple Chips that I made recently. It's a super simple recipe that involves simmering thinly sliced apples in a water/sugar solution and then baking them in the oven. They get nice and crisp, plus have an incredible sweetness to them, just like the ones on Panera's Fuji Apple Chicken Salad.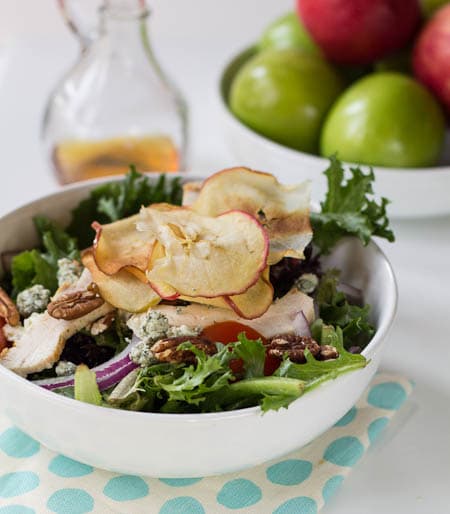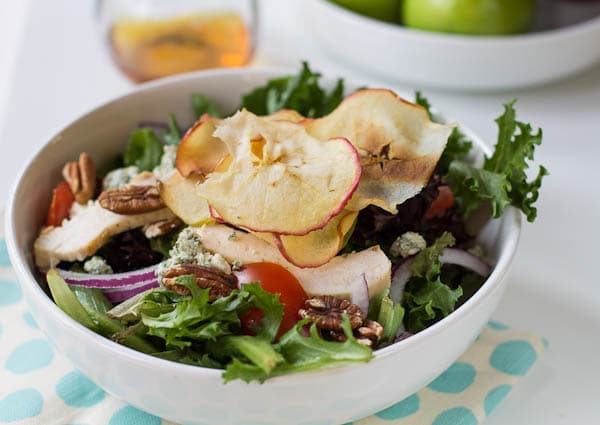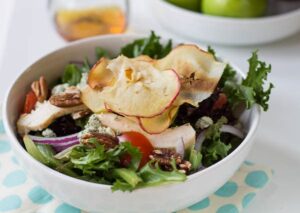 Fuji Apple Chicken Salad
This salad is a knock-off of Panera's salad. It's loaded with pecans, blue cheese, red onion, and delicious apple chips.
Ingredients
2

boneless,

skinless chicken breasts

1

tablespoon

olive oil

1

tablespoon

lemon juice

salt and pepper

1

(10-ounce)

package mixed greens

2

medium tomatoes,

cut into thin wedges

1/4

of an onion thinly sliced

3/4

cup

toasted pecan halves

1/2

cup

gorgonzola cheese crumbles

2

cups

Apple Chips
Dressing
2

tablespoons

apple juice concentrate

1

teaspoon

Dijon mustard

1

tablespoon

white balsamic vinegar

1/2

teaspoon

sugar

1/4

teaspoon

salt

1/4

teaspoon

freshly ground black pepper

1/4

cup

Canola oil or Olive oil
Instructions
Heat a grill pan over medium-high heat.

Combine olive oil and lemon juice and rub mixture into chicken breasts. Season with salt and pepper.

Cook chicken for 3-4 minutes per side or until no longer pink in the middle. Let cool and then slice.

In a salad bowl combine mixed greens, tomatoes, red onion, cheese, and pecans. Top with chicken and sprinkle apple chips on top.

To make dressing, whisk together all ingredients in a medium bowl.
Notes
You can use packaged dehydrated apple slices for the apple chips or just use thinly sliced fresh apples.
To take some of the bite out of red onion, place the sliced onion in a bowl of ice water for at least 10 minutes. Works like a charm!
Want to Save This Recipe?