Caramelized Apple Chips- These extra sweet and crispy apple chips are great on their own as a snack or as a topping for salads.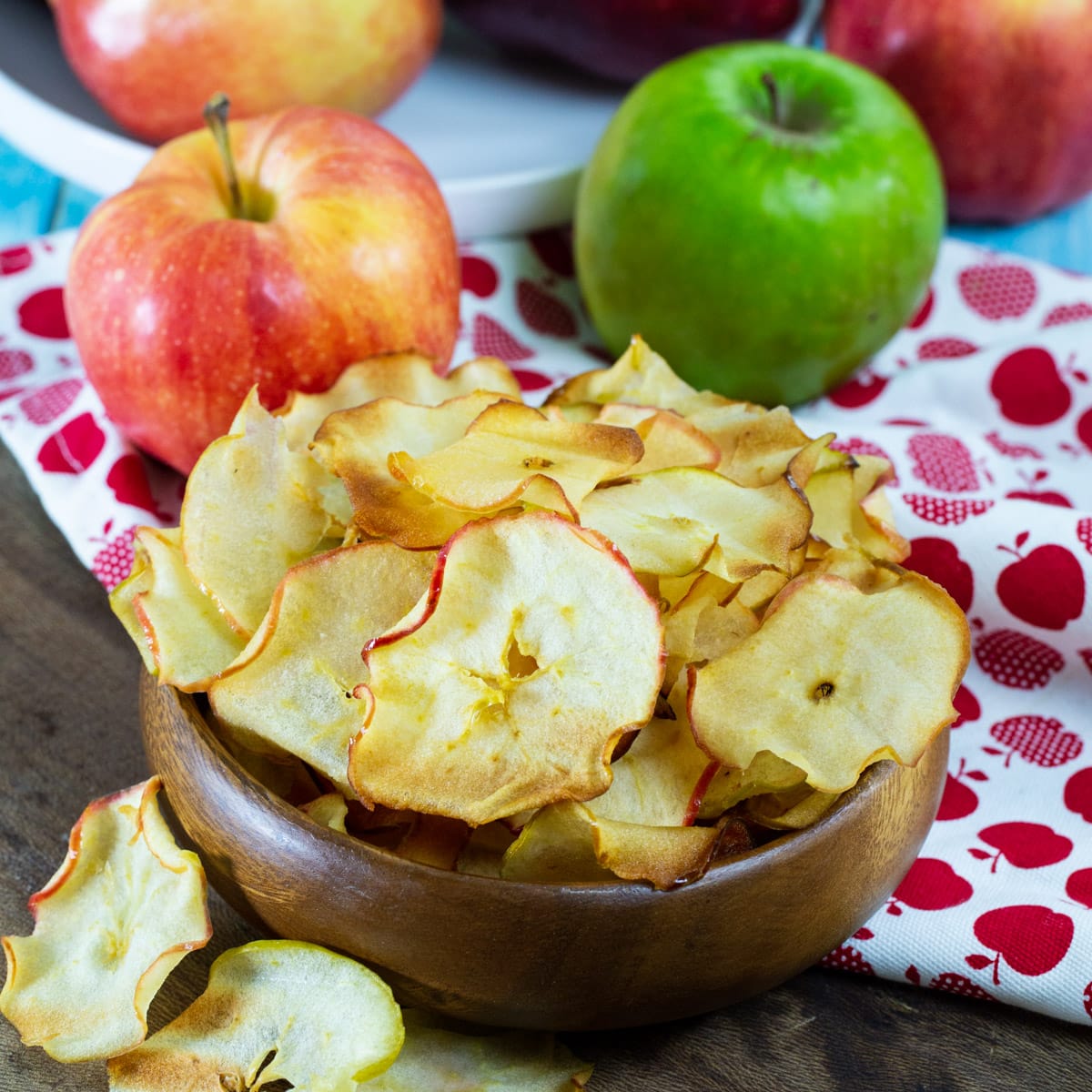 Baked apple chips are such a yummy, healthy snack. But bags at the health food store are a little on the pricey side. Making them at home is super easy and economical. You can get a whole tray of apple chips out of just one small apple.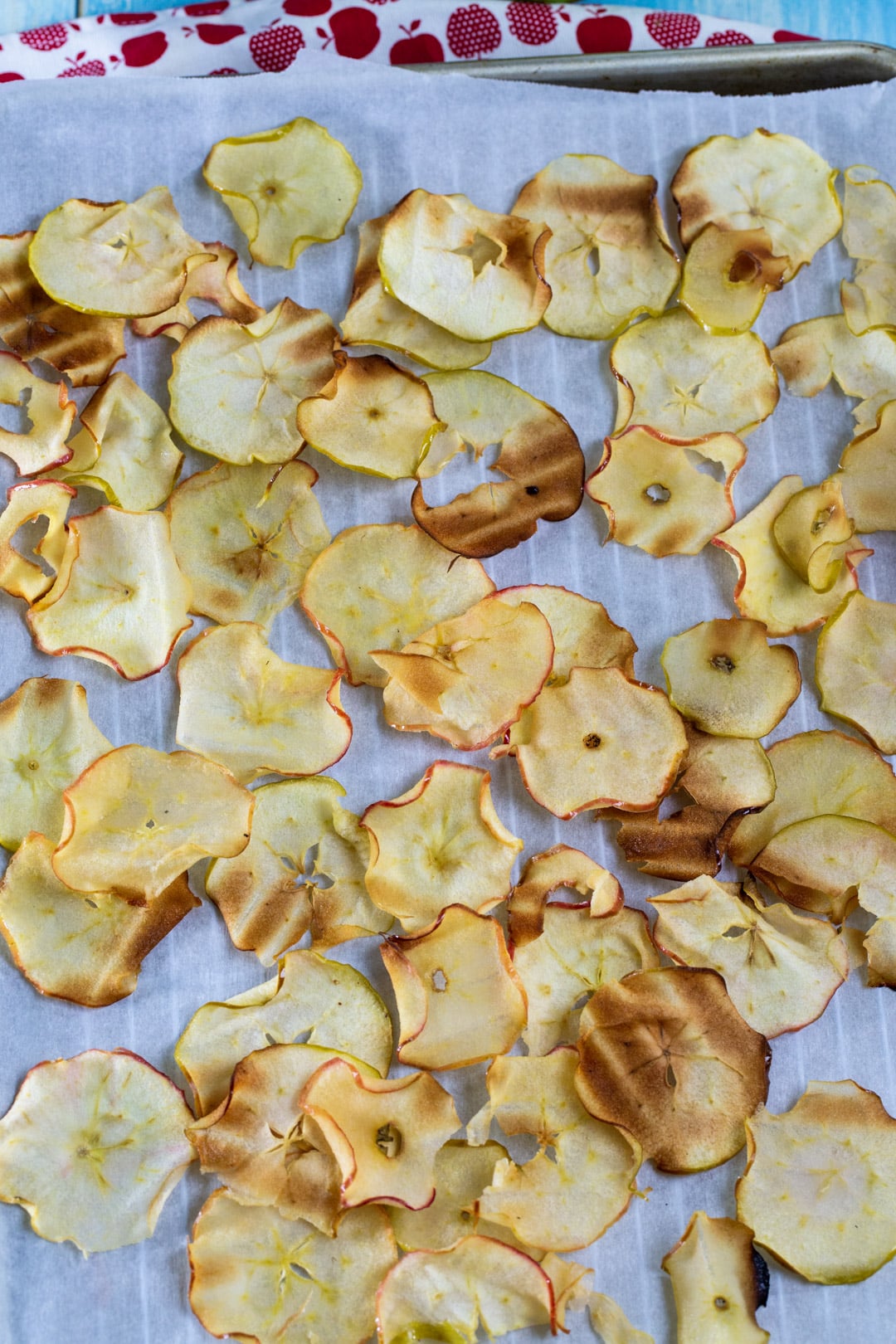 This recipe for Caramelized Apple Chips which was in the September 2012 issue of Southern Living Magazine (my favorite magazine ever!) is a little different from most apple chip recipes in that you boil them in a sugar solution before you bake them.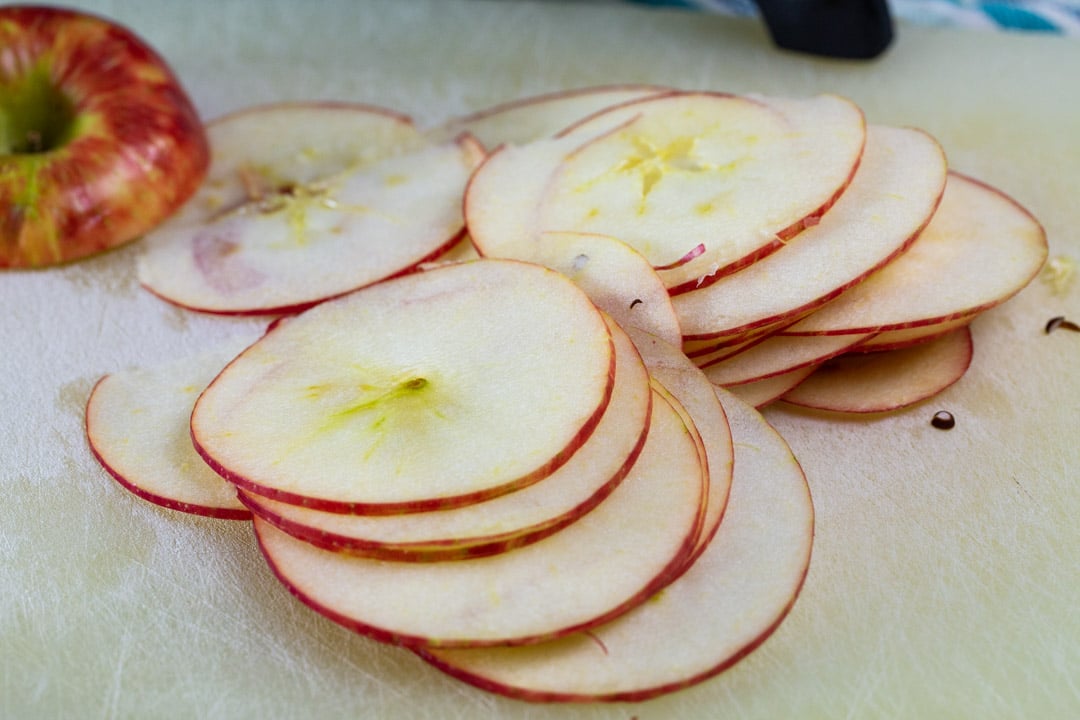 Use A Mandoline For Best Results
You will definitely want to use a Mandoline
for this recipe. If you don't have one think about getting one. They really do come in handy in the kitchen. BUT BE WARNED. The mandoline is hands down the most dangerous kitchen gadget. I cannot tell you how many people I know who have made a trip to the emergency room as a result of a mishap with a mandoline. Use the safety device that comes with it to protect your hand from the blade.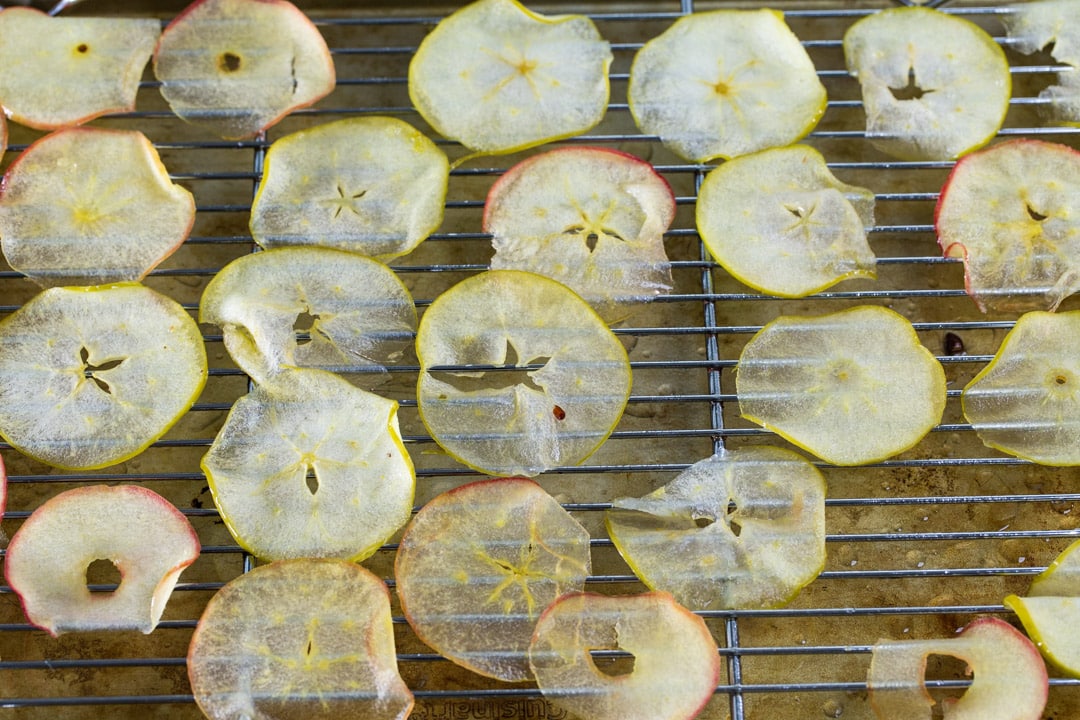 Yes, it makes it a little more difficult and cumbersome to use than holding whatever you are slicing directly in your hand. But just think about how much more difficult everything will be if you lose a finger or two.
I can't claim that these baked apple chips are completely healthy. You do simmer the apple slices in a sugar/water mixture before you bake them which adds to the sweetness. But I feel like the apples probably soak up less sugar than if you were to sprinkle sugar directly on them like a lot of recipes do.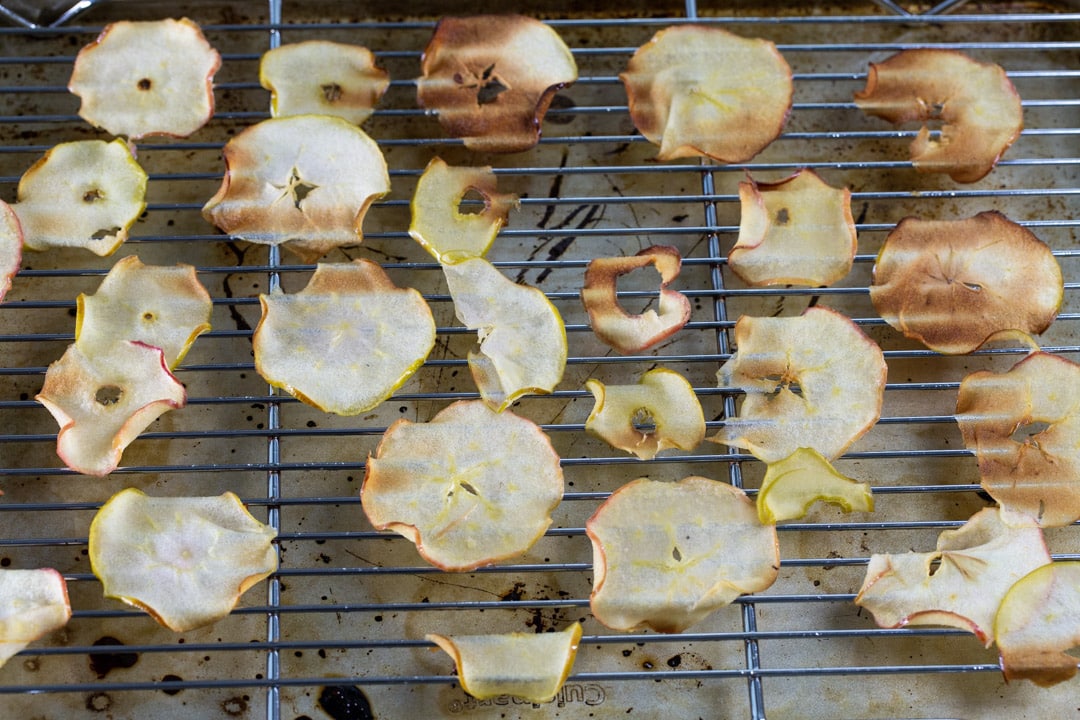 How Long To Bake Caramelized Apple Chips
The recipe calls for baking the apple chips for 10-15 minutes. I have found that 10 minutes is not nearly enough, you will need 15 at least. It's a little bit difficult to get the correct cooking time because the chips come out of the oven soft and crisp up as they cool. Take them out of the oven to soon and they will not crisp up at all. It's really trial and error to determine how much time yours will need based on the thickness of your apple slices and the accuracy of the temperature in your oven.
But play with it. The end result is worth it. These homemade apple chips are much better than any commercial apple chips. They are great as a snack, on top of a salad, or with ice cream. They remind me of the apple chips on top of Panera's Fuji Apple Chicken Salad.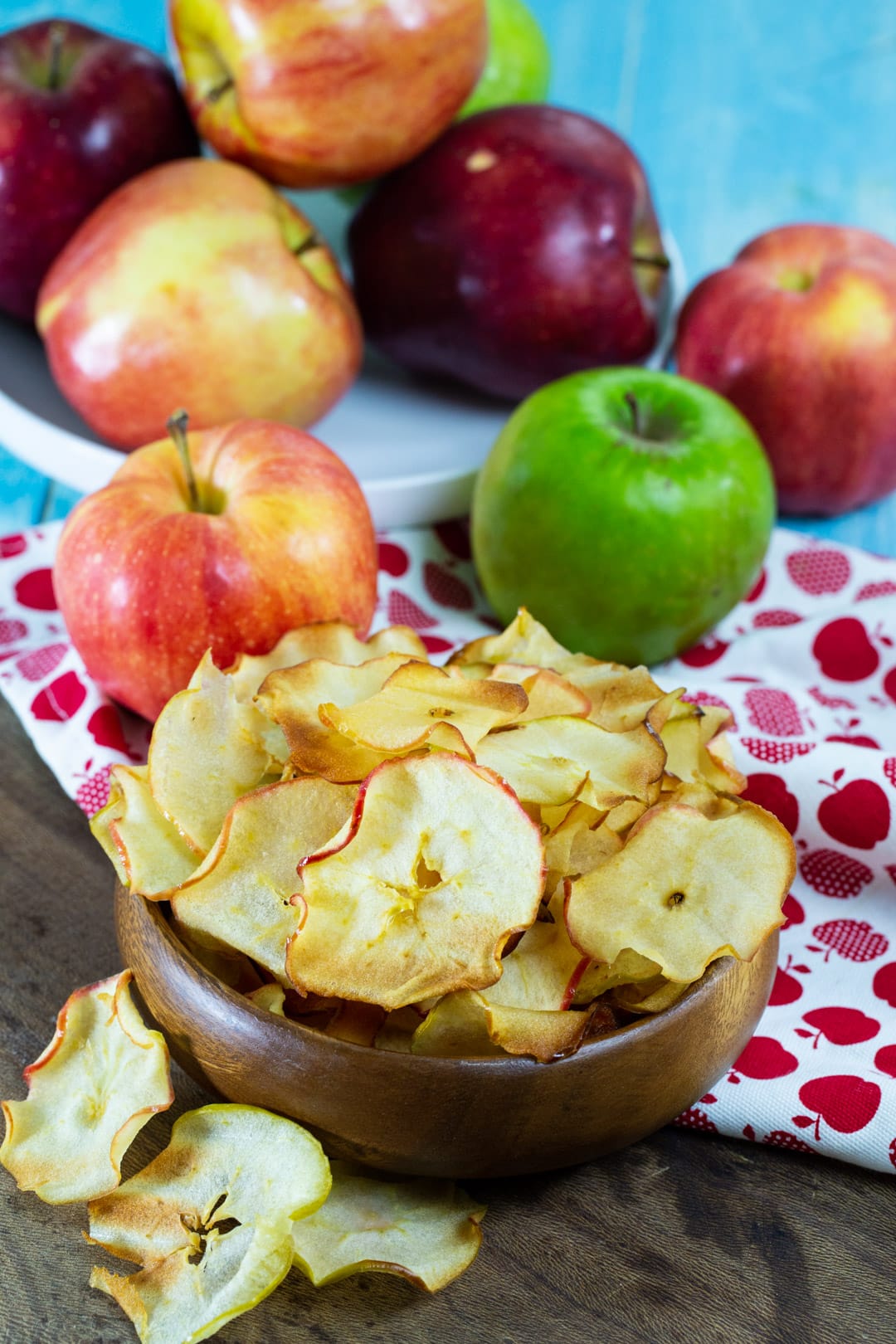 What Type of Apples To Use
You can use pretty much any type of apple. I had good results with both Granny Smith and Gala.
How To Serve Caramelized Apple Chips
These tasty apple chips are great on their own and they make a fantastic addition to a salad like this Fuji Apple Chicken Salad or apple dessert.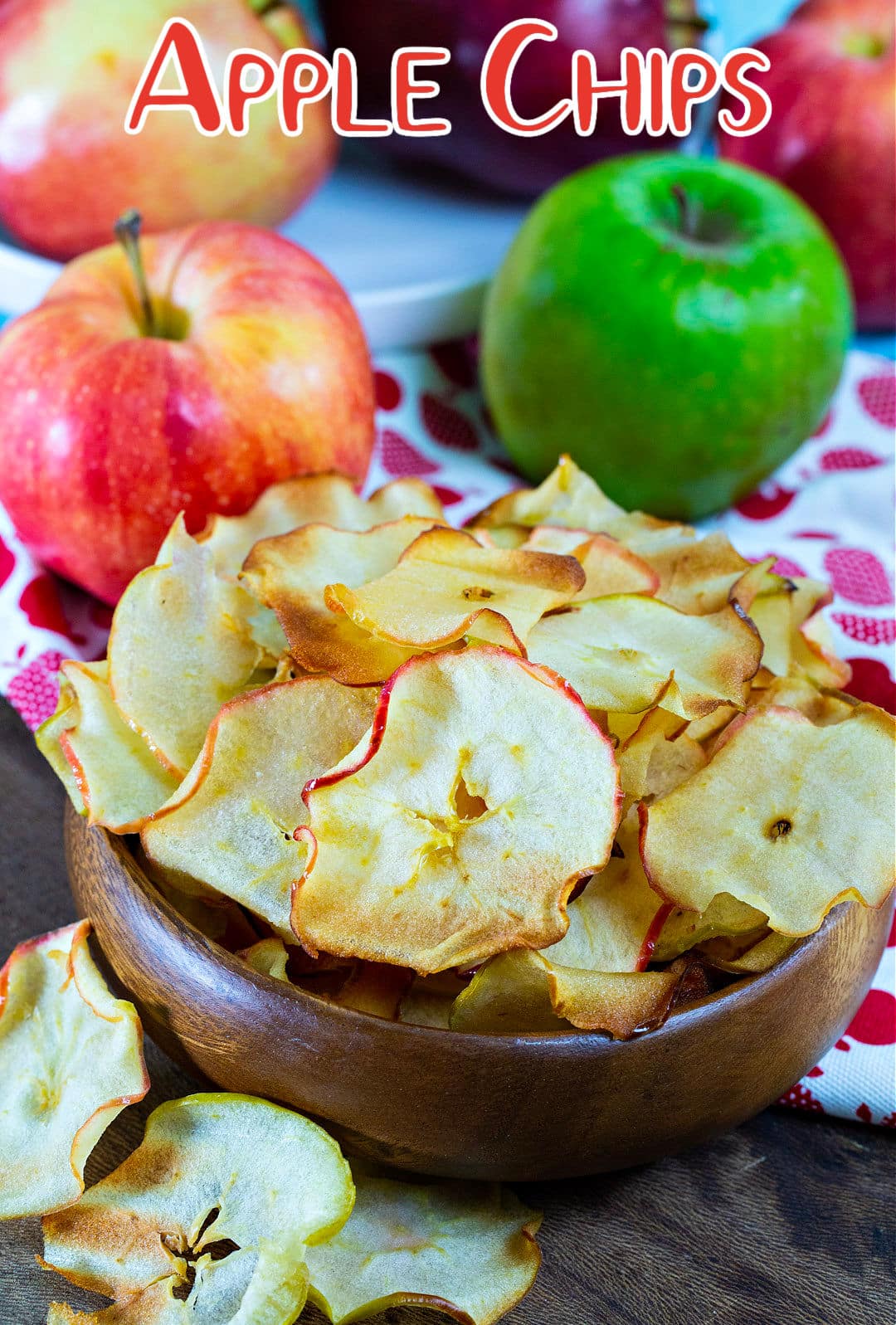 More Delicious Apple Recipes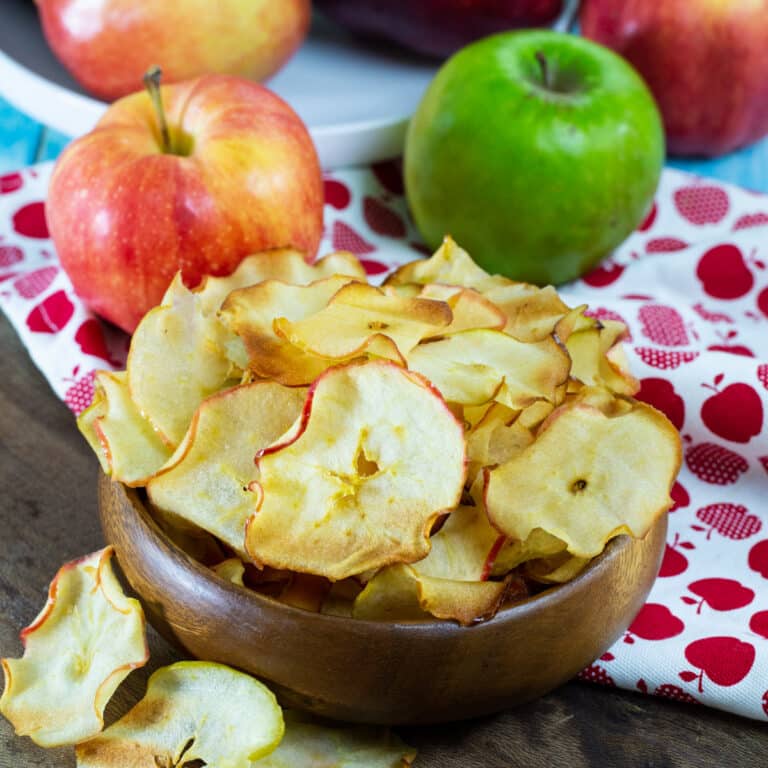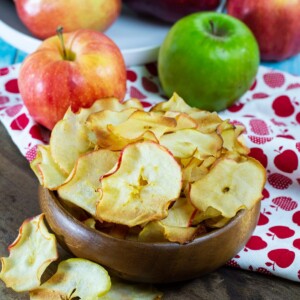 Caramelized Apple Chips
These extra sweet and crispy apple chips are great on their own as a snack or as a topping for salads.
Ingredients
2

small apples

1

cup

sugar

1

cup

water
Instructions
Preheat oven to 350 degrees. Lightly grease a wire rack with cooking spray and place in a 15×10-inch jelly roll pan.

Bring sugar and water to boil in a medium saucepan and stir frequently.

Using a mandoline, slice apples into 1/8 to 1/16-inch thick slices.

Quickly, before they start to brown, place apples in boiling sugar mixture. Turn heat down to a simmer. Cook apples, stirring often, until translucent and syrup starts to thicken, about 10 to 12 minutes.

Remove from heat and quickly remove apples from syrup 1 at a time using tongs and place flat on wire rack set inside jelly roll pan. Discard excess syrup.

Bake apples 10 to 15 minutes, or until golden. Transfer to lightly greased wax paper. They will feel soft at this point but will crisp up as they cool.
Notes
Apple chips will get soggy over time. Store in an airtight container.
Want to Save This Recipe?
Recipe Source: Southern Living Magazine
Originally posted September 21, 2013.
Disclosure: Spicy Southern Kitchen is an amazon.com affiliate.