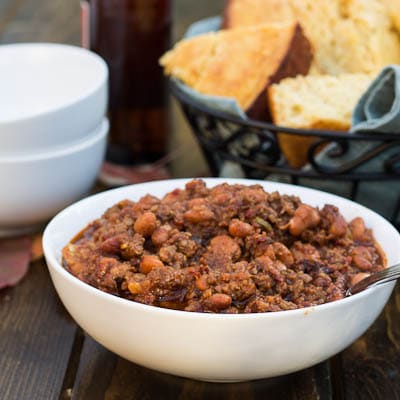 This hearty Five-Alarm Chili is loaded with enough spice to call in the fire department. The spice comes from 5 different sources: jalapeno, chipotle in adobo, chili powder, cayenne, and ancho.
I'll admit I chickened out a little when making this recipe and toned down the quantities of spice some. The resulting chili had a complex spice flavor, but didn't stimulate my tear ducts. Don't get me wrong, I like my chili spicy. But the amount of spice seemed so excessive I felt a little moderation was called for.
In addition to the spices, this chili is also flavored with beer. It's best to go with just a plain ole beer here. I used Budweiser. A dark, strongly flavored beer could give the chili a bitter taste. Some crushed tortillas are added to the chili and they really help thicken it up and give it a corn flavored taste in much the way that adding masa does.
Top with a little sour cream and avocado to tame the heat and you have a delicious fall meal.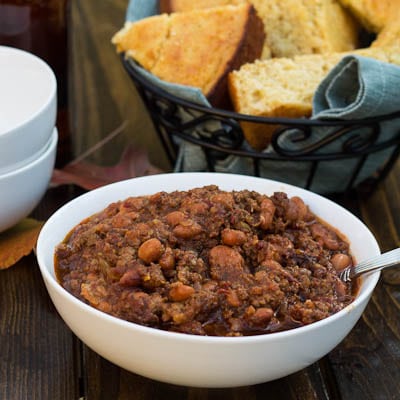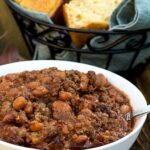 Five-Alarm Chili
Ingredients
2

ounces

died ancho chiles stems and seeds removed and flesh torn into 1-inch pieces

(4 to 6)

3 1/2

cups

water

1

(28-ounce)

can whole peeled tomatoes

3/4

cup

crushed corn tortilla chips

1/4

cup

canned chipotle chilis in adobo sauce plus 2 teaspoons adobo sauce,

I used about 4 peppers which almost filled up 1/4 cup measure cup and I added adobo sauce to fill the cup

2

tablespoons

Vegetable oil

2

pounds

85% lean ground beef

(I used 93% lean)

salt and pepper

2

pounds

onion,

I used 2 medium-sized onions, chopped fine

2

jalapeno chilis,

I just used 1, stemmed, seeds reserved, and minced

6

cloves

garlic

(I used 4)

2

tablespoons

ground cumin

2

tablespoons

chili powder

1

tablespoon

dried oregano

2

teaspoons

ground coriander

2

teaspoons

sugar

1

teaspoon

cayenne pepper,

I used 1/2 teaspoon

1 1/2

cups

beer

(I used Budweiser)

3

(15-ounce)

cans pinto beans,

rinsed
Instructions
Combine ancho chilis and 1 1/2 cup water in a medium microwave-safe bowl and microwave until softened, about 2 1/2 to 3 minutes. Drain and discard liquid.

Place ancho chilis, tomatoes and their juice, remaining 2 cups water, tortilla chips, and chipotle in adobo sauce in a blender and process until smooth, about 1 minute. Set aside.

Heat 2 teaspoons oil in a Dutch oven until oil starts to smoke. Add ground beef, 1 teaspoon salt, and pepper and cook until well-browned, breaking into pieces with spoon, 10 to 15 minutes. Drain meat in a colander and set aside.

Heat remaining 4 teaspoons oil in Dutch oven and add onions and jalapenos with seeds. Cook for approximately 5 minutes, until onion is nicely browned. Stir in garlic, cumin, chili powder, oregano, coriander, sugar, and cayenne and cook until fragrant, about 30 seconds.

Pour in beer and bring to a simmer. Add in beans, ancho-tomato mixture, and beef and return to a simmer. Cover and reduce heat to low. Cook 50 to 60 minutes, stirring occasionally.
Yield: 8 to 10 servings
Recipe Source: Cook's Country August/September 2012