Dr. Pepper Chili has just the right balance of sweet and spicy and is sure to be a hit on game day. Serve up a warm bowl with sour cream, onion, and fresh cilantro or use it as a topping for hot dogs or a dip for fritos. Any way you eat Dr. Pepper Chili, it's a hearty and satisfying meal.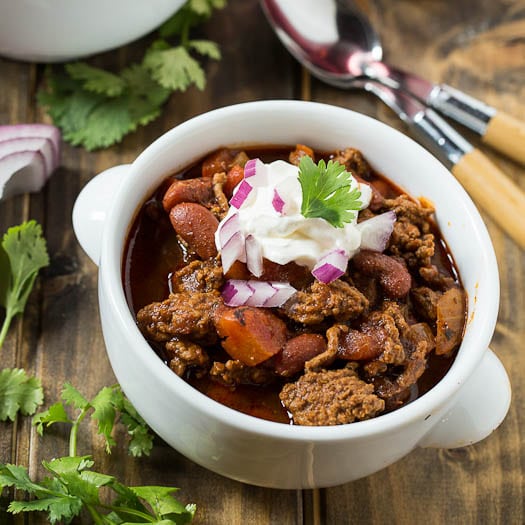 I feel a little odd talking about a cold weather food since we spent the day on the beach with about 80 degree weather. The kids didn't have school today so we are spending a long weekend in Beaufort, SC. You can take a peak at my Instagram for a glimpse of what we have been doing.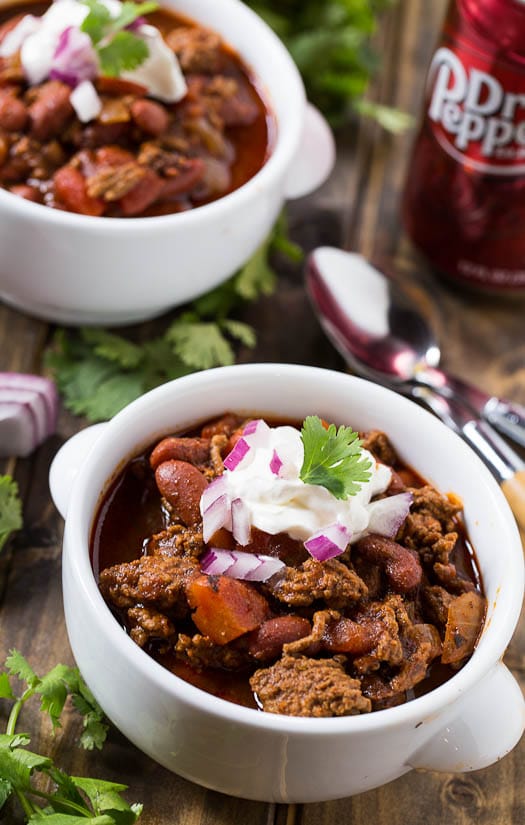 Dr. Pepper is hands down my favorite soft drink and it works well in a variety of recipes like Dr. Pepper BBQ Sauce. Dr. Pepper really adds some great flavor to this chili and the sweetness of it helps balance the spice and smokiness of chipotle chilis.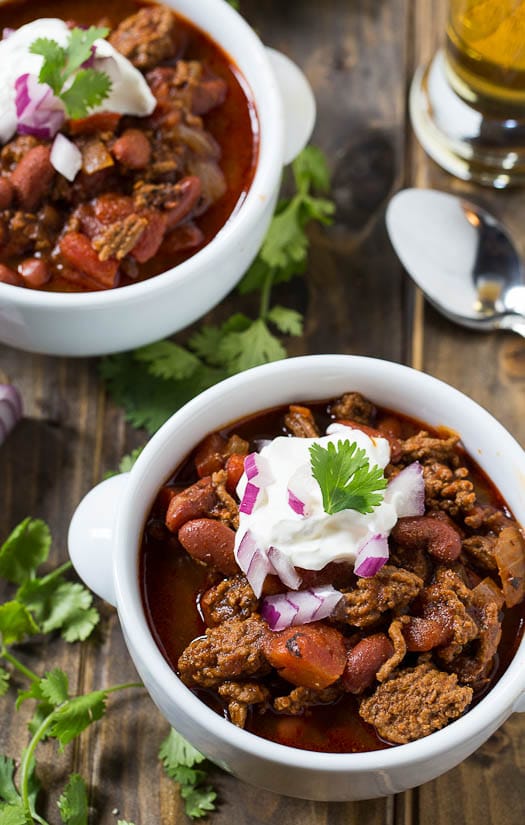 Made with lean ground beef, Dr. Pepper Chili is a comforting, filling meal that is also healthy and nutritious. It pairs wonderfully with Honey Cornbread.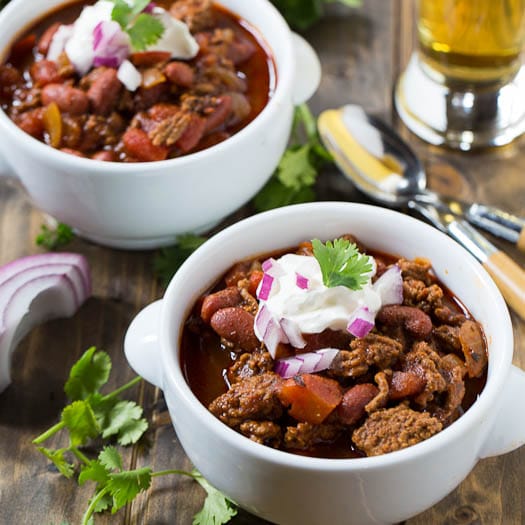 Watch the short video below to see how easy this chili is to make: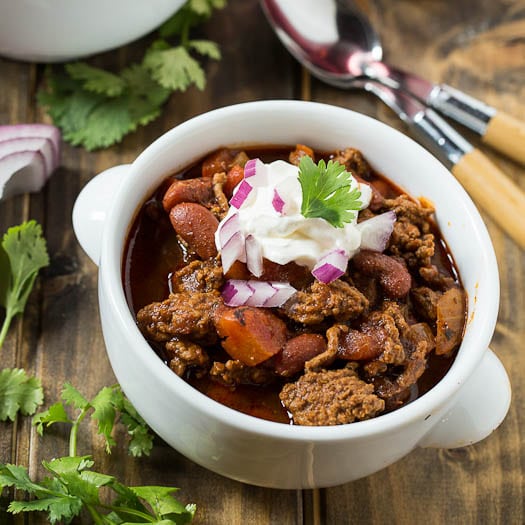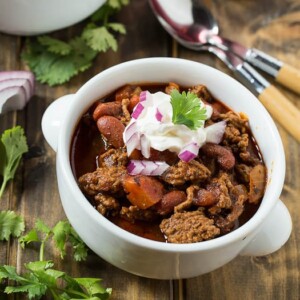 Dr. Pepper Chili
This chili has just the right blend of sweet, spicy, and smokiness.
Ingredients
1

pound

lean ground beef

1

cup

diced onion

1/2

cup

diced red bell pepper

1

tablespoon

chili powder

2

teaspoons

cumin

3/4

teaspoon

salt

1/2

teaspoon

oregano

1/4

teaspoon

garlic powder

1

cup

chicken broth

1

(12-ounce)

can Dr. Pepper

1

(14-ounce)

can fire-roasted tomatoes

2

tablespoons

tomato paste

4

chipotle peppers in adobo sauce,

finely chopped

1

teaspoon

Worcestershire sauce

1

can kidney beans,

drained and rinsed

sour cream,

red onion, cilantro for garnish
Instructions
Heat a nonstick skillet over medium-high heat and add ground beef. Cook, breaking apart with a wooden spoon, until about halfway cooked. Add onion and red bell pepper and continue to cook until vegetables are softened. If there is excess grease, you can remove it with a spoon before proceeding.

Add chili powder, cumin, salt, oregano, and garlic powder and cook for 30 seconds while stirring.

Add chicken broth, Dr. Pepper, diced tomatoes, tomato paste, chipotle chilis, and Worcestershire sauce. Stir to mix well. Simmer for 20 to 30 minutes or until chili has thickened to your liking. Add kidney beans.

Serve with sour cream, red onion, and cilantro.
Want to Save This Recipe?