This post is sponsored by Reynolds® Kitchens and Socialstars; all opinions are my own #ReynoldsCrowd.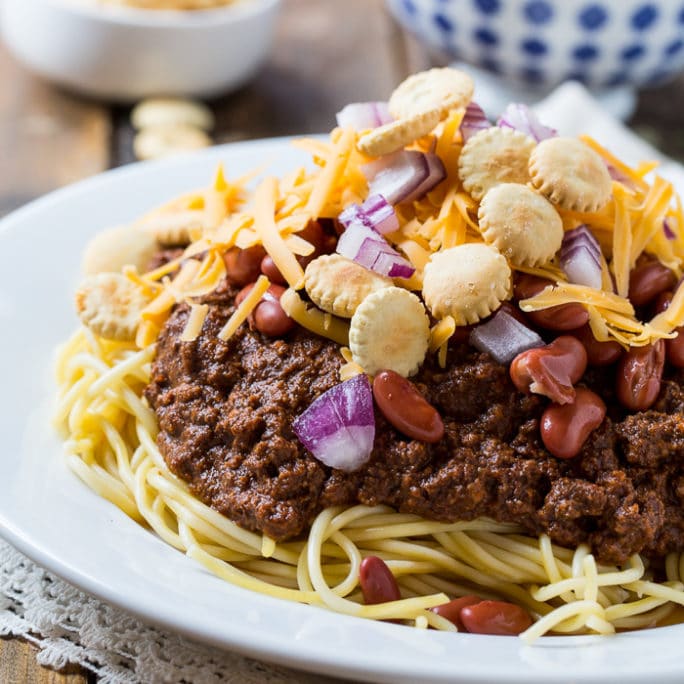 Slow Cooker Cincinnati Chili is super simple to make and is full of spices, making it an ideal meal for a cold February night. Chili is always great for an economical and filling meal and when I want something a little different, I make Cincinnati Chili which is more like a sauce than a chili, but equally comforting.
I like to serve Slow Cooker Cincinnati Chili over spaghetti and top it with beans, shredded cheddar cheese, chopped red onion, and oyster crackers.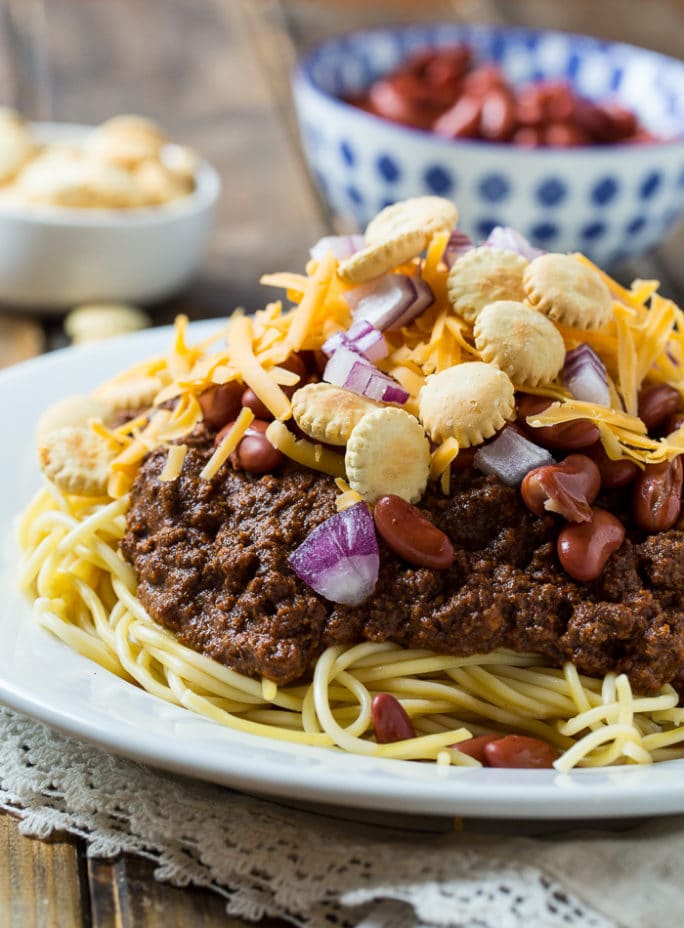 I think that's what you call 5-way Cincinnati Chili. It's pure comfort food and will warm you from the inside out.
And thanks to Reynolds® Slow Cooker Liners, you can enjoy a leisurely meal or have time for family games by the fireplace after dinner because there is virtually no cleanup with this recipe.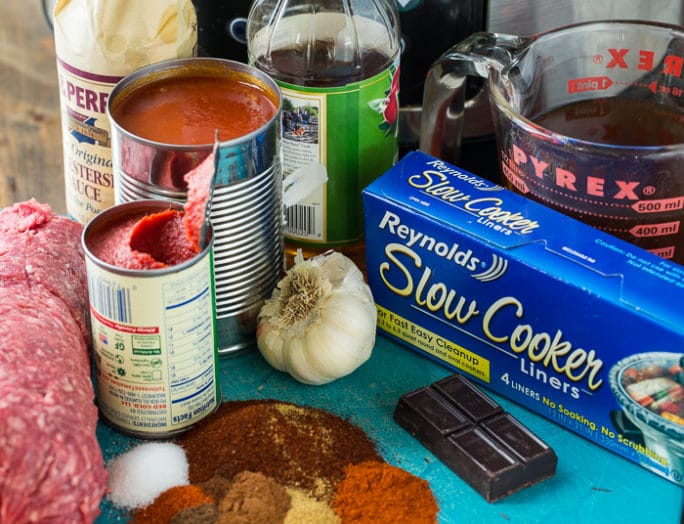 There's no precooking. Everything is combined in the slow cooker and if you line your slow cooker with a Reynolds® Slow Cooker Liner, cleanup literally takes 2 seconds. Just grab the liner and toss it in the trash. No need to soak and scrub food that's gotten stuck on your slow cooker. It remains totally spotless and clean. That's my kind of cleanup!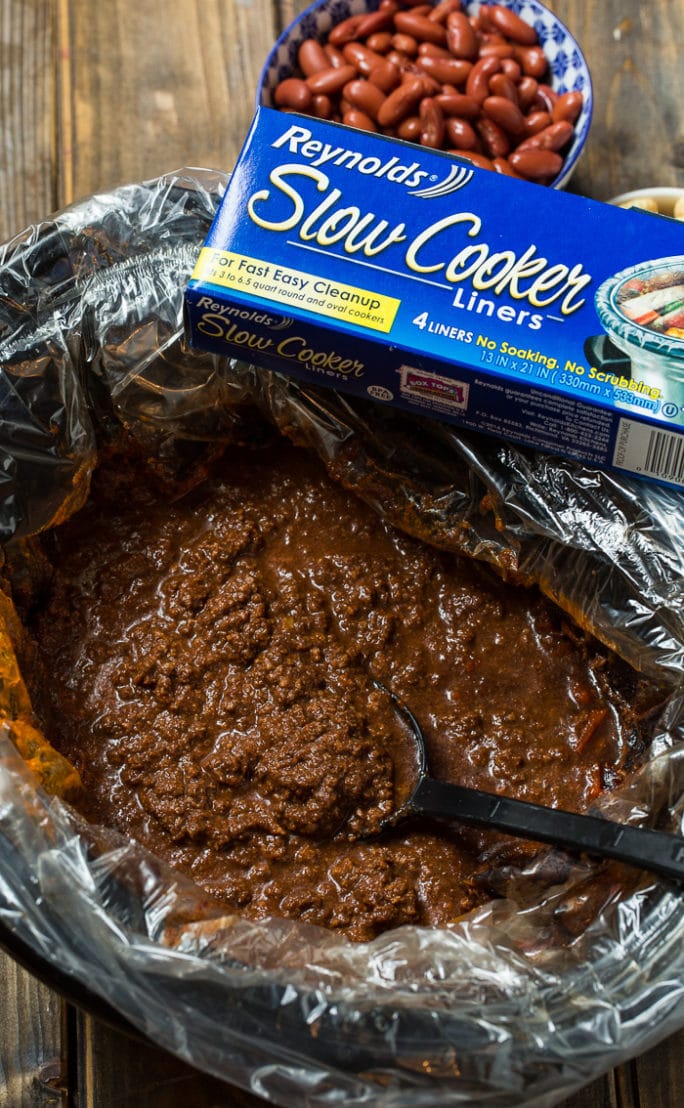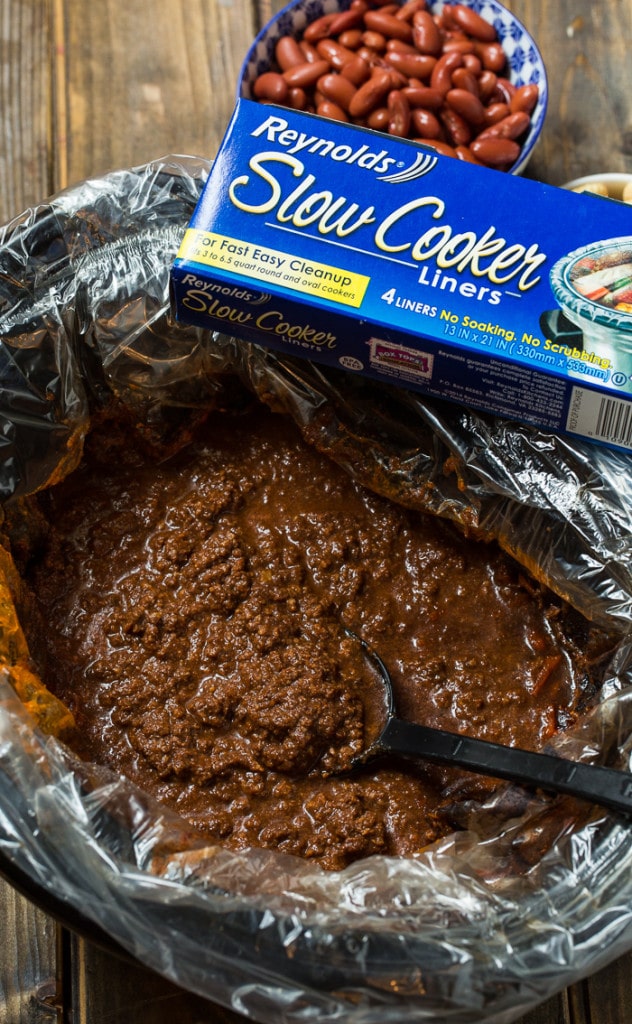 I'd much rather spend my time making something than cleaning a mess so I welcome any and all products that help in that department. Reynolds® Slow Cooker Liners are FDA compliant, safe for cooking, and designed to be used at high temperatures.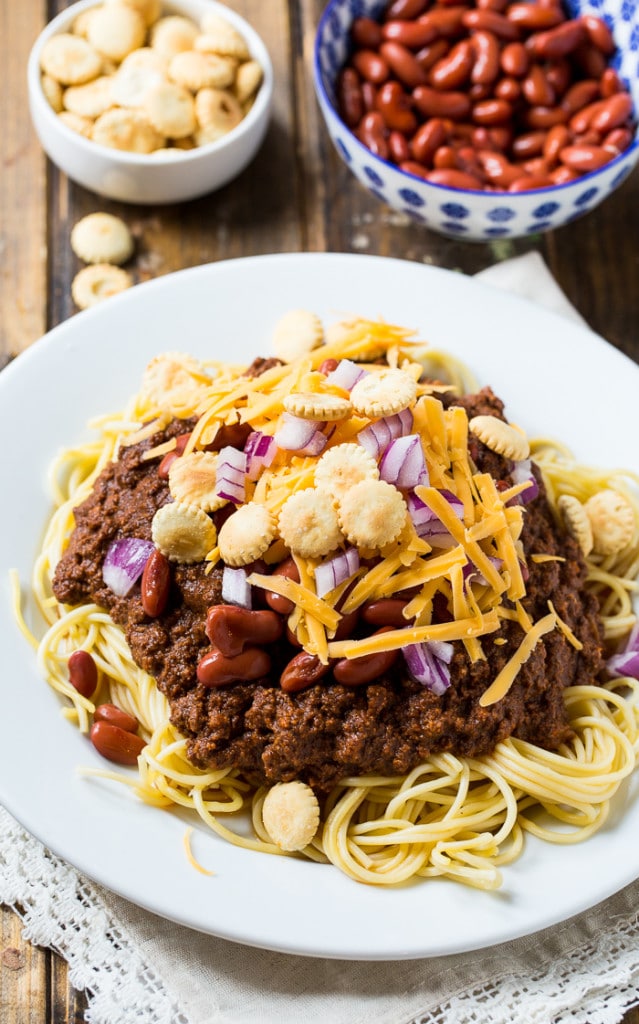 Once you have the ingredients for Cincinnati Chili assembled in the slow cooker, just put the lid on and let it cook away. A really long cooking time, about 4 hours on HIGH and 6 hours on LOW, really melds the flavors together. Chili powder, paprika, cumin, cinnamon, allspice, ground cloves and unsweetened chocolate give the chili a unique and delicious flavor.
And it's so much fun to pile those toppings on. Everyone can fix their's just the way they want it.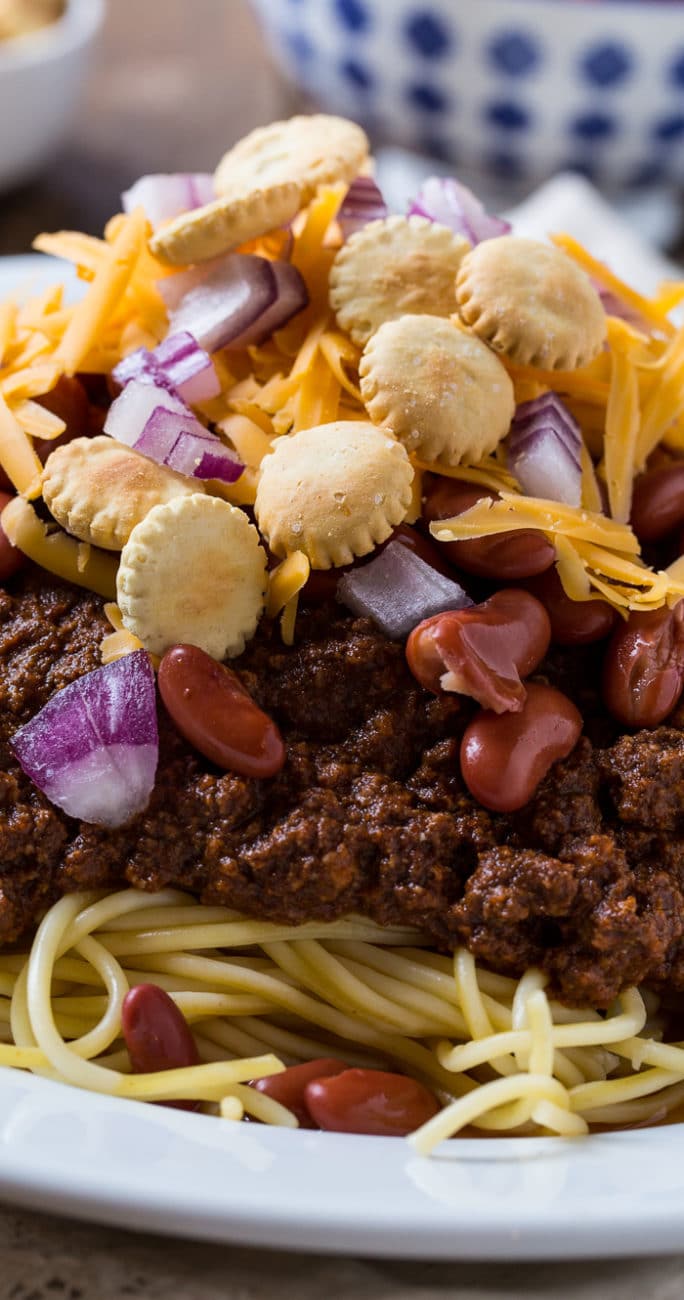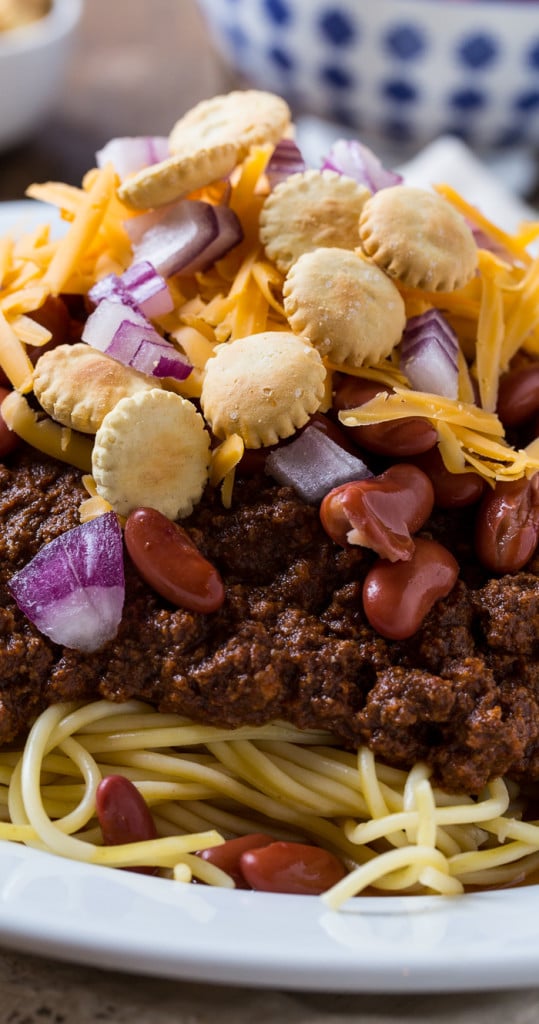 If you're a fan of slow cooking (and who isn't?), you won't want to miss the Recipes on Reynolds Kitchen and be sure to follow them on Pinterest for even more comfort food ideas.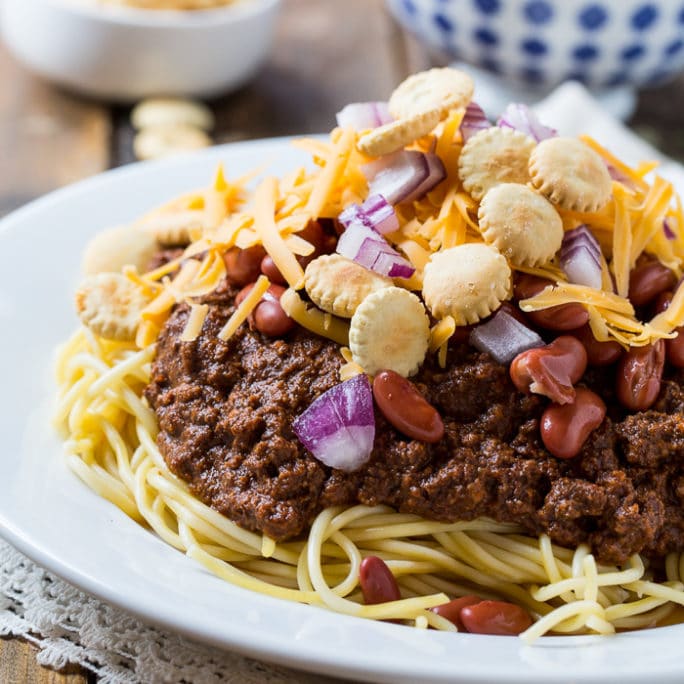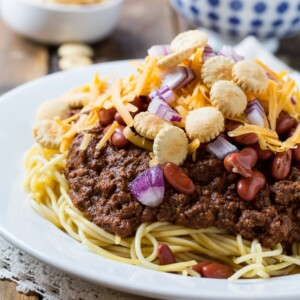 Slow Cooker Cincinnati Chili
Cincinnati Chili is easy to make in the slow cooker and has that unique Cincinnati-style chili taste.
Ingredients
1

Reynolds® Slow Cooker Liner

1

(15-ounce)

can tomato sauce

1

can beef broth

1

(6-ounce)

can tomato paste

3

tablespoons

chili powder

2

teaspoons

apple cider vinegar

1

teaspoon

Worcestershire sauce

1

teaspoon

paprika

1

teaspoon

cumin

1

teaspoon

cinnamon

1/4

teaspoon

ground cloves

1/4

teaspoon

allspice

1/4

teaspoon

cayenne pepper

1

teaspoon

salt

1/2

teaspoon

black pepper

2

cloves

garlic,

minced

1

ounce

unsweetened chocolate,

chopped

2

pounds

lean ground beef

For serving

spaghetti, red beans, shredded cheddar cheese, red onion, oyster crackers
Instructions
Line a slow cooker with Reynolds® Slow Cooker Liner.

Combine all ingredients except ground beef and toppings in slow cooker and stir to mix.

Break ground beef into small pieces and drop into slow cooker.

Cover slow cooker and cook on HIGH for 4 hours and on LOW for 6 hours.
Notes
Note: In Cincinnati Chili, the meat is typically very finely ground. If you want the chunks of meat smaller, place the cooked chili in a food processor and pulse it a few times.
Want to Save This Recipe?
More Crock Pot Favorites