These super easy pimiento cheese spirals, made with refrigerated crescent roll dough, are cheesy and buttery and work great as an appetizer or as rolls served with supper.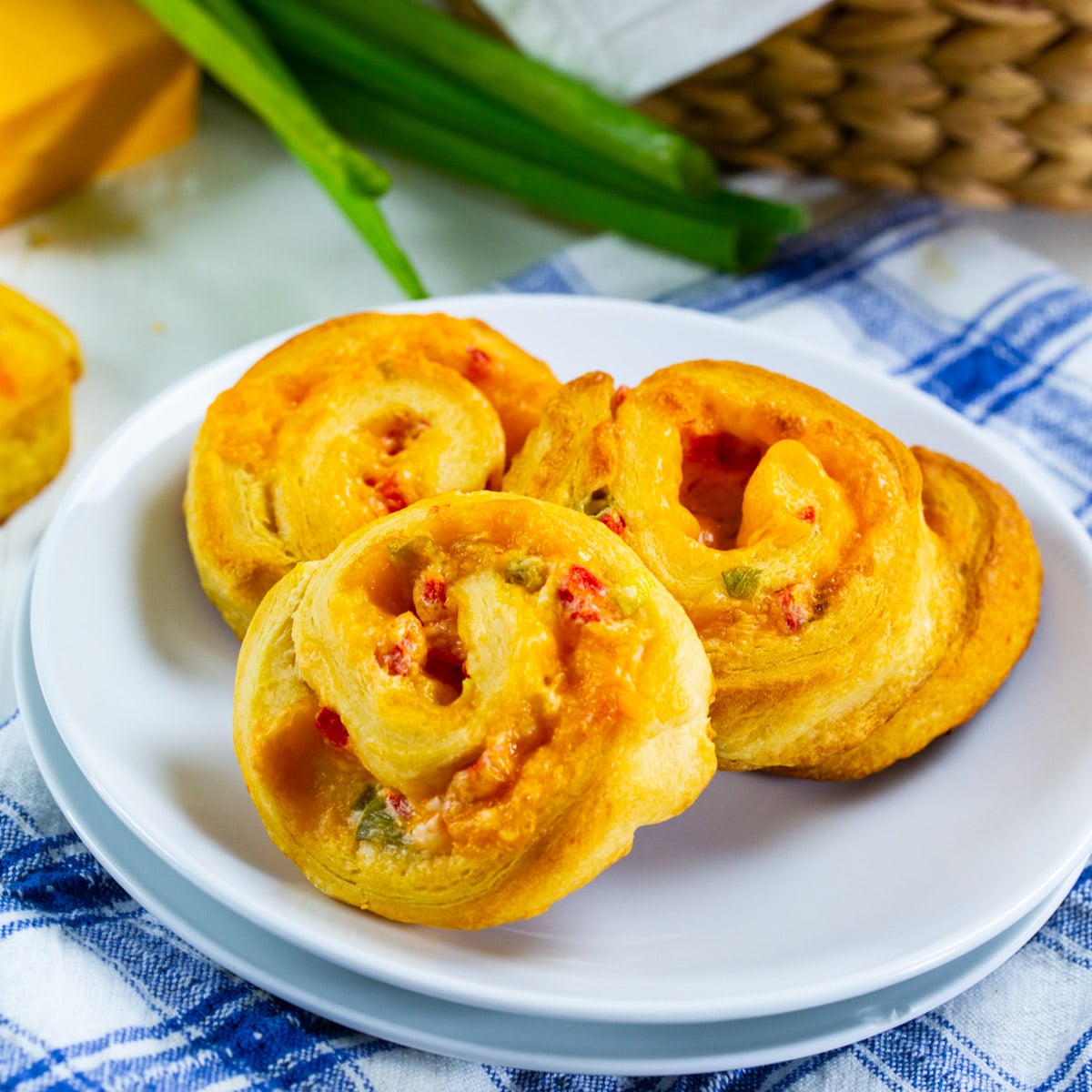 Start With Crescent Dough
I love using crescent roll dough for just about anything and everything. It really is a busy cooks best friend. It tastes wonderful and it is a huge time saver. Of course crescent rolls taste divine on their own, but they also taste superb when stuffed with savory or sweet fillings (check out these Reese's Crescent Rolls.)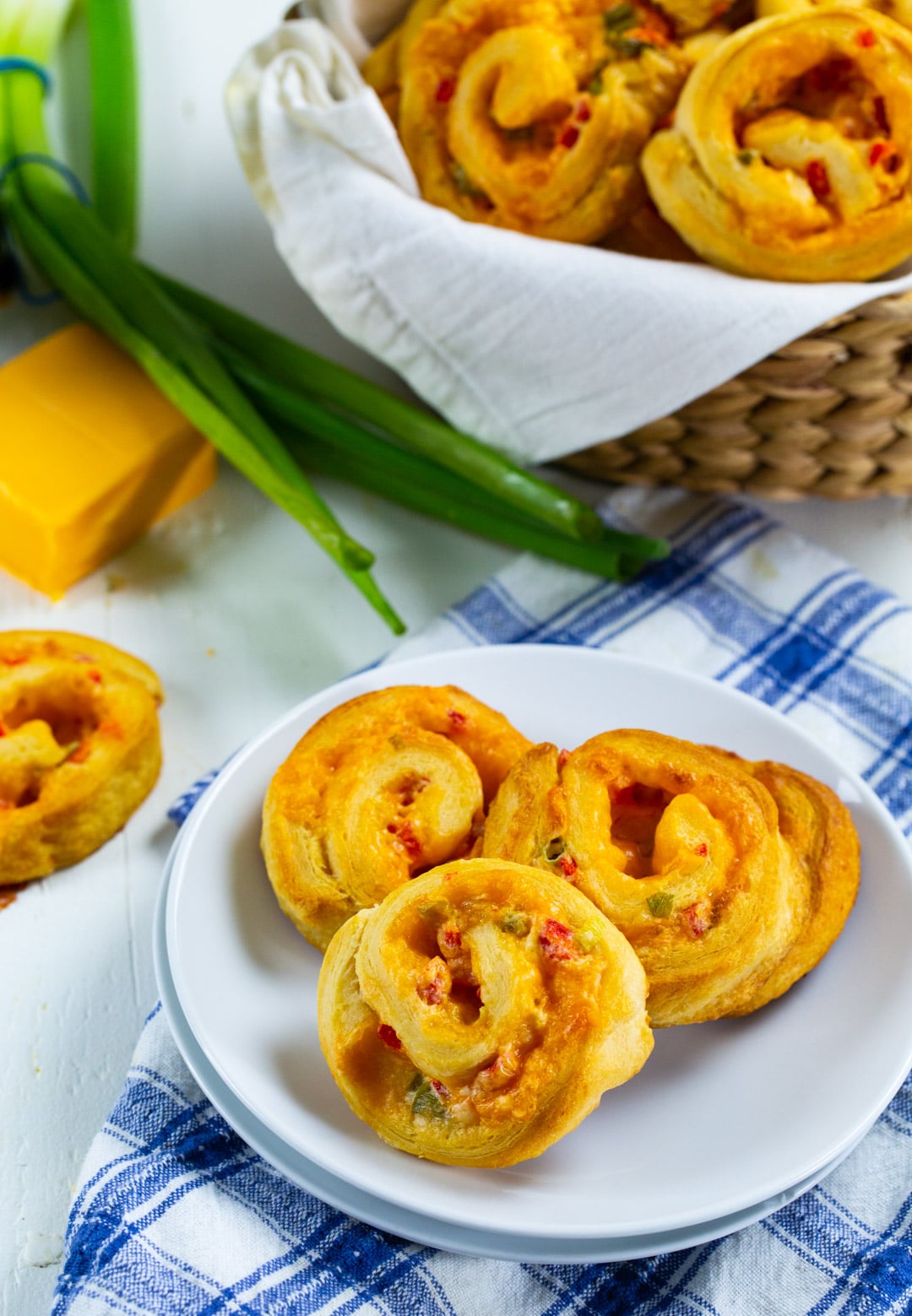 What Is Pimento Cheese?
Pimiento Cheese has been a southern staple for generations. There are variations in how it is made, but it is essentially a mixture of cheddar cheese, mayonnaise (sometimes cream cheese), and diced pimientos, the taste of which is almost identical to roasted red peppers.
More Ways To Use Pimento Cheese
Traditionally pimiento cheese has been served as an appetizer spread with crackers or as a sandwich filling between 2 squishy pieces of white bread, but these days it is being used in all kinds of creative ways- on burgers, Pimiento Cheese Pizzas, omelets, in jalapeno poppers, squash casserole, and even Fried Pimiento Balls! It is so much fun to use it to give that special southern flair to almost any savory dish.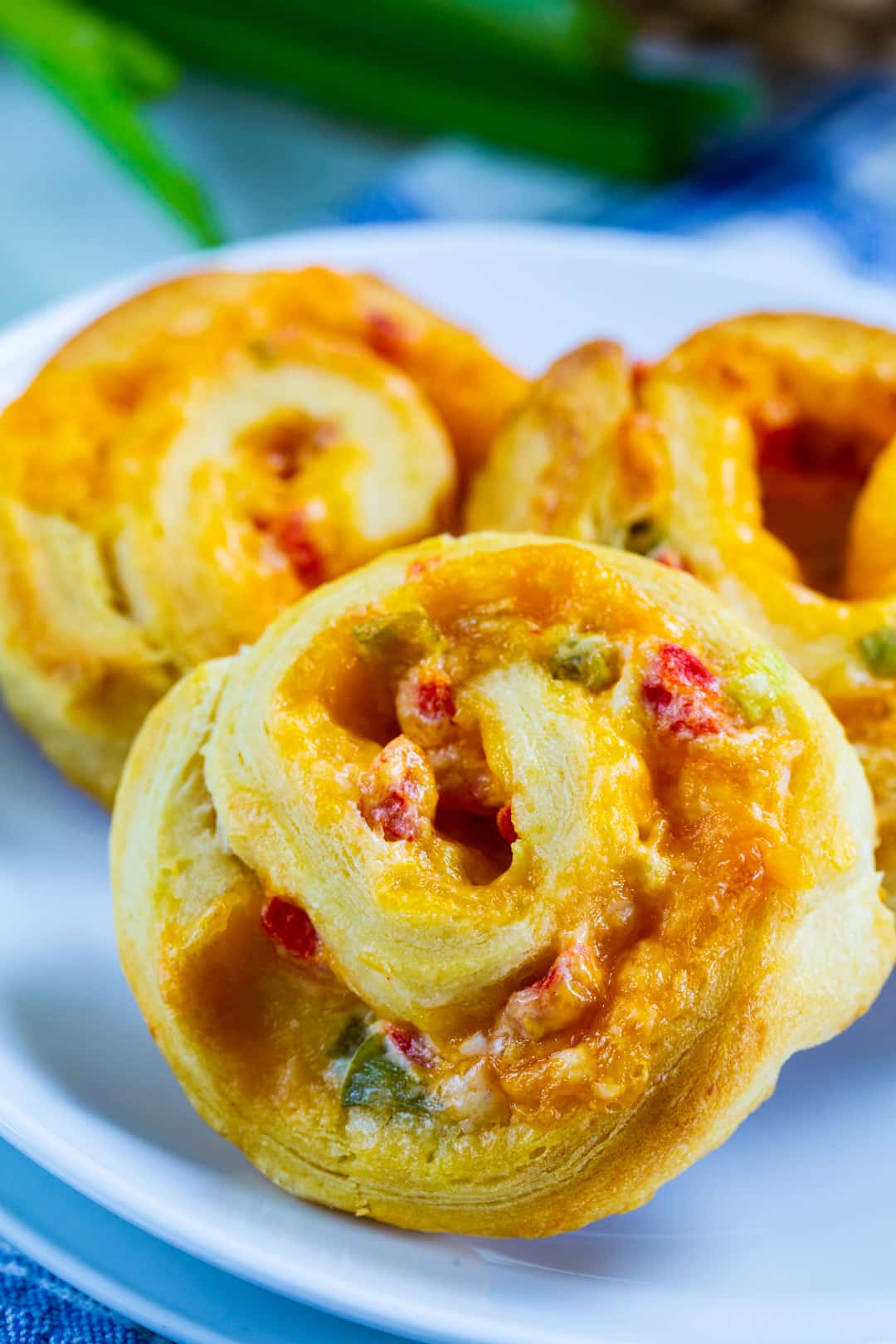 To fill these crescent roll spirals, I've just made a simple pimiento spread of mayo, cream cheese, cheddar cheese (you should grate your own instead of using pre-shredded. The flavor is so much better.), pimientos, and a little ground red pepper.
You could use another pimiento cheese to make these or even a store-bought pimiento cheese, but you want a fairly thick spread so if yours is heavy on the mayo, you may want to add some more cheese to it.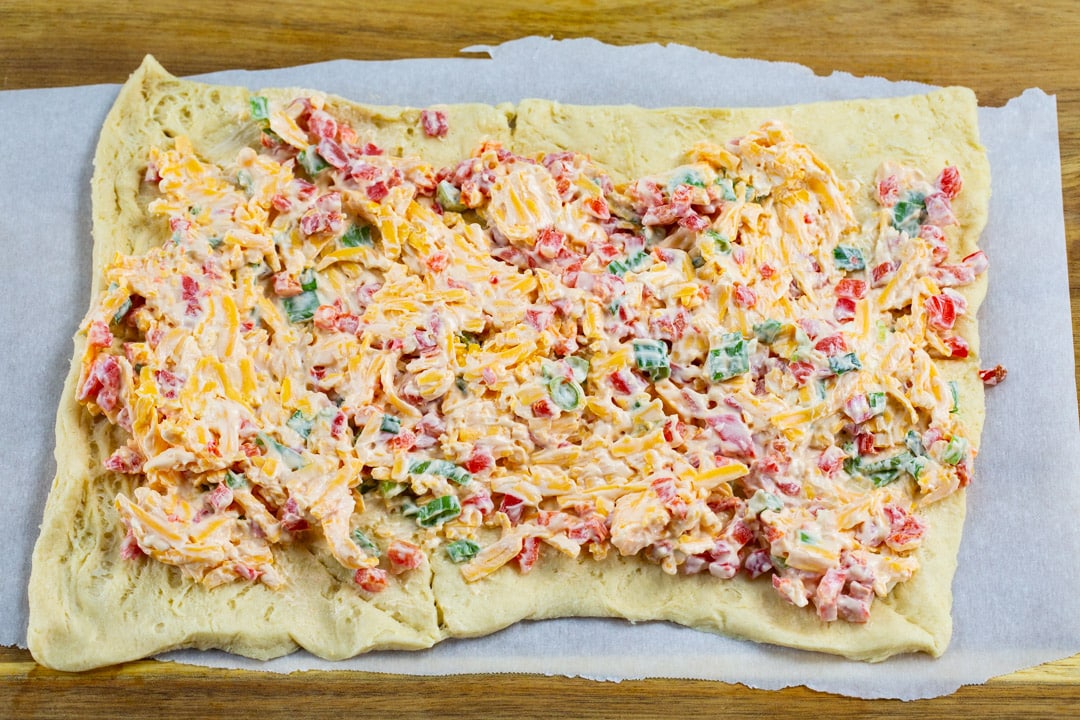 How To Make
Open up a can of crescent rolls, lay the dough out flat, and press the seams together. Spread with the pimiento cheese mixture, roll up, and cut into small cinnamon roll size pieces. This is the hardest part because the dough wants to squish down when you cut it. But you can reshape them a little once cut. Bake in the oven for 13 to 15 minutes for a delicious cheese-filled southern treat.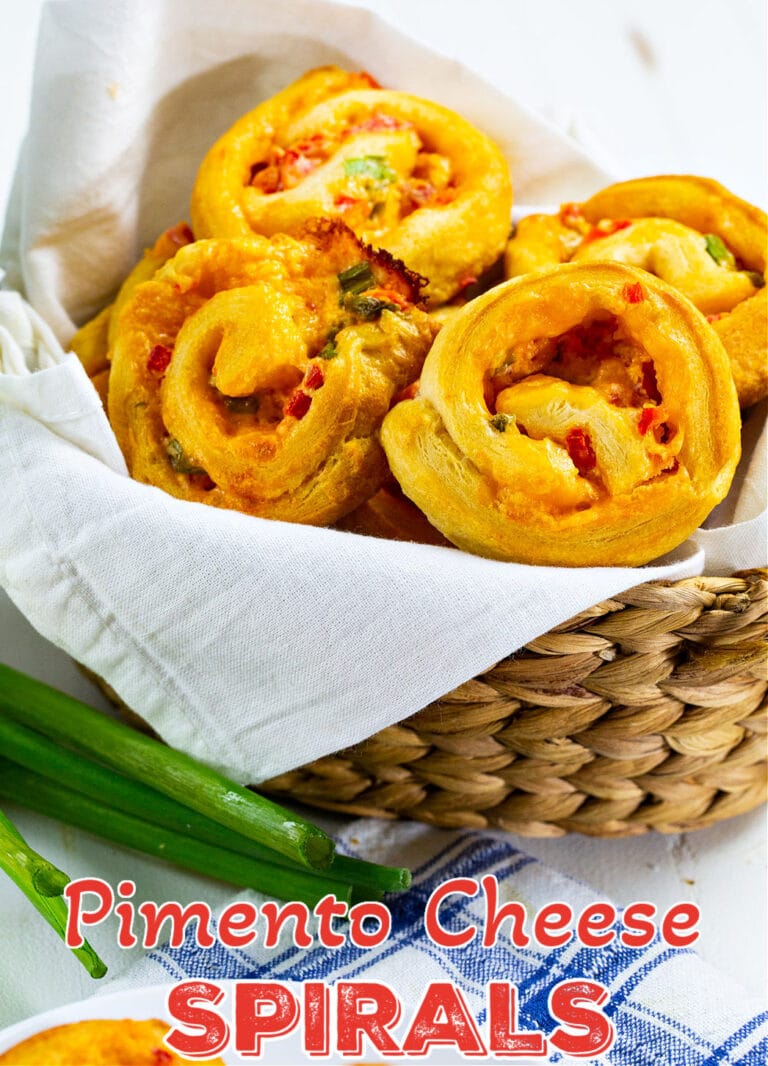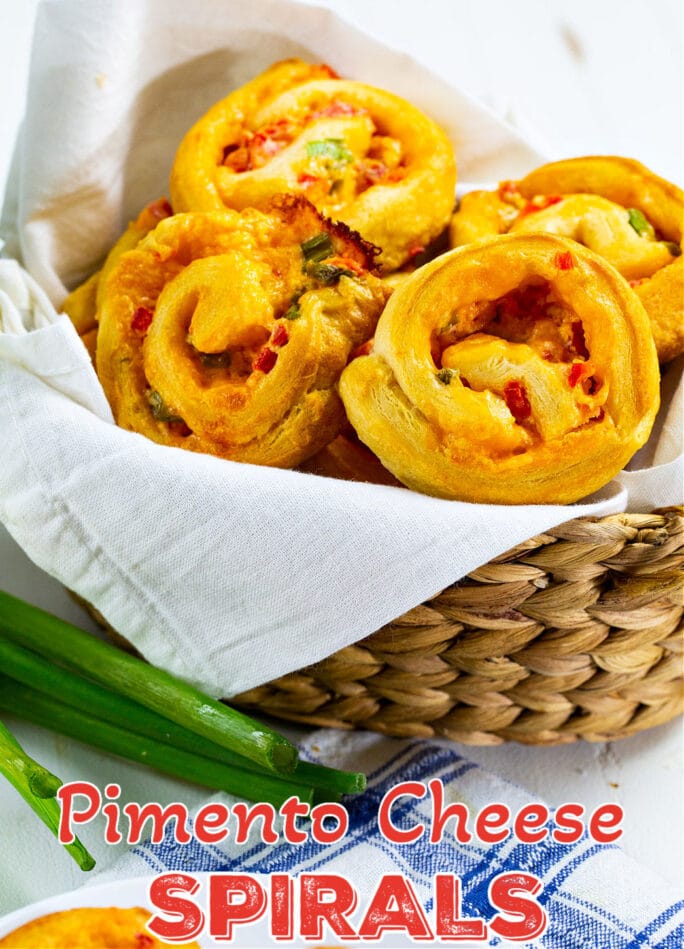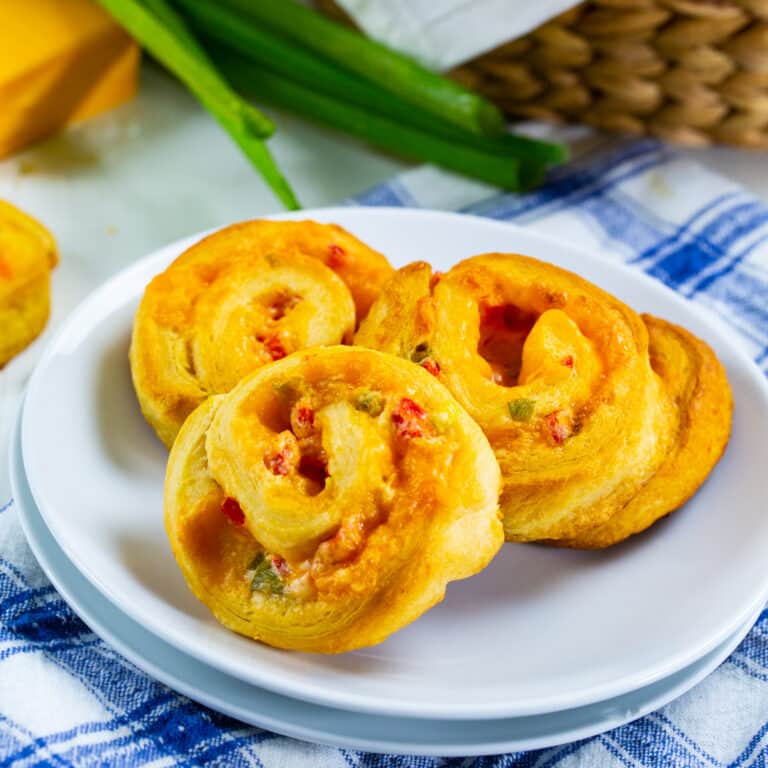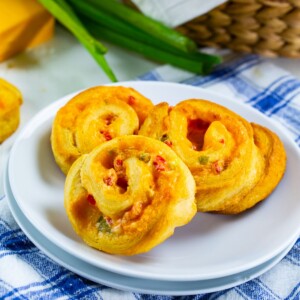 Pimiento Cheese Spirals
Refrigerated crescent roll dough stuffed with pimiento cheese and cut into spirals. Makes easy and tasty rolls!
Ingredients
2

ounces

cream cheese

softened

2

tablespoons

mayonnaise

3/4

cup

shredded sharp cheddar

1

(4-ounce)

jar diced pimientos,

drained well

2

green onions

chopped

1/8

teaspoon

cayenne pepper

1

(8-count)

refrigerated crescent rolls
Instructions
Heat oven to 375 degrees.

With an electric mixer or wooden spoon, beat together all ingredients except crescent dough.

Unroll dough and press seams together.

Spread cream cheese mixture on dough.

Starting on 1 long side, roll up dough.

Cut into 16 slices and place on a baking sheet coated with cooking spray.

Bake 13 to 15 minutes or until golden brown.
Notes
Note- Depending on how many pimientos you want in your pimiento cheese, you may not want to use all of the 4-ounce jar. You be the judge.
Want to Save This Recipe?
Originally posted April 2, 2014.