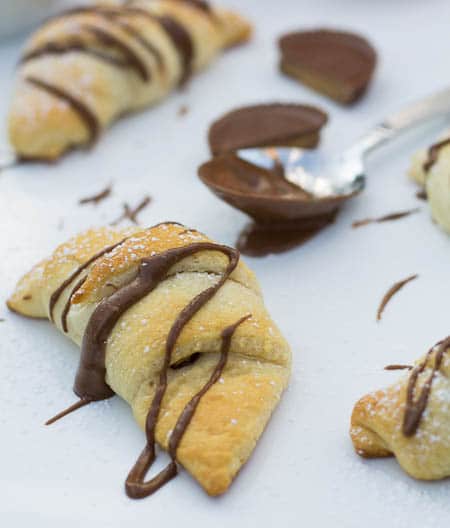 Happy (almost) Halloween! Halloween just happens to be my favorite holiday of the year. Who can resist dressing up in costumes, roaming the neighborhood streets after dark, and eating loads and loads of candy.
The only thing I dislike about Halloween is trying to figure out how many trick-or-treaters we will have so I can buy the appropriate amount of candy. I can not tell you how many times we have run low. I take a peek down the street and there's an army of small children headed our way, each of them eager for Halloween candy. Frantically I tell my husband he must get to the nearest store, Fast!, and buy some more candy! But don't run over any kids in the driveway!
Inevitably he brings back about 10 pounds of candy and by the time he returns, the number of trick-or-treaters has dwindled drastically. Then we have bags and bags of leftover candy. And guess who's most likely to eat candy until they feel sick to their stomach? (Raising hand sheepishly).
I love the idea of using Halloween candy in recipes. It feels like it's being put to good use. This Reese's Crescent Rolls recipe is super easy and quick, and you can maybe even pass it off as breakfast. Which is good, because don't your kids always beg you to let them eat some of their Halloween candy the next morning? Well this way they can. It's really no different than eating a chocolate croissant for breakfast is it? Actually it's more nutritious because it has peanuts and that's a protein source. 🙂
Ever since I made this Game Day Pep-Corn with REESE'S Minis, I've become obsessed with melting Reese's Minis to make a drizzle/sauce. It blends all the peanut buttery/chocolate amazingness of a peanut butter cup together into one singular goodness.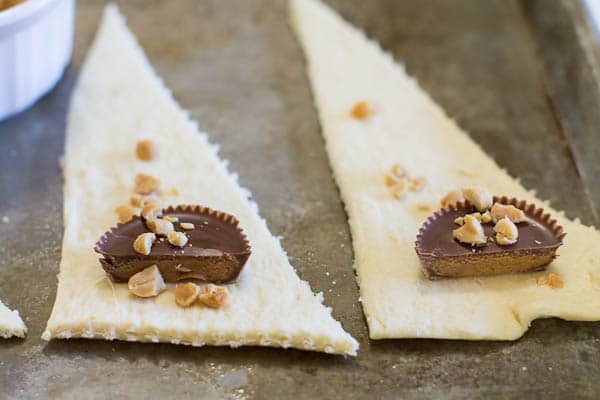 With a peanut butter cup on the inside and Reese's Mini's Drizzle on the outside, these are super delicious crescent rolls!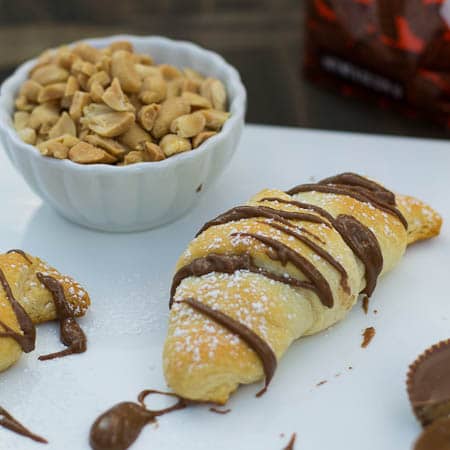 I'm teaming up with my friends today to bring you 9 delicious sweet treat recipes.  Be sure to check out other tasty treats.  If you dig sweets then check out #TrickorTreatBlogHop on Facebook, Twitter, Google+, Pinterest and Instagram. Don't all these treats sound amazing?
Candy Shop Rice Krispie Treats from The Land of Milk and Cookies
Healthy Nutella Spider Truffles from Honey and Figs
Kit Kat Cupcakes from Spoonful of Flour
Peanut Butter Cup Snack Cake from Uni Homemaker
Pumpkin Patch Chocolate Reese's Mini Cupcakes from Life Made Sweeter
Pumpkin Rolo Blondies from Flavor the Moments
Pumpkin Whoopie Pies with Butterfinger Sides from Brooklyn Farm Girl
Snicker's Deep Dish Cookie Pies from Spoonful of Flavor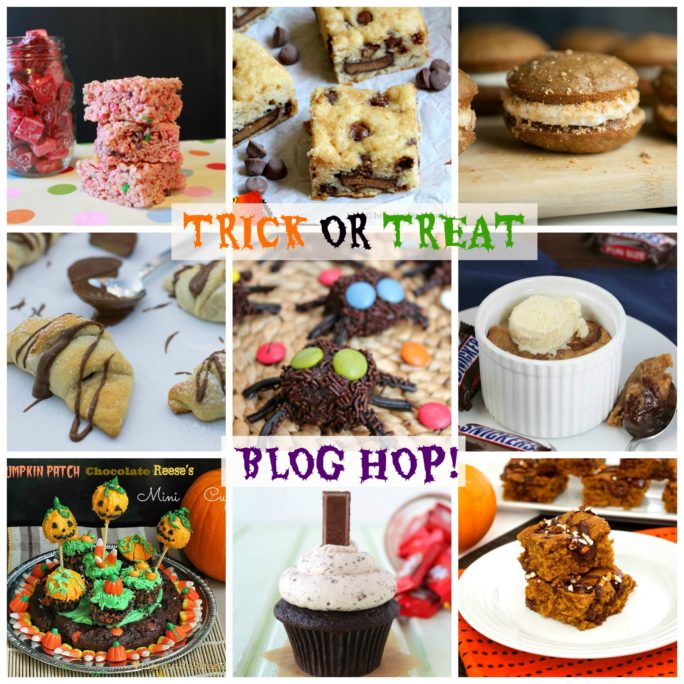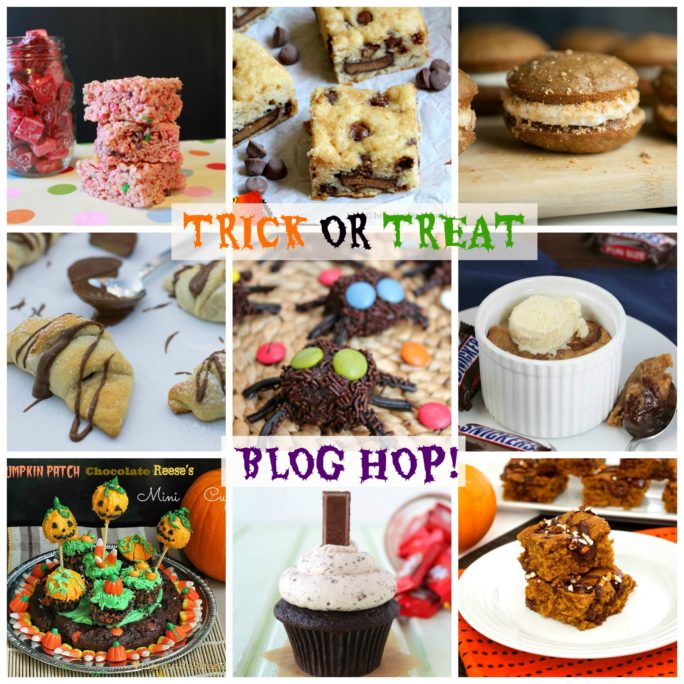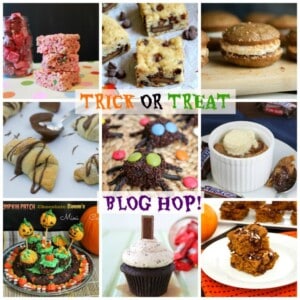 Reese's Crescent Rolls
These sweet crescent rolls are super easy to make and a great way to use up Halloween candy!
Ingredients
1

(8-count)

package crescent rolls

4

peanut butter cups,

cut in half

1/4

cup

chopped peanuts

1/2

cup

Reese's Minis,

cut in half

powdered sugar for dusting
Instructions
Preheat oven to 375 degrees. Lightly spray a baking sheet with cooking spray.

Unroll crescent roll dough and separate into triangles on baking sheet.

Place 1 piece of peanut butter cup at wide end of each triangle. Sprinkle with a few peanuts.

Roll crescent dough from wide end toward tip of triangle. Place in oven and bake for 11-13 minutes, until light brown and no longer doughy.

Place Minis in a microwave-safe bowl and microwave on 50% power for 30 seconds. Stir well. Heat another 30 seconds at 50% if necessary to get mixture smooth.

Drizzle melted Minis on crescent rolls and sprinkle with powdered sugar.
Want to Save This Recipe?