This is a Sponsored post written by me on behalf of Dollar General. All opinions are 100% mine.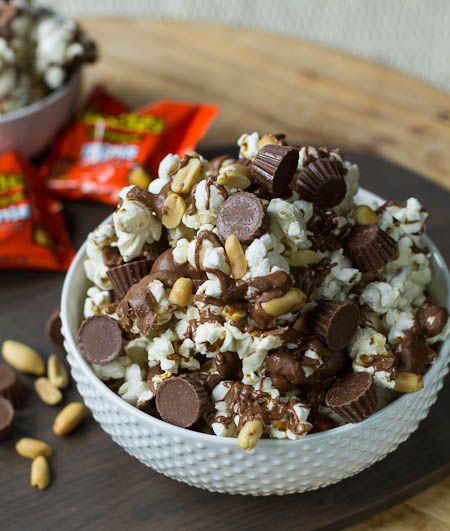 Fall means a lot of things to a lot of people, but in the South it pretty much means one thing- College Football. Our state is about evenly split between Clemson Tiger fans and USC Gamecock fans. My husband and son are huge football fans and I'm chief snack provider for game day.
Snacks the whole family can enjoy, along with some neighbors and friends, are always best. A room full of people can consume boat loads of snacks during a heated college football game. Fortunately Dollar General has all your College Football game day supplies. Including the ingredients for this Game Day Pep-Corn with REESE'S® Minis which I think has become my favorite snack ever.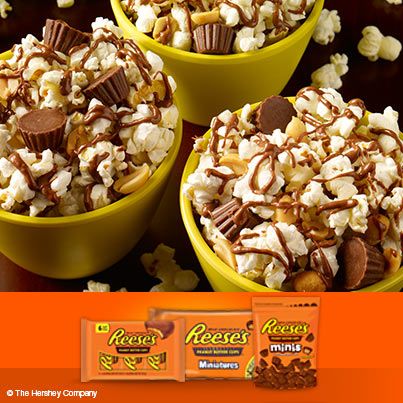 To make it you only need a baking sheet or tray, some wax paper or foil, and a microwave. Plus a refrigerator to chill it before serving. Start to finish the recipe only takes about 30 minutes, most of which is hands off.
REESE'S® are one of my absolute favorite candies. Who doesn't love the combination of chocolate and peanut butter? Bite-size REESE'S® Minis are the perfect size for adding to a snack like Game Day Pep-Corn or any type of snack mix. In this recipe, part of the REESE'S® Minis are melted in the microwave to form a smooth chocolate-peanut butter delight which is then drizzled on top of the popcorn and peanuts. Don't forget to lick the bowl!
I don't know why it never occurred to me to melt REESE'S® peanut butter cups before. The taste is amazing and the possibilities are endless. I'm thinking I may have to make some Chocolate-Peanut Butter Pancakes next week.
After drizzling the popcorn and peanuts with the melted Minis, you pop the mixture in the fridge to chill for about 30 minutes. But its OK to cheat and have a few pieces before you pop it in the refrigerator. You know us Game Day snack makers must do quality control.  Just don't let anybody see you or everyone will want to grab a handful and it will be gone in the blink of an eye.
Speaking of which, when you go shopping go ahead and plan on making a double or even triple……no make that a quadruple batch. That sounds about right. One batch per quarter should be good. Luckily Game Day Pep-Corn with REESE'S® Minis requires only 3 easy to find (at Dollar General) and affordable ingredients: popcorn, REESE'S® , and peanuts.
Be sure to stock up on other snacks while you're at your local Dollar General Store. The whole neighborhood may be knocking on your door when word gets out about this chocolaty, peanut buttery popcorn.
You won't find an easier or more delicious recipe for College Football Game Day than Game Day Pep-Corn with REESE's® Minis. It is the perfect mix of salty and sweet with lots of crunch. Definitely a Game Day Winner!
REESE'S® is the official candy partner of NCAA Football. Check out scorewithreeses.com for a variety of free downloadable features including recipes for more game day snacks.
Game Day Pep-Corn with REESE'S® Minis
(Prep time: 8 minutes/ Total Time: 40 minutes)
INGREDIENTS
8 cups Clover Valley® popped popcorn
¾ cup Clover Valley® Party peanuts, divided
1-1/3 cups (8-oz. package) REESE'S® Minis, divided
INSTRUCTIONS
Line a tray or cookie sheet with wax paper or foil. Spread popcorn and 1/2 cup peanuts on tray.
Cut 1 cup REESE'S® Minis into halves and place in a medium microwave-safe bowl. Microwave on MEDIUM (50%) for 1 minute. Stri vigorously. If necessary, microwave at MEDIUM an additional 15 seconds at a time, stirring after each heating, until candy is melted and mixture is blended when stirred.
Drizzle over popcorn and nut mixture. Refrigerate 30 minutes or until coating is firm. Make indiviadual servings and top with remaining 1/4 cup peanuts and remaining 1/3 cup REESE'S®
Minis.
Yield: about 8 1/2 cups of popcorn
Popcorn is best eaten the same day and shortly after removing from refrigerator.