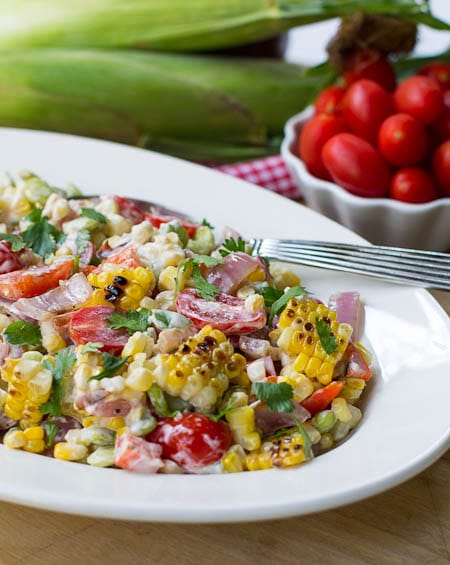 This Grilled Corn and Butter Bean Salad is an amazing mixture of fresh summer vegetables. The ingredients are very similar to a traditional Succotash, but with a mayonnaise base, the taste is very different. It's kind of the veggie salad equivalent of a potato salad. And it's fabulously delicious. Best of all, it keeps well for 2-3 days in the refrigerator.
I changed the original recipe from Southern Living some to give it a southwestern touch with cilantro instead of basil and a little jalapeno. I also used frozen lima beans instead of butter beans, but they are very similar.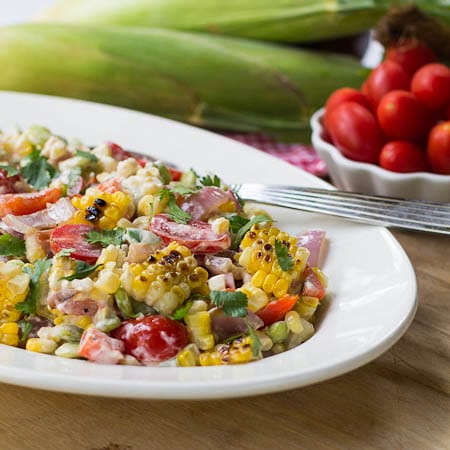 With the weather as cool and fall-like as it's been today, it's hard to believe we still officially have over a month of summer left to enjoy summer produce. I'm starting to feel like I need to start baking pumpkin bread and apple pie.
I've lived in the south my entire life, except for 4 years spent at boarding school in New Jersey, and I have to say this summer's weather has been the strangest I can remember. It's been overcast and rainy mush of the summer. Usually during the summer we have day after day of sunny, blazin hot and humid weather. By August, even with almost daily watering, the grass is half dead, sometimes with visible cracks in the ground.
I'm just hoping our fall weather doesn't resemble winter weather!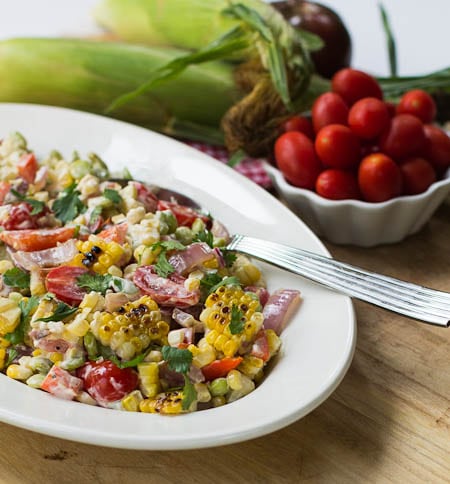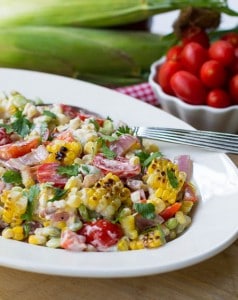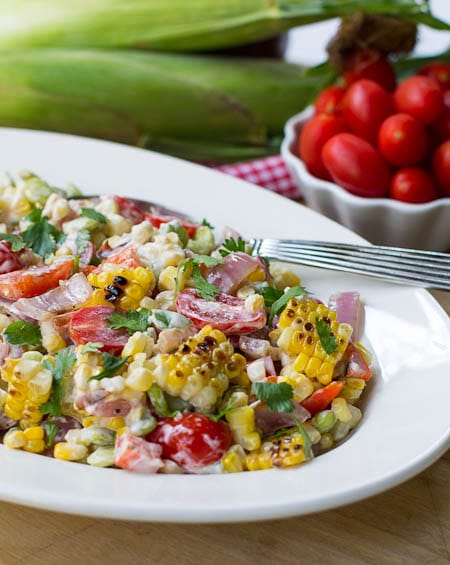 Grilled Corn and Butter Bean Salad
Print Recipe
Ingredients
1

(10-oz)

package frozen butter beans Note: you can also use fresh beans.

(I used lima beans)

4

ears fresh corn,

husks removed

1

medium red onion,

cut into ½-inch slices

1

red bell pepper,

cut into 4 big pieces

1

tablespoon

olive oil

1

cup

halved grape tomatoes

1

jalapeno,

minced

¾

cup

mayonnaise

1

garlic clove,

pressed

1

teaspoon

salt

½

teaspoon

freshly ground black pepper

3

tablespoons

chopped fresh cilantro
Instructions
Cook butter beans according to package directions and drain and cool completely. This will take about 20 minutes.

While beans are cooking, heat grill to medium-high. Brush corn, red pepper, and onions with olive oil. Place on grill and close lid.

Turn corn every 4 to 5 minutes until all sides are charred. Flip red peppers and onion after 5 minutes and remove from grill once second side has grilled for 4 to 5 minutes. Let cool and then cut corn from cobs and chop pepper and onion into ½-inch pieces.

In a large bowl, combine mayonnaise, garlic, salt, and pepper. Stir to mix and add butter beans, corn, red pepper, onion, tomatoes, and jalapeno. Toss to combine. Sprinkle cilantro on top and refrigerate for at least 2 hours. Serve chilled.
Yield: 8 to 10 servings
Adapted from Southern Living
More Summer Veggie Recipes