Summer Succotash is a wonderful southern side full of corn, lima beans, and bacon with lots of vibrant colors.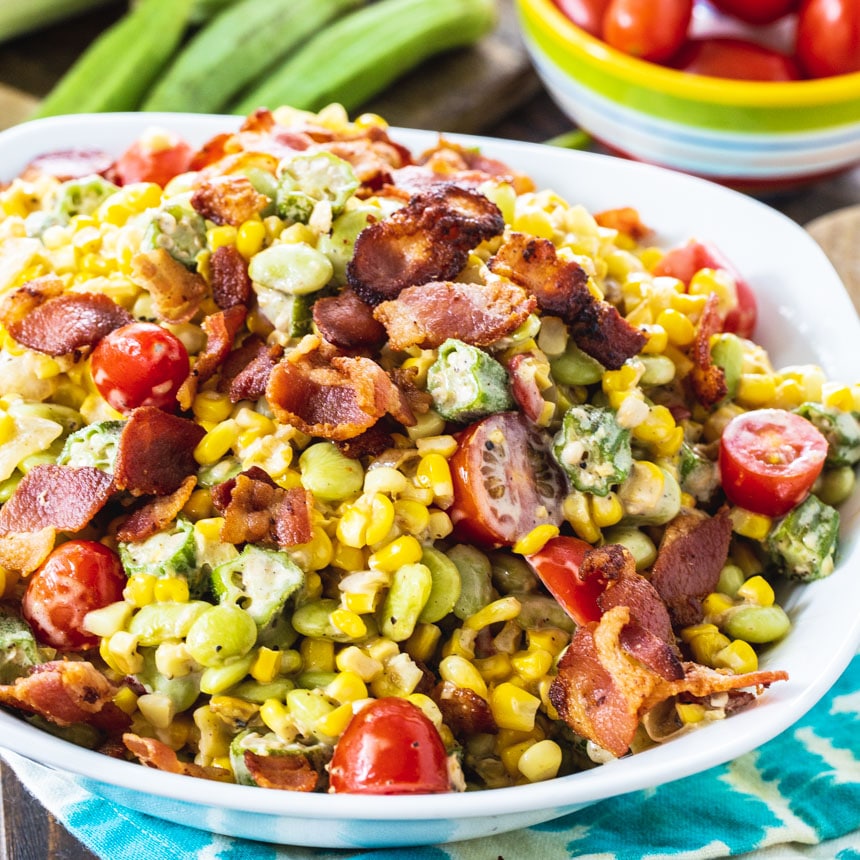 Invented by Native Americans, the ingredients can vary.
Succotash is one of those quintessential southern sides. But it sometimes gets a bad rap and it does have a tendency to be a bland, flavorless mix of veggies. But not this succotash.
Corn and lima beans are the two primary ingredients in succotash, the supporting players vary from recipe to recipe. Feel free to get creative and play a little with the ingredients. I've seen Succotashes made with fava beans, black-eyed peas, or edamame. But I do love the typical lima bean. And why oh why do I always forget how much I love lima beans? They're such a neglected vegetable.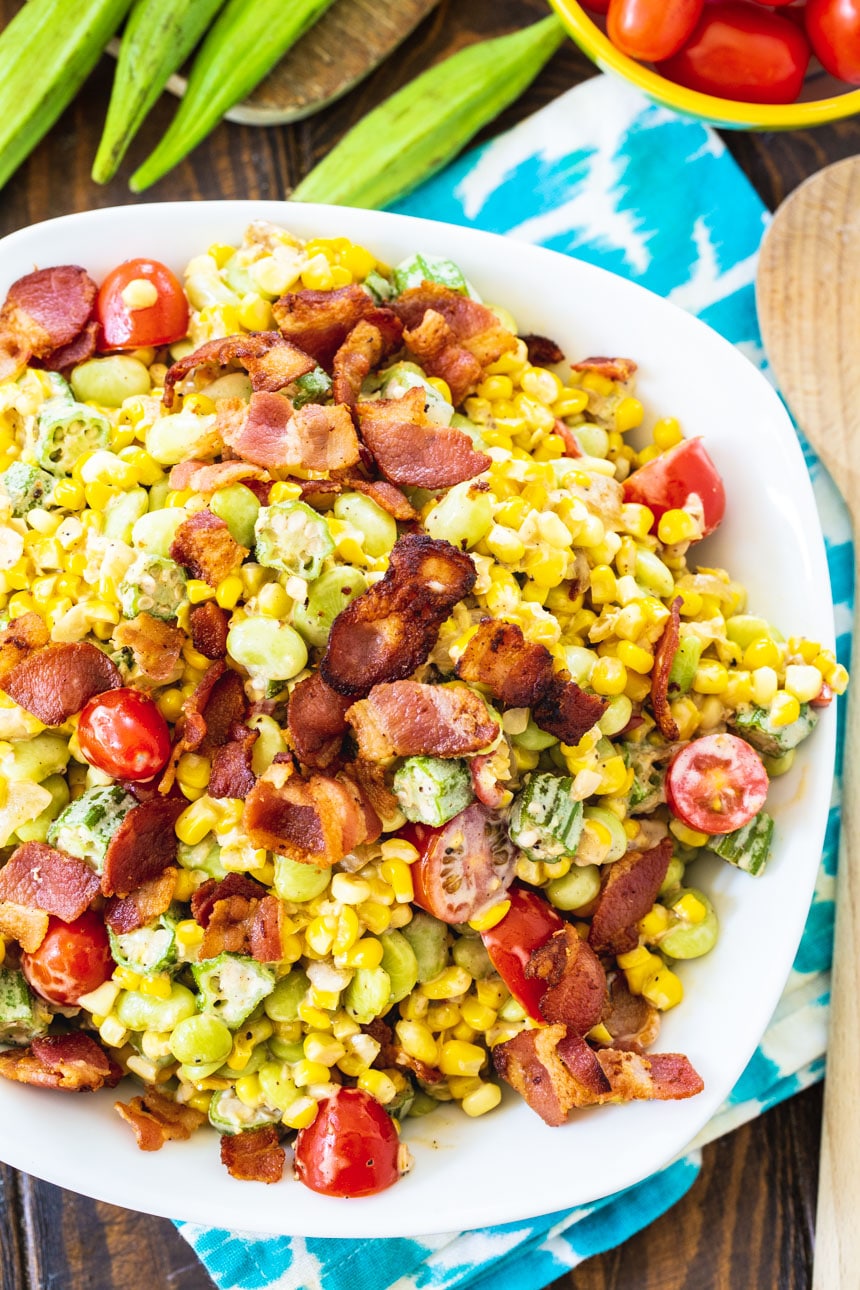 You can use frozen or fresh lima beans. I've used frozen because I never, ever have fresh limas, plus I hear they are a pain to shell. The important thing is to use fresh corn. There's almost nothing better than fresh, summer corn.
I put okra in my succotash because I jump on any opportunity to eat okra and it pairs really well with lima beans and corn. Sub zucchini for the okra if you object to okra's sliminess. I won't hold it against you.
I've also added roasted red pepper (mainly because I had a half-empty jar to use up) and some Parmesan cheese to add a little depth of flavor. But you could totally leave these ingredients out. Or you could use diced fresh red pepper which is a more typical ingredient in succotash. Just add it to the pan with the corn and okra to cook it a little.
To finish it off- crumbled bacon. The resulting dish is sure to be a spectacular summer side to anything cooked on the grill.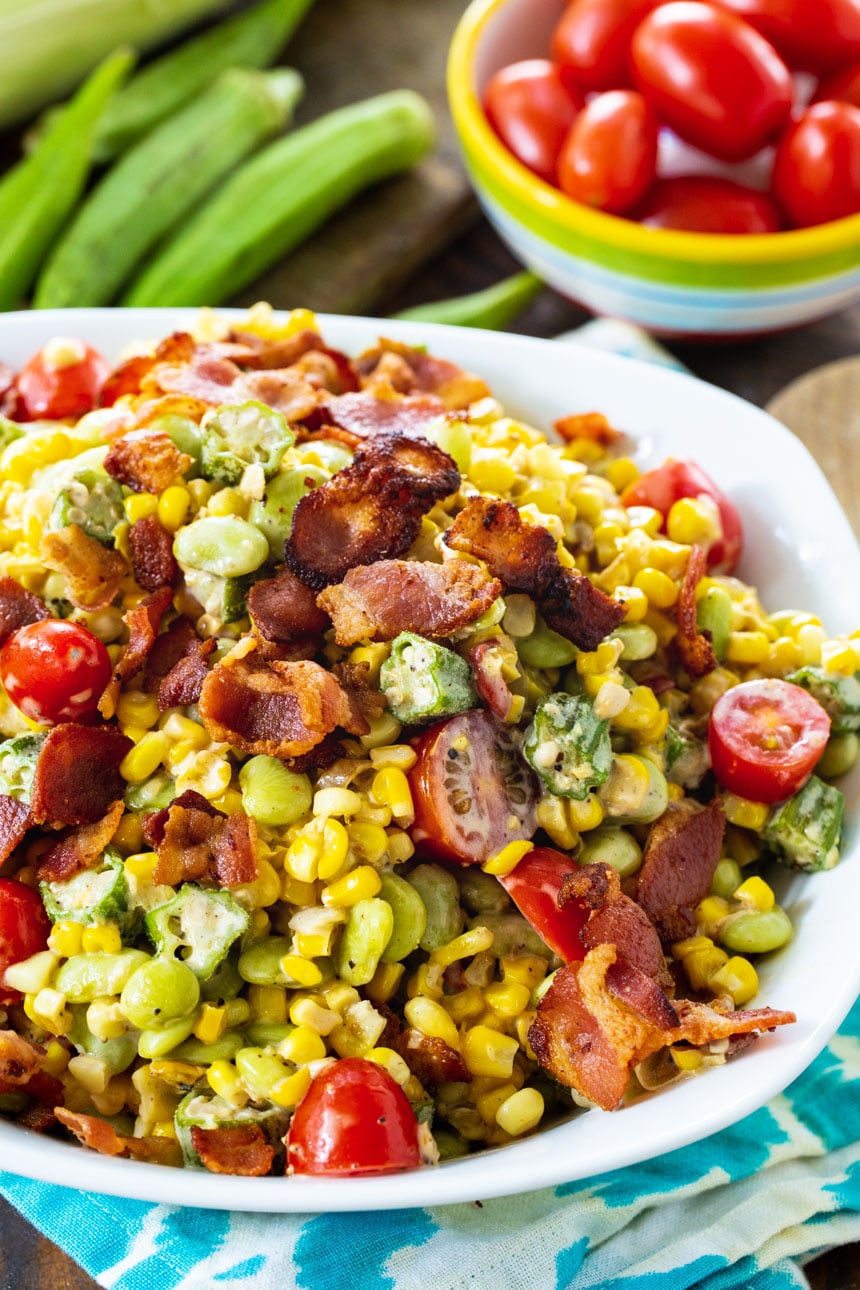 More Southern Summer Sides: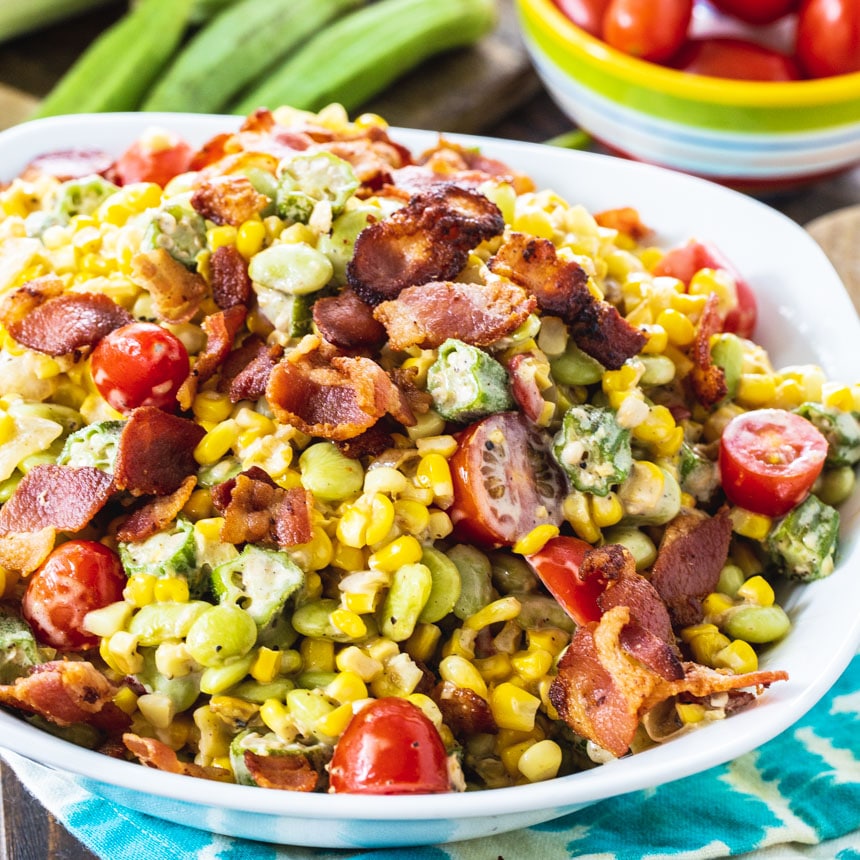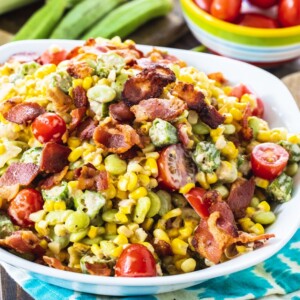 Summer Succotash
Ingredients
2

cups

frozen lima beans

1

tablespoon

olive oil

1

tablespoon

butter

1

small

sweet onion,

diced

1

large

garlic clove,

minced

corn kernels from 6 ears of corn

2

cups

sliced okra

1

cup

heavy cream

3

sprigs

fresh thyme

1/2

teaspoon

sugar

1 to 1 1/2

teaspoons

salt

1/2

teapsoon

freshly ground black pepper

2

tablespoons

grated Parmesan cheese

2

tablepsoons

diced roasted red peppers

1

cup

halved grape tomatoes

1/2

pound

thick-sliced bacon, cooked and crumbled
Instructions
In a small saucepan, combine lima beans and enough water to cover. Bring to a boil, reduce heat and simmer 10 to 12 minutes. Drain.

Add olive oil and butter to a large nonstick skillet and heat over medium heat. Add onion and cook 3-4 minutes. Add garlic, corn, and okra and sauté fro 3-4 minutes.

Add cream, thyme (the whole sprigs), sugar, salt and pepper and cook for 15 minutes, stirring occasionally. Remove the thyme stems.

Stir in lima beans, Parmesan cheese, roasted red peppers, and tomatoes. Cook for 1 minute, remove from heat and top with crumbled bacon.
Want to Save This Recipe?
Originally published June 10, 2013.