Yellow summer squash stuffed with creamy pimento cheese and topped with bread crumbs and parsley is one of the most delicious ways to enjoy summer squash.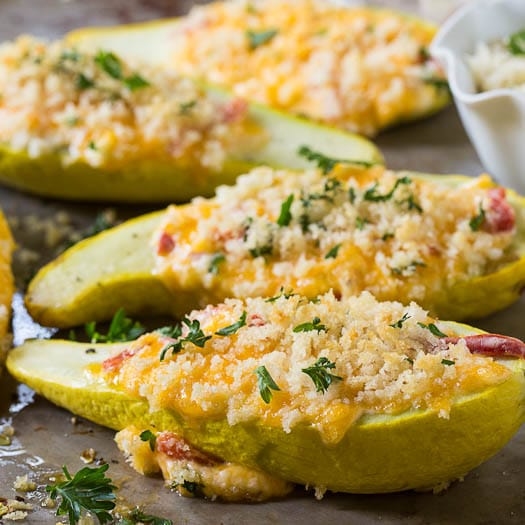 This dish works as either a side dish or a vegetarian summer meal. Not a fan of summer squash? Use zucchini instead.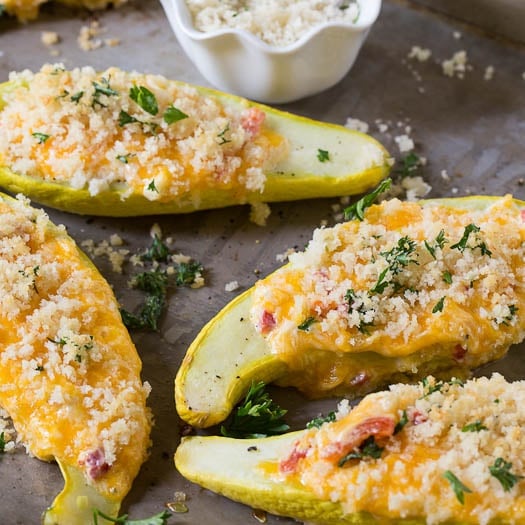 If you're from the south, you no doubt grew up eating pimento cheese lathered between 2 squishy pieces of white bread. If you're not from the south, you may not be very familiar with pimento cheese. Also known as "The Pate of the South", it is made from shredded cheddar cheese, mayonnaise, and diced pimentos. There are many ways to enjoy it: as a spread on crackers, in an omelet, on a burger, on a pizza, or even made into Fried Pimento Cheese Balls.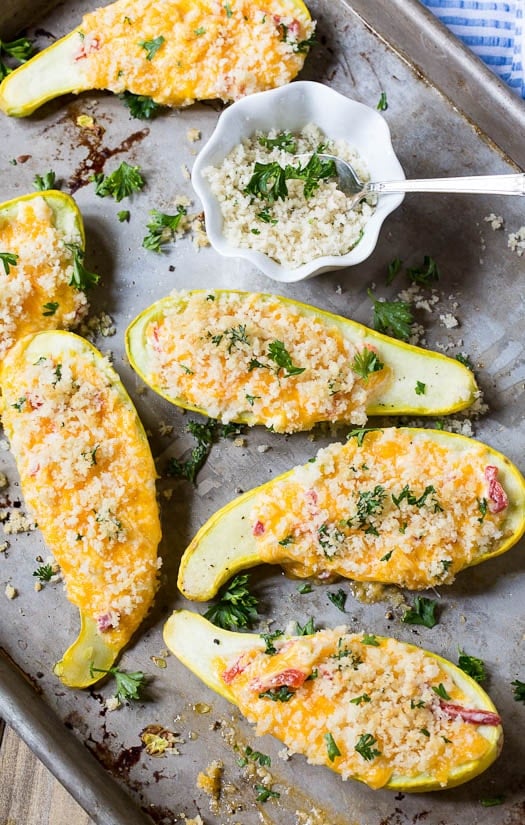 There are many slight variations on Pimento Cheese and practically every southern family has a recipe for it stashed away in a kitchen drawer, handed down through the family. Most likely the best Pimento Cheese is the one you grew up eating.
When I make pimento cheese to use it for something like stuffed squash, I go heavier on the cheese and lighter on the mayo than I would if I was making it for sandwiches.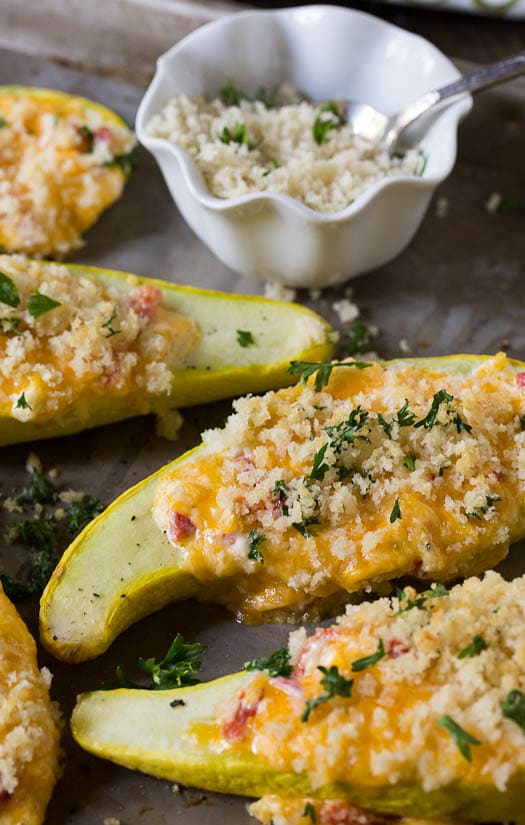 During the summer months it seems like summer squash and zucchini are taking over the world. They are everywhere. So I like to try as many ways of cooking them as possible, like these Lasagna Zucchini Boats which can also be made with squash.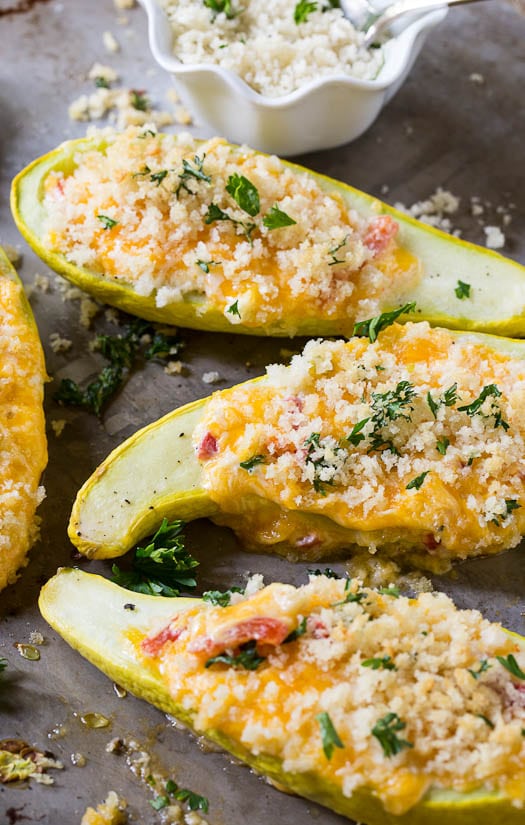 Pimento Cheese Stuffed Squash is a really simple dish to make. The pimento cheese can be made a day or two in advance and the squash can also be steamed ahead of time. Then all that is left to do is scrape out the seeds and pulp, spoon pimento cheese into the cavity, top with panko crumbs and bake until warm and bubbly. Turn the broiler on for a minute or 2 to give some color to the panko crumbs and you're ready to grab a fork and dig in!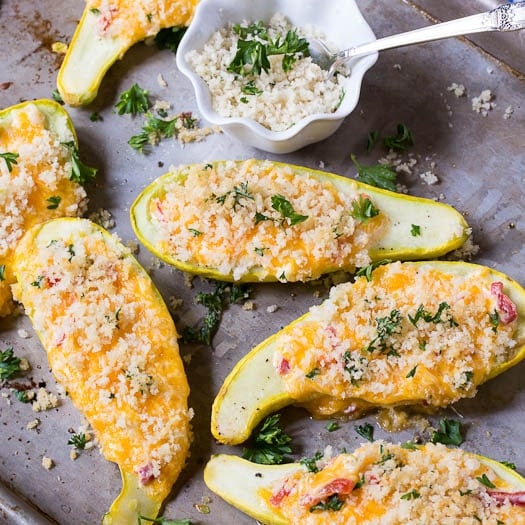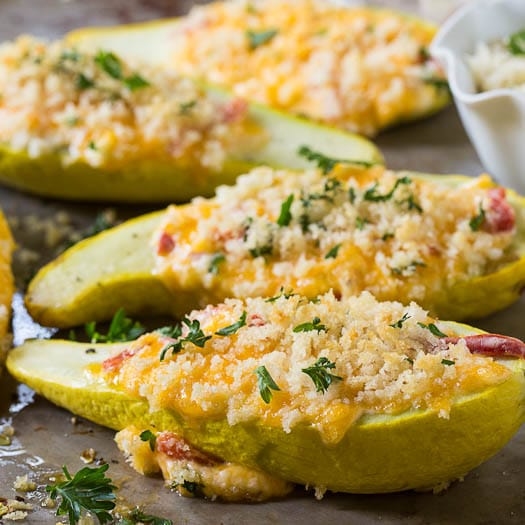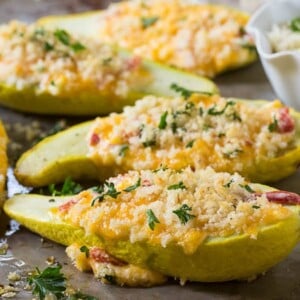 Pimento Cheese Stuffed Squash
Delicious yellow summer squash stuffed with creamy pimento cheese and panko crumbs and baked until warm and bubbly.
Ingredients
4

medium yellow squash or zucchini

6

ounces

sharp cheddar cheese,

shredded

1/2

cup

mayonnaise

2

tablespoons

grated onion

1

(2-ounce)

jar diced pimentos,

drained well

1/8

teaspoon

cayenne pepper

1/3

cup

panko crumbs

1

tablespoon

melted butter

1

tablespoon

minced fresh parsley
Instructions
Cut squash in half horizontally. Place squash in a steamer basket over boiling water. Cover and steam for 6 to 8 minutes (until tender but not soft). Let cool and then scoop out seeds and pulp using a spoon. Discard seeds.

Make pimento cheese. (Can be done in advance.) In a medium bowl, combine cheese, mayonnaise, onion, pimentos, and cayenne pepper. Stir to mix well.

Preheat oven to 350 degrees.

Place squash, cut side up on a baking sheet.

Sprinkle cut sides of squash with salt and pepper.

Fill each squash cavity with pimento cheese.

In a small bowl, stir together panko crumbs, melted butter, and parsley.

Sprinkle panko crumb mixture on top of squash.

Bake for 12-15 minutes, until cheese is warm and melted.

Broil for 1 to 2 minutes to lightly brown the panko crumbs.
Notes
Be sure to drain the pimentos well. I like to gently squeeze them between a few paper towels.
Want to Save This Recipe?
Sharing with The Country Cook's Weekend Potluck