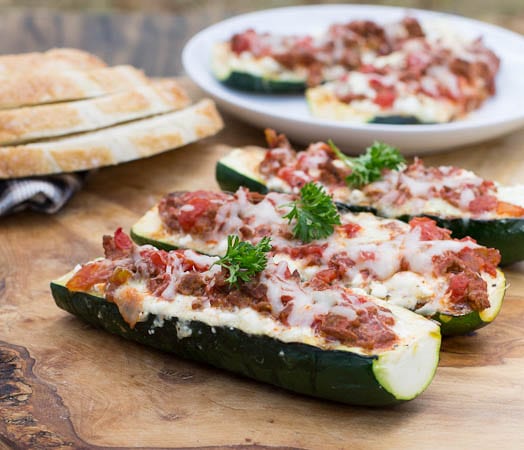 Lasagna Stuffed Zucchini Boats are a low-carb, gluten-free way to get your lasagna fix. Layers of rich tomato meat sauce and gooey cheese fill grilled zucchini. If you're like me, lasagna is all about the sauce and the cheese. Zucchini boats are the perfect vessel for holding them plus zucchini adds lots of good flavor, not to mention nutrition.
This meal was made extra yummy by a product I had the pleasure of trying for the first time- Dorot Herbs and Spices. I had commented on a post about Dorot on one of my favorite blogs, Elephant Eats, and a representative from Dorot contacted me and offered to send me some coupons for their product.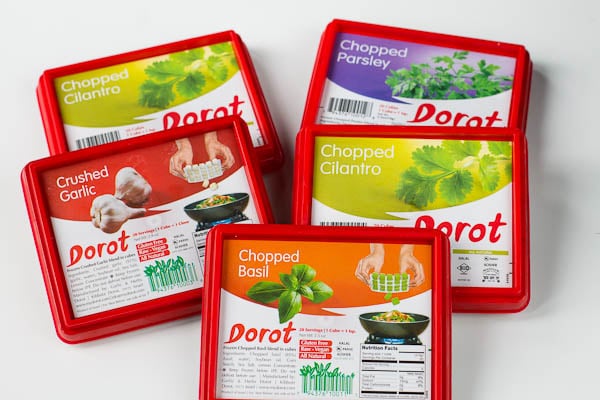 I must have accidentally grabbed a second cilantro instead of the ginger. Oops!
And what a fabulous product it is. Little frozen cubes of herbs (basil, parsley, and cilantro), crushed garlic, and crushed ginger packaged in lightweight trays with tops that pop on and off.  Other products include dill and chopped chili peppers. Each cube equals 1 teaspoon, or 1 clove in the case of garlic. The herbs are picked and frozen at the height of their freshness without the use of preservatives and you can really tell. The basil cubes are every bit as fragrant as a bunch of fresh basil.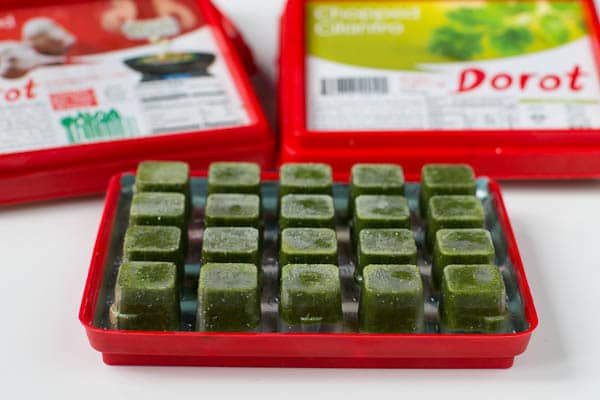 I used the garlic, basil, and parsley in this Lasagna Zucchini Boat recipe and I loved the simplicity of it. I'll have to say that my favorite of the Dorot products is the garlic. With these frozen little cubes of crushed garlic, you may never have to peel and chop stinky garlic again. Can I get a Hallelujah for that? I'll also make good use of the ginger because next to garlic, it's my least favorite thing to chop.
I'm happy to have the parsley and cilantro too because I am so tired of buying huge bunches of them at the store when I only need a small handful or less. What a waste. Cilantro is especially annoying because it's so highly perishable. I can't tell you how many times I've gone to use my cilantro only to discover when pulling it from the produce drawer that half of it has turned to green liquid. Gross!
So whether you're making these delicious Lasagna Zucchini Boats, a soup or a stew, or any type of sauce or casserole, save yourself the energy of peeling and chopping or washing and chopping garlic, ginger, and fresh herbs. Just reach in the freezer and pop a few cubes out. It literally only takes seconds. They will last in your freezer for up to 24 months and you can tuck them in even the smallest crevice in your freezer. They're very reasonably priced too.
Check out Dorot's website for more info on their products, lots of recipes, and places you can find their products. In my area they are available at Trader Joes and Earth Fare.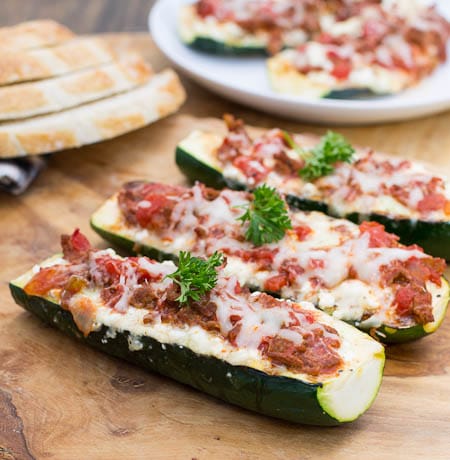 Before you run off to the store to buy your Dorot herbs :), just a few words about these Lasagna Zucchini Boats. The cooking time will vary a good bit based on the size of your zucchini. Mine weren't very large. I've grilled them first to give them a head start on cooking and to enhance their flavor but you could skip this step and add a good 15-20 minutes to the cooking time. I've used cottage cheese because I love how creamy it is, but you could use ricotta instead. You will probably have some extra sauce. Just spoon it into a ziptop bag, refrigerate and you have lunch for the next day halfway made.
This meal could easily be made vegetarian by omitting the ground beef and using sautéed vegetables instead.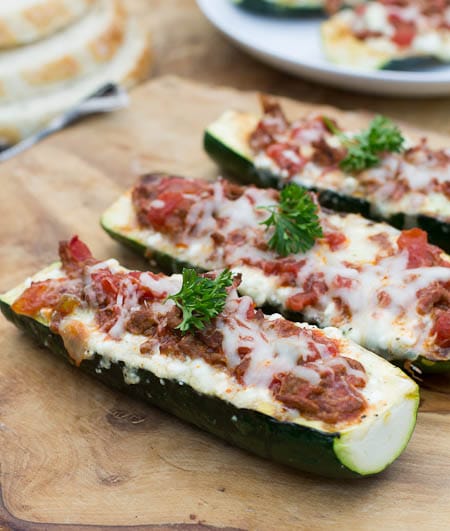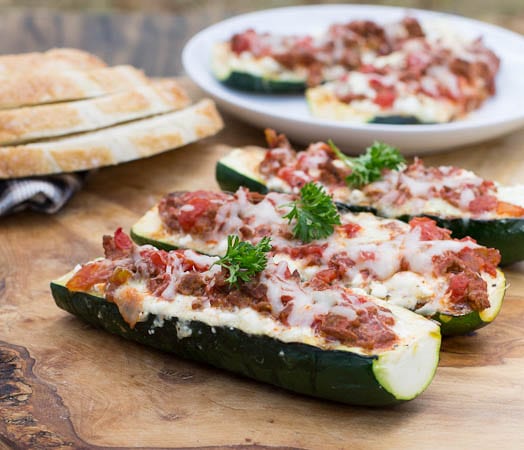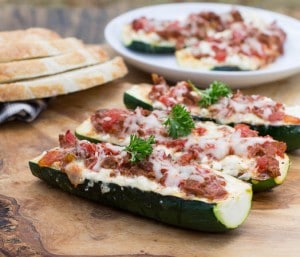 Lasagna Zucchini Boats
Get your lasagna fix without the carbs! Delicious zucchini boats stuffed with meat sauce and cheese.
Print Recipe
Ingredients
1

pound

lean ground beef

1

small onion,

diced

1/2

green pepper,

diced

1

cube Dorot garlic

or I clove minced

2

cubes Dorot basil or 2 teaspoon fresh basil,

divided

1

cube Dorot parsley or 1 teaspoon fresh

1

(8-ounce)

can tomato sauce

1

(14-ounce)

can petite diced tomatoes

3

tablespoons

tomato paste

3/4

teaspoon

salt,

divided

1/2

teaspoon

pepper,

divided

4

zucchini,

the wider the better

Olive oil

1

cup

cottage cheese

1

egg,

lightly beaten

1/2

cup

shredded mozzarella,

divided

1/2

cup

shredded Parmesan,

divided
Instructions
Place a nonstick skillet over medium-high heat and add ground beef, onion, and green pepper. Saute until most of the pink in the ground beef is gone, breaking beef up with a wooden spoon as it cooks.

Add I cube each of garlic, basil, and parsley. Stir for 30 seconds to help melt the cubes and mix everything together.

Add tomato sauce, diced tomatoes, and tomato paste plus 1/2 teaspoon salt and 1/4 teaspoon pepper.

Let simmer until most of the liquid has evaporated and sauce is nice and thick, about 10 minutes. Check for seasoning and add additional salt and pepper if desired.

Trim about a 1/4-inch off the end of each zucchini. Cut zucchini in half lengthwise. Using a spoon, scoop out seeds and as much zucchini flesh as you can without making the zucchini shell too weak. Discard what was scooped out.

Heat a grill pan over medium-high heat and drizzle with olive oil. Place zucchini on pan cut side down. Turn heat down to medium and grill zucchini (just on that 1 side) for about 5-6 minutes. Take a few peaks at underside of zucchini while cooking to make sure heat is not too high.

Remove zucchini from grill pan and sprinkle insides of zucchini with salt and pepper.

Preheat oven to 350 degrees.

In a medium bowl mix together cottage cheese, egg, and half of mozzarella and half of Parmesan. Add I Dorot basil cube. Use back of spoon to break it up if still frozen and mix it into cheese mixture.

Place zucchini cut side up in large baking dish. Spread a little sauce mixture in the bottom of each. Top with cheese mixture and another layer of sauce.

Cover with aluminum foil and bake for 15 minutes. Uncover, sprinkle remaining cheese on top and bake for 5 more minutes.
Notes
Cooking time may vary based on size of zucchini. Add extra time for large zucchini.
Ricotta cheese may be substituted for cottage cheese.
Disclaimer: I was given coupons for Dorot products, but I would never share a product I didn't like and intend to use in the future.