Zucchini Lasagna has a thick meat sauce made with ground beef and Italian sausage, ricotta and mozzarella cheeses, and thinly sliced zucchini in place of noodles.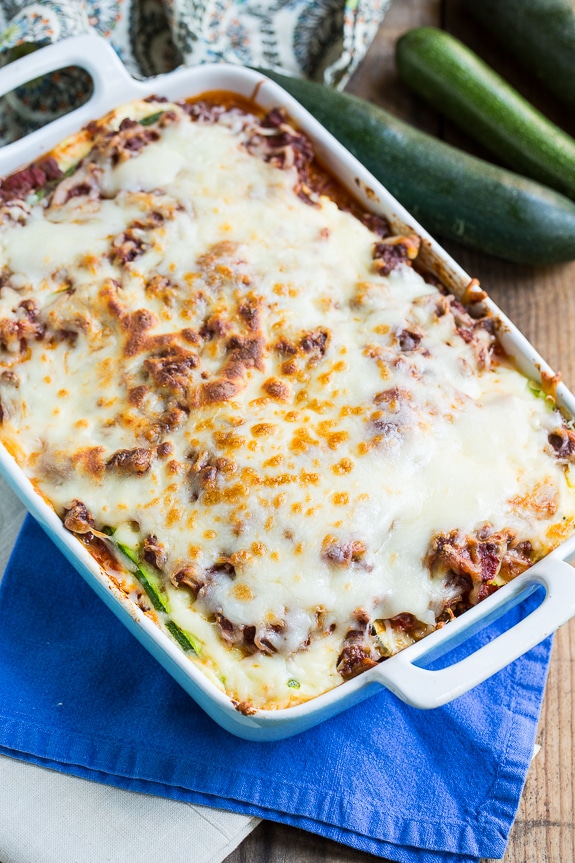 It's low carb and gluten free and a great way to use up summer zucchini.
I actually like this lasagna better than traditional lasagna with noodles. It's so much healthier and quite frankly, zucchini adds much more flavor than pasta noodles.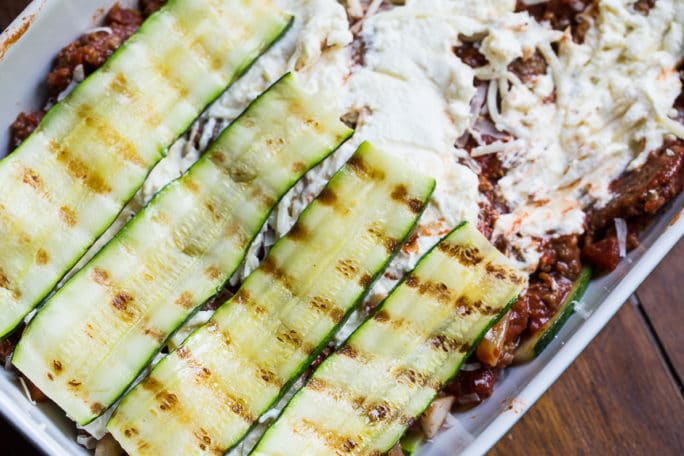 Zucchini is very full of water and if you don't take a few precautions, you will end up with watery, liquidy lasagna. Yuck!
There are a few things that can help prevent this. Lightly sprinkle the zucchini slices with salt and let them sit for 10 minutes or so. You will begin to see beads of water form on the outside. Dab them off with paper towels.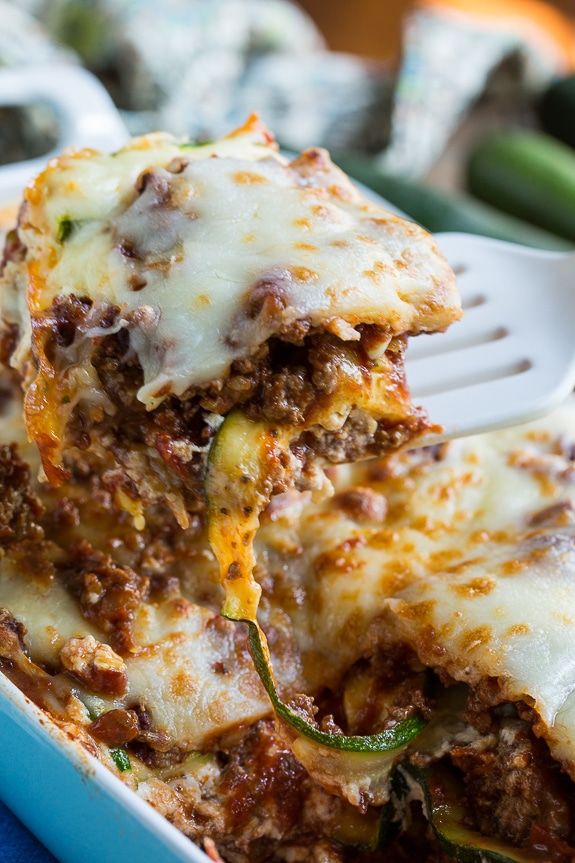 Briefly grilling the zucchini also helps remove moisture, plus I think it makes the zucchini taste better. I just use my grill pan for this and it only takes a few minutes.
Finally, use a super, super thick sauce. The liquid that the zucchini does release will make it just the right consistency.
Thirty minutes in the oven and get ready to enjoy a fabulous lasagna full of ground beef, Italian sausage, and zucchini. You could sub chopped vegetables for the meat and make this lasagna vegetarian.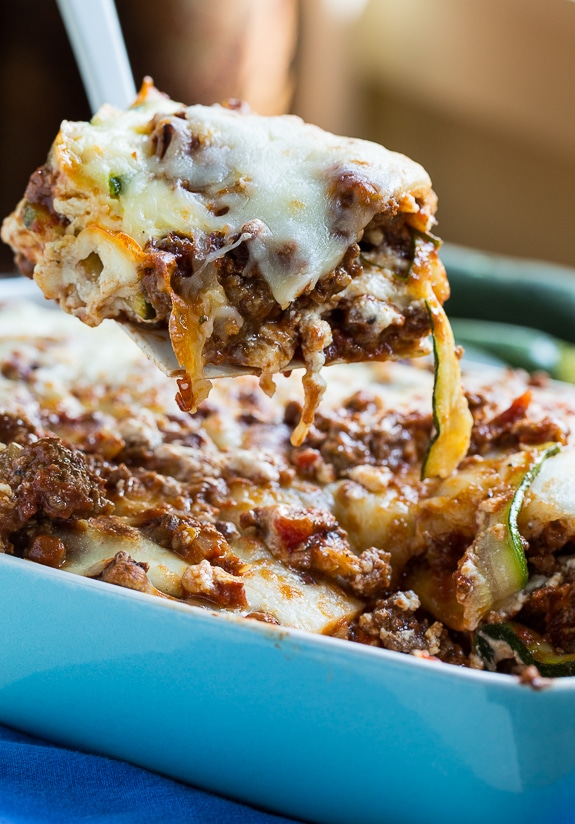 For more mouthwatering recipes follow Spicy Southern Kitchen on Pinterest and Instagram.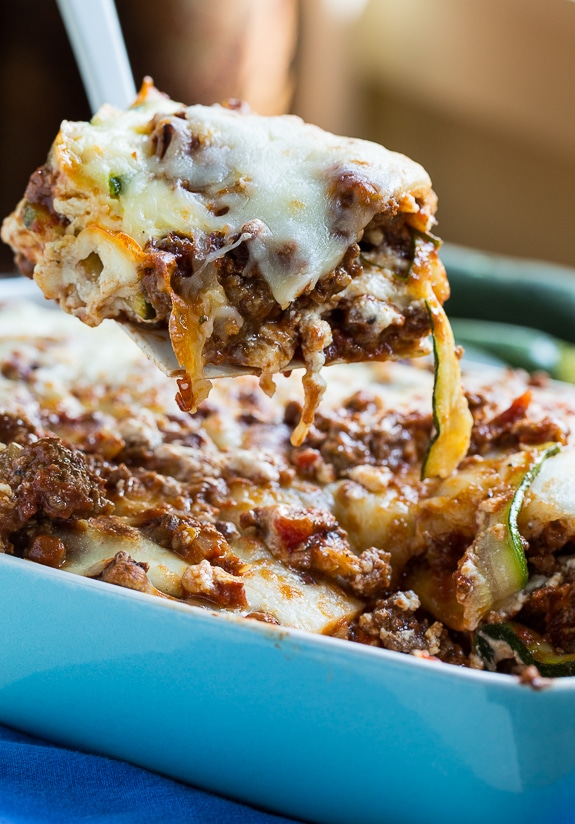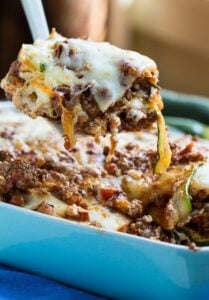 Zucchini Lasagna
Zucchini Lasagna has a thick meat sauce made with ground beef and Italian sausage, ricotta and mozzarella cheeses, and thinly sliced zucchini in place of noodles.
Ingredients
2

pounds

lean ground beef

1

pound

Italian sausage

1

small onion,

chopped

3

cloves

garlic,

minced

1

(14.5-ounce)

can diced tomatoes

3

(6-ounce)

cans tomato paste

1 1/2

teaspoons

Italian seasoning

1/2

teaspoon

salt

1/4

teaspoon

red pepper flakes

4

zucchini,

sliced lengthwise into 1/8-inch thick pieces

salt

Olive oil

1

(15-ounce)

container ricotta cheese

1

egg

2

cups

shredded mozzarella,

divided

1/4

cup

grated Parmesan cheese
Instructions
In a large pan, brown ground beef and Italian sausage, crumbling it with a wooden spoon. Once most of pink is gone, add onion. Continue to cook for 2 to 3 minutes to soften the onion some. Add garlic and cook 1 more minute. Drain off any excess liquid/fat.

Add diced tomatoes and tomato paste. Stir well to combine.

Mix in Italian seasoning, salt, and red pepper flakes.

Sprinkle zucchini lightly with salt and let sit for 10 minutes. This will draw some of the moisture out of the zucchini and help prevent the lasagna from being runny and liquidy. Blot zucchini with paper towels.

Heat a grill pan or large skillet over medium-high heat and coat it with olive oil. Cook zucchini for just a minute or 2 per side to soften. No need to completely soften the zucchini, you just want to get the cooking process started.

Preheat oven to 350 degrees and coat a 9X13-inch pan with cooking spray.

In a bowl, mix together ricotta cheese, egg, 1/2 cup mozzarella, and Parmesan cheese.

Place 1/3 of zucchini slices on bottom of casserole dish as you would lasagna noodles.

Top zucchini with 1/3 of meat mixture and 1/2 of cheese mixture.

Do another layer of zucchini, sauce, and cheese.

Place the third and final layer of zucchini and top with remaining sauce. Cover with the remaining 1 1/2 cups shredded mozzarella cheese.

Place baking pan on a baking sheet and place in oven for 30 minutes. Let cool for 15 minutes before slicing.
Want to Save This Recipe?
More Zucchini Recipes