Sautéed Zucchini, a hearty meat sauce, and a cheese topping make this Zucchini Moussaka a delicious and healthy low carb dinner.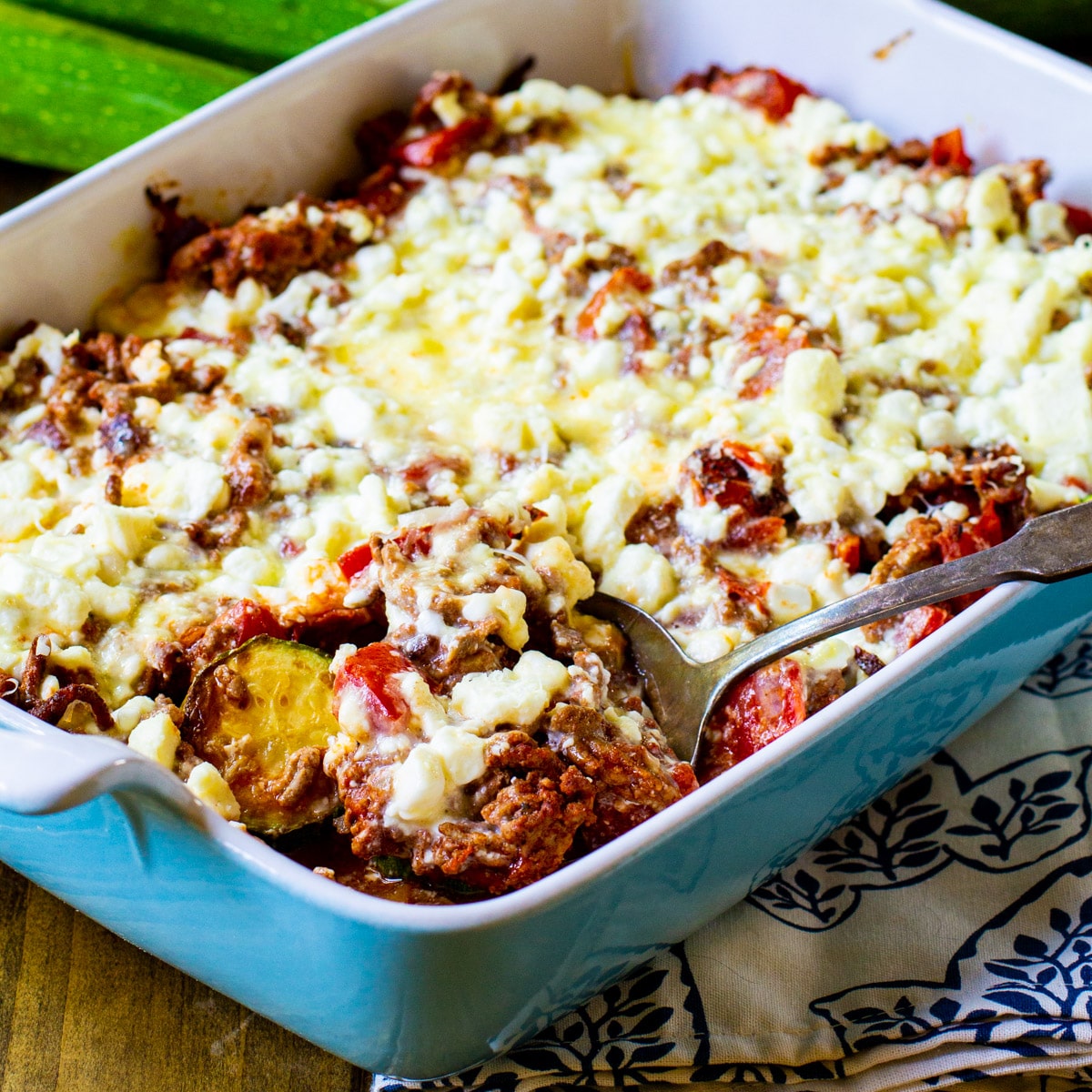 Typically Moussaka is made with eggplant or a combination of eggplant and zucchini. Or at least I think it is. To be honest, I am far from a moussaka expert! And yes, I had to google how to spell moussaka. I used just zucchini (plus some onions) since they are so plentiful right now. Instead of ground lamb, I used ground beef.
And to simplify things, instead of making a Béchamel sauce for the top, I used a mixture of cottage cheese, feta cheese, and Parmesan cheese. You literally just plop the cottage cheese on top with a spoon and sprinkle on the feta and Parmesan and it only takes a few seconds.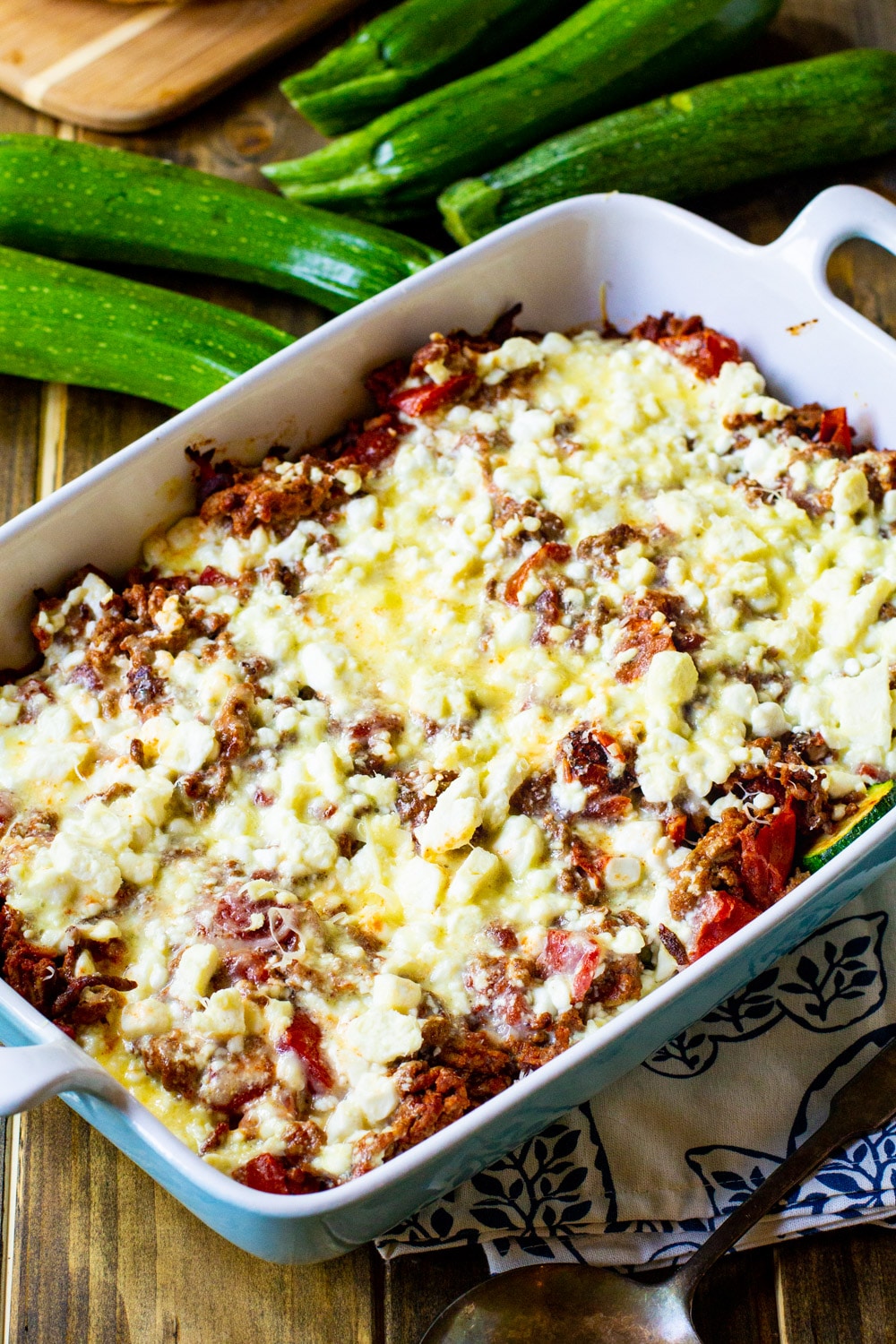 School starts back on Monday, my daughter's 15th birthday is next Friday, and we have had a whirlwind of activity this week. I can hardly keep track of the weeks, let alone the days, they are going by so fast. Wouldn't it be nice if life had a speed lever you could slow down? Or speed up. Maybe even reverse.
Usually I am counting the days until my kids go back to school, but this summer I have really enjoyed having them around. I might cry on Monday like I did when they first went to kindergarten. Coming to terms with the fact that my baby boy just has one more year of school and my daughter only three, is not easy.
But anyways, during the summer we just fly by the seat of our pants, but I like back to school time to be more structured and planned out. Much of Sunday afternoon is spent planning meals for the week ahead.
This Zucchini Moussaka is a good one to partially prep in advance. The sauce will only taste better if made ahead of time. If you sauté the zucchini and onions in advance and place them on a layer of paper towel in a covered container and refrigerate, the paper towel will help soak up some of that excess moisture zucchini has and prevent the moussaka from being watery. Then all that's left to do is assembly and baking which doesn't take long at all.
Zucchini Moussaka is an easy, delicious, and healthy weeknight meal. And if your garden is still producing an excess of zucchini try these recipes: Lasagna Zucchini Boats, Dark Chocolate Zucchini Muffins, and Chocolate Chip Zucchini Bread Pancakes.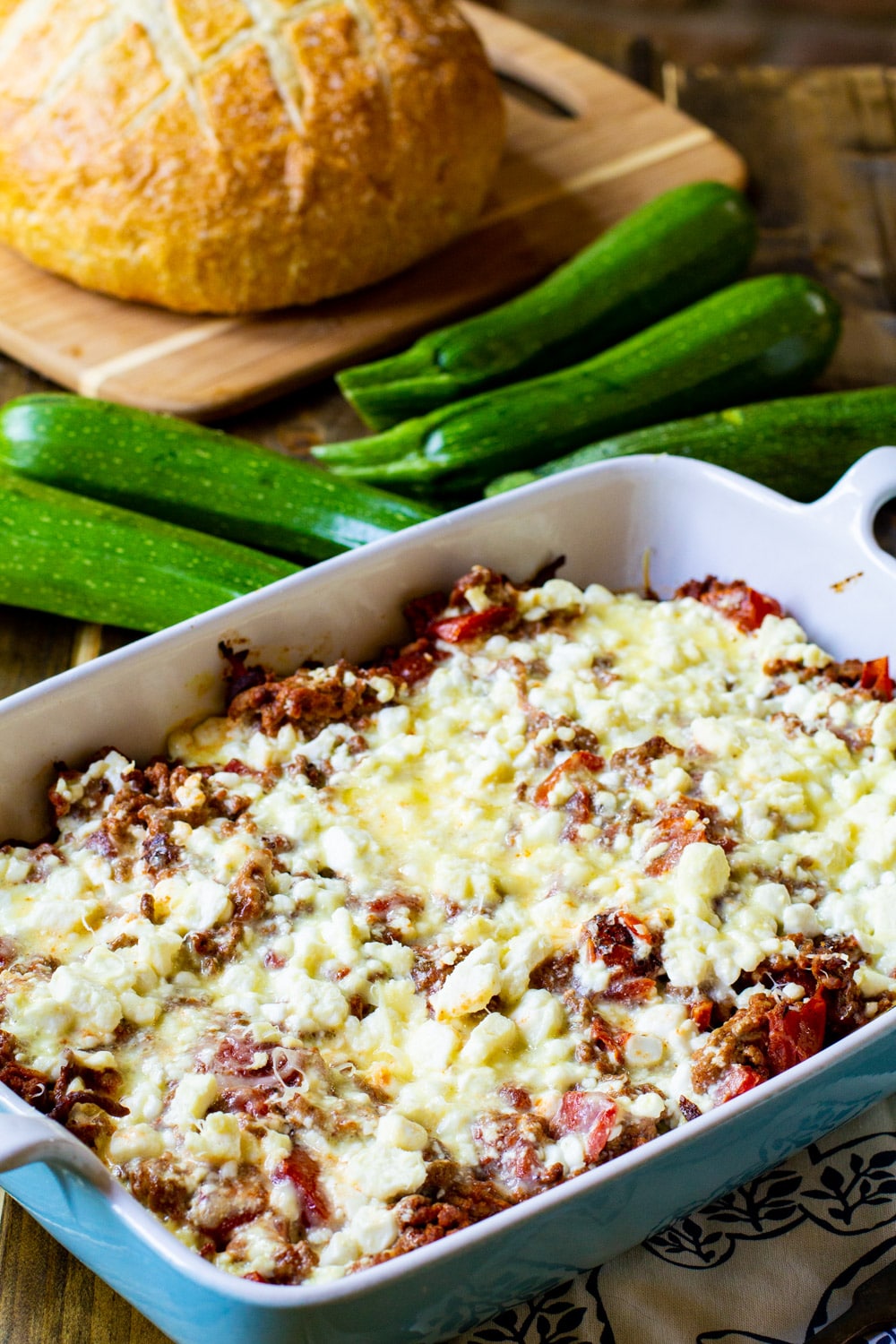 Try These Other Zucchini Recipes: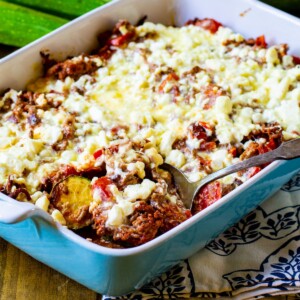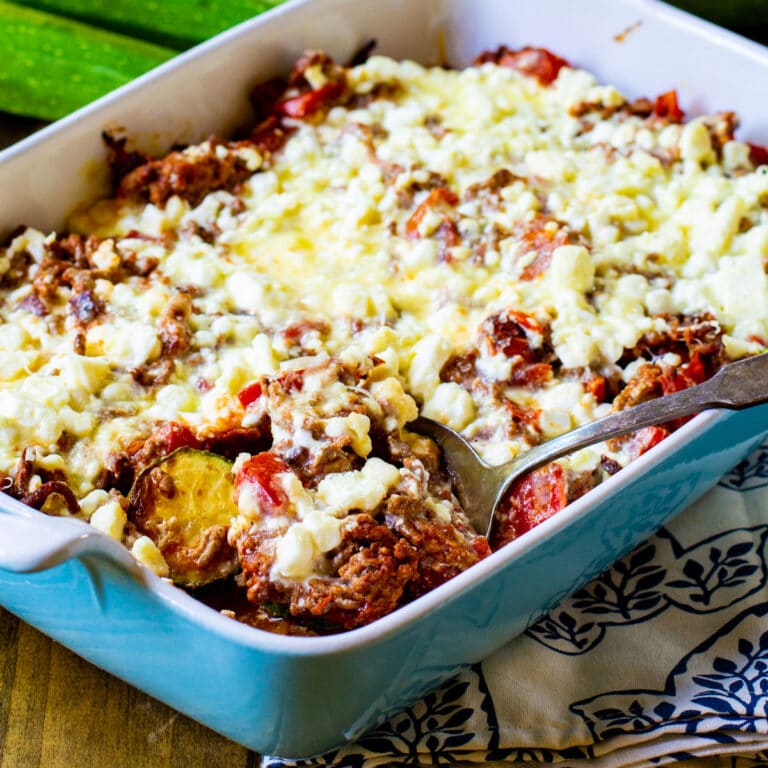 Zucchini Moussaka Recipe
Zucchini Moussaka with a ground beef sauce is an easy, delicious, and healthy low carb dinner.
Ingredients
4

small zucchini,

cut into 1/4-inch slices

1

large sweet onion,

sliced

2

tablespoons

Vegetable oil

1

pound

lean ground beef

2

garlic cloves,

minced

1

(14-ounce)

can fire-roasted diced tomatoes

1/3

cup

tomato puree

1/2

teaspoon

salt

1/4

teaspoon

black pepper

1/4

teaspoon

cinnamon

pinch of nutmeg

1

cup

cottage cheese

1

egg,

lightly beaten

1/4

cup

feta cheese crumbles

1/4

cup

grated Parmesan cheese
Instructions
Heat the oil in a skillet. Once the pan is hot, add zucchini and onion. You may need to do this in 2 batches because you don't want the pan too crowded. The zucchini pieces should all lay flat so that they get nicely browned.

Once zucchini is browned and onions are softened, transfer them to a shallow 2-quart baking dish coated with cooking spray. Sprinkle some salt and pepper over the zucchini and onion.

Add ground beef to the skillet, and cook until no longer pink, breaking it apart with a spoon as it cooks.

Add in garlic, diced tomatoes, tomato puree, 1/2 teaspoon salt, 1/4 teaspoon pepper, cinnamon and nutmeg. Simmer until thick, about 10 minutes. Pour into baking dish.

Preheat oven to 350 degrees.

Mix together the cottage cheese and egg in a small bowl. Spoon over ground beef mixture.

Sprinkle feta cheese and Parmesan cheese on top.

Bake for about 30 minutes.
Notes
If you want to make this dish spicy, add 1/2 teaspoon of crushed red pepper flakes.
Want to Save This Recipe?
Originally published August 14, 2014