Fluffy buttermilk pancakes full of shredded zucchini and chocolate chips will get your weekend started on a positive note. With warm spices (cinnamon and nutmeg), plus some brown sugar, these pancakes have the flavor of a loaf of zucchini bread fresh from the oven.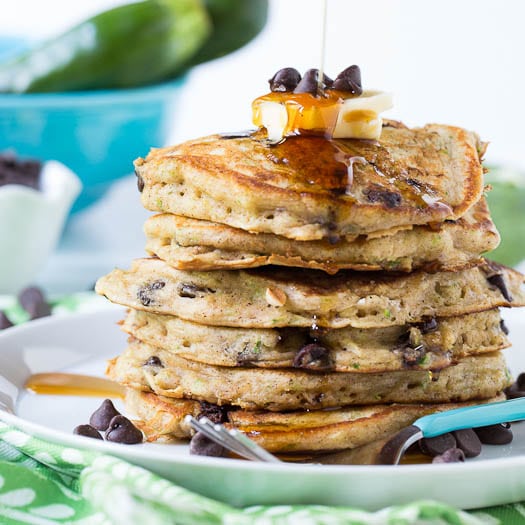 Adding zucchini to pancakes is much like adding it to bread. It adds moistness, perhaps a little sweetness, and it loves to be covered in spices and sugar. Plus it doesn't mind sharing the limelight with chocolate.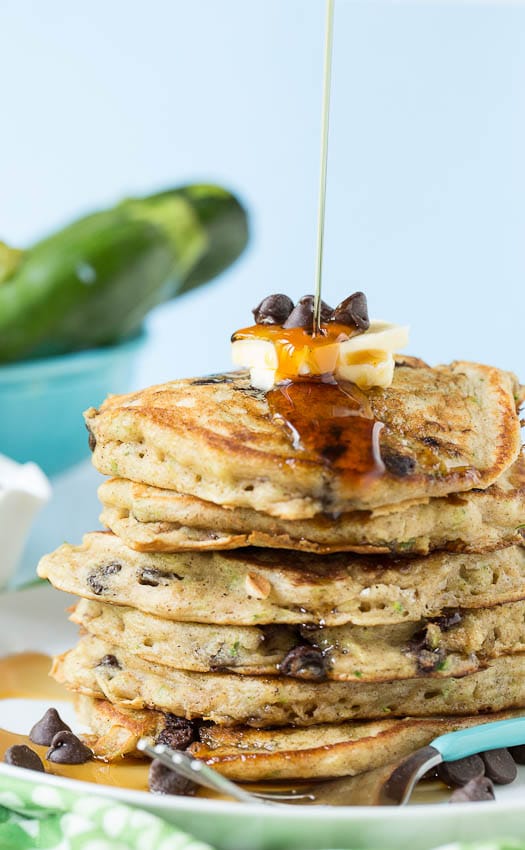 Zucchini seems to be everywhere this time of year. I don't have a garden but I can't resist buying it when I am at the farmers market. It's an easy way to add nutrition to recipes and it is wonderfully inexpensive.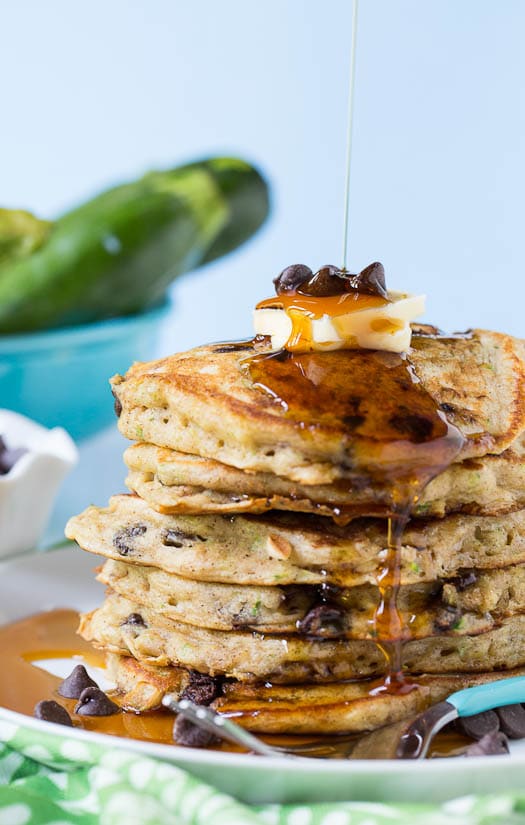 Be sure to finely shred the zucchini. Since pancakes only cook for a few minutes, you run the risk of having a little crunch in your pancakes if you don't. I shred it on the small grate on my box grater and then give it a quick whirl in my mini food processor just to make sure.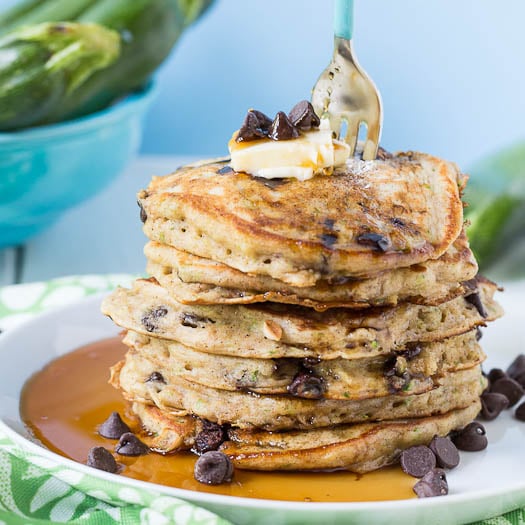 I don't add much sugar to the batter because I like to drown my pancakes in maple syrup, plus there's ¾ cup of chocolate chips added to the batter.  If you like to go light on the syrup you may want to add another tablespoon or two of sugar to the batter.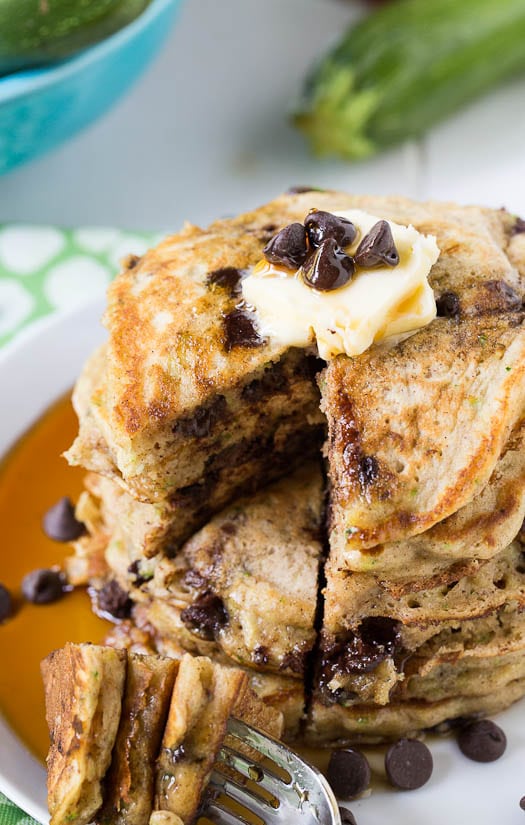 And if you have a tendency to over buy zucchini like I do and you still have some left, try Dark Chocolate Zucchini Muffins. They'll really help you get your chocolate fix and they work great as an on the go snack or breakfast.
There's no better way to start the weekend than with hot, fluffy Chocolate Chip Zucchini Bread Pancakes.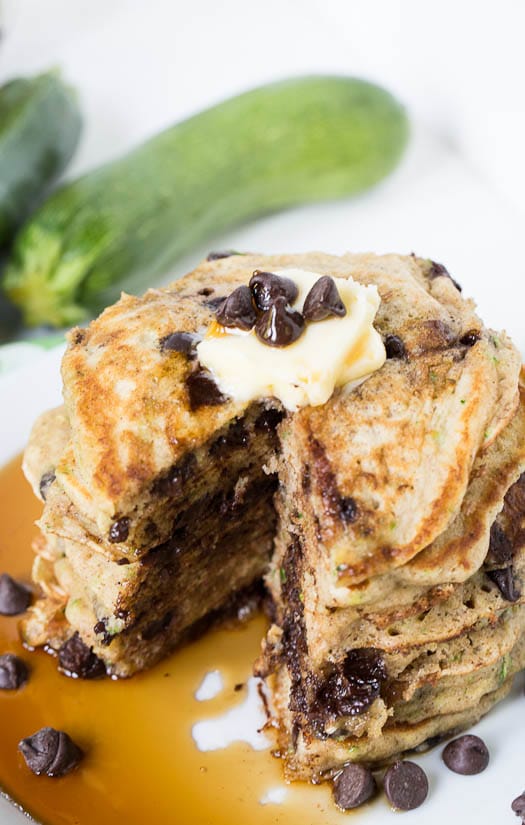 Never miss a recipe! Follow Spicy Southern Kitchen on Pinterest and Instagram.
Sign up HERE for the Spicy Southern Kitchen Newsletter.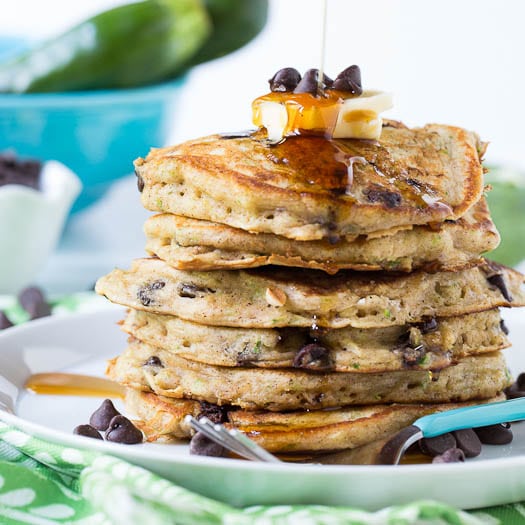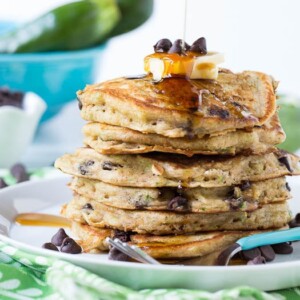 Chocolate Chip Zucchini Bread Pancakes
These pancakes are loaded with chocolate chips and have the warm spice flavor of zucchini bread.
Ingredients
1 ½

cups

finely shredded zucchini

1 ½

cups

all-purpose flour

2

tablespoons

brown sugar

1/2

teaspoon

cinnamon

½

teaspoon

salt

¼

teaspoon

nutmeg

1

teaspoon

baking powder

¾

teaspoon

baking soda

2

eggs,

lightly beaten

1

teaspoon

vanilla extract

1

cup

buttermilk

2

tablespoons

melted butter

3/4

cup

semi-sweet chocolate chips

Vegetable oil or butter

maple syrup
Instructions
Combine dry ingredients, flour through baking soda, in a large bowl.

In a medium bowl, whisk together eggs, vanilla extract, buttermilk, and melted butter.

Add wet ingredients to dry and stir just until flour is incorporated into the wet ingredients.

Fold in shredded zucchini and chocolate chips.

Heat a griddle or large nonstick skillet over medium heat. Coat the cooking surface with either oil or butter.

Use a 1/3 cup measuring cup to pour batter onto griddle. Cook until lightly brown on bottom, flip, and continue to cook until batter is set all the way through. Turn heat down some if they are browning too quickly.

Serve with maple syrup.
Want to Save This Recipe?
 More Zucchini Recipes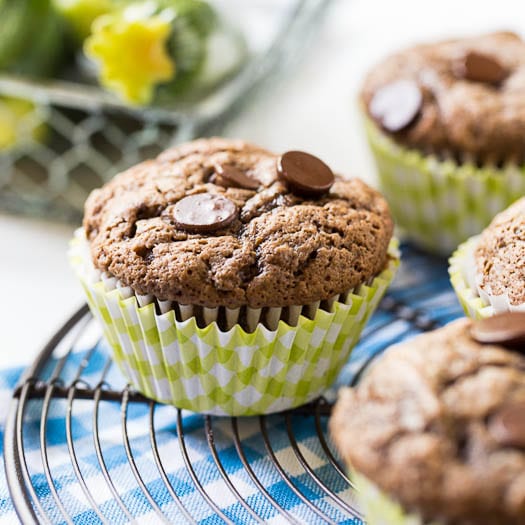 Double Chocolate Zucchini Muffins
Disclosure: This post may contain affiliate links.