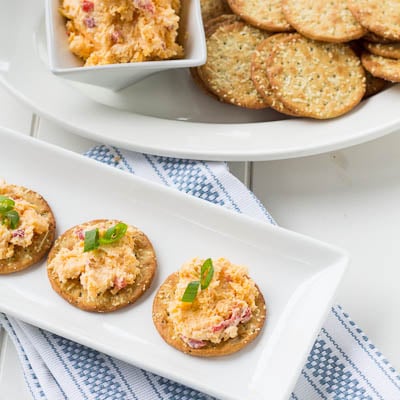 Opinions about the much beloved southern staple Pimiento Cheese vary greatly. Basically everyone thinks there grandmother's recipe is the best and any other way of making it is blasphemy.
You'll find everyone pretty much agrees that mayonnaise and sharp cheddar form the foundation, but beyond that, what should and shouldn't go into this bright orange spread can be the cause of much debate.
Some people go rogue and use cream cheese as a binder or add Monterey Cheese into the mix. Adding garlic, jalapenos, or pecans? That's enough to send some pimiento cheese purists into a tizzy!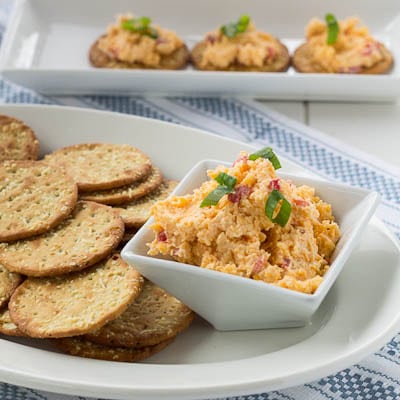 Among your mayonnaise devotees, you'll have those strongly in the Duke's camp and those in the Hellman's camp (I'm in the Hellman's camp.) We're not even going to include those who say the mayonnaise should be homemade in our discussion.
Traditional ways of serving pimiento cheese are on crackers, between 2 squishy pieces of white bread (crusts cut off please), or on celery sticks.
Nowadays, inventive chef's have gotten wind of this delicious concoction and everything under the sun is being done with it. Pimiento cheese omelets and fritters, macaroni and pimiento cheese, fried green tomatoes topped with pimiento cheese, deviled eggs stuffed with pimiento cheese. It's all good.
I prefer a pimiento cheese that's on the thick side, just the way I like my hummus. This is just a basic recipe, but feel free to add things in. I'm not a purist. Roasted red peppers work fine instead of pimientos. But then it should be called roasted red pepper cheese, shouldn't it?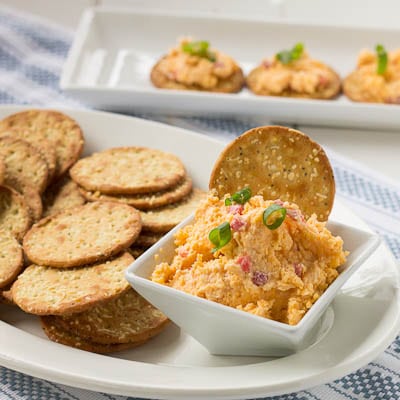 Pimiento Cheese
1 cup mayonnaise
1 (4-ounce) jar diced pimientos, drained
1/2 tablespoon grated onion
1 teaspoon Worcestershire sauce
pinch of cayenne pepper
1 (8-ounce) block extra sharp Cheddar cheese, finely grated
1 (8-ounce) block sharp Cheddar cheese, finely grated
Combine all ingredients in a large bowl and mix together well with a wooden spoon. Refrigerate until ready to serve.
Recipes using Pimiento Cheese