Meat Loaf goes from boring to hip with this recipe. Dill Pickle Meat Loaf is THE meat loaf for pickle lovers. But whether a pickle lover or not, you need to try this meat loaf. It has the most amazing flavor! Serve with mashed potatoes and green beans for a delicious All-American dinner. Even skeptics will become believers after just one bite!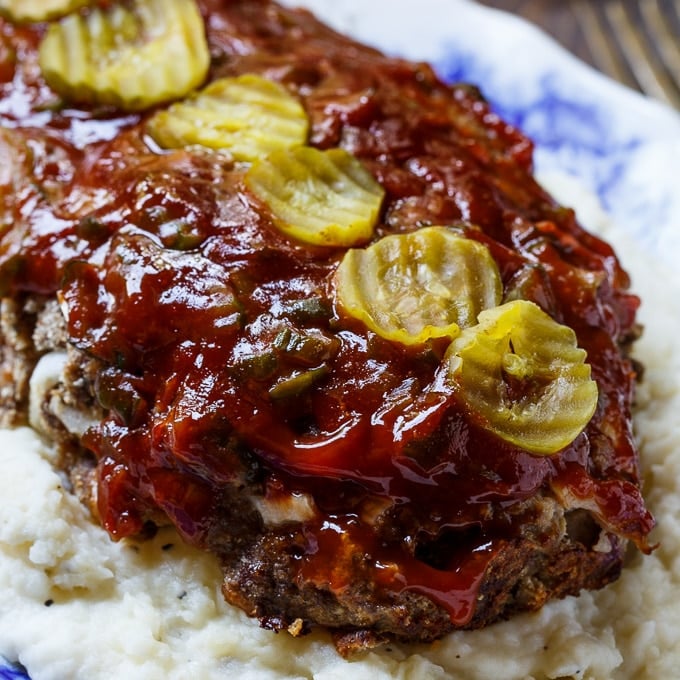 A half a cup of pickle juice gets mixed into the meat loaf and I can't really identify precisely what it is that the pickle juice does to the meatloaf. But it really does give it a unique and fabulous flavor.
The meat loaf is covered in a slightly sweet and plenty tangy glaze that is full of chopped dill pickle slices.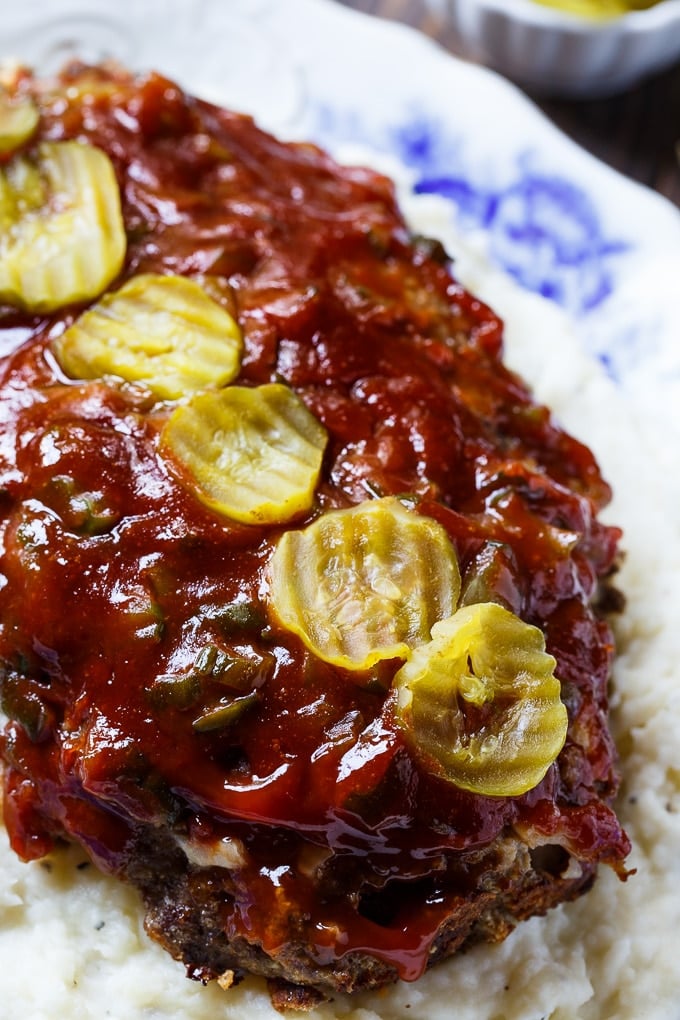 Note: One thing to watch out for is the salt content in this recipe. The salt content of dill pickle juice can vary greatly and it can be rather high. So you may or may not need to add additional salt. The first time you make it you will probably have to taste your pickle juice and kind of go by how salty it is and your cooking instincts to tell you if you need to add salt or not.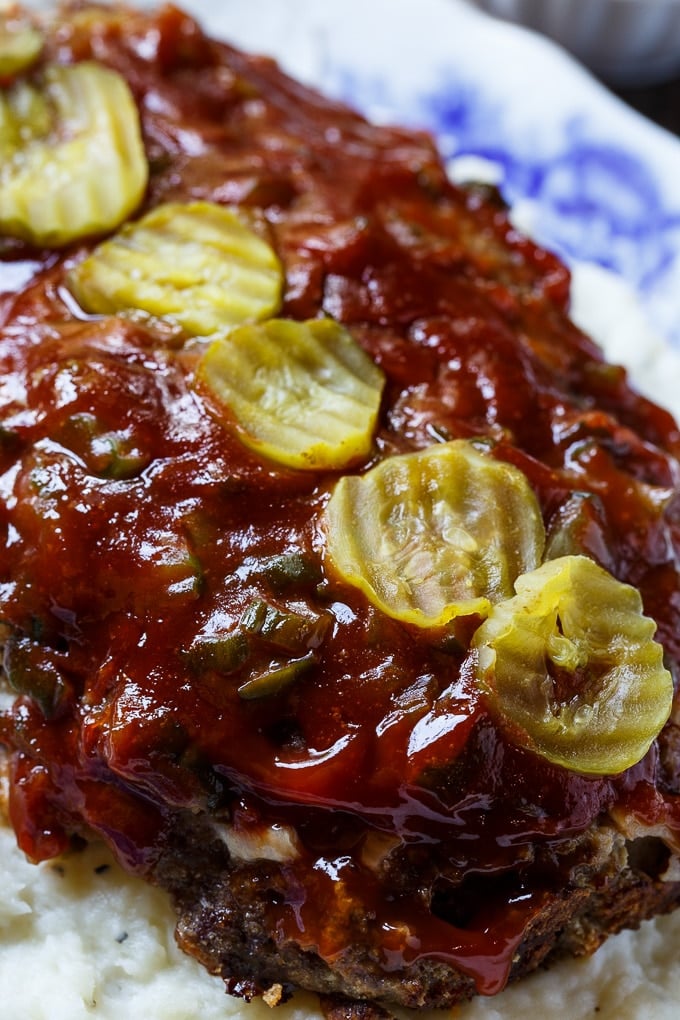 Seriously y'all. Dill Pickle Meatloaf is the tastiest meat loaf you will ever put in your mouth! And it has such a unique taste, everyone around the table is bound to perk up when they take a bite.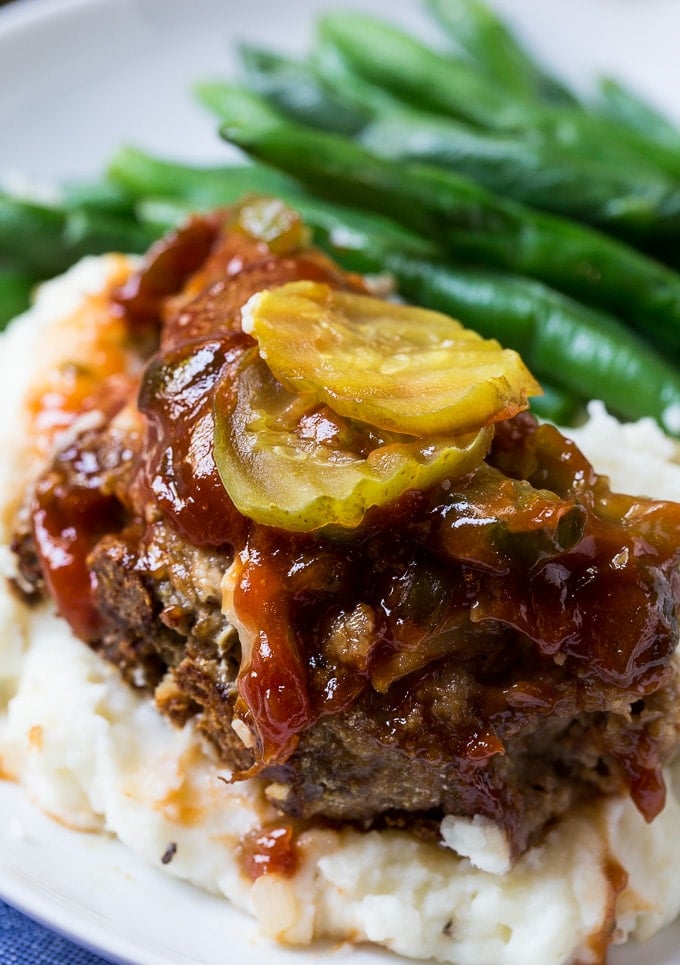 Dill Pickle Meat Loaf
Dill Pickle Meat Loaf is THE meat loaf for pickle lovers. Covered in a thick glaze with chopped pickles, this meat loaf has such an amazing and unique flavor.
Ingredients
1

large

egg

1/2

cup

dill pickle juice

1/4

teaspoon

salt

1/2

teaspoon

black pepper

1/2

teaspoon

Italian seasoning

1/4

teaspoon

red pepper flakes

1

medium

yellow or sweet onion, chopped

1

pound

lean ground beef

1

cup

bread crumbs
Glaze
1/2

cup

ketchup

1

tablespoon

water

1

teaspoon

Worcestershire sauce

2

teaspoons

Dijon mustard

1/3

cup

chopped dill pickle slices

6-8

dill pickle slices
Instructions
Preheat oven to 350 degrees and grease a baking dish.

Whisk together egg and pickle juice in a large bowl.

Add salt, pepper, Italian seasoning, red pepper flakes, onion, and ground beef. Mix together, gradually sprinkling in the bread crumbs as you mix it together.

Transfer mixture to prepared pan and shape into a loaf.

Place in oven for 40 minutes.

Meanwhile mix glaze. In a small bowl stir together all ingredients. After 40 minutes, pour glaze on top of meatloaf. Top with a row of pickle slices. Return to oven for 20 minutes.
Notes
Most likely, the pickle juice will be very salty. If it is, you do not need to add any salt to the meatloaf. If you like your food salty, add 1/4 teaspoon.
Want to Save This Recipe?
More Meatloaf Recipes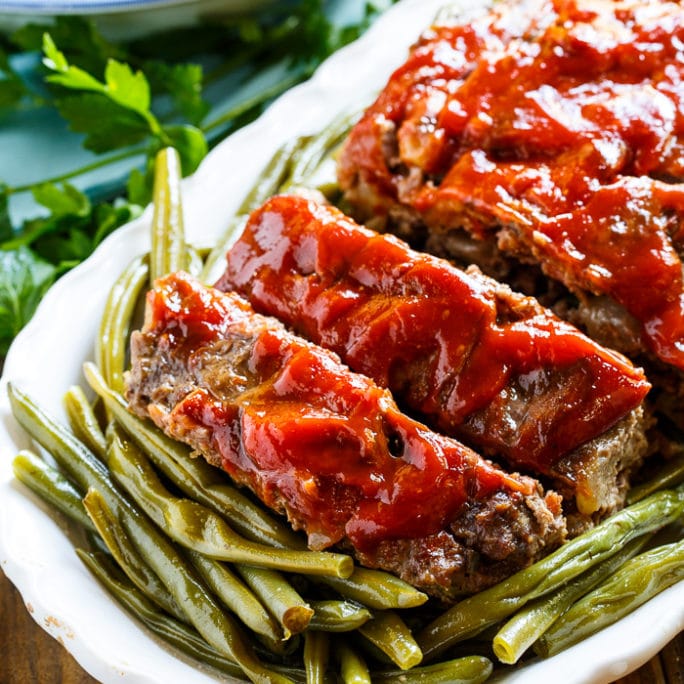 Disclosure: This post may contain affiliate links.