Southern-Style Green Beans are cooked long and slow until melt in your mouth tender. Flavored with lots of bacon.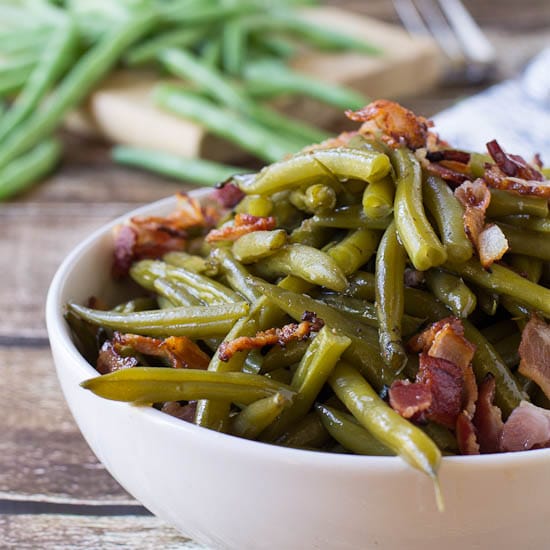 I'm always in for a home-cooked southern vegetable. A whole plate of them is best. There's rarely a time I can resist a veggie plate at a restaurant. Especially if said plate includes Southern-Style Green Beans, slow cooked in a bacon-infused broth until tender and soft.
I know it is fashionable to serve green beans barely cooked so they still have some crunch to them and retain they're bright green color. Admittingly, the color of Southern-Style Green Beans isn't nearly as appealing as that of fresh green beans.
But cook green beans low and slow in a broth flavored with bacon, and you'll go back for seconds and thirds. They're so good, you'd be content to eat a big plate of green beans for a meal.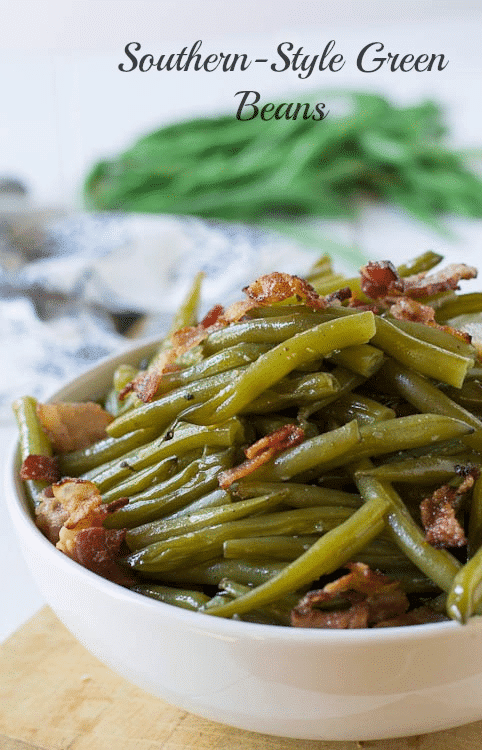 During the cooking process, they soak up an amazing amount of flavor from bacon grease, chicken broth, seasoned salt, and garlic powder. I start by cooking some diced bacon in a large pot. I then set the bacon aside, but leave all the grease in the pan. You can leave the bacon in the pot to cook with the beans, but it will get a soggy texture. But the up side is the beans will have even more bacony flavor. In this case, I've added the cooked bacon back once I've drained the beans, but sometimes I just leave it in the pot for the cooking process.
Many times a ham hock is used instead of bacon, or in addition to bacon. Traditionally, fat back (solid fat from a pig's back) was a very popular choice for cooking green beans in the South and if you can get your hands on some good fatback, it is amazing. But good fatback is very hard to find these days. Pigs raised for the mass market are bred to be on the lean side and they are pumped full of hormones and antibiotics, which can really build up in a pig's fat.
You want to cook Southern-Style Green Beans for at least an hour, preferably closer to 2 hours. You want them to get really soft, but not mushy, so that they are melt in your mouth tender. Just before serving, you can mix in a tablespoon or so of butter to give the green beans some a buttery coating.
This is one vegetable no one will complain about eating.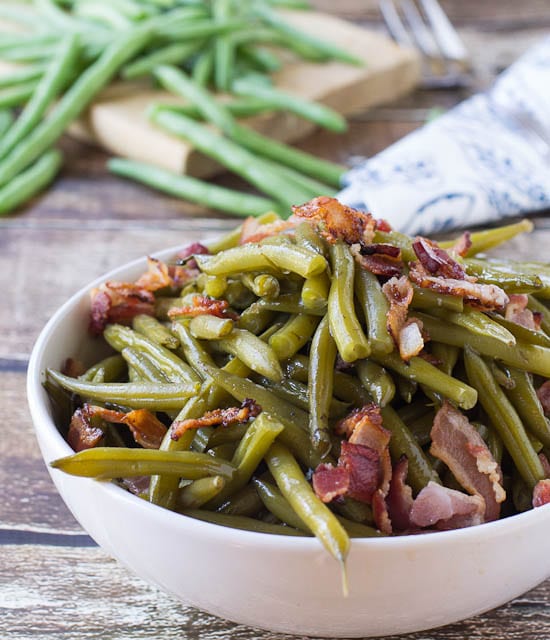 Love southern Recipes? Follow Spicy Southern Kitchen on Pinterest and Instagram.
Sign up HERE for the Spicy Southern Kitchen Newsletter.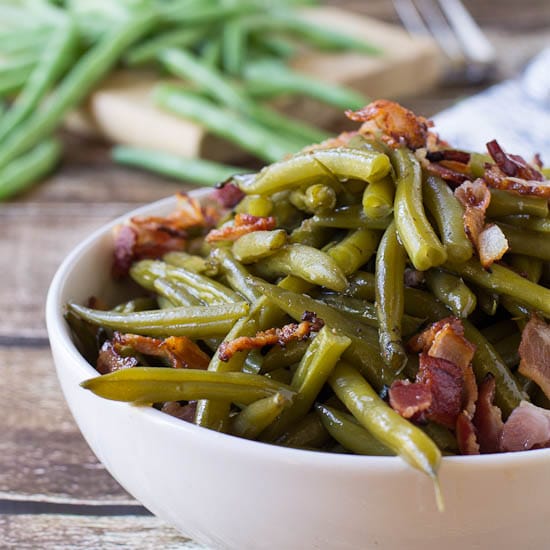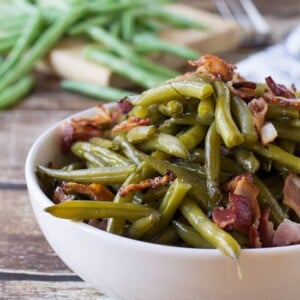 Southern-Style Green Beans
Green Beans cooked low and slow until soft and tender in a bacon-infused broth.
Ingredients
4

slices

bacon,,

diced

2

pounds

green beans

ends snapped off and longer beans snapped in half

2

cups

chicken broth

2

cups

water

1

teaspoon

seasoned salt

1/2

teaspoon

black pepper

1/2

teaspoon

garlic powder

1/4

teaspoon

red pepper flakes

1

tablespoon

butter,

optional
Instructions
Brown and crisp bacon in a large pot. Remove bacon from pot and reserve.

Add green beans to pot along with all remaining ingredients, except butter.

Bring to a boil and then turn heat to medium-low. Cover and simmer for 1-2 hours, stirring occasionally.

Drain beans and add butter if using. Check beans for seasoning and add extra salt and pepper to taste. I like lots of black pepper. Sprinkle with bacon and toss to distribute the bacon and butter.
Want to Save This Recipe?
More Southern Veggies for your vegetable plate
Linking up at The Country Cook Weekend Potluck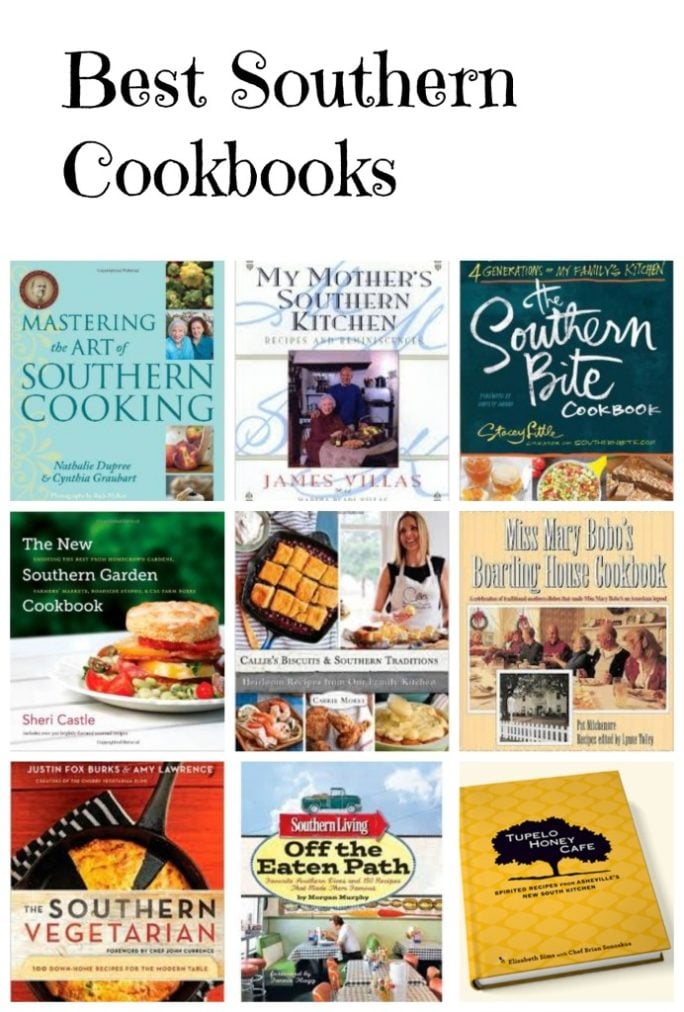 Best Southern Cookbooks
Disclosure: This post contains affiliate links.