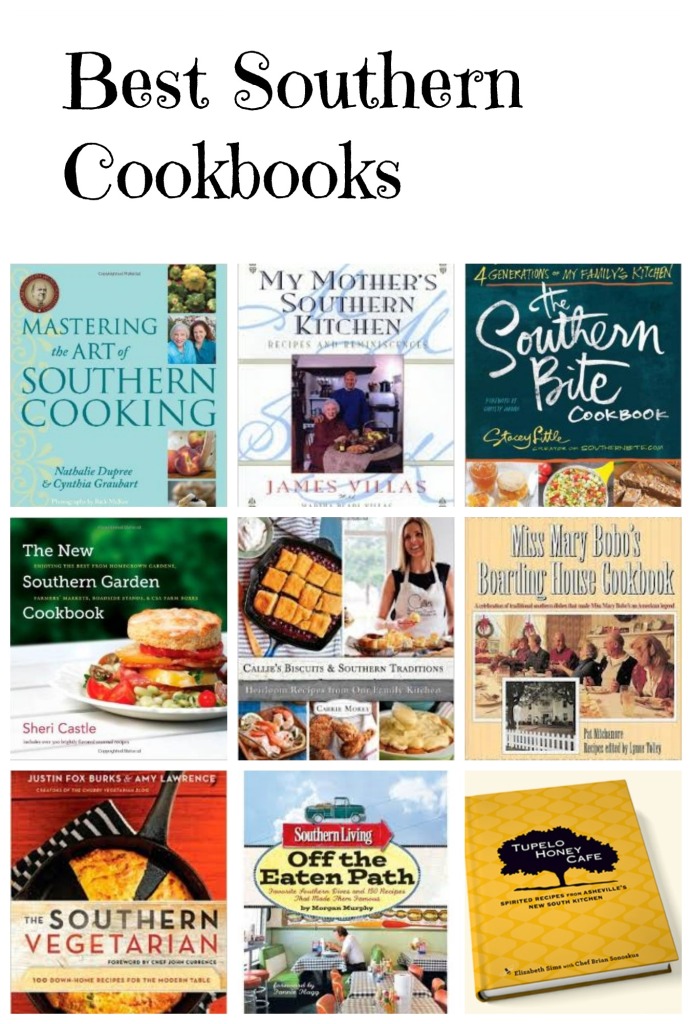 This post should probably be titled "My Favorite Southern Cookbooks" because there are so many great ones out there, how can you definitively pick the best? It's no secret that I love cookbooks. Take a look at my Christmas list any year and it's likely to be almost all cookbooks. They are some of my most cherished possessions and they have brought me great joy through the years and many a full belly.
In no particular order, here are what I believe to be some of the best southern cookbooks.
My Mother's Southern Kitchen: Recipes and Reminiscences
My Mother's Southern Kitchen: Recipes and Reminiscences
was first published about 20 years ago. This cookbook is a little bit of an oldie, but it's one of my favorites for traditional southern cooking. It is written by James Villas, who has published numerous cookbooks, and his mother Martha Villas. Martha passed away about 5 years ago at the age of 93, but her recipes live on through this cookbook as well as her other cookbook, My Mother's Southern Desserts : More Than 180 Treasured Family Recipes for Holiday and Everyday Celebration
.
My Mother's Southern Kitchen really embodies how southerners feel about food and family. James Villas and his mother shared a sense of humor and a love for cooking and there are many family photos  as well as humorous antidotes interspersed with the recipes. Like most women of Martha's generation, her cooking revolved around family, church socials, and women's luncheons. It has all your perennial southern favorites. Recipes that use simple ingredients to produce delicious dishes. And yes, there is a can of condensed soup or two. My very favorite pancake recipe comes from this cookbook.
If you want to learn the basics of southern cooking, this is an excellent cookbook to start with.
The Pastry Queen
The Pastry Queen: Royally Good Recipes from the Texas Hill Country's Rather Sweet Bakery & Cafe
by Rebecca Rather is a must have cookbook for those who love to bake cakes, pies, cookies, etc. Not only are the recipes outstanding, the photography in the book is very good too. Rebecca Rather owns a bakery in Fredericksburg, Texas and in addition to gorgeous pictures of the food, there are beautiful pictures taken in her bakery, as well as the Texas country side.
My favorite scone recipe ever, Chocolate Chip Scones, is from this cookbook. They are rich and heavenly and sure to make a scone lover out of anyone. Other recipes include Texas Big Hairs Lemon-Lime Meringue Tarts, Bananas Foster Shortcakes, Blackberry Pie Bars, and White-on-White Buttermilk Cake with Jack Daniels Buttercream.
Rather's other two cookbooks, Pastry Queen Parties: Entertaining Friends and Family, Texas Style
and The Pastry Queen Christmas: Big-hearted Holiday Entertaining, Texas Style
are also very good.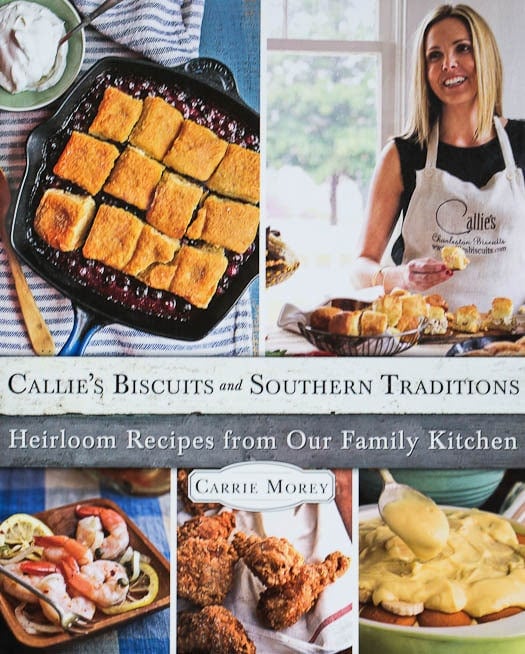 Callie's Biscuits and Southern Traditions
Callie's Biscuits and Southern Traditions: Heirloom Recipes from Our Family Kitchen
is a beautiful, well done cookbook by Carrie Morey who has become quite the local celebrity in Charleston, SC. In 2005 she convinced her mother to put off early retirement from her catering business and use her biscuit recipe as the backbone for a new business. And thus, Callie's Charleston Biscuits was born. The biscuits have been featured on Oprah and can be purchased at high end retail stores throughout the country.
And now that a cookbook has been published (2013) you can make them at home along with many other tempting southern recipes. Multi-paragraph introductions to each recipe really help personalize the cookbook. The book also has beautiful color pictures.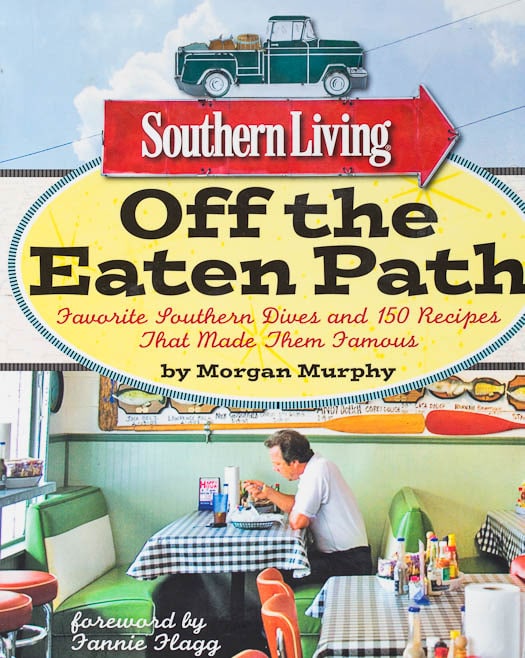 Off The Eaten Path
Of course all of the Southern Living cookbooks are fabulous, but one of my favorites is Southern Living Off the Eaten Path: Favorite Southern Dives and 150 Recipes that Made Them Famous
along with its sequel, Southern Living Off the Eaten Path: Second Helpings: Tasty eats and delicious stories from the South's less-traveled trails
. Both let you take a southern road trip right from your kitchen. They feature recipes from some of the south's most loved restaurants, conveniently arranged by state.
Even more fun is to stop at some of the restaurants featured in the book when you are on a road trip and taste the real versions of the recipes you have cooked at home.
My daughter and I did this last year on a trip to Alabama when we stopped at Sweet P's Eats and Treats in Pike Road , Alabama (featured in Second Helpings) and devoured one of their Cow Patties on the way to Mobile.
If you are a lover of southern food and culture, these are cookbooks you will want to flip through again and again because the pictures really tell a story.
Recipes from the first book include Chocolate Meringue Pie, White Chocolate Banana Cream Pie with Sugar Cookie Crust, White Chocolate Banana Bread French Toast, Oyster Stew with Brie and Spinach, and Pecan Chicken in Woodford Reserve Maple Cream Sauce.
Second Helpings contains such temptations as Sausage Bread Pudding and Vanilla-Bourbon Sweet Potato Pie.
The Southern Vegetarian
The Southern Vegetarian Cookbook: 100 Down-Home Recipes for the Modern Table
is not only my all-time favorite vegetarian cookbook, but also one of my all-time favorite southern cookbooks. The authors write The Chubby Vegetarian blog. The Southern Vegetarian  has vegetarian versions of all your favorite southern comfort foods including The Chubby Vegetarian Gumbo, Chicken-Fried Portobello with Mushroom and Shallot Gravy, and Vegetarian "Chicken" Pot Pie. My daughter adapted their Vegan Sloppy Joes and they were fabulous.
The recipes are so hearty and delicious that this cookbook belongs on the shelf of non-vegetarians as well as vegetarians. The book has gorgeous pictures and the recipe instructions are well thought out. If you're a member of a CSA, are a regular at the farmers market, or have your own abundant vegetable garden, The Southern Vegetarian will give you tons of new ways to cook your produce.
Unique, healthy recipes using easy to find ingredients. What's not to love about that?
Miss Mary Bobo's Boarding House Cookbook
Miss Mary Bobo's Boarding House Cookbook: A Celebration of Traditional Southern Dishes that Made Miss Mary Bobo's–An American Legend
is a celebration of the southern dishes served at Miss Mary Bobo's Boarding House in Lynchburg, Tennessee. This cookbook is an oldie. Miss Mary Bobo passed away in 1983 at the age of 101. She ran the boarding house from 1908 until her death. She became quite a legend and her food has literally enjoyed by generations.
You'll find all your southern favorites in this cookbook, but no pictures of the food. Only black and white pictures taken at the boarding house throughout the years. Since Jack Daniels Distillery is also in Lynchburg (and I believe they now own the boarding house) there are quite a few recipes that use bourbon as an ingredient including Sweet Potato Pudding with Tennessee Whiskey Sauce and Poached Peaches in  Jack.
The Southern Bite
The Southern Bite Cookbook: 150 Irresistible Dishes from 4 Generations of My Family's Kitchen
is by one of my favorite food bloggers, Stacey Little. His cookbook was published earlier this year and I was so excited to add it to my collection of southern cookbooks.
I recently spent a weekend with Stacey at the Southern Food Bloggers Retreat and let me tell you he is one of the friendliest, funniest, and most authentic people I have ever met.
There are so many wonderful southern recipes in this cookbook from four generations of Stacey's family, plus some reader submitted recipes too.  I can't wait to try Stacey's Fried Pickled Okra. This is a cookbook you will reach for again and again for delicious, easy to make recipes. You can learn more about Stacey at his blog, Southern Bite.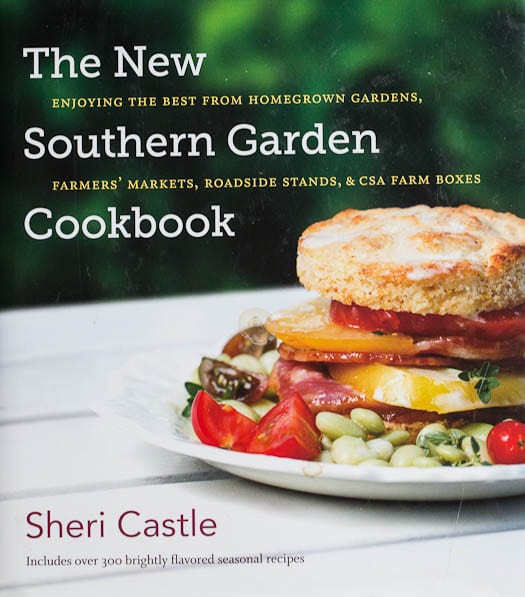 The New Southern Garden Cookbook
If you are an avid gardener, you will love the treasure of recipes contained in  The New Southern Garden Cookbook: Enjoying the Best from Homegrown Gardens, Farmers' Markets, Roadside Stands, and CSA Farm Boxes
. It's a large cookbook with over 300 seasonal recipes. There's a chapter for each type of produce, arranged in alphabetical order. You'll find all the most loved southern fruits and vegetables (okra, tomatoes, peaches, and strawberries), plus less common ones (Persimmons, figs, and rhubarb).
There's a good mix of sweet and savory recipes and the recipes contain clear, detailed instructions. In addition, quite a few of the recipes have suggestions for variations or what other type of produce works for the recipe.
Recipes include Blackberry BBQ Sauce, Sweet Potato Biscuits, and Sweet and Spicy Green Tomato Pie.
Note: There are a few color pictures but they are not matched up with the recipes.
Tupelo Honey Cafe
Tupelo Honey Cafe: Spirited Recipes from Asheville's New South Kitchen
is my favorite cookbook for recipes that are a modern take on southern recipes and ingredients. If you've ever eaten at Tupelo Honey Cafe in Asheville, NC or one of their other locations, you know how delicious there food is. This cookbook contains the recipe for their much loved Grateful Dead Black Bean Burger as well as their delicious Sweet Potato Pancakes.
This is a wonderful book for trying new combinations of flavors like Root Beer Molasses- Glazed Pork Tenderloin. It also has absolutely stunning photography and contrary to a lot of restaurant cookbooks, these recipes really work for the home cook.
Mastering the Art of Southern Cooking
Mastering the Art of Southern Cooking
 by Nathalie Dupree and Cynthia Graubart is one of the most comprehensive cookbooks on southern cooking. With over 750 recipes plus 600+ variations, everything you could want to know about southern cooking is in this book. This is a heavy book, weighing in at about 6 pounds, so it's not the easiest book to work with. But it is full of well written recipes with clear techniques for just about any southern food you could want to cook. Perfect for using as a reference book and also makes a lovely gift.
Disclosure: This post contains affiliate links.