I get a lot of cookbooks for Christmas and today I wanted to share what I believe were the Best Southern Cookbooks of 2014. There are a few baking cookbooks, a cookbook from one of my favorite food bloggers, a crock pot cookbook, and even a Vegan one. So a little something for everyone!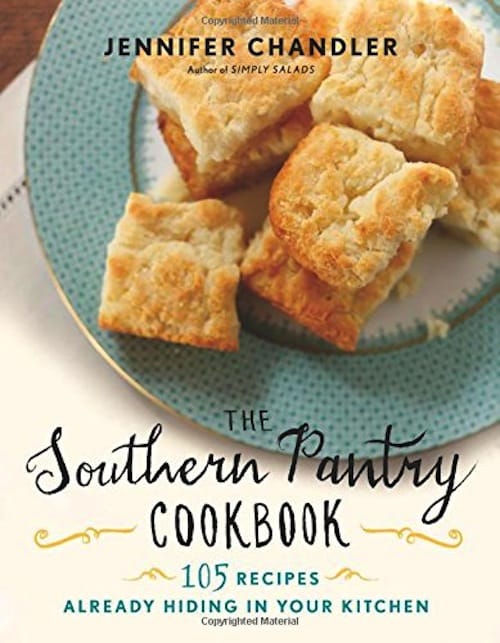 The Southern Pantry Cookbook
I love, love, love this cookbook! The Southern Pantry Cookbook: 105 Recipes Already Hiding in Your Kitchen
might just be my pick for best all-round southern cookbook of 2014. Not only are there 105 recipes for making meals using what's in your pantry, but tips for how to best stock your pantry so you avoid those last minute, unwanted trips to the store AND you're ready for unexpected guests at any time. There's a long list of recipes that can be whipped up in about 30 minutes and a list of recipes that are great for making a double batch and freezing half.
The author, Jennifer Chandler, lives in Memphis, Tennessee and has written numerous cookbooks, including Simply Salads: More than 100 Delicious Creative Recipes Made from Prepackaged Greens and a Few Easy-to-Find Ingredients
 which is my all time favorite salad cookbook.
Each recipe has a photo and the recipes are very doable and approachable. Recipes include Peanuty Fried Chicken Strips with Maple-Dijon Dipping Sauce, Slow Cooker Cola Chicken, Cajun Chicken Alfredo, Country Fried Steak with Onion Gravy, and Banana Pudding Parfaits.
If you lead a busy life and are looking to make more efficient use of your time in the kitchen, this book is for you.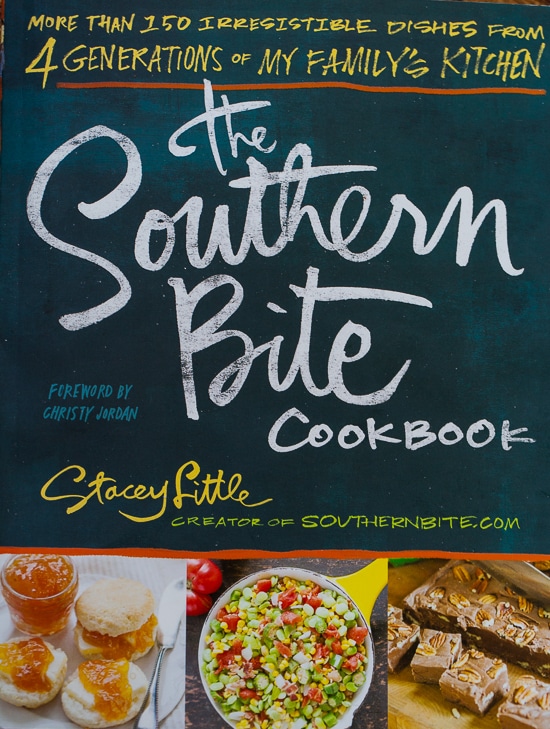 Southern Bite
The Southern Bite Cookbook: 150 Irresistible Dishes from 4 Generations of My Family's Kitchen
 is by one of my favorite food bloggers, Stacey Little. I was so excited to add it to my collection of southern cookbooks.
I recently spent a weekend with Stacey at the Southern Food Bloggers Retreat and let me tell you he is one of the friendliest, funniest, and most authentic people I have ever met.
There are so many wonderful southern recipes in this cookbook from four generations of Stacey's family, plus some reader submitted recipes too.  I can't wait to try Stacey's Fried Pickled Okra. This is a cookbook you will reach for again and again for delicious, easy to make recipes. You can learn more about Stacey at his blog, Southern Bite.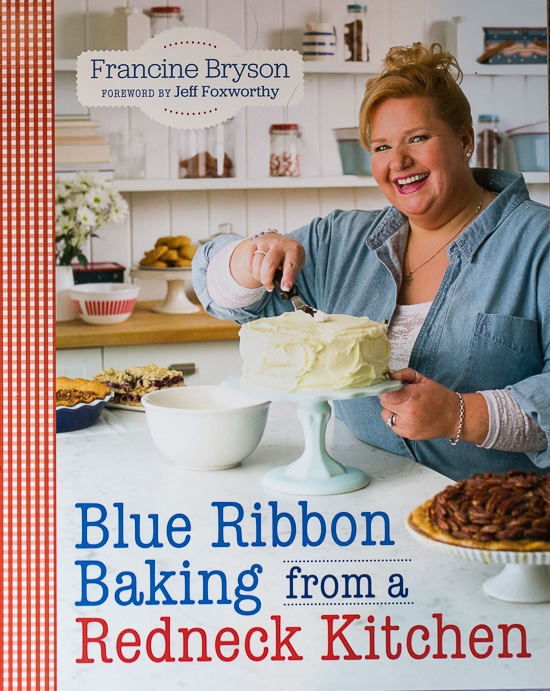 Blue Ribbon Baking from a Redneck Kitchen
First of all, you have to love this cookbook for its name. Authored by Francine Bryon who has won over 200 local and national baking competitions, Blue Ribbon Baking from a Redneck Kitchen
is full of recipes for cakes, cheesecakes, cookies, pies, and candies. With eight different pie crusts, including Cinnamon Roll Crust, you can be experimenting in your kitchen for months.
The recipe I can't wait to make is World Famous Chocolate Bacon Peanut Butter Pie. How's that for a dessert?
Unfortunately there is not a picture for every recipe, but I do like that every recipe has a nicely written introduction.
If southern baking is your thing, this will be a great addition to your cookbook collection.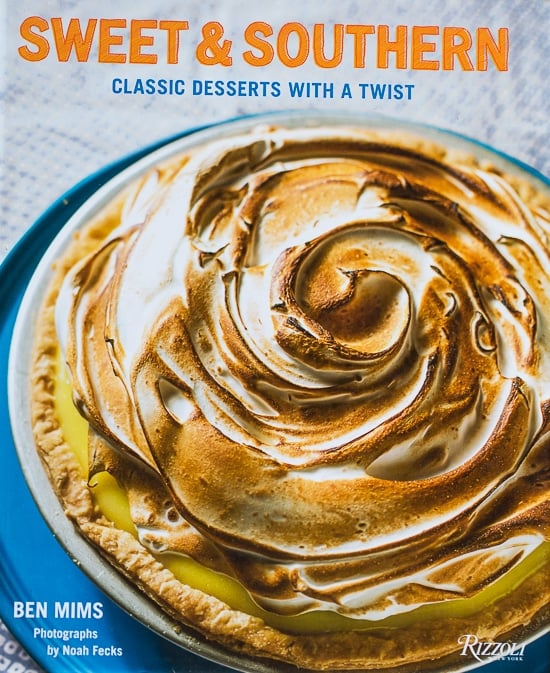 Sweet and Southern: Classic Desserts with a Twist
Sweet & Southern: Classic Desserts with a Twist
by Ben Mims offers a completely new approach to southern baking. This cookbook is full of creatively modernized southern desserts. Mims also combines international ingredients with traditional southern recipes to make truly inspired and original creations like Satsuma Whipped Rice Pudding.
Recipes include Cantaloupe Upside Down Cake, Corn Bread Pudding, Ambrosia Pavlova, and Red Velvet Cake using pomegranate juice instead of red dye. There are 100 gorgeous color photographs included.
If you prefer regular down home cooking like your grandmother made, this is probably not the cookbook for you (you'd prefer Blue Ribbon Baking). But it is perfect for the creative cook who likes to try something new.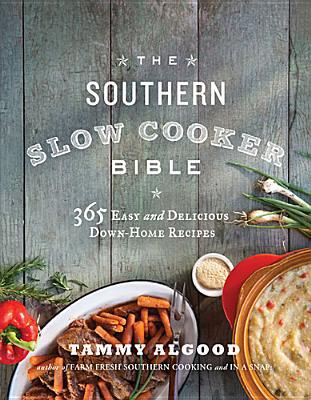 Southern Slow Cooker Bible
The Southern Slow Cooker Bible: 365 Easy and Delicious Down-Home Recipes
 is jammed pack full of crock pot recipes. There are 365 recipes in all. That's a whole year's worth of slow cooking. Recipes are organized by ingredient and food type. There are chapters on grits, chili, chocolate, mac and cheese, ham, and even cornbread. This book is so comprehensive, it is the only slow cooker cookbook you need.
Recipes include Honey Glazed Ham and Southern Pecan Cake
Who wouldn't love to learn to do more southern cooking in the crock pot?
Bourbon and Bacon
Bourbon and Bacon, authored by Morgan Murphy who also wrote the Southern Living Off the Eaten Path: Favorite Southern Dives and 150 Recipes that Made Them Famous
series (favorites of mine), is a celebration of two ingredients often used in southern kitchens. It is part history lesson and part cookbook. All of the recipes, 115 of them, are Southern Living tested recipes.
Southern Living Bourbon & Bacon: The Ultimate Guide to the South's Favorite Foods
is divided into two parts- "Part One: Bourbon" and "Part Two: Bacon".If you are wanting to learn more about bourbon, there is a comprehensive section on how bourbon is distilled and what its flavor profiles consist of that will leave you feeling like a bourbon expert. This cookbook contains a wonderful mix of sweet and savory recipes including Bourbon Balls, Bacon-Bourbon Caramel Popcorn, Bacon-Covered Roasted Turkey, and Bourbon and Bacon Waffles. There are also quite a few cocktail recipes.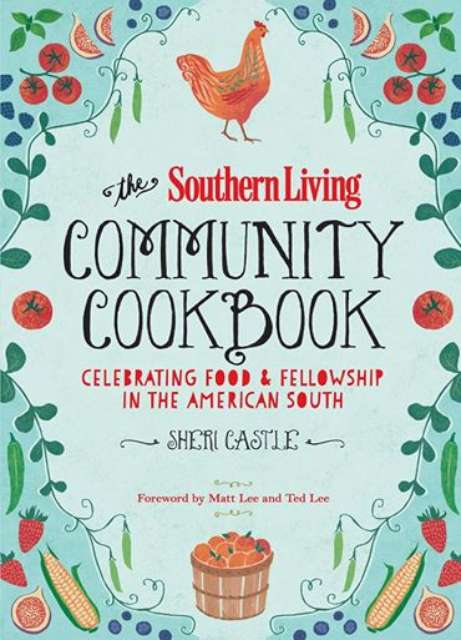 The Southern Living Community Cookbook
The Southern Living Community Cookbook: Celebrating Food and Fellowship in the American South
 is by Sheri Castle who also wrote The New Southern Garden Cookbook: Enjoying the Best from Homegrown Gardens, Farmers' Markets, Roadside Stands, and CSA Farm Boxes
(love it!).  If you've been an avid reader of Southern Living magazine or a collector of their cookbooks, many of these recipes will look familiar to you as they have all been published before. Sheri Castle has handpicked the 200 recipes included in SL Community Cookbook from 1,000s of reader submitted recipes to Southern Living magazine over the last 50 years.
It's kind of like a community or church cookbook, only with beautiful pictures (not every recipe has a photo) and whimsical illustrations.
Recipes include Skillet Fried Chicken and Gravy, Pot Likker Soup, Tzatziki Pasta Salad, and Oatmeal Cake with Broiled Topping.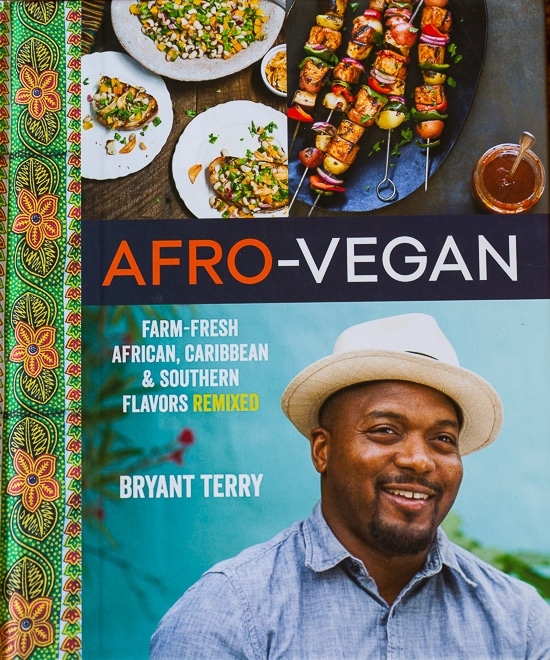 Afro-Vegan
Afro-Vegan: Farm-Fresh African, Caribbean, and Southern Flavors Remixed 
by Bryant Terry is full of innovative and unique recipes. You will definitely encounter flavors and techniques you've never tried. The adventurous cook will love this book- vegan or not. This book really explores the roots of southern cooking in African cooking and ingredients and notes that southern food is "the original modern global fusion cuisine".
Recipes I can't wait to try include Mango-Habanero Hot Sauce, Spicy Mustard Greens, Millet and Peanut Stuffed Avocado with Harissa Salsa, and Jamaican Patties Stuffed with Maque Choux.
Disclosure: This post contains amazon.com affiliate links.