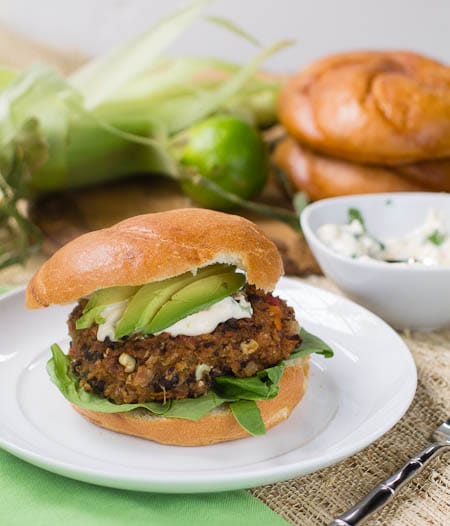 This is a recipe for Black Bean Burgers from what has become my favorite cookbook- Tupelo Honey Cafe: Spirited Recipes from Asheville's New South Kitchen
. I'm so excited to learn that they have  second cookbook in the works, due to be published sometime in early 2014. The new cookbook will focus on the Mountain South- "it's people, culture, traditions, foods, history, music, arts and crafts".
I'm also thrilled to learn that a Tupelo Honey Cafe will be opening about 20 minutes from my house in the South End Neighborhood of Charlotte, NC. Asheville, NC is the home to the original Tupelo Honey Cafe and has 2 locations. Recently they have expanded to Knoxville, TN and Greenville, SC.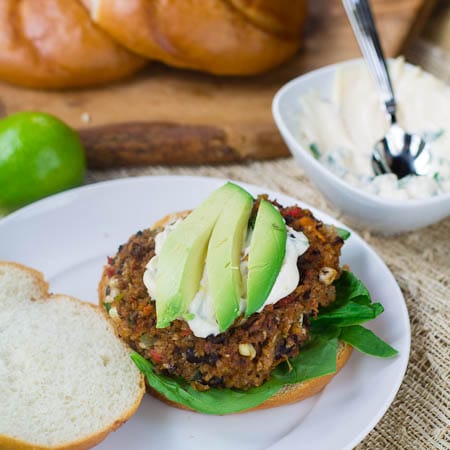 If you've eaten at Tupelo Honey Café, you understand why I am so excited they are coming to Charlotte. If you haven't eaten at one, you must make an effort if you are ever near one. Or at least get the cookbook so you can experience their delicious food in your own kitchen.  Here is a post about our visit to Tupelo Honey Cafe in Asheville.
Their recipes can best be described as New South Cooking- creative and modern twists on southern classics with an emphasis on fresh, local, and seasonal ingredients. They are known for their Sweet Potato Pancakes with Peach Butter and Spiced Pecans which are to die for. The recipe can be found in the cookbook. 🙂
The Grateful Dead Black Bean Burger is another one of their popular dishes and you'll be hard pressed to find a better black bean burger. This is one spicy burger and it's loaded with lots of different veggies in addition to black beans. Love that the recipe uses tofu as a binder instead of egg.
This is not exactly a light and healthy black bean burger because it is fried in oil. If you're looking for a diet-friendly black bean burger, try this Black Bean Burger with Salsa and Guacamole. Or you could try baking the Grateful Dead Black Bean Burger instead of frying it. I'm sure it would be delicious that way too, just not as crispy.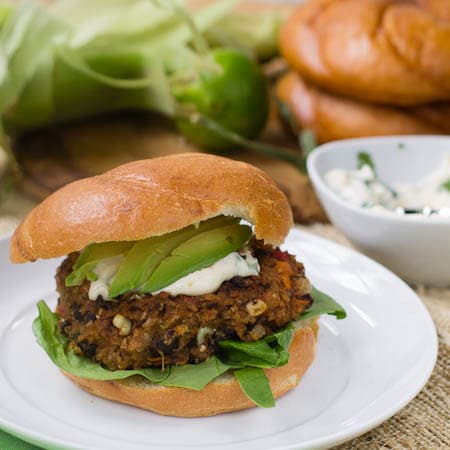 Grateful Dead Black Bean Burger with Cilantro Lime Mayonnaise
1 tablespoon olive oil
½ cup peeled, shredded carrots
½ corn, frozen, or cut from 1 large ear
½ cup diced roasted red bell pepper
½ diced poblano chili
½ cup diced Vidalia onion
½ cup diced celery
1 tablespoon chopped garlic
1 cup firm tofu
2 (15-ounce) cans black beans, drained and rinsed
1 tablespoon minced fresh cilantro
Juice of ½ a lime
1 ½ teaspoons ground cumin
1 tablespoon chili powder
½ teaspoon sea salt
¼ teaspoon freshly ground black pepper
1 teaspoon hot pepper sauce
2 cups panko bread crumbs
2 cups canola oil
8 artisanal hamburger buns
lettuce and avocado for serving (optional-not in original recipe)
Cilantro Lime Mayonnaise (recipe follows)
Heat the olive oil in a large skillet over high heat. Add the carrots, corn, bell pepper, poblano, onion, celery, and garlic. Saute for about 5 minutes, stirring often to make sure the garlic does not burn. If it starts to, turn the heat down some. Remove pan from heat and let veggies cool for 10 minutes.
Place tofu in a food processor and puree until smooth. Place in a large bowl.
In a medium bowl, combine beans, sautéed vegetables, cilantro, lime juice, cumin, chili powder, salt, pepper, and hot sauce. Place 2 cups of bean mixture at a time in the food processor and pulse until coarsely chopped. Once coarsely chopped, place in the large bowl with tofu.
Add panko crumbs to the large bowl and mix the tofu, bean mixture, and panko crumbs together. Form into 8 patties.
Heat Canola oil in a heavy bottomed skillet on high heat until oil begins to bubble. Put patties in oil and cook about 5 minutes per side, until outside is crispy.
Serve on rolls with mayonnaise.
Cilantro Lime Mayonnaise
6 tablespoons mayonnaise
2 tablespoons freshly squeezed lime juice
2 tablespoons minced fresh cilantro
1/8 teaspoon sea salt
1/8 teaspoon freshly ground black pepper
Mix all ingredients together in a small bowl.
Recipe Source: Tupelo Honey Cafe: Spirited Recipes from Asheville's New South Kitchen
(instructions slightly adapted)