These Classic Buttermilk Pancakes made from scratch are fabulously thick and fluffy. Nothing beats from-scratch pancakes and they aren't hard at all to make.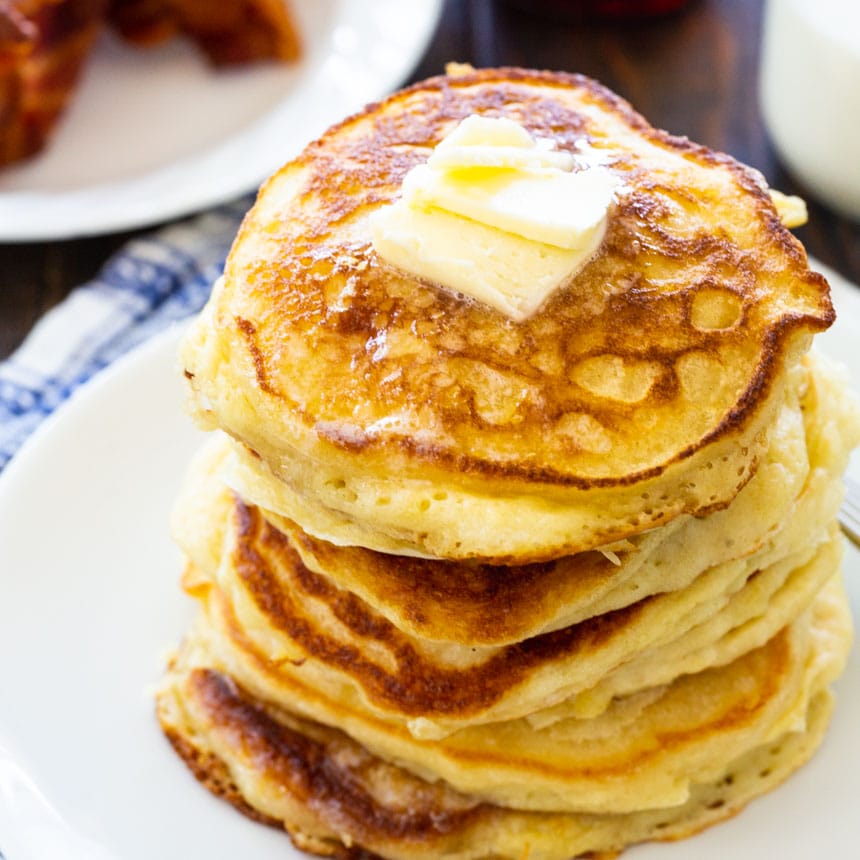 I've made all kinds of pancakes through the years.  Cake Batter pancakes, Double-Stuffed Oreo, Banana Pudding Pancakes, and Pumpkin Pancakes are some of my favorites. It's great fun to get creative with pancakes and add different ingredients. Some of the pancakes I've made are definitely more like a dessert than breakfast. That makes it even more fun.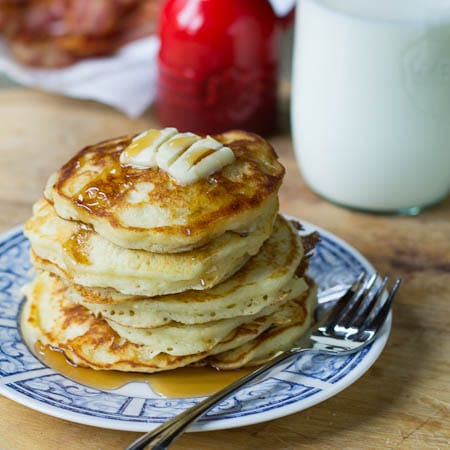 But truth be known, this basic recipe for Buttermilk Pancakes, with no special ingredients whatsoever, is my absolute favorite pancake recipe. I used to make it just about every weekend and the recipe is permanently ingrained in my memory. It comes from the cookbook My Mother's Southern Kitchen: Recipes and Reminiscences
by James Villas which is full of old-school southern recipes. The kind your grandmother made.
Buttermilk is the key to really fabulous pancakes. These pancakes are exceptionally fluffy and buttery with a little sweetness from some added sugar. My daughter likes to eat them plain with no syrup. But I think they are out of this world with an extra dab of butter on top and drizzled with maple syrup.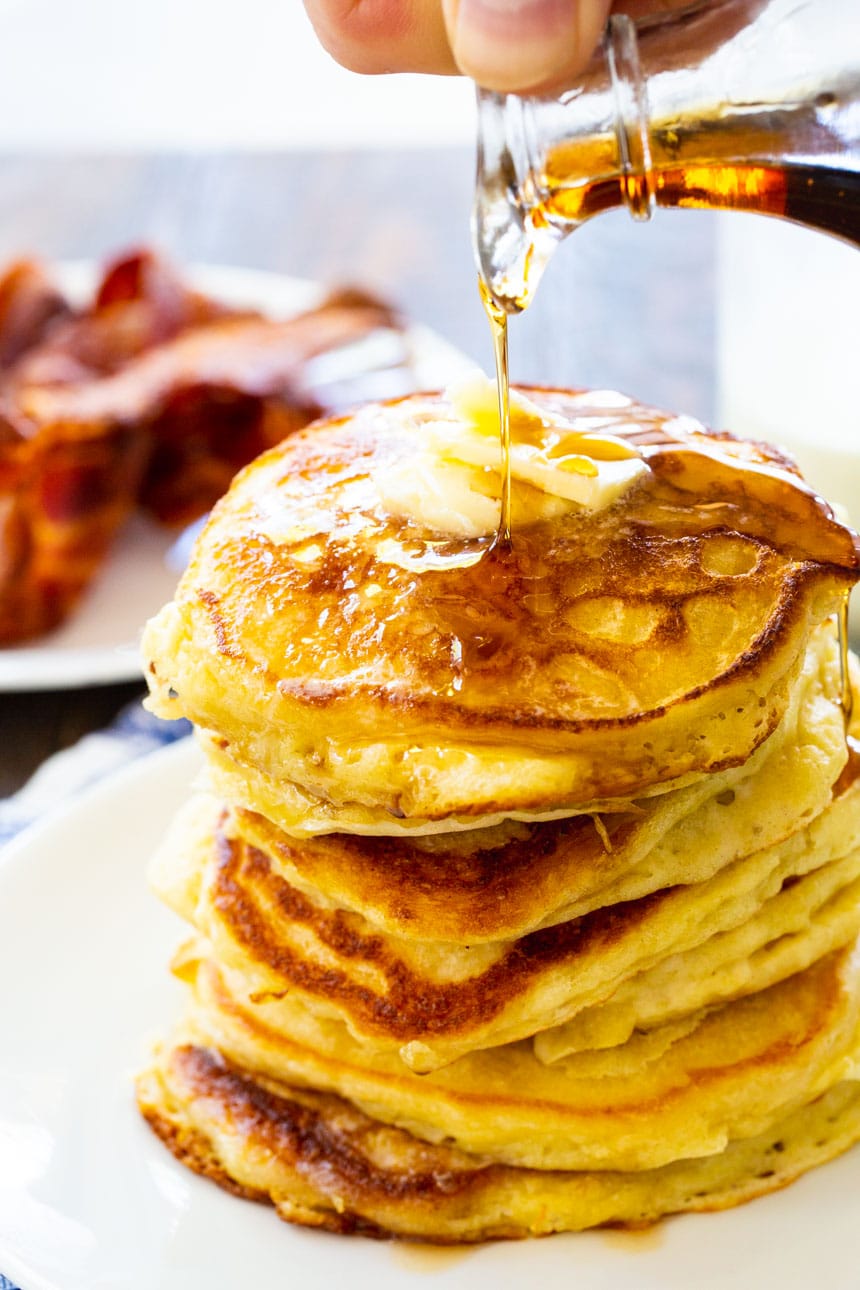 Recipe Tips:
Let the pancake batter rest for about 5 minutes before you cook it.
A griddle that goes over 2 burners is best for making these pancakes. You can cook more at once and you won't be tempted to rush them.
I know it's tempting to grab a box of Aunt Jemima mix when you want to make pancakes. Aunt Jemima doesn't make a half bad pancake I must say. But these homemade pancakes are fabulous and they're really not that much more trouble than making pancakes from a box. Just quickly mix together some flour, sugar, baking powder, baking soda, and salt. Add in an egg, melted butter, and buttermilk and you are ready to go. I sometimes get the dry ingredients mixed the night before and then these pancakes can be made in a flash. Happy pancake eating!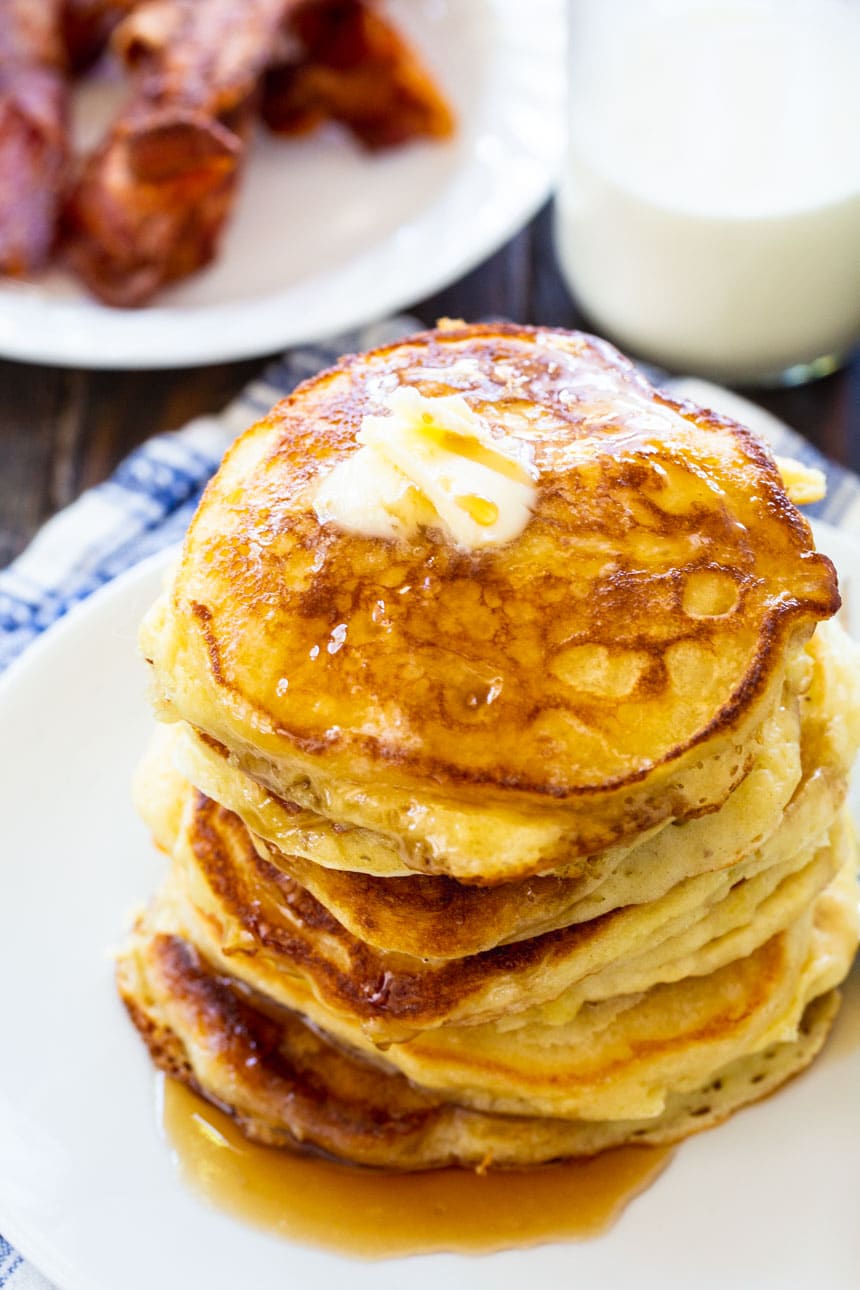 Watch the short video below to see how easy this recipe is to make.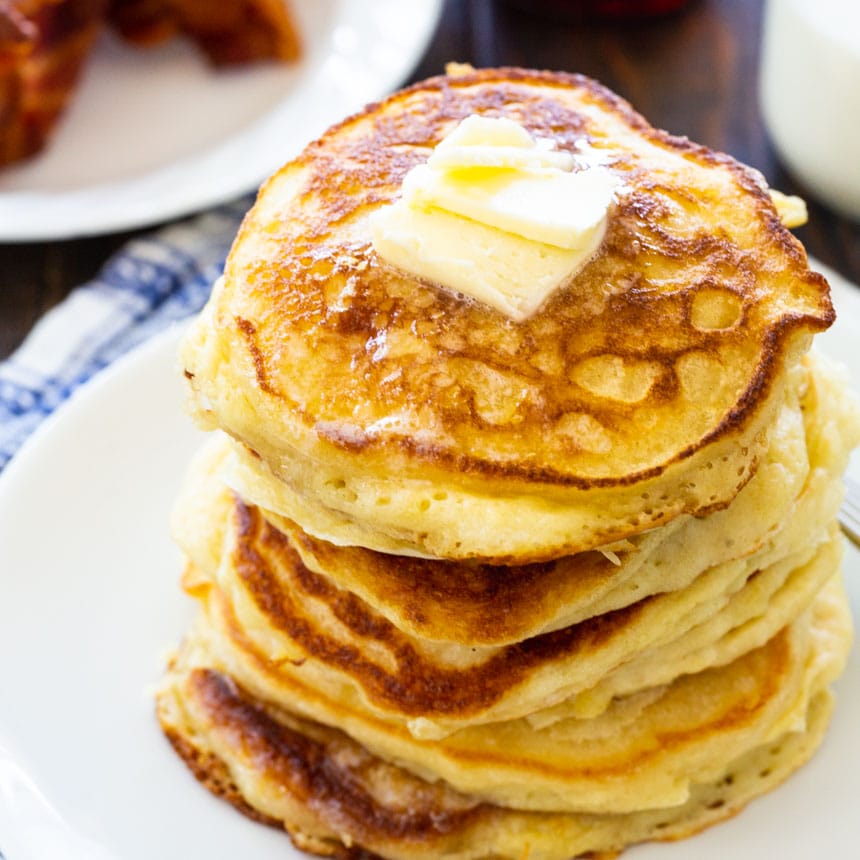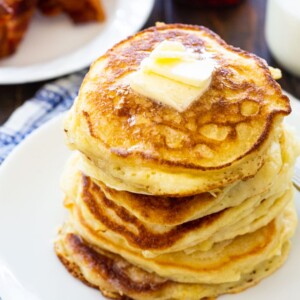 Buttermilk Pancakes
Simply perfect buttermilk pancakes. This is a recipe you will use over and over again.
Ingredients
1 1/2

cups

all-purpose flour

2

Tablespoons

sugar

1

teaspoon

baking powder

3/4

teaspoon

baking soda

1/8

teaspoon

salt

1

egg

4

Tablespoons

butter,

melt

1 1/3

cups

buttermilk

vegetable oil
Instructions
Mix dry ingredients in large bowl.

Combine egg, butter, and buttermilk in medium bowl and whisk to combine well.

Add buttermilk mixture to dry ingredients and stir until combined, but not more than necessary. Batter should be thick, but you can add a little more buttermilk if desired.

Heat large nonstick griddle pan or large skillet over medium heat.

Place about 1/2 teaspoon of oil on pan for each pancake and using a measuring cup scoop batter and pour on top of oil using about 1/4 to 1/3 cup batter for each pancake.

Flip when bubbles start to rise to top and continue to cook until batter cooks all the way through. These are hearty pancakes and the batter will still be gooey in the middle if not cooked long enough.

If desired, place pat of butter on top (tastes so good!).
Want to Save This Recipe?
Recipe Source: My Mother's Southern Kitchen: Recipes and Reminiscences
Spicy Southern Kitchen is an amazon.com affiliate.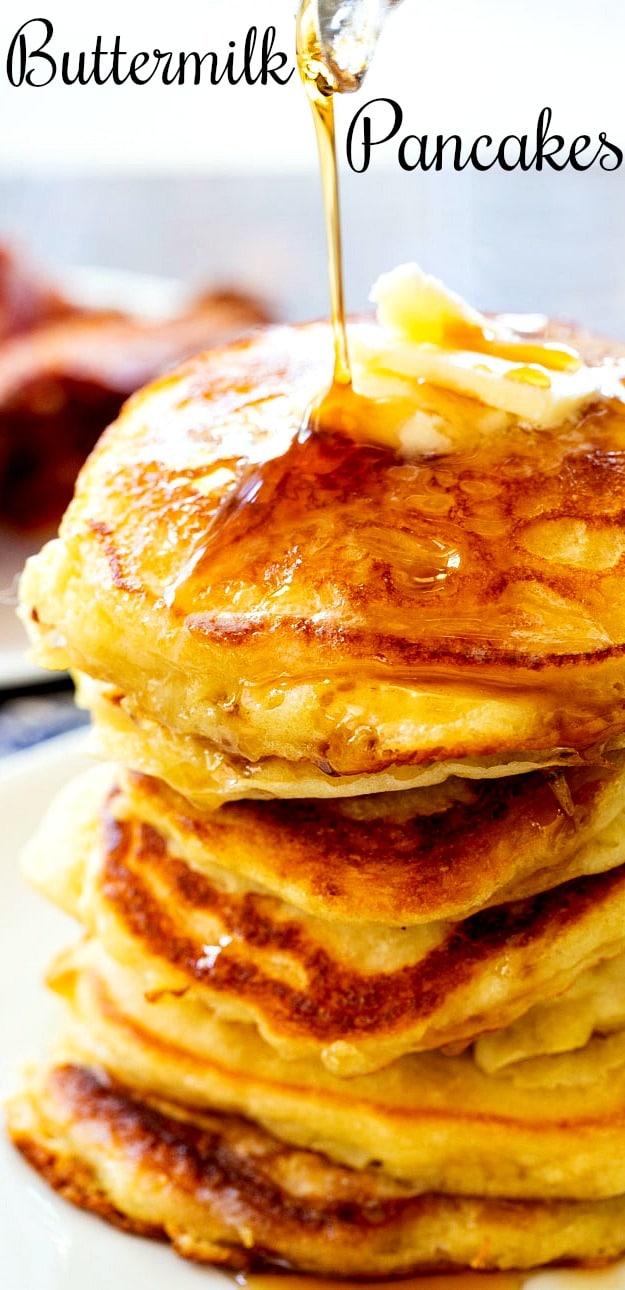 Originally published Oct 18, 2013.