These Double Stuffed Oreo Pancakes are just like the cookie, only more decadent. A pile of chocolate pancakes "stuffed" with thick oreo whipped cream. They probably should be saved for dessert.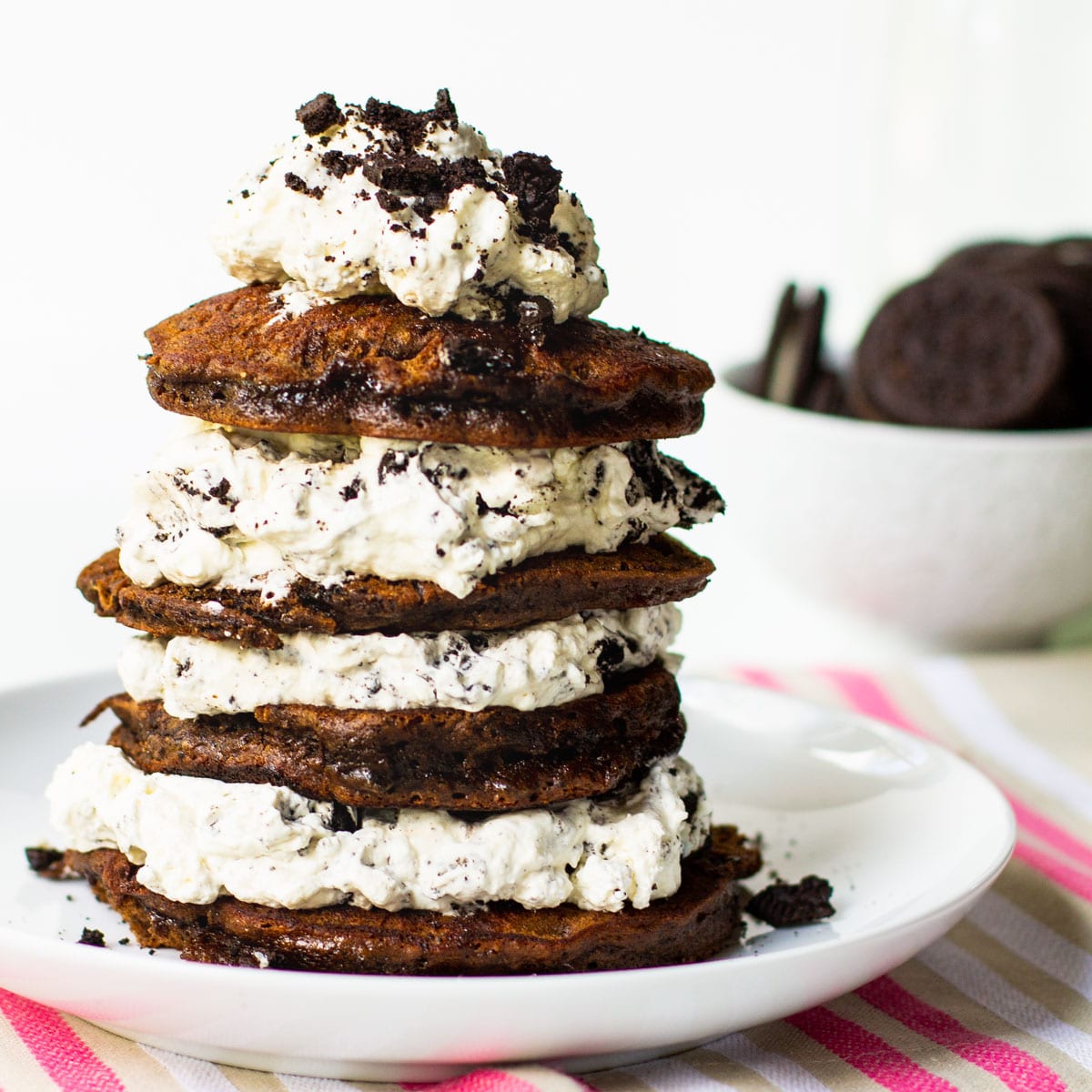 I've always made special pancakes for my kids on their birthdays. That way they start the day with a a special treat. My daughter especially loves these Double Stuff Oreo Pancakes.
What's more delicious than Oreos? Not much in my opinion.
Except these pancakes. They're a rich, heavenly, sinfully delicious version of oreos. The double stuff version with tons of cream filling. Because everyone knows that's the best part of an oreo.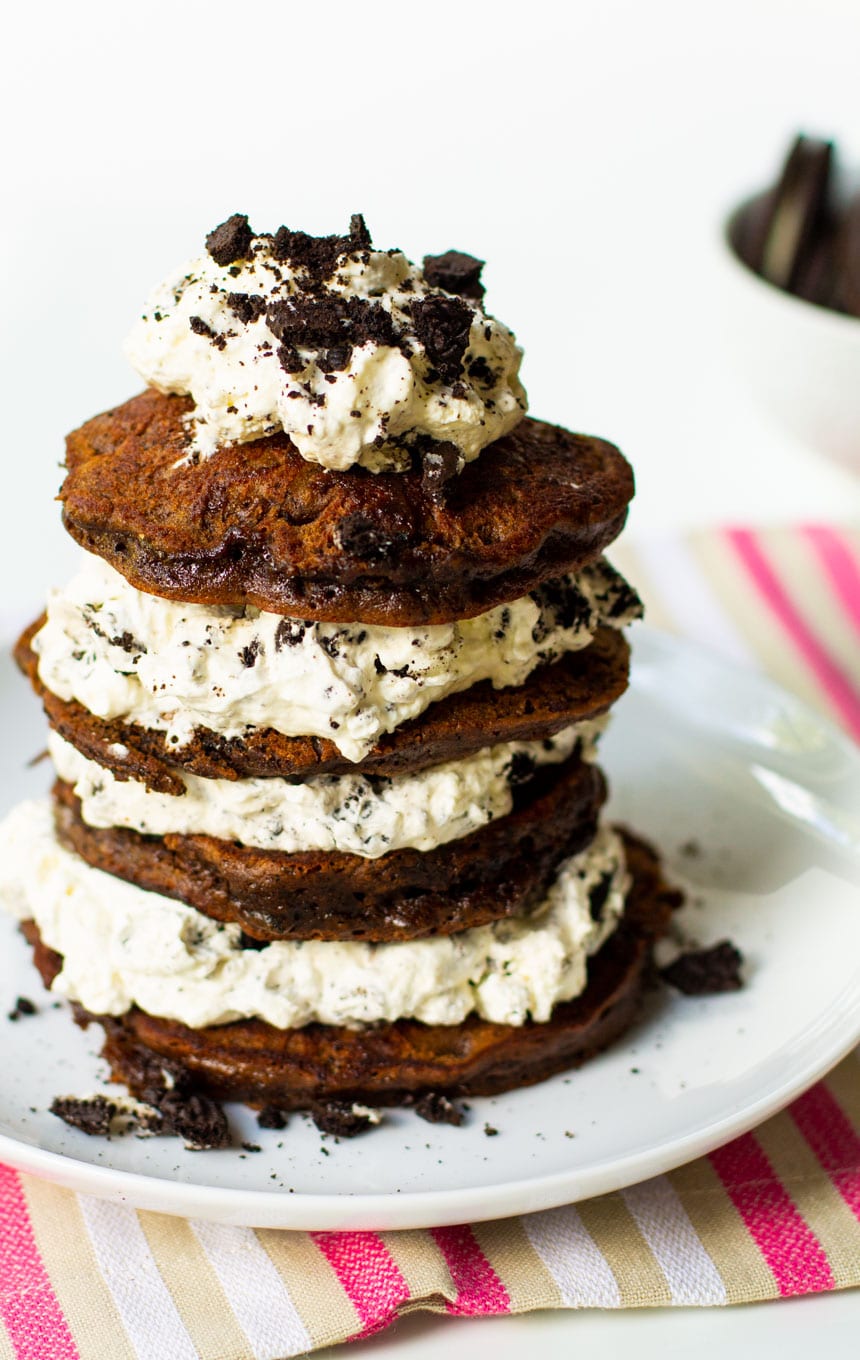 I put some crushed up oreos in a rich, chocolate bake batter and then made a fresh whipped cream filling with more crushed oreos. With a thick layer of cream slathered between the pancakes, there's no need for syrup. I put the leftovers in the fridge and the kids ate them cold for an after school snack. They were even delicious straight out of the refrigerator.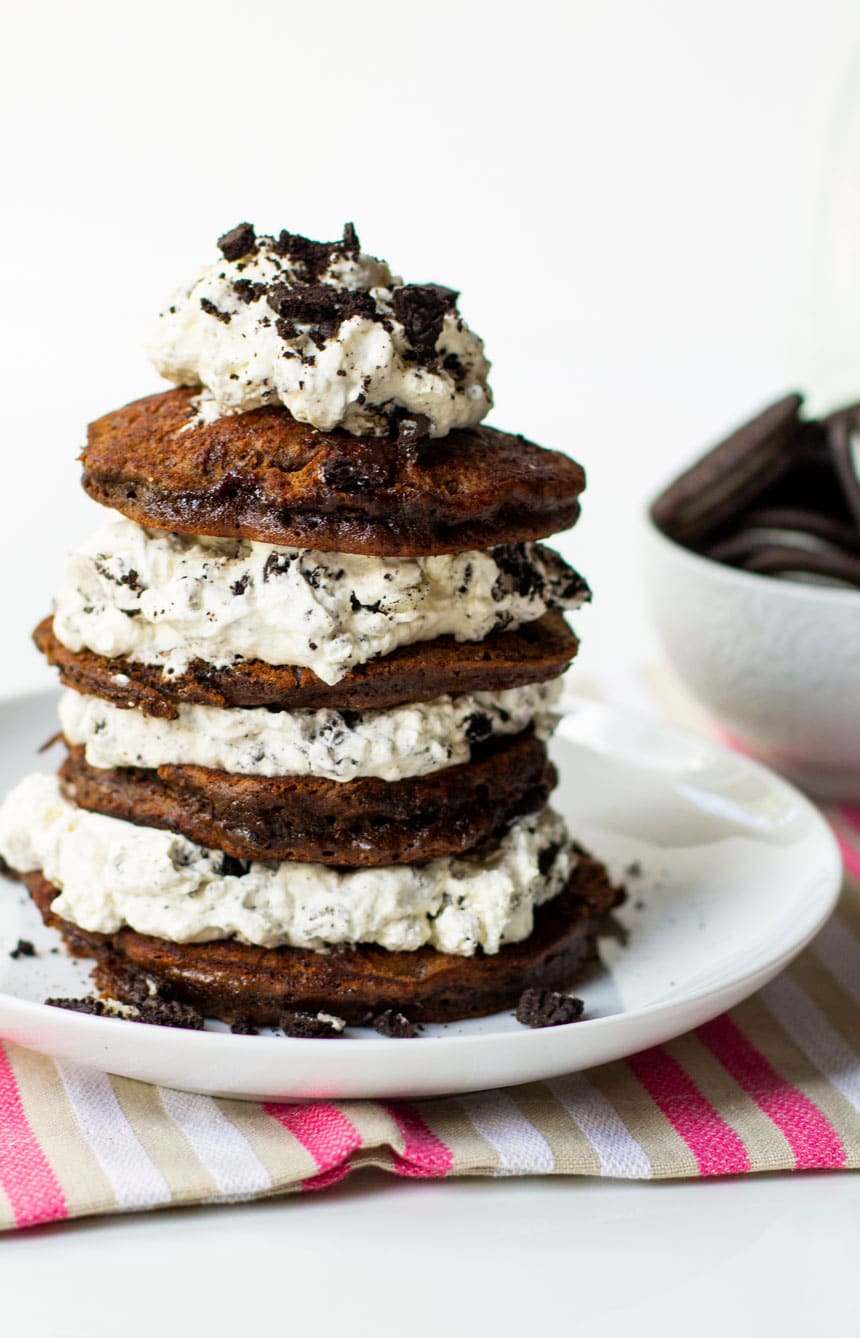 Recipe Tips:
The dry ingredients can be mixed together the night before and covered with plastic wrap to save time.
Since the batter has a good deal of sugar in it, it can brown and burn very easily. Make sure the heat is not too high when you cook them. Because of the dark color of the pancakes it is also hard to tell if they are burning so be careful.
For extra chocolate flavor, drizzle with chocolate syrup.
Try These Other Decadent Pancake Recipes: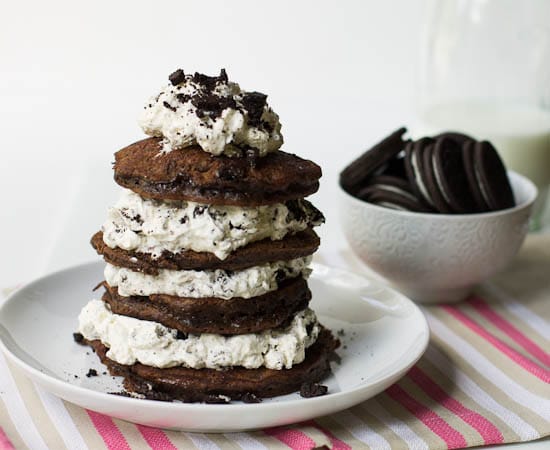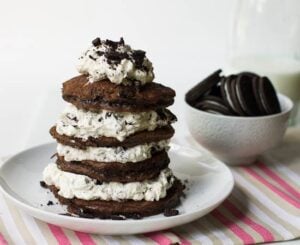 Double Stuff Oreo Pancakes
Chocolate pancakes "stuffed" with thick oreo whipped cream. So decadent!
Ingredients
1 ¼

cups

all-purpose flour

1/3

cup

cocoa powder

1/3

cup

white sugar

1/3

cup

light brown sugar

½

cup

crushed oreos

1

teaspoon

baking powder

½

teaspoon

baking soda

¼

teaspoon

salt

½

cup

whole milk

½

cup

buttermilk

2

large eggs,

lightly beaten

3 ½

tablespoons

Vegetable oil

1

teaspoon

vanilla extract
Oreo Cream
1 ½

cups

cold heavy cream

3

tablespoons

confectioners' sugar

½

teaspoon

vanilla extract

1

cup

crushed oreos
Instructions
In a large bowl, combine flour, cocoa powder, both sugars, crushed oreos, baking powder, baking soda, and salt. Whisk to combine.

In a medium bowl, combine milk, buttermilk, eggs, vegetable oil, and vanilla extract. Whisk together well.

Pour wet ingredients into dry and stir just until combined.

Heat a griddle pan or large nonstick skillet over medium heat. Lightly butter or oil griddle before pouring pancake batter. Pour about ¼ cup batter for each pancake. Cook until set on the bottom, flip and cook until set all the way through. If they start to get too brown, turn the heat down a touch.

To make oreo cream, place heavy cream in a mixing bowl. (I put my bowl in the refrigerator for an hour or so first since cream will whip better if very cold.) Using an electric mixer fitted with the whisk attachment, beat cream and gradually add in confectioners' sugar. Add vanilla. Once cream gets nice and thick (careful not to overbeat or it might go from creamy to grainy), remove bowl from mixer and stir in crushed oreos.

To serve, spread Oreo Cream between pancakes and on top.
Want to Save This Recipe?
Originally published August 22, 2013.
Chocolate Pancake recipe adapted from Cooking Classy