Cake Batter Pancakes with tons of sprinkles and a deliciously sweet and creamy glaze are the perfect way to start a special day. They taste just like cake, only in the form of pancakes. And who doesn't like to get their day  started with cake?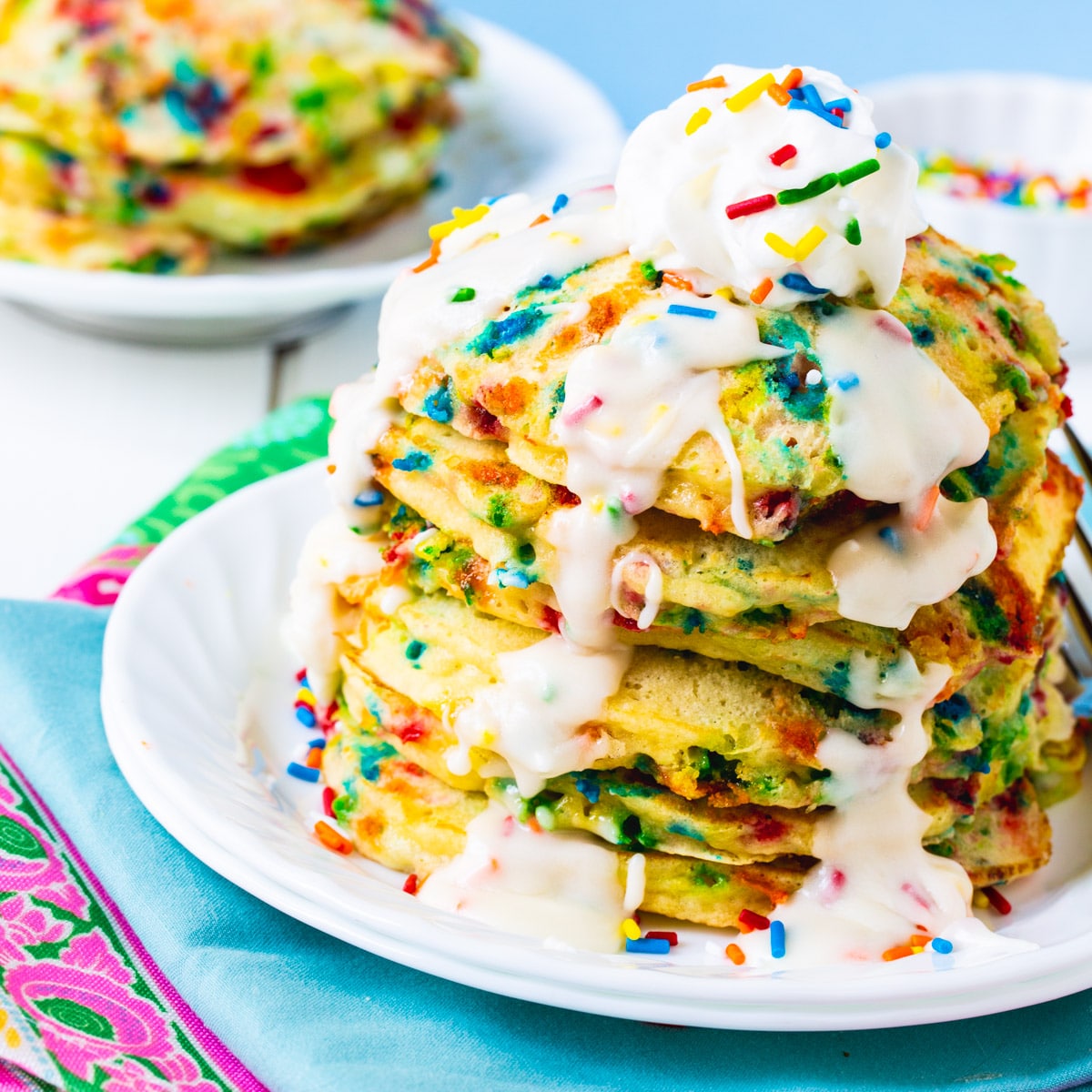 When I shared the Peanut Butter Cup Pancakes I made for my daughter's birthday breakfast a few weeks ago, I realized I hadn't posted the recipe for Cake Batter Pancakes that started the tradition of special celebratory pancakes for breakfast on birthdays.
Really, just for my daughter's birthday. She's the only one who gets birthday pancakes. But that's because she's the only one who asks for them. And the funny thing is, she probably likes pancakes least out of all of us. Go figure.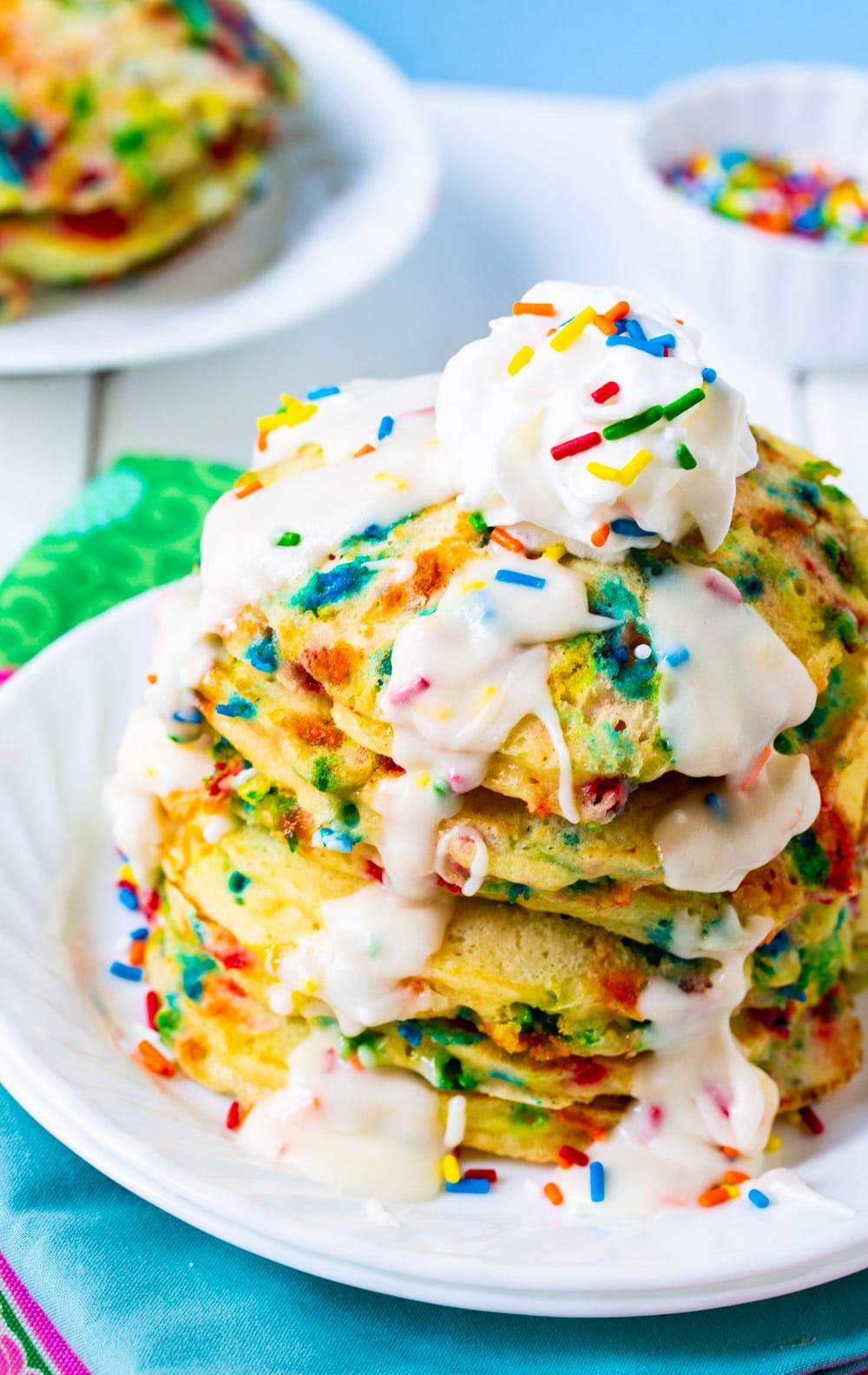 Birthday Pancakes are a really neat tradition to start. And these Cake Batter Pancakes are just the recipe for beginning a new breakfast tradition. They taste just like cake only with the texture and form of pancakes. It's a pretty basic pancake batter with one cup of yellow cake mix and a whole bunch of sprinkles added to the batter.
Cake Batter Pancakes Recipe Tip:
Be sure to put the sprinkles in the batter just before cooking. Any earlier and the liquid in the batter starts to make the color bleed out of them and it doesn't take long for all the colors to get mixed together with the yellow of the batter and form an unappetizing green color. Those might be better for Halloween!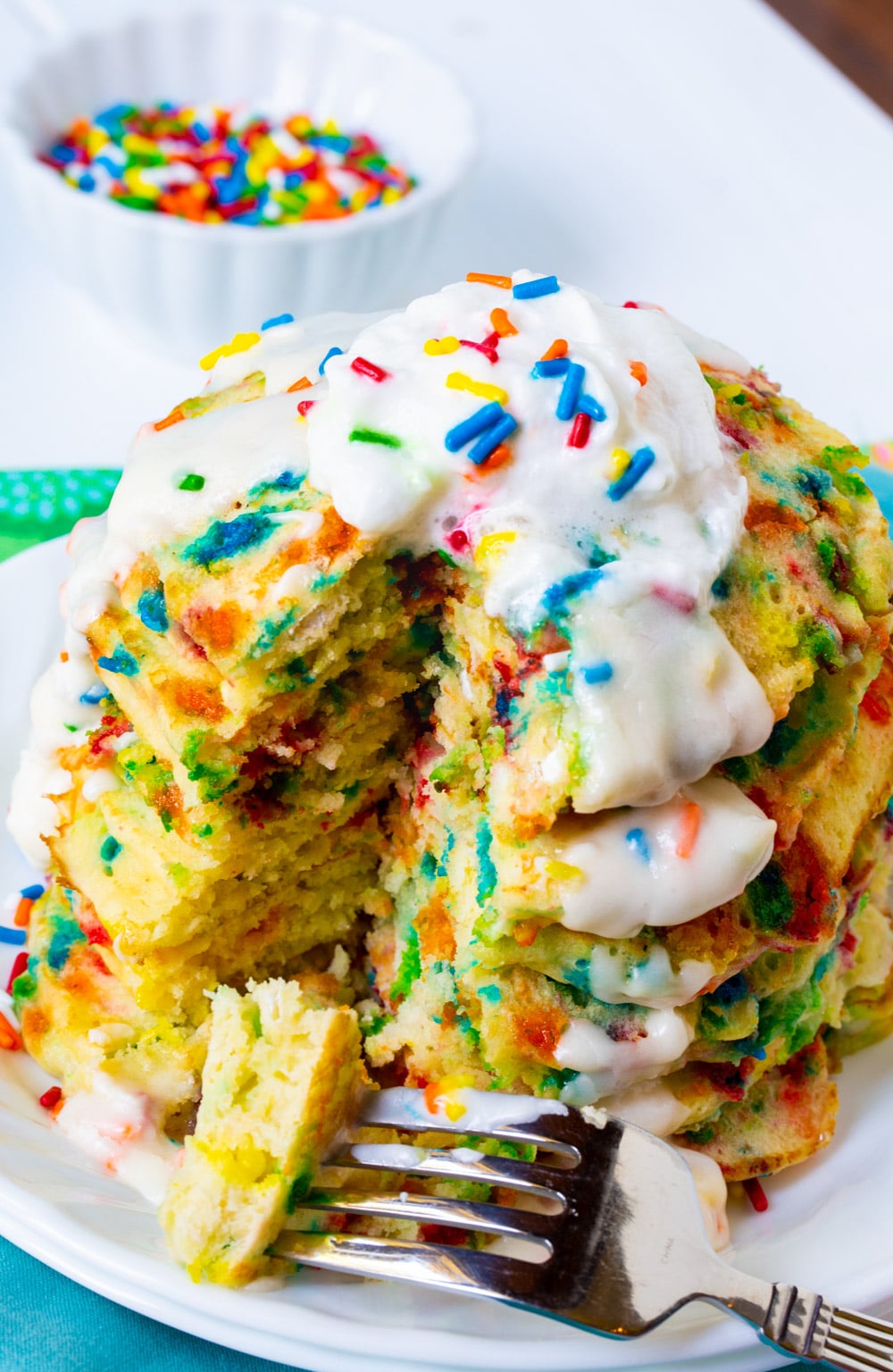 The best part by far is the creamy, sweet glaze dripping down the sides. Heaven!
Happy pancake eating y'all. 🙂
Try These Other Pancake Recipes:
Love Cake Batter? Try These Recipes: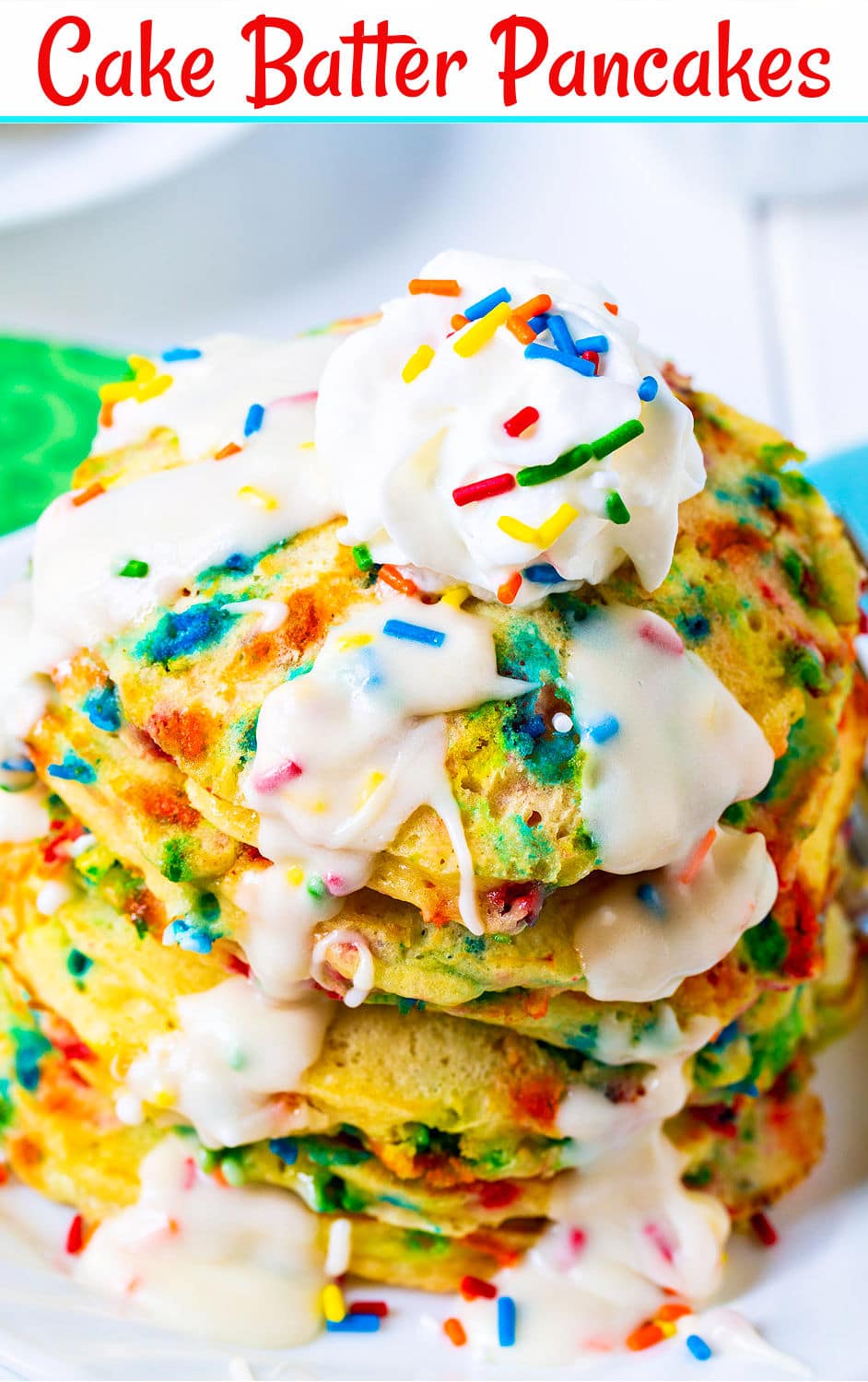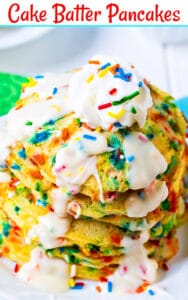 Cake Batter Pancakes
Cake Mix Pancakes taste just like cake only in the form of pancakes. Covered with a sweet, creamy glaze they are the perfect way to start a birthday celebration.
Ingredients
1 1/4

cup

flour

1

cup

yellow cake mix

1

tablespoon

sugar

3/4

teaspoon

baking powder

1/4

teaspoon

salt

2

large eggs

1

teaspoon

vanilla extract

1 1/4

cup

milk

1/3

cup

sprinkles

Whipped cream,

optional
Glaze
1

cup

powdered sugar

1-2

tablespoons

heavy cream

or you can use milk

sprinkles

2

tablespoons

butter,

melted
Instructions
Mix flour, cake mix, sugar, baking powder, and salt in a large bowl.

In a medium bowl, beat 2 eggs and add in 1 teaspoon vanilla extract and milk.

Add wet ingredients into dry and mix until flour is no longer visible. If batter is too thick for your liking, add a little more milk.

Heat griddle over medium heat. Coat with cooking spray. Add sprinkles to batter and drop 1/4 cup at a time onto griddle. Cook until bubbles form and flip over. Continue to cook until bottom is lightly browned. Note: Don't add sprinkles to batter until just before cooking. The color will start to bleed into the batter.

For vanilla glaze, combine powdered sugar, 1 tablespoon milk, and 2 tablespoons melted butter in a medium bowl. Mix until smooth. Add heavy cream until you reach desired consistency. Add a few sprinkles.

Top pancakes with glaze and whipped cream (optional).
Want to Save This Recipe?
Originally published September 5, 2014.
Recipe adapted from Girl Who Ate Everything