Fluffy buttermilk pancakes with peanut butter cups mixed in, topped with a peanut butter whipped cream and drizzled with homemade chocolate sauce, breakfast doesn't get any more delicious than Peanut Butter Cup Pancakes.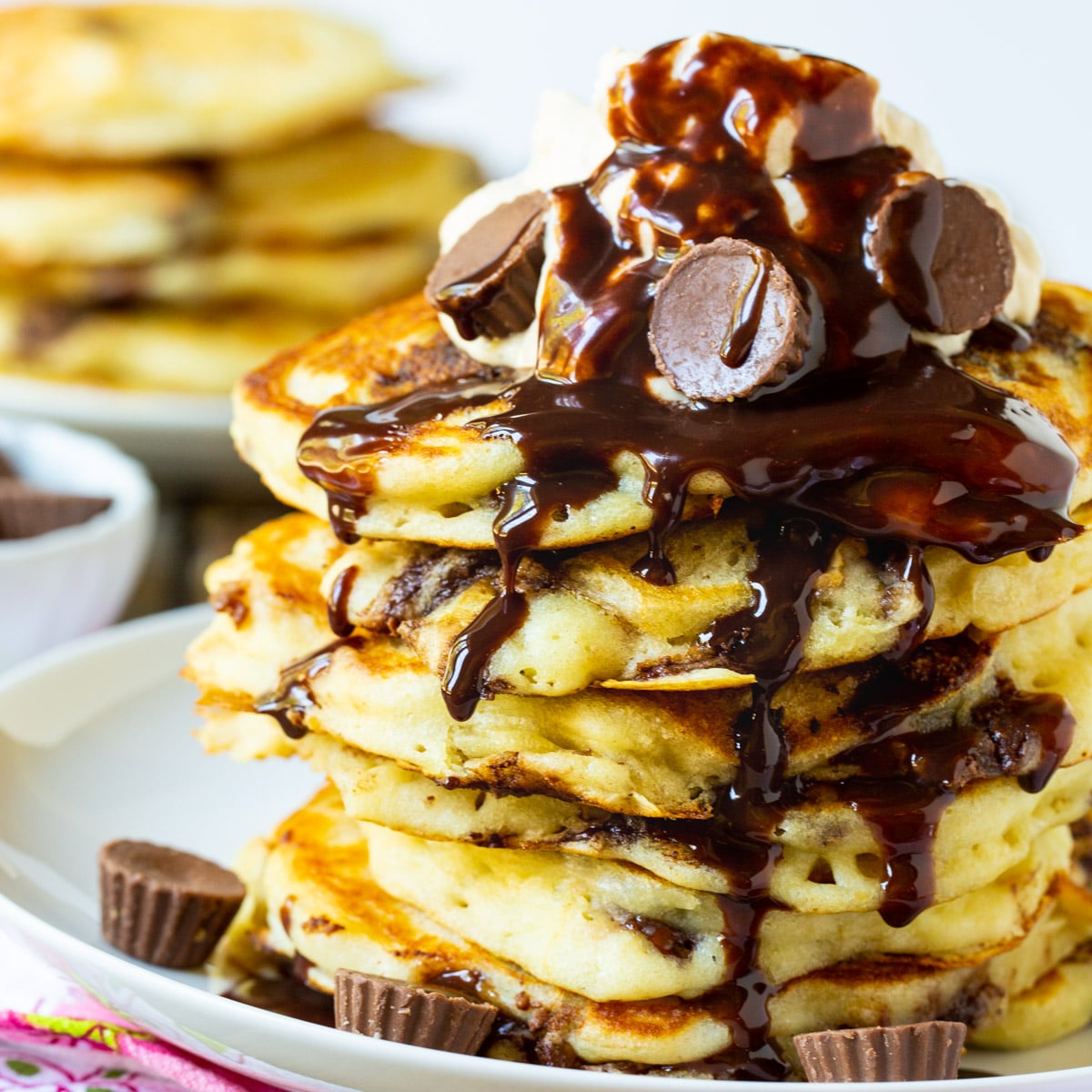 These pancakes are pure decadence! And there's a reason for that.
It's my baby girl's 15th birthday!
I can't believe how fast she's growing up.
But anyways. Pancakes. Since my daughter's birthday always seems to be during the first week of school, I have a tradition of making special pancakes for her before she goes to school. Two years ago it was Cake Batter Pancakes, last year Double Stuffed Oreo Pancakes, and this year she requested Peanut Butter Cup Pancakes.
She wanted the little mini Reese's peanut butter cups plus peanut butter in the pancake batter. Also she requested a peanut butter flavored whipped cream and a chocolate sauce.
That's what I love most about my girl- she knows what she wants!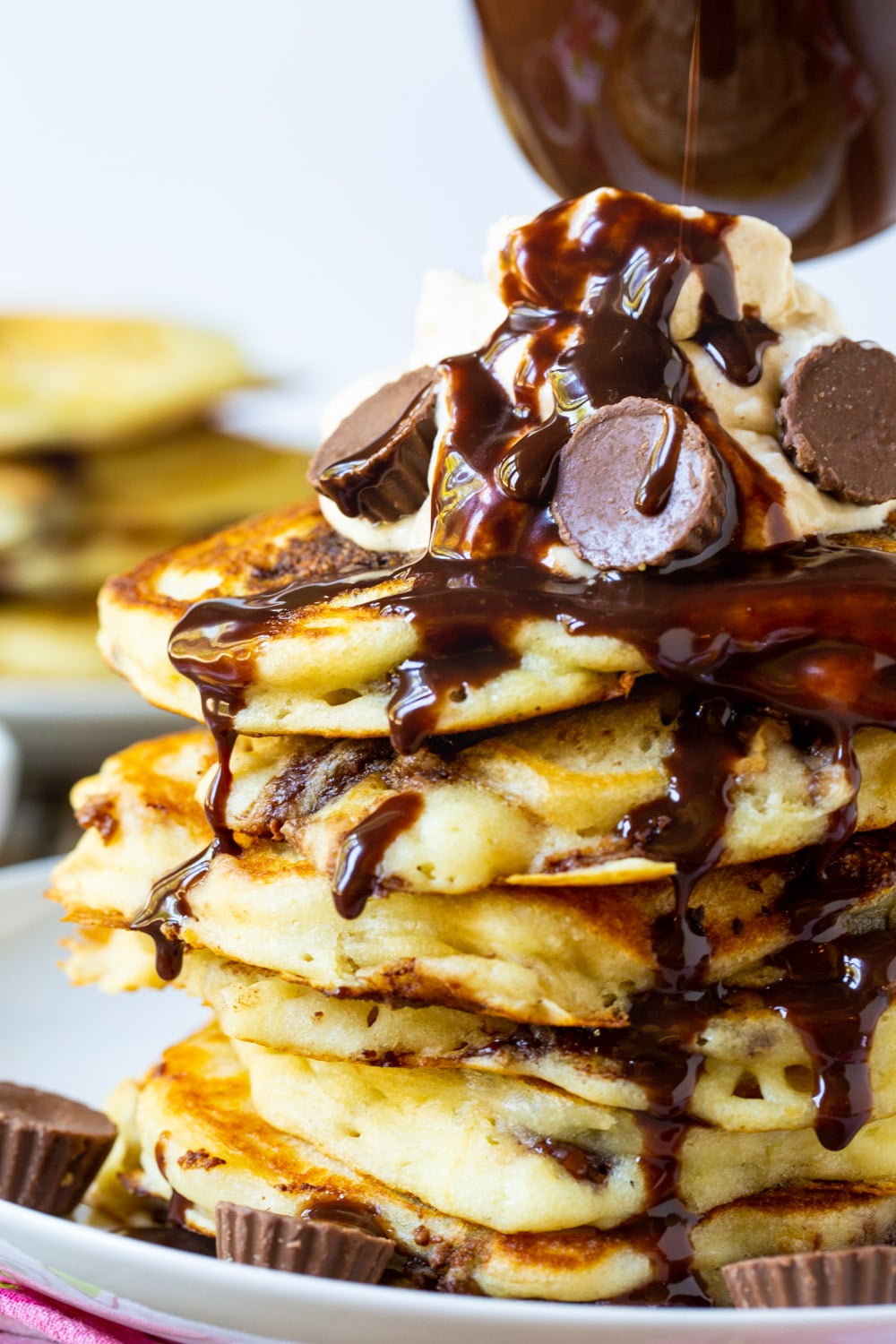 This year my daughter helped me make the pancakes. I love that she is taking an interest in cooking.
I used my favorite buttermilk pancake recipe for the batter, added 1/2 cup chopped peanut butter cups (Ok, maybe I snuck a few extra in), and 2 tablespoons of creamy peanut butter. Since there's chocolate in the batter and chocolate likes to burn, I cooked the pancakes on lower heat than I normally would.
One and a half tablespoons of peanut butter mixed in to some homemade whipped cream was just enough to add a hint of peanut butter flavor. To make a rich and delicious chocolate sauce, we brought heavy cream to a simmer and poured it over chocolate chips and mixed until smooth. It was a wonderful chocolate finish to the perfect celebratory peanut butter cup pancakes.
I can't wait to see what kind of pancakes my daughter requests next year!
Try These Other Amazing Pancake Recipes: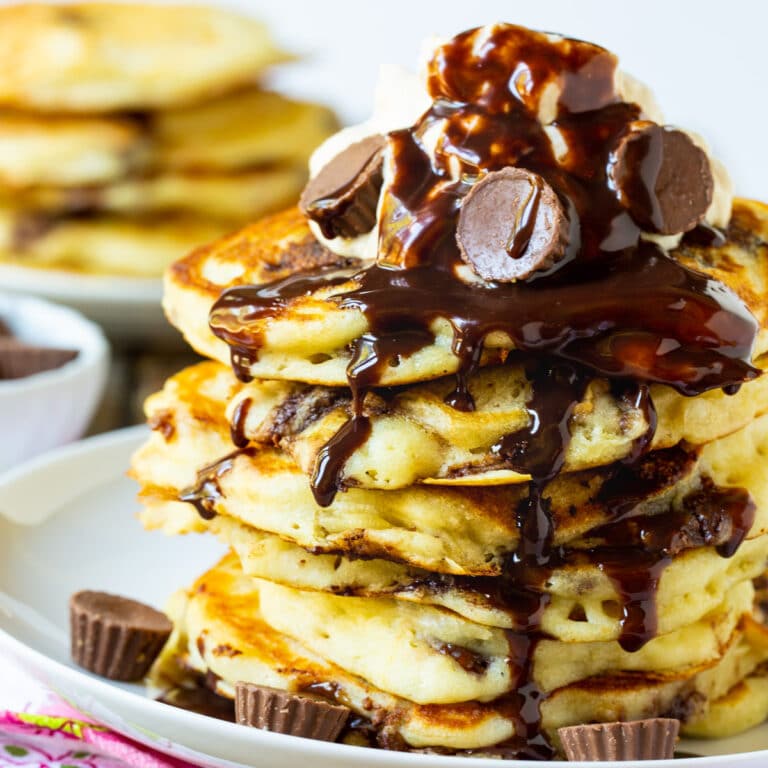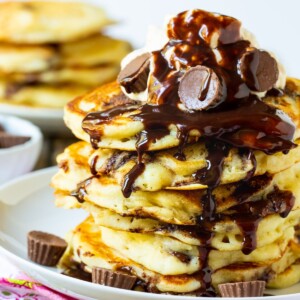 Peanut Butter Cup Pancakes
Truly decadent Peanut Butter Cup Pancakes topped with peanut butter flavored whipped cream and homemade chocolate sauce. More like dessert than breakfast.
Ingredients
1 1/2

cups

all-purpose flour

2

tablespoons

sugar

1

teaspoon

baking powder

3/4

teaspoon

baking soda

1/2

teaspoon

salt

1

large egg,

beaten

1 1/3

cups

buttermilk

1/4

cup

butter,

melted

2

tablespoons

creamy peanut butter

1/2

cup

mini Reese's,

each one cut in half, plus extra for garnish

butter for cooking pancakes
Peanut Butter Whipped Cream
1/2

cup

heavy cream

2

tablespoons

confectioners' sugar

1 1/2

tablespoons

creamy peanut butter

1/2

teaspoon

vanilla extract
Chocolate Sauce
6

ounces

chocolate chips

2/3

cup

heavy cream
Instructions
Combine flour, sugar, baking powder, baking soda, and salt in a medium bowl.

In another bowl, whisk together egg, buttermilk, melted butter, and peanut butter. Don't worry too much about getting the peanut butter mixed in. It tastes fine to have streaks of it running through the batter. Add to dry ingredients and stir just until the flour gets incorporated into the wet ingredients. Stir in mini Reese's. Set aside and make the peanut butter whipped cream.

In a mixing bowl (preferably one that has been chilled in the refrigerator) beat heavy cream until soft peaks begin to form. Slowly add confectioners' sugar. Once cream starts to get thick, mix in peanut butter and vanilla extract. Refrigerate until needed.

Heat a large skillet or griddle over medium heat. Coat pan with butter and pour batter onto pan, using about 1/3 cup batter per pancake. Once bottom is lightly browned, flip over. Turn heat down if pancakes get too brown. Cook on second side until set in middle. You may want to turn heat down to medium-low once you flip them.

For chocolate sauce, place chocolate chips in a small bowl and bring cream to a simmer in a small saucepan. Pour cream over chocolate chips. Wait about 15 seconds and stir until smooth.

To serve, top each stack of pancakes with peanut butter whipped cream and chocolate sauce.
Notes
Recipe serves 3 hungry people.
Want to Save This Recipe?
Originally published Aug 22, 2014.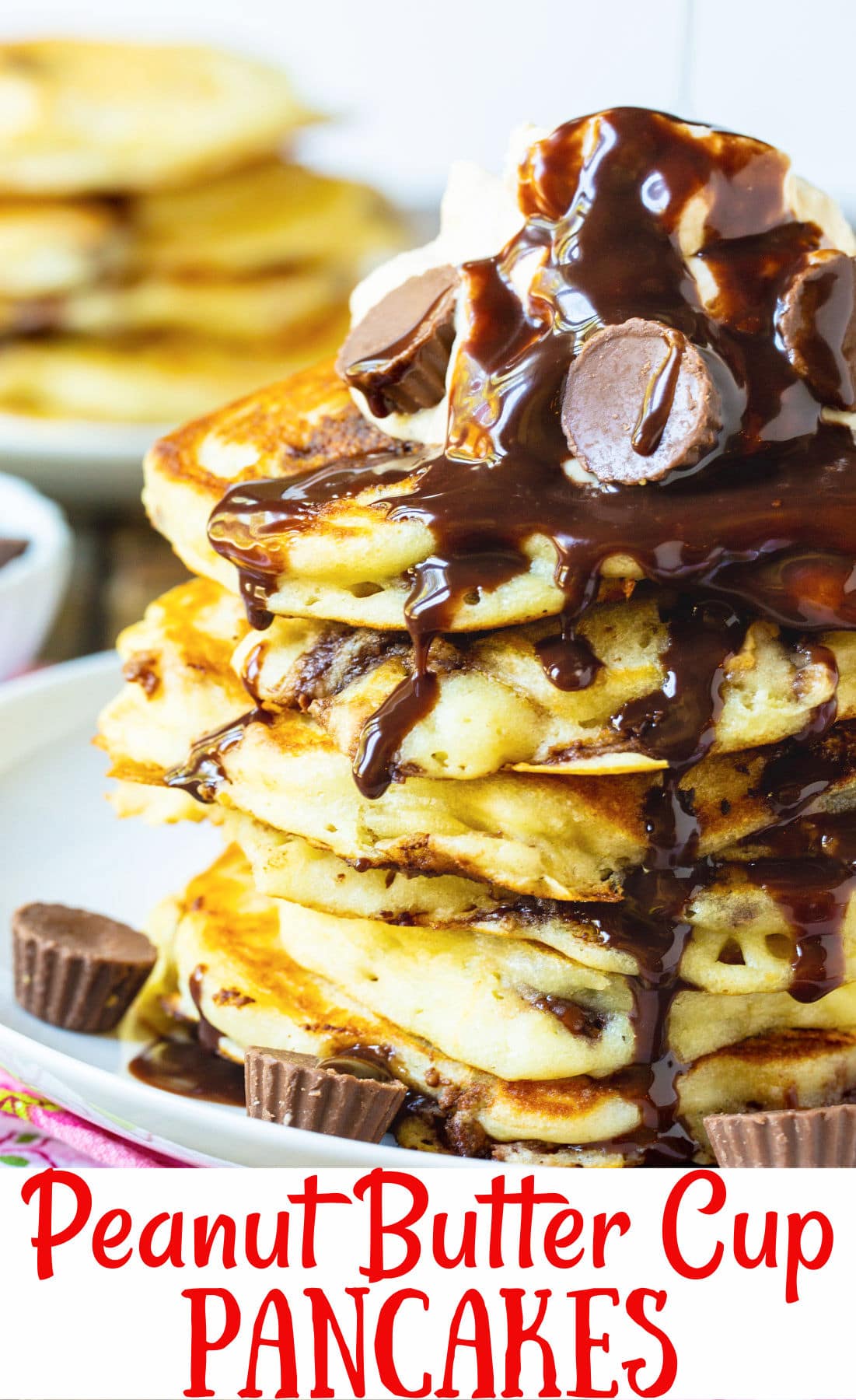 Disclosure: This post may contain affiliate links.