Vegetarian (and Vegan!) Sloppy Joes made with lentils, mushrooms, carrots, celery, and green bell pepper are so hearty and filling you'll forget you're not eating meat.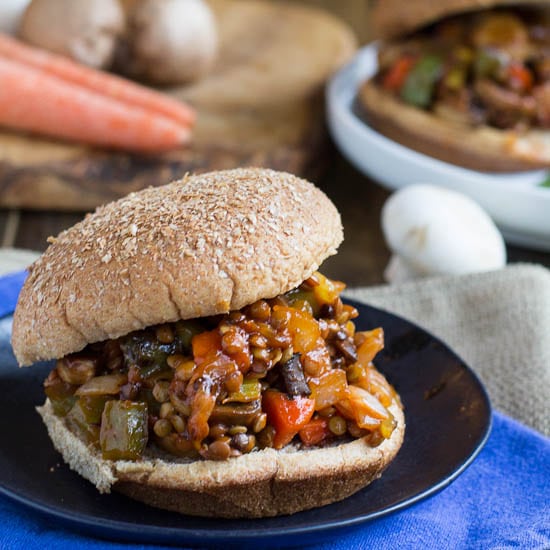 This is a recipe my 14-year-old daughter cooked all by herself. She has been a vegetarian for over a year with no sign of turning back. She has started doing almost all of her cooking and I must say she is quite good at it.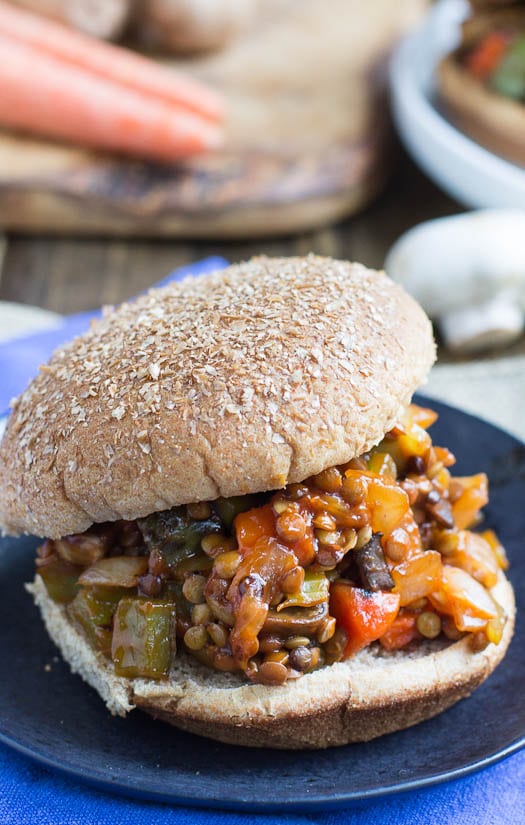 This is a recipe from one of my very favorite new cookbooks- The Southern Vegetarian Cookbook: 100 Down-Home Recipes for the Modern Table
by the authors of The Chubby Vegetarian blog. It is filled with the most amazing and creative recipes , all of them with a distinctly southern character. There's Vegetarian Roasted Red Pepper and Olive Muffaletta, Vegetarian Frogmore Stew, "Chicken" and Waffles, Chicken-fried Portobellos with Mushroom and Shallot Gravy. The list of recipes I want to try goes on and on.
Next I really want my daughter to cook the Chubby Vegetarian Gumbo. It should be an easy sell.
Southern food always gets a bad rap for being laden with butter and fat and heavy on the fried foods and meat. But southerners truly love their vegetables. In many ways vegetables are the heart and soul of southern cooking. So it is no wonder The Southern Vegetarian Cookbook
is such a fantastic  cookbook.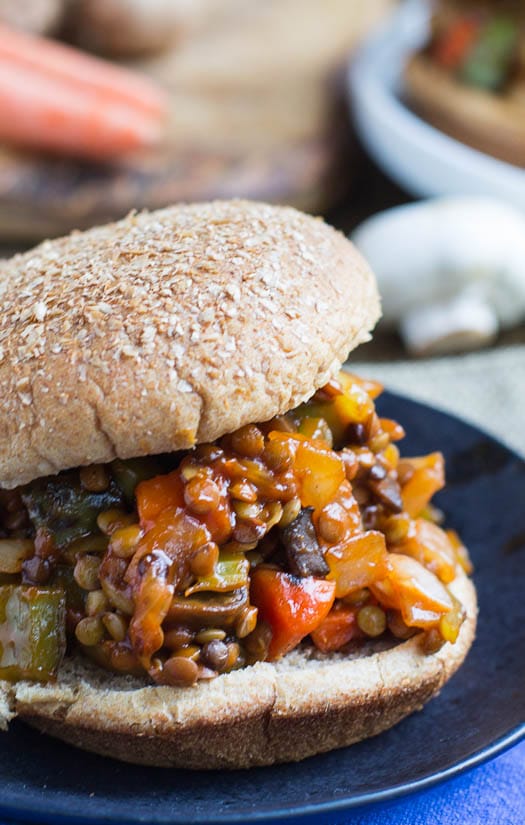 I thought it was strange that Madison picked Sloppy Joes as her first recipe to try from the book. I've never been able to get either one of my kids to eat Sloppy Joes.
But she really loved this vegetarian version and I must say I think I liked it more than a traditional meat Sloppy Joe. The lentils really make it.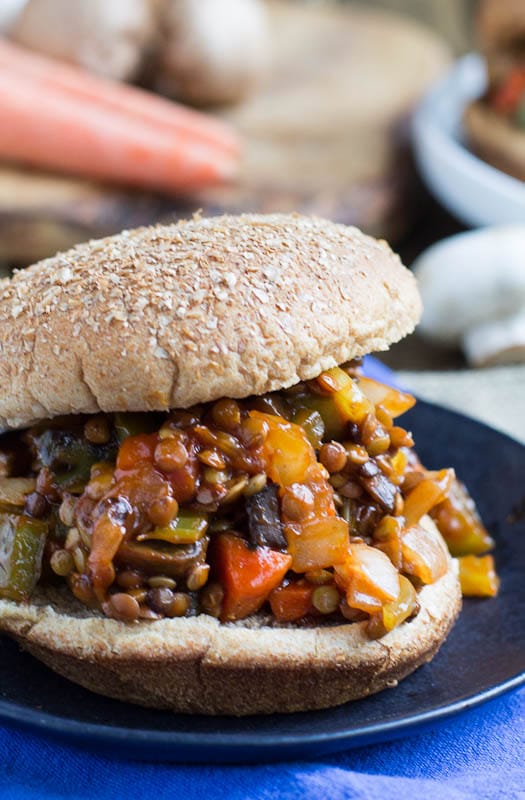 She changed the recipe some, cutting it in half from 8 servings to 4 and subbing Vegetable oil for Olive oil. She also left out the 1/4 cup of white wine and the vegetable bouillon cube it called for. I would have probably used the vegetable bouillon (1/2 cube for 4 servings), but even without it, there was plenty of flavor.
BTW, Madison is insistent that I have a vegetarian section of Spicy Southern Kitchen. Look for her to be making frequent contributions. 🙂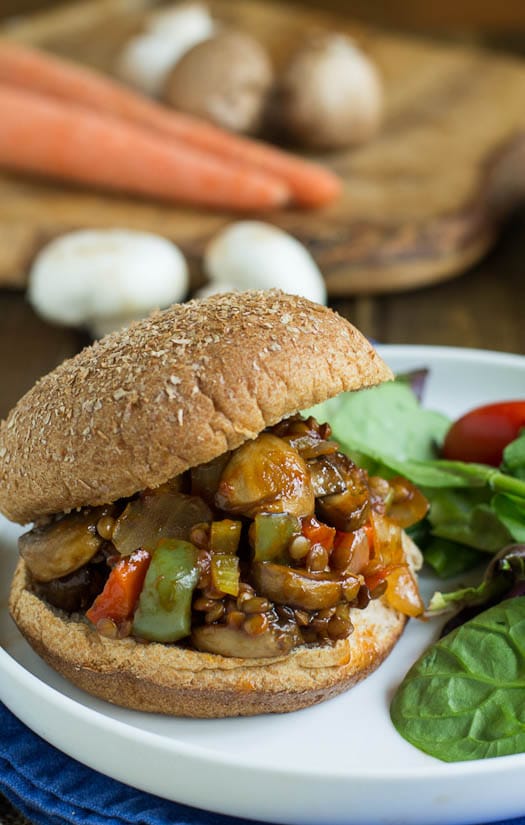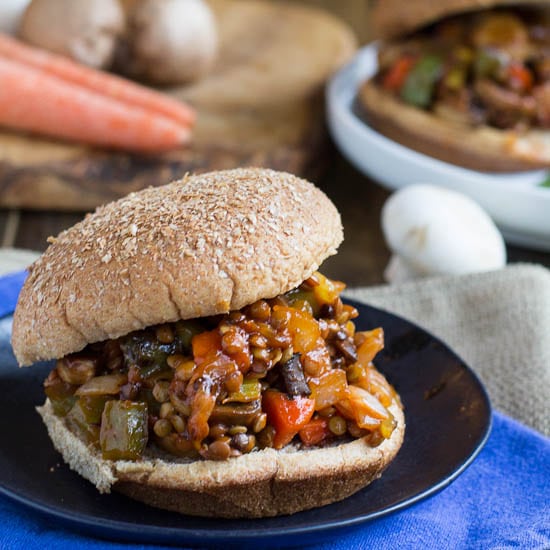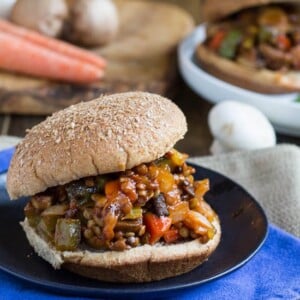 Vegetarian Sloppy Joes
Lentils and mushrooms make these vegan sloppy joes super hearty. You won't miss the meat at all.
Ingredients
2

tablespoons

Vegetable oil,

divided

8

to 10 ounces mushrooms

(white or cremini), diced

1/2

white onion,

diced

1

large carrot,

diced

1

stalk celery,

diced

1/2

green bell pepper,

diced

3/4

cup

cooked lentils

1/2

to 3/4 cup ketchup

1

teaspoon

vegetarian Worcestershire sauce

1/2

teaspoon

mustard

sea salt and black pepper

4

whole wheat buns
Instructions
In a large skillet, heat 1 tablespoon Vegetable oil over medium-high heat. Saute the mushrooms until they are browned. Remove from pan and set aside.

Add the remaining 1 tablespoon of oil to the pan and sauté the onion until translucent. Add carrots, celery, and bell pepper and cook over medium heat for 5 minutes.

Place the mushrooms back in the pan and add lentils, ketchup, Worcestershire sauce, and mustard. Turn heat to low and stir. Season to taste with salt and pepper.

Serve sloppy joe mixture between buns.
Notes
For more flavor, add 1/2 a vegetable bouillon cube to the pan with the onions.
Recipe adapted from The Southern Vegetarian Cookbook
Want to Save This Recipe?
Disclosure: This post contains affiliate links. If you click on a link and make a purchase, Spicy Southern Kitchen will receive a small amount of money at no cost to you.
More Vegetarian Favorites