Butterfinger Fudge only takes minutes to make and it is so delicious! I love how crispy and flaky Butterfingers are with that awesome peanut butter goodness. They definitely take the flavor of fudge up a notch!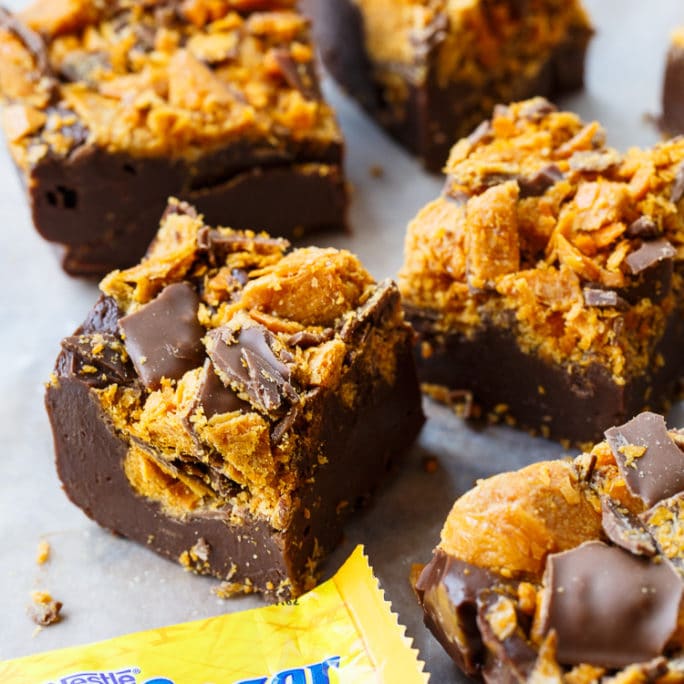 Butterfingers are my favorite candy to use in recipes. Butterfinger Pie and Butterfinger Lush are two of my favorites.
This Butterfinger Fudge is just a simple chocolaty fudge made with sweetened condensed milk, a little butter, and chocolate chips. I use a combination of semi-sweet chocolate chips and milk chocolate chips in a 2:1 ratio.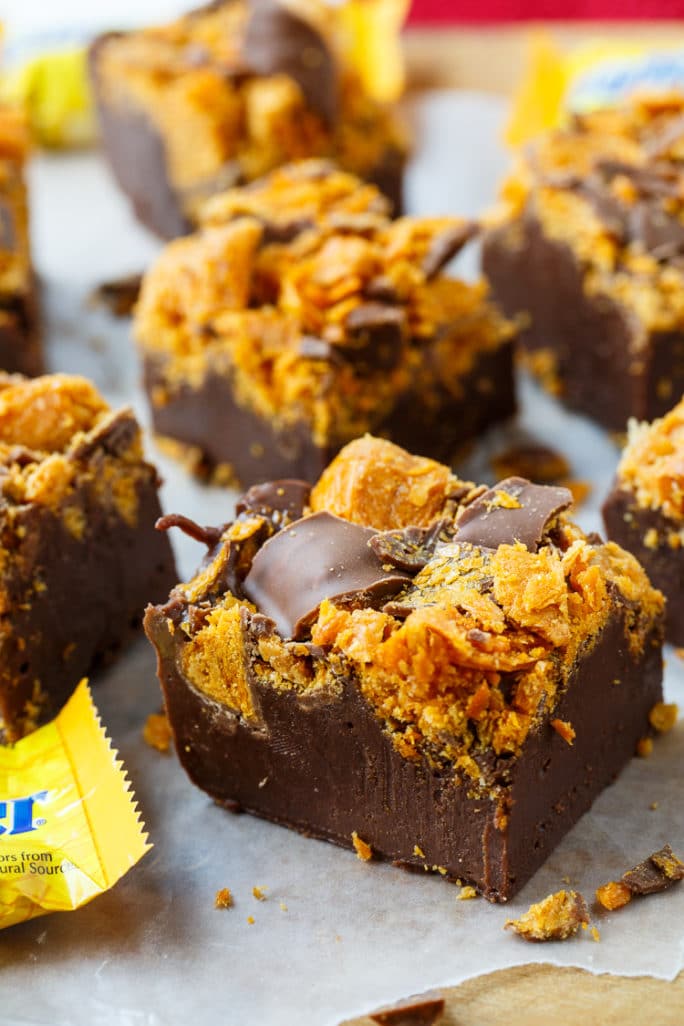 The butterfingers get coarsely chopped. I love how they shatter into pieces when you press a knife through them. The Butterfinger pieces get pressed into the top of the fudge and form a beautiful top layer.
No candy thermometer needed for this easy fudge. Just a heavy-bottomed saucepan and a few minutes of stirring.
You will need to refrigerate it for an hour or two before slicing, but you can lick the saucepan in the meantime.   🙂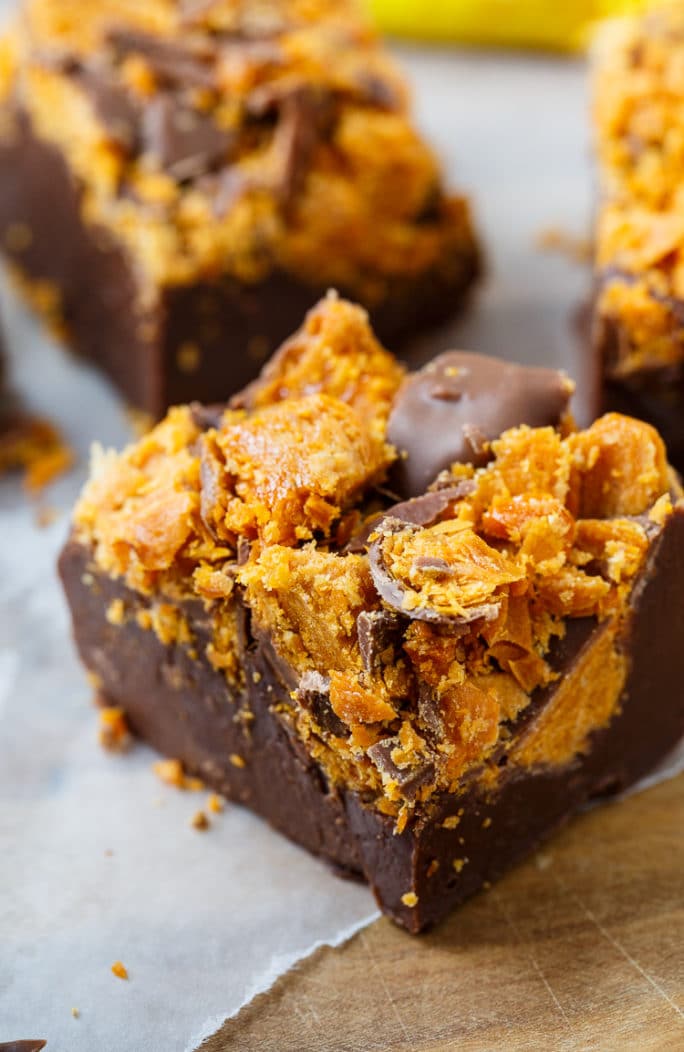 Try These Other Fudge Recipes: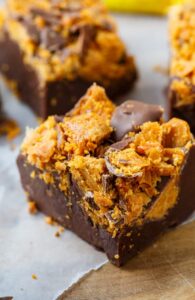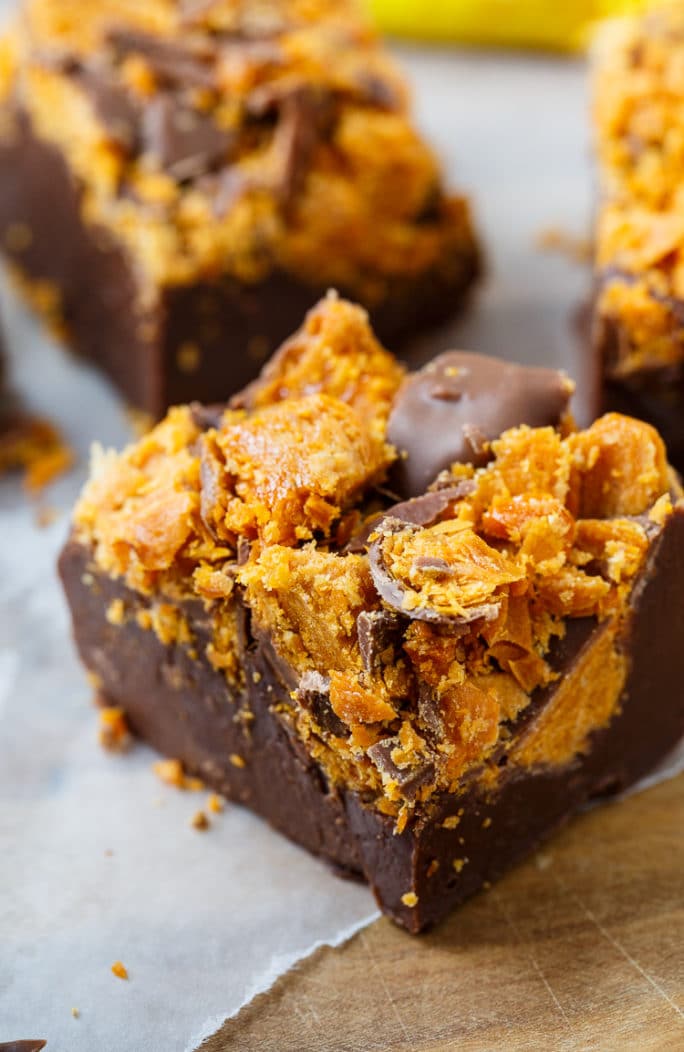 Butterfinger Fudge
Butterfinger Fudge has a layer of crispy, crunchy butterfinger candies on top. Only takes a few minutes and a few ingredients to make!
Instructions
Place butter, condensed milk, and both chocolate chips in a heavy-bottomed saucepan.

Heat and stir over low heat until completely melted and smooth.

Pour mixture into prepared pan and use a rubber spatula to smooth it out. Quickly, before it starts to set up, sprinkle chopped butterfingers on top, pressing them into the fudge.

Chill for an hour or two before slicing.
Want to Save This Recipe?