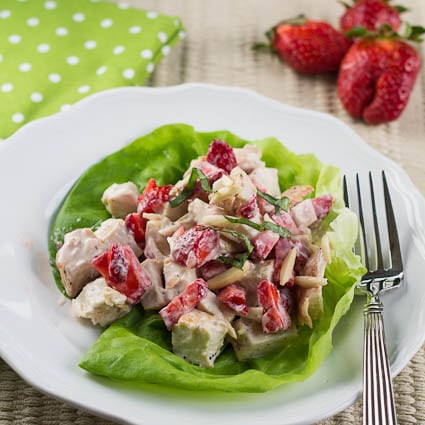 This weekend is the annual Strawberry Festival in our town, an event that's just in its 4th year but has already won SC Event of the Year two years in a row and attracts over 50,000 people. Needless to say, we are a little strawberry crazy this time of year. Strawberry beer, strawberry shortcake, deep fried strawberries, strawberry pie bread. You name it.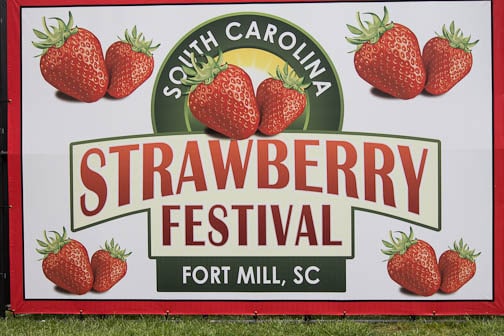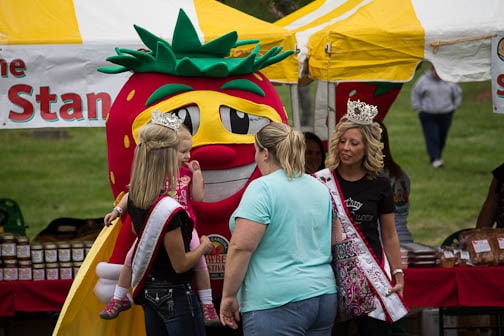 And why not go ahead and add strawberry chicken salad to the list. With a creamy and a little sweet and tangy dressing made from mayonnaise and homemade poppy seed dressing, this chicken salad is a nice change up from the norm. Mixed in some beautiful, diced ripe strawberries and this salad is appropriately dressed for spring. Some slivered almonds add a nice crunch and a little fresh basil is a prelude to summer.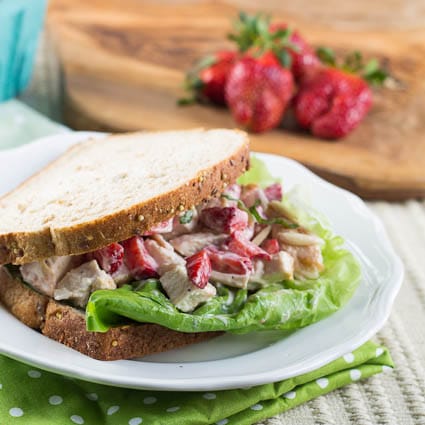 Whether you serve it on top of a bed of lettuce as a salad or between two hearty slices of wheat bread as a sandwich, you are sure to find it berry pleasing!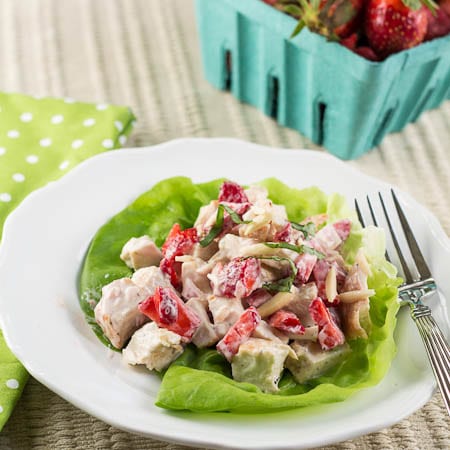 Strawberry Chicken Salad
2 boneless, skinless chicken breasts
olive oil
1/2 lemon
salt and pepper
1/3 cup mayonnaise
1/4 cup Poppy Seed Dressing (recipe follows)
1/4 cup diced red onion
1 tablespoon minced basil
1 cup fresh, diced strawberries
1/4 cup slivered almonds
Drizzle chicken with olive oil and lemon juice and season with salt and pepper.
Heat grill pan over medium-high heat. Cook chicken for 3 to 4 minutes per side and remove to a plate to cool.
Dice chicken and place in a medium bowl. Add mayonnaise, Poppy Seed Dressing, and red onion and stir well.
Gently fold in basil and strawberries and sprinkle with almonds.
Yield: 4 servings
Poppy Seed Dressing
2 tablespoons sugar
2 tablespoons minced sweet onion
1/4 cup apple cider vinegar
1/2 teaspoon poppy seeds
1/4 teaspoon salt
1/4 cup canola oil
Combine all ingredients in a medium bowl and whisk until well-combined.
More Strawberry Recipes
Pork Tenderloin with Balsamic Strawberries