The Strawberry Mojito is a cocktail that is as colorful as it is refreshing. And with strawberry season getting ready to kick into high gear, now is the perfect time to make one.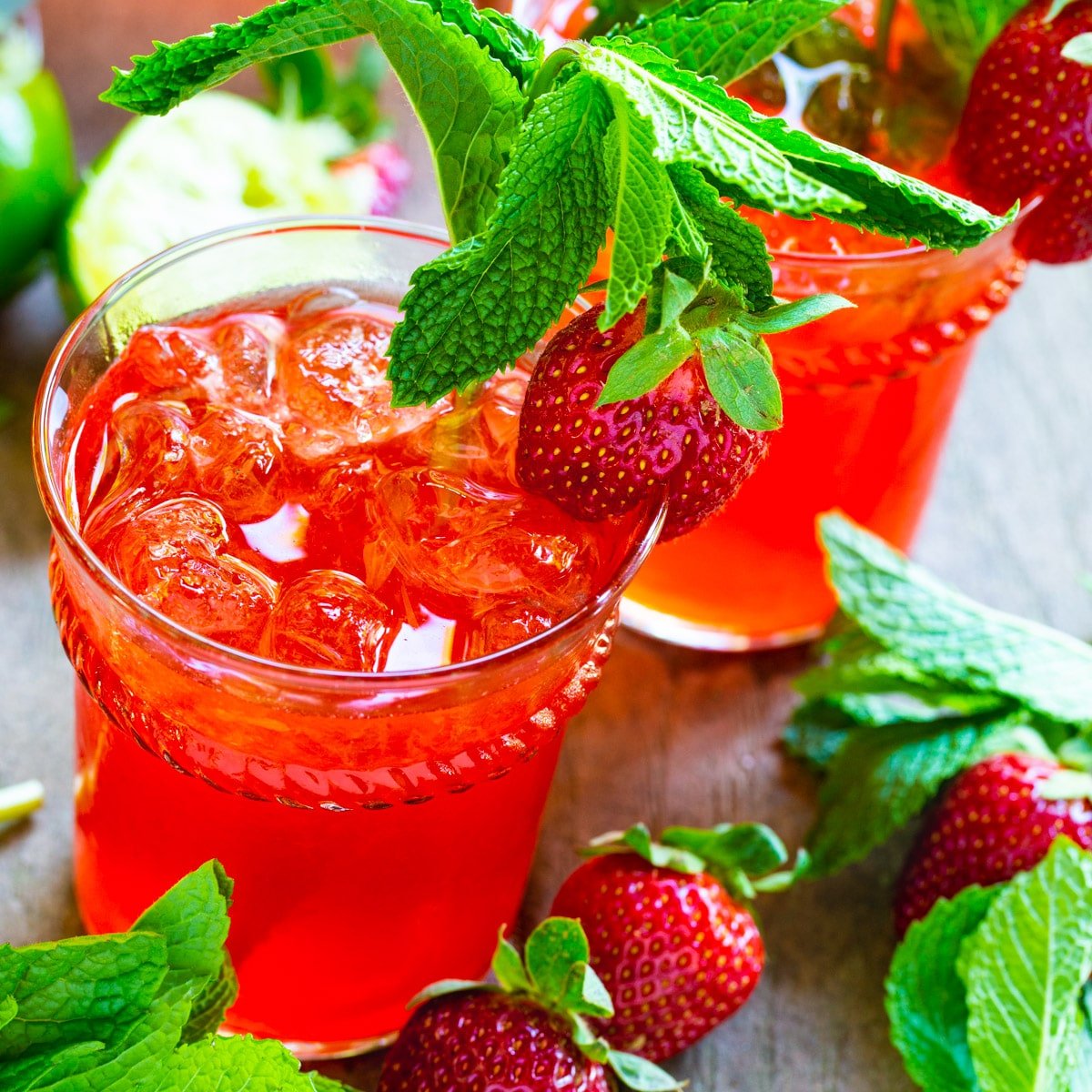 p>

The simple syrup for this recipe, made by steeping juicy, fresh strawberries and fragrant mint, is out of this world. I was lucky that my mint plant, which I thought I had killed off at the end of last summer, has returned again this year. Mint sure is one sturdy plant. It does look like it could use a little CPR, but I'll take puny mint leaves over spending $2 on it at the store any day.
You'll have extra strawberry-mint syrup left over. It should keep for a good week or two in the fridge and a fresh Strawberry Mojito can be just minutes away.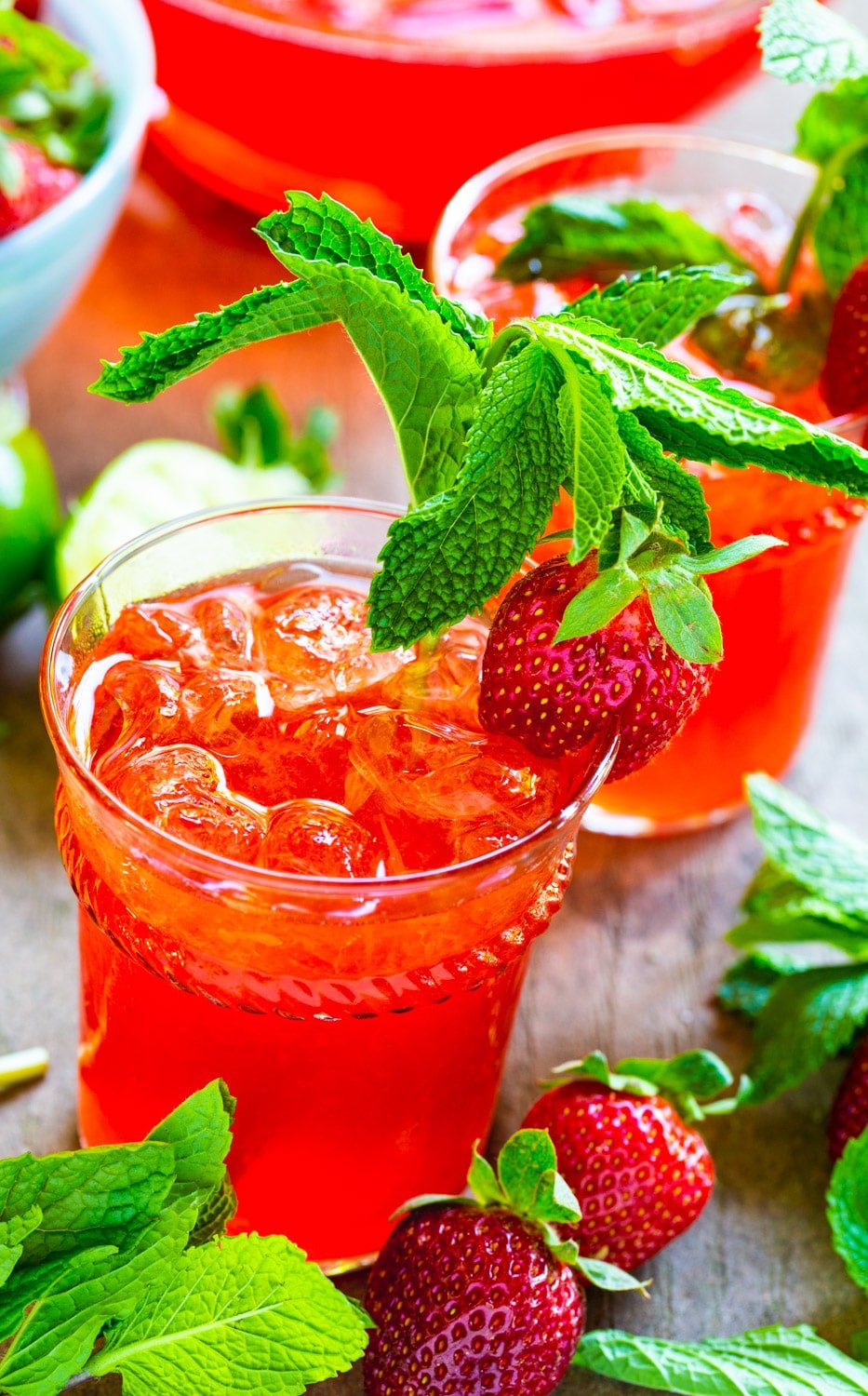 I've made Strawberry Mojitos before using the mortal and pestle method where you smash the strawberries and mint up to release their flavor, but I think I prefer this method of making the strawberry and mint infused simple syrup better. Straining the syrup leaves you with a nice, smooth liquid. I'm not always a fan of little floaty pieces of mint in my drink. And sometimes those little floaty green pieces have a way of getting stuck right between your teeth.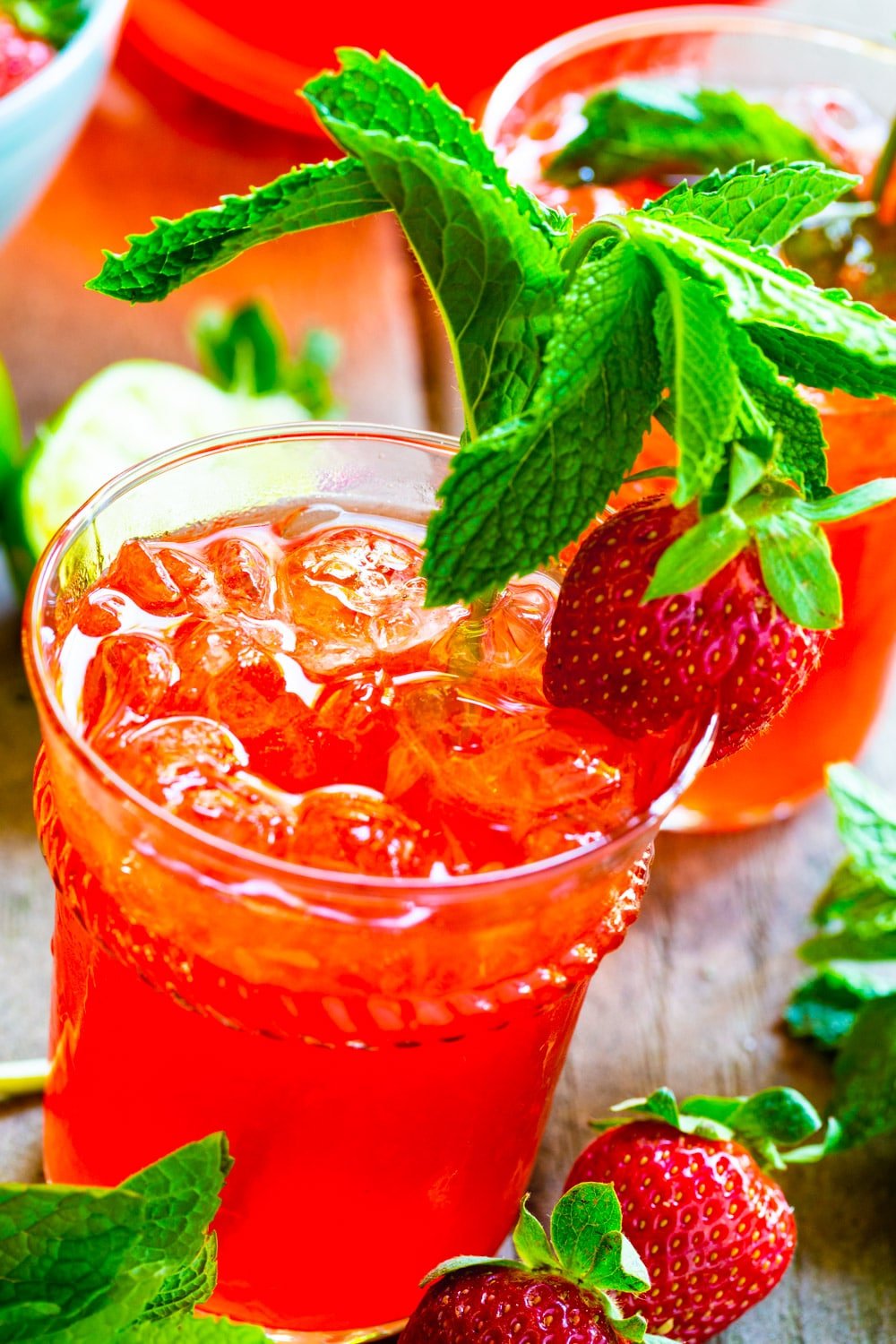 Try These Other Mojito Recipes: 
Whip up a batch of these Mojitos and see why they are the perfect rum cocktail for spring!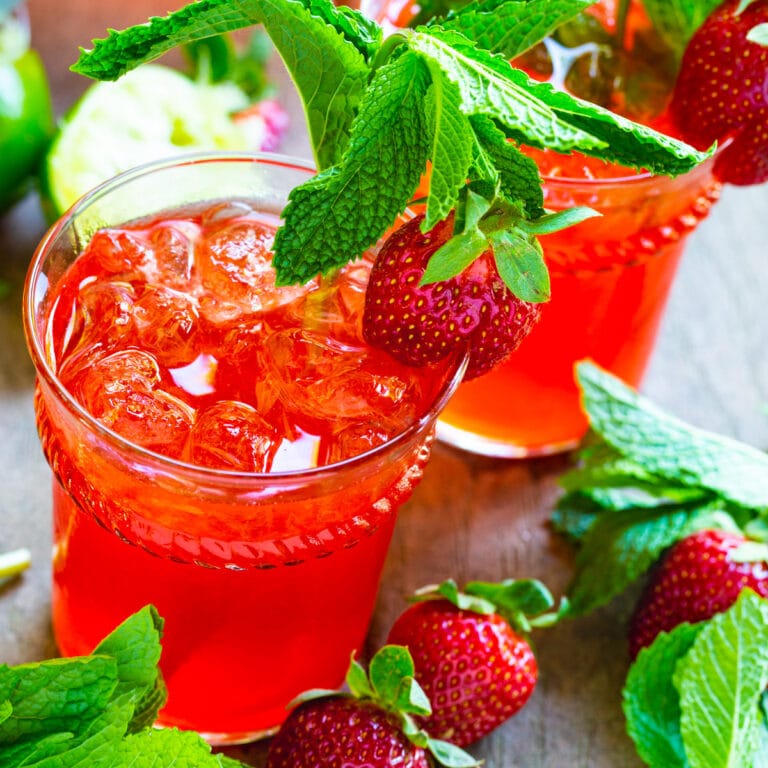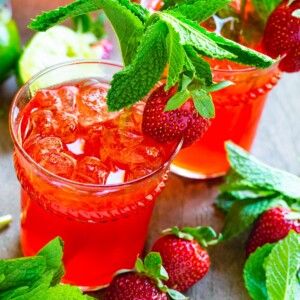 Strawberry Mojito Recipe
This Strawberry Mojito recipe makes a wonderfully colorful and refreshing cocktail. Made with a strawberry and mint infused simple syrup.
Ingredients
2

tablespoons

fresh lime juice

1/3

cup

light rum

1/2

cup

Strawberry-Mint Simple Syrup,

recipe follows

1/4

cup

club soda

fresh strawberries and mint leaves for garnish
Instructions
Place first 4 ingredients in a small pitcher or glass measuring cup. Stir gently.

Place mint leaves and strawberries in bottom of 2 glasses. Fill with ice and pour drink over ice.
Want to Save This Recipe?
Strawberry Simple Mint Syrup
Ingredients
1 1/2

cups

water

1 1/2

cups

sugar

1 1/2

cups

sliced strawberries

1/4

cup

fresh mint leaves
Instructions
Combine sugar and water in a medium saucepan and place over medium-high heat. Stir until sugar dissolves.

Add strawberries and bring to a simmer. Reduce heat to medium-low and let mixture cook for 15 minutes. While they are simmering, use a fork to mash them up some.

Remove from heat. Add mint leaves and cover saucepan and let mixture sit for 10 minutes.

Strain syrup and discard solids.
Want to Save This Recipe?
Yield: 2 drinks