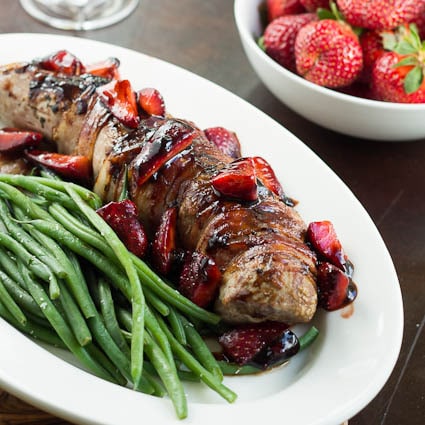 We have lots of strawberry farms around us and this time of year I find myself stopping by the side of the road and picking up a small basket of them just about every other day. Like anyone, I enjoy baking with fruits, but in recent years I've really enjoyed using fruits in savory dishes as well.
As a child I can remember cringing at the thought of eating fruit and meat together in one bite. It's amazing how your tastes change and evolve as you get older (and wiser 🙂 ).
Many meats and seafoods go well with fruit sauces and salsas, but especially pork. Pairing Balsamic Strawberries with Pork Tenderloin is a wonderful way to fancy up what might have otherwise been a plain and boring cut of meat.
Several years ago, the US Department of Agriculture lowered the safe cooking temperature for pork to 145 degrees from 160 degrees. No more need for dried out, chewy pork. It's OK for the pork to be slightly pink inside, but you do want to use a thermometer when cooking to make sure you reach the correct internal temp. I use a ThermoWorks The Original Cooking Thermometer/Timer
, rated number one by Cook's Illustrated. It is well worth the 20-something dollar price tag and takes the guess work out of deciding when your meat is done.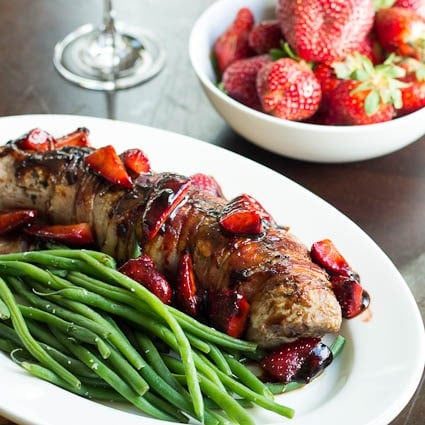 To round out the meal, steam a bag of French-style green beans just until tender and lightly season with salt and pepper. You'll have an easy, vibrantly colored, healthy meal on the table in no time. If there are leftovers, serve on top of some mixed greens with a little goat cheese as a second meal.
More Super Strawberry Recipes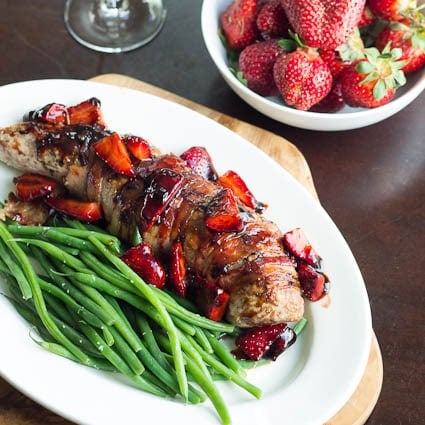 Pork Tenderloin with Balsamic Strawberries
1 (3-pound) package pork tenderloins
1/2 teaspoon dried basil
1/2 teaspoon freshly ground black pepper
1/2 teaspoon kosher salt
8-10 bacon slices
2 tablespoons olive oil, divided
1 clove garlic, minced
1/2 cup balsamic vinegar
1/3 cup strawberry preserves
1 cup diced, fresh strawberries
Preheat oven to 400 degrees. Sprinkle pork with basil, pepper, and salt. Wrap 4 to 5 bacon slices around each tenderloin, overlapping the ends of the bacon slices to secure.
Heat 1 tablespoon olive oil in an oven proof skillet. Sear pork in skillet for 2-3 minutes per side. Place skillet in oven and cook for 20 minutes, or until pork reaches an internal temperature of 145 degrees.
Meanwhile, heat remaining tablespoon of olive oil in a medium saucepan over medium heat. Add garlic and saute for 30 seconds. Add balsamic vinegar and increase heat to medium-high. Bring vinegar to a boil for 5 minutes.
Remove vinegar from heat and stir in preserves and strawberries.
When pork is done cooking, remove from oven and top with balsamic strawberries.
Yield: 4 servings
Recipe Source: adapted from Southern Living
Disclosure: There are affiliate links in this article. If you make a purchase Spicy Southern Kitchen will earn a small commission at no cost to you.