A traditional reuben sandwich with a little heat, these Spicy Reubens have a zesty sauce made from mayonnaise, chili sauce, horseradish, and cayenne pepper.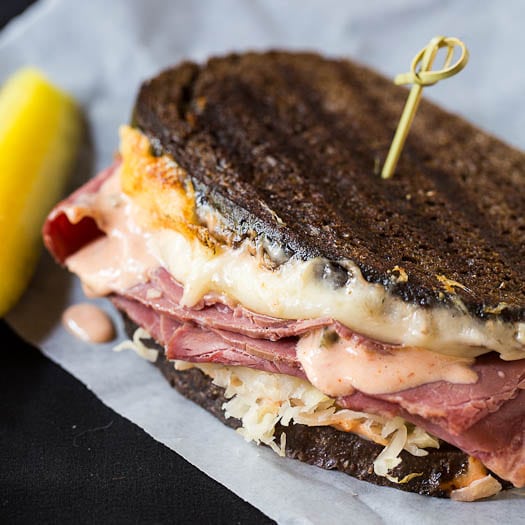 The Reuben Sandwich. It's my very favorite sandwich ever.  I order it practically every chance I get.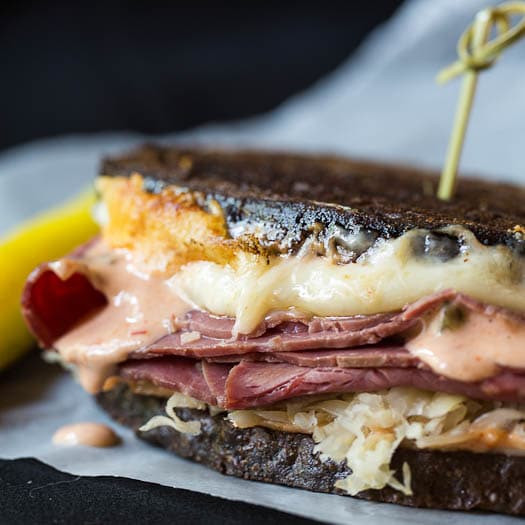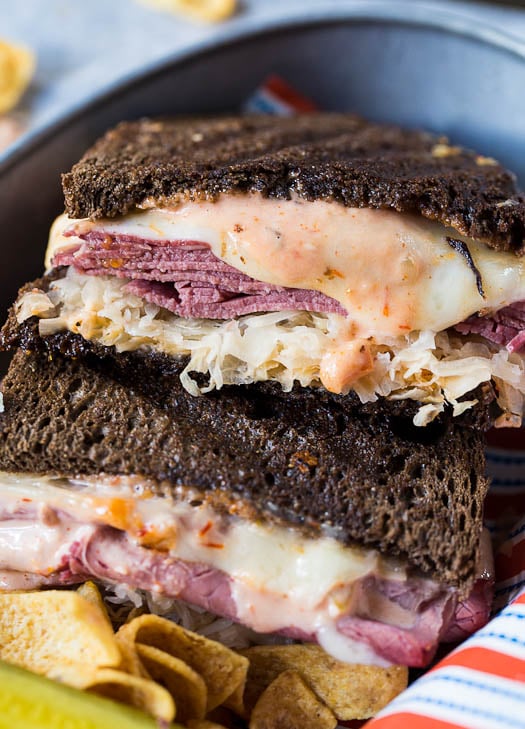 It's pure comfort food between 2 slices of nicely buttered rye (or pumpernickel) bread. Layers of sliced corned beef, tangy sauerkraut,  melted swiss cheese, and the best part – the sauce. Typically I like a thousand island-style sauce with some sweetness on my reubens.  But sometimes I like to spice it up.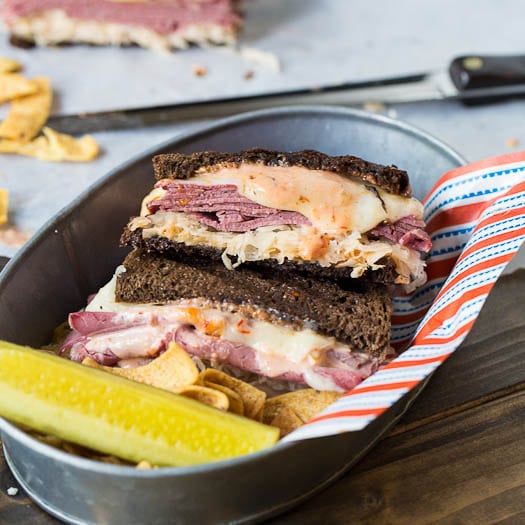 I make this spicy sauce by combining mayonnaise with chili sauce instead of the ketchup I would normally use. Chili sauce already has a nice zip to it and then I spice it up even more by adding a big spoonful of horseradish and a sprinkle of cayenne pepper. Some sweet pepper relish balances the heat some so the sauce isn't too one dimensional.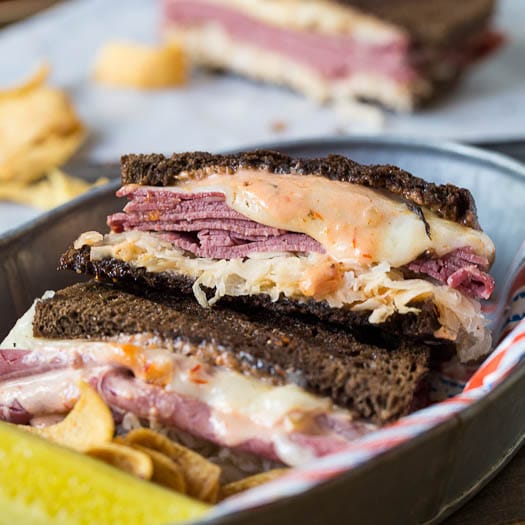 The sauerkraut always threw me for a loop, but the Reuben sandwich has American origins and has been a popular sandwich in this country for nearly 100 years. And although I think a traditional reuben is a masterpiece that can't be improved upon, I do like to see creative twists on reuben sandwiches. A Cuban Reuben with roast pork and ham, while maybe not quite as delicious as the original, is still a sandwich I'll choose over many others. Tupelo Honey Cafe has a wonderful southern take on reubens in their cookbook using Chow Chow instead of sauerkraut and I recently had a Lowcountry Reuben at Plum's Restaurant in Beaufort, SC which I will be sharing with you soon.
What about you? Do you like a traditonal reuben or is something like a reuben eggroll more your style?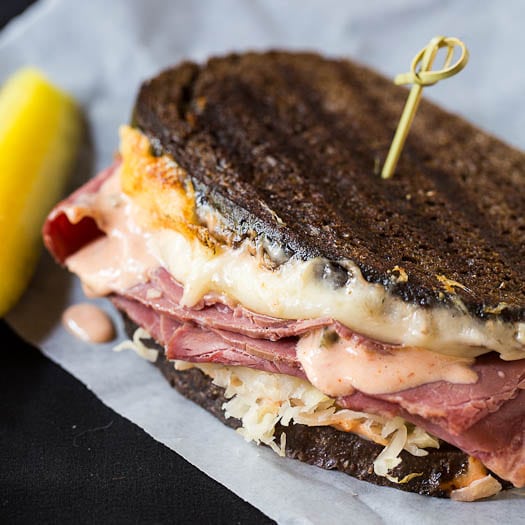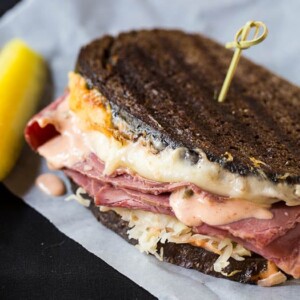 Spicy Reubens
There's nothing like a reuben sadwich with its layers of sauerkraut, corned beef, and swiss cheese on some buttery rye bread. This one is kicked up with a spicy sauce.
Ingredients
8

slices

dark rye bread or pumpernickel

1

can sauerkraut,

drained well

1

pound

sliced corned beef

12

slices

swiss cheese

4

tablespoons

butter
Spicy Sauce
1/2

cup

mayonnaise

1/3

cup

chili sauce

2

tablespoons

sweet pickle relish

1

tablespoon

horseradish

1/2

teaspoon

sugar

1/8

to 1/4 teaspoon cayenne pepper
Instructions
Make sauce. Stir all ingredients together in a small bowl.

Spread about 2-3 teaspoons of spicy sauce on each piece of bread.

On half of the bread slices place about 1/4 to 1/3 cup sauerkraut.

On top of the sauerkraut, layer the corned beef, evenly distributing it among the 4 sandwiches.

Place 3 slices of swiss cheese on top of the corned beef for each sandwich. Top with remaining bread slices.

Heat a nonstick skillet or grill pan over medium heat. Place 2 tablespoons of butter on the hot pan and use a knife to spread it around the pan until it is completely melted.

Place the sandwiches on the pan and cook until the bottom is nicely toasted.

As you flip each sandwich, place a piece of the remaining butter on the pan and coat the pan well with it before setting the sandwich back down. Continue to cook until cheese melts, turning the heat to low if necessary.
Notes
To prevent a soggy sandwich, squeeze the sauerkraut with some paper towels to get as much liquid out as possible.
If my corned beef is cold from the refrigerator I will usually heat it in the microwave for a few seconds or warm it in the pan I will be cooking the sandwiches in. The cheese will melt much more easily and your sandwich will be more of an even temperature all the way through if you're not starting with cold meat in the middle.
Want to Save This Recipe?